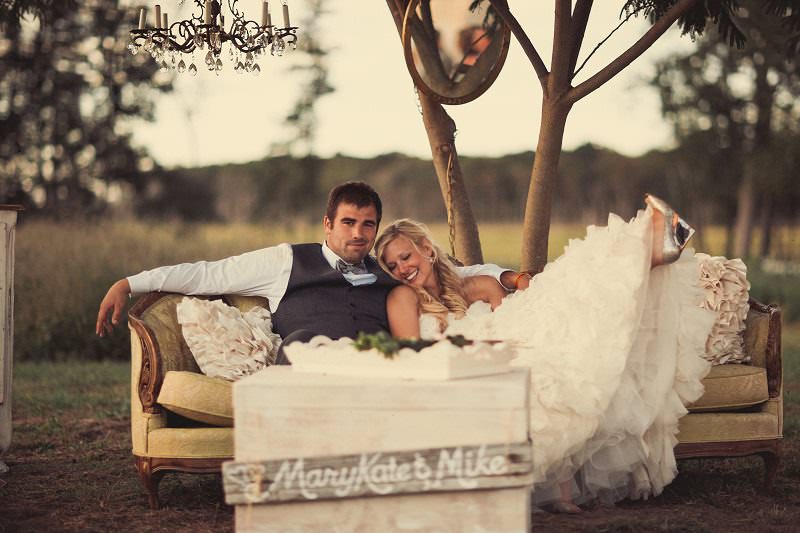 What happens when a wedding photographer and pastry chef join forces? Apparently, a lifetime of happiness and one heck of a wedding, properly documented with stunning photography.
"Obviously I was going to be very picky when finding a photographer," says the groom, who has documented his own fair share of weddings. "I wanted something fun and fresh to go along with the theme of the wedding. As for everything else, MaryKate is so creative and talented she did the rest of the heavy lifting."
From a homemade beer garden to a vintage suitcase cake stand and scrapbook-style guest book, these college sweethearts took DIY to a whole new level.
The Engagement: Coaxing MaryKate to go on a walk on the beach to take pictures, Mike surprised his girlfriend of four-and-a-half years with a romantic picnic for two. "After a little while, he stood up and brought me over to show me something in the horizon. When I turned back to him, he was kneeling down with the ring in his hand and popped the question," MaryKate reminisces. He presented her with the same diamond her father had given to her mother. "When Mike went to my mother—who is a widow—to ask permission to marry me, she offered it to him. It is a flawless Tiffany diamond that Mike had reset for my engagement ring," she explains. "That made the proposal that much better."
The Venue: They looked no further than the groom's family's countryside property, lovingly dubbed "The Farm" where some of their fondest memories as a couple had been created. Ironically not an actual farm, the bucolic fields and rustic barn belong to Mike's father. "Getting married in a spot that is so special to both of us made the day that much sweeter and added to the personal feeling we were going for," says MaryKate.
The Inspiration: "We wanted a rustic-shabby chic barn wedding with an elegant charm. The Farm is so beautiful and has stellar views, so our goal was to create decorations that added to the natural beauty of the farm, but didn't take anything away from the sights."
The Ceremony: To the upbeat tunes of The Beatles' "Here Comes the Sun," MaryKate, dressed in a frothy Monique Lhuillier gown, appeared through a freestanding doorway enchantingly sitting in the middle of a vast field and walked toward happily ever after.
The Party: Following the ceremony, their 150 guests were guided by hand-painted signage toward the cocktail hour, where they imbibed in craft brews poured from a handmade beer garden, tried their hand at cornhole and relaxed in the outdoor lounge that MaryKate created using elegant antique props set underneath a mimosa tree. A low-key seated dinner of gourmet burgers added a level of comfort and charm. "This was a decision that made me nervous, but in the end people loved it," says the bride. "So many of our guests came up to us and said it was so refreshing to have the type of food you crave after a few drinks!"
It's All About the Details: The adorable couple's personality was infused into the details of the day, from a poem that gave a nod to their pastry chef and photography professions to the scrapbook-style guest book. Guests even were able to take home a taste. "I have a cookie decorating business so naturally I made custom cookies for the favors!" says MaryKate.
Magic Moments:
MaryKate: "Walking down the aisle with my mom and having her give me away. I kind of tripped a little bit, but I didn't care. My mom actually kept talking to me the whole time, which calmed my nerves. I loved looking forward and seeing Mike up there smiling and waiting for me. I'll never forget that feeling!"
Mike: "Even though we had a first look, seeing MK walk down the aisle is still one of the most amazing moments of my life. Knowing that this moment was the beginning to tons of good days, better nights, and awesome adventures with her really started to hit me!"
Vendors:
Photographers: David Todd McCarty; Kaitlin Noel Photography
Catering: Executive Catering
Wooden Signs and Artwork: Art by Ginger
Floral arrangements: Val Sperlak (Groom's Mother)
Wedding Dress: Monique Lhuillier
Bride's Shoes: Jimmy Choo
Hair and Makeup: Kayleigh Burton MUAH Artistry
DJ: Bob Morgan Entertainment
Wedding Cake: The Sweet Life Bakery
Desserts: Baked Pastry Shop