By Clair McLafferty | Photography by Lönnbackaphotograph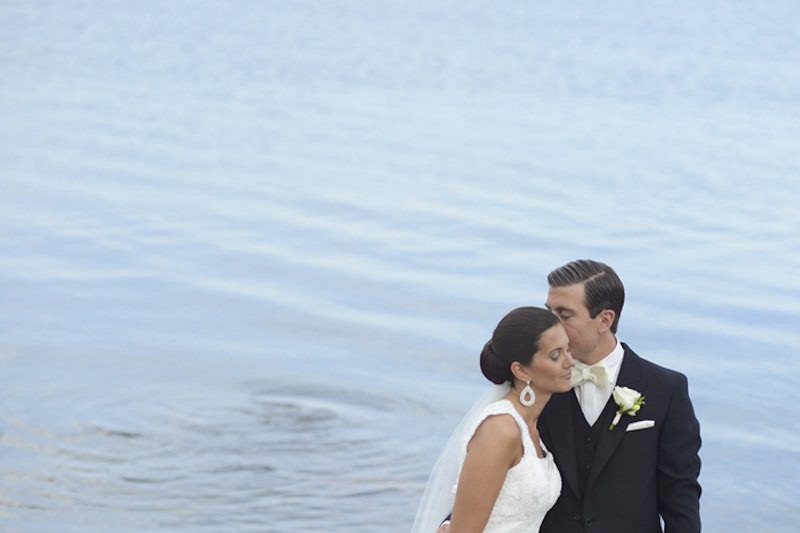 Some love stories begin with just a look.
"I remember what clothes he was wearing and what he did," said Hanna, reminiscing of the first time she laid eyes on Kenny. "It was his first day on a new job—my job." As coworkers at a flower shop, they started talking more and more and after a year of friendship, Hanna made the first move, "I took courage and took his hand at our staff party."
The Engagement
Two years of blissful dating followed. One day, "Kenny came into my shop [PAPPER] with an armful of red roses and his grandmother's engagement ring and proposed on one knee," said Hanna. "I said of course 'Yes!' and a week later, we started planning our upcoming wedding." Another two years of engagement was followed by "the day that was the best in our lives."
The Venue
Hanna and Kenny grew up spending their summers along the coast of the Baltic Sea in Öregrund, Sweden. Even before they met, both had envisioned having their weddings in the town's church and the reception at the Societshuset in the same city.
The Inspiration
After reading "The Great Gatsby," both Hanna and Kenny loved the descriptions of Gatsby's parties. Since they're also fond of Italy, they decided on a combination of the two as the theme for their wedding. With that established, they chose black, white and gold as their simple and elegant colors.
The Ceremony
Per Swedish tradition, Hanna and Kenny entered the church together as future husband and wife. Hanna is a florist by trade, so she decorated the ends of the pews with balls of white hydrangeas. Ninety of the couple's friends and family members watched as Hanna and Kenny entered the venue to Mendelssohn's "Wedding March" from "A Midsummer Night's Dream."
"She was enormously beautiful and I knew this would be the happiest day of my life," said Kenny when he first laid eyes on his bride on their wedding day. The two exchanged their vows with Hanna's closest friends as bridesmaids and Kenny's oldest friends and brother as groomsmen. Afterwards, they were showered with rice from a top hat as they exited the church to ensure a happy marriage per Swedish tradition.
The Fashion
While trying on dresses, Hanna quickly found that most weren't made for tall women. Measuring in at close to 6 feet tall, Hanna sewed her own dress to make sure it was the perfect length and for the ceremony, she wore heels Kenny had given her for Christmas. Hanna had decided on a white, round bridal bouquet years before, so she created her own out of different types of roses, freesias, hydrangeas, peonies and sweet peas. She then wrapped the stems with a white satin ribbon and a pearl necklace that had belonged to her grandmother.
Kenny modeled his outfit after an Italian fashion show where the models wore black slim-fit jackets, vests, pants and bow ties. "I fell for it immediately, but chose to have a white bow tie instead," said Kenny.
The Party
Since Hanna owns a wedding paper goods store called Papper, she and her bridesmaids did all of the floral work and decoration. In addition to decorating with flowers, they also used plenty of feathers to "catch the '20s feeling."
Food-wise, Hanna and Kenny "wanted the food to reflect our love for summer in the Swedish archipelago and for Italy." Guests started on marinated salmon, new potato terrine, with horseradish, trout roe, pickled cucumber, dill, lemon and kavrings crust, then noshed on a main course inspired by an Italian dish called saltimbocca.
Their gorgeous dark chocolate cake was made by one of the bridesmaids who is a pastry chef. This chocolate truffle cake was topped with fresh raspberry mousse, covered in dark chocolate and topped with a fresh white rose and adorned with a gold-edged black silhouette of the happy couple.
The evening's soundtrack was supplied by a DJ playing music from the 1920s and '30s. "We wanted our wedding guests to have the feeling that Frank Sinatra, Ella Fitzgerald and other legends played at the reception." The evening was capped off with a lot of dancing to some more modern hits including Kenny's favorite, Swedish House Mafia.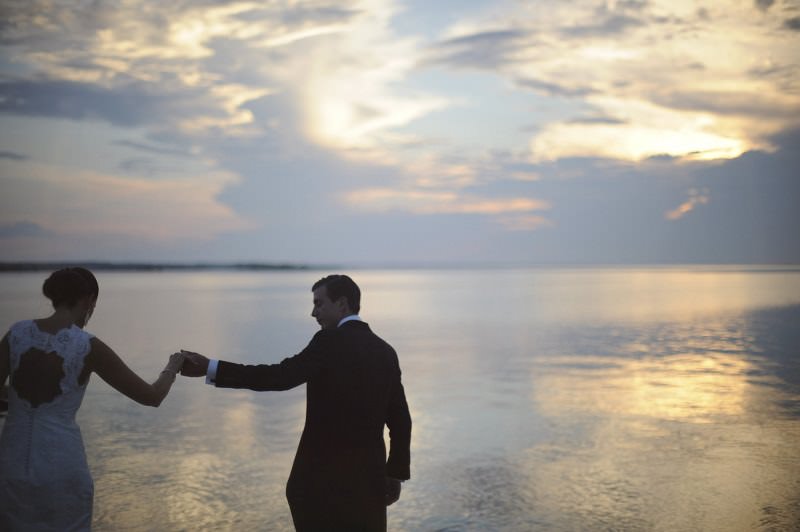 Vendors
Venue: Church – Öregrunds Kyrka, Reception – Societetshuset in Öregrund
Photographer: Lönnbackaphotography
Florist: Hanna Fogel (bride), from her store PAPPER
Cake Designer: Helena Eriksson, Bridesmaid
Catering: Anna Lenman, KGB
Wedding gown/suit: Gown- Matildas Fest in Sundbyberg, Stockholm, Sweden / Suits – Mäster Arnes in Uppsala, Sweden
Makeup/Hairstylist: Makeup – Nathalie Pannososian / Hairstyle – Åsa Hedman, Creative Zone
** This real wedding originally appeared in Love Inc. Magazine, Issue V1