By Meghan Kennedy | Photography by Deborah Zoe Photography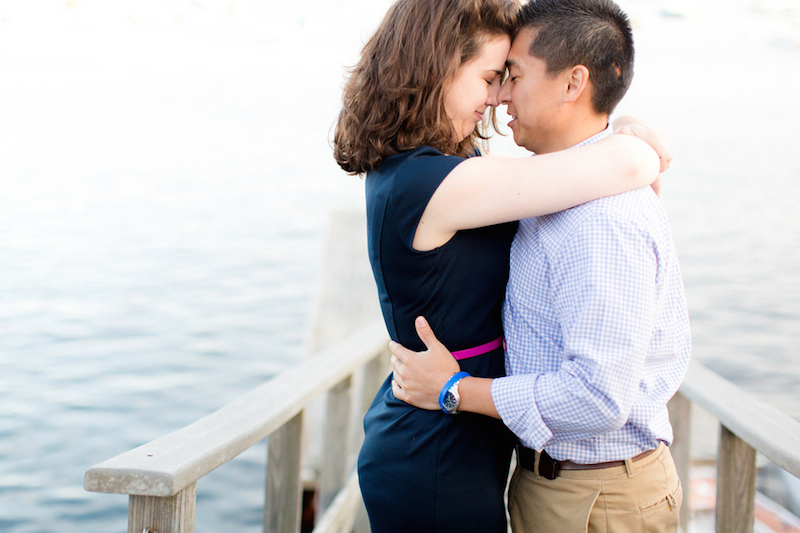 The Massachusetts couple headed up to the Landing in Marblehead for their laid-back, beachside engagement session with Mass staples of dockside drinks and oysters. If the pictures from Deborah Zoe Photography show anything at all (besides gorgeous scenery), it's how much they truly enjoy just being in each other's presence.
The Love Story
Having met through another couple while in Boston, Sarah and Mikio's relationship began tentatively. They met at a birthday party and continued to go out in a big group of their extended friends, heading to trivia nights, bars and different restaurants every weekend. Their first commonality came through their love to try new things and go to new restaurants, and as they got to know each other as friends, their relationship outside of the group began to blossom. The couple dated for five years before getting engaged in the summer of 2014.
The Proposal
One weekend, the couple returned to their old stomping grounds and, on the evening of June 13, went to the restaurant where they had their first date: Giacomo's in the South End. "All through the night, I knew Sarah had an idea because she was asking questions that hinted at the subject — after dinner, we took a walk around the Prudential Center and the Reflecting pool, and it became apparent that she knew when she tried to guide me to better scenery," laughs Mikio. In a quiet spot, Mikio got down on one knee under the full moon and asked Sarah to spend the rest of her life with him.
The Ring
Sarah's ring is a round diamond flanked by two smaller diamonds set in a platinum band. Purchased from Superior Diamond Setting, the bauble catches the light in such a way that its brilliance can't be ignored: a timeless memory.
Memorable Moments
Sarah: Mikio put a lot of thought into the whole thing.  From choosing the restaurant where we had our first date to picking out the perfect ring, it was just amazing!
Mikio: I think the proposal was perfectly us. Both of us can pass as normal but can be pretty awkward. The whole situation was fun in our own awkward way; we can look back at it and think how odd we are. It wasn't over-the-top romantic or plain and simple, we put our own accidental flair into it.
Wedding date: December 31, 2014