By Brittny Drye | Photography by Amber Gress Photography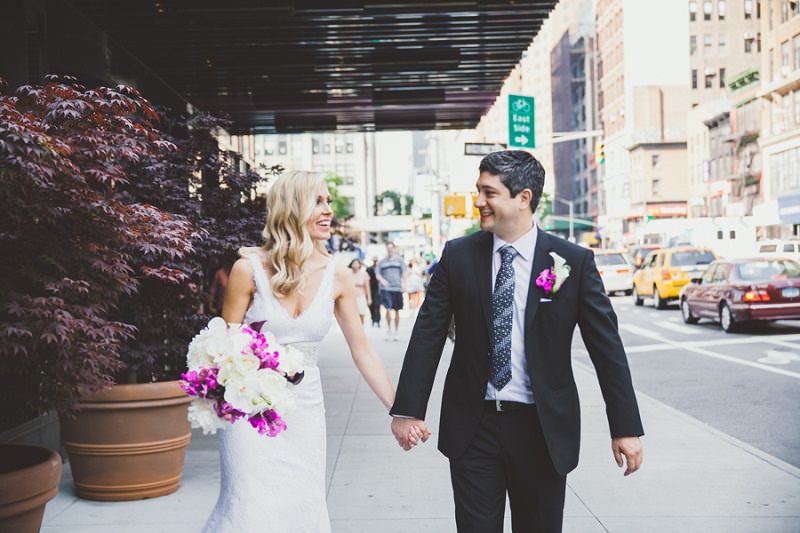 It's the kind of love story that you see in the movies but is so rare in real life:
Boy meets girl. Boy falls in love with girl. Boy and girl move to chase their dreams in New York City. And live happily ever after.
The Engagement: "We met at a restaurant in Chicago, where we were living at the time," says Sara. "We relocated to New York City two years later for work and Somer popped the question. It was a perfect proposal. We got engaged at a New York City Champagne lounge and continued our celebration through the night, just the two of us."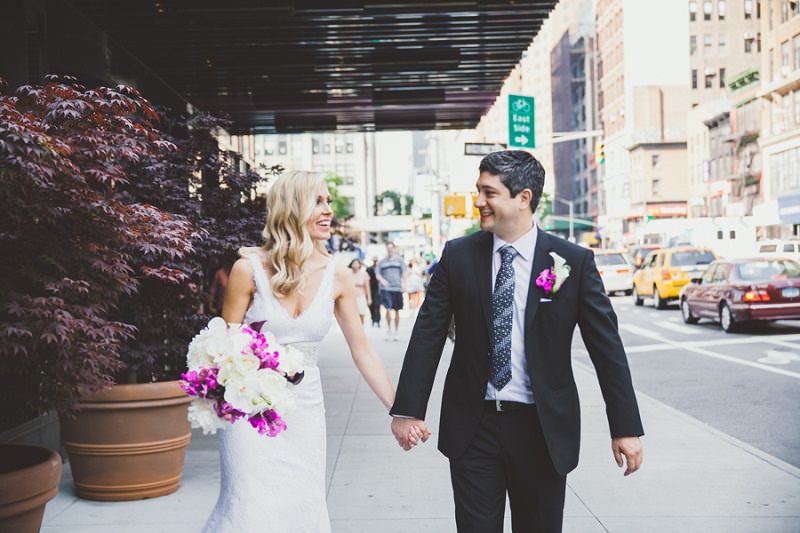 The Venue: Being fresh-faced in a fast-paced city like New York made wedding planning a challenge. Sara lucked out when she happened upon Top of the Garden, an exquisite space in Chelsea and one of the most coveted locations in Manhattan. "I stumbled across Top of the Garden through word of mouth after visiting a larger New York City venue. It was the perfect size and we fell in love with the lofty, modern vibe and outdoor space," she says.
The Inspiration: Sara and Somer's classic style fit beautifully into the blank space, allowing them to truly make it their own with pops of purple and twinkling candlelight. "We love how everything fell into place with the flowers, lighting and feel of the space," says Sara. "Sometimes when you are planning a wedding, it is hard to see the big picture because you are so involved with the tiniest decisions."
The Ceremony: "Our ceremony was very special. Our close friend, Malita, married us. The three of us wrote the ceremony which was perfect because we were able to customize everything and combine elements of Sara's Christian faith," says Somer. "Malita did a great job."
The Style: Sara's classic beauty shined through in a romantic Selia Yang gown, belt and hair comb. "I fell in love with her designs the second I walked into her studio," exclaims the bride. "She was fantastic to work with. I couldn't have asked for a better experience." She finished the look with a pair of peep-toe pumps by BCBG. Meanwhile, Somer looked handsome dressed in Hugo Boss with colorful striped socks. "The socks were my favorite part!" laughs Sara.
The Party: Guests enjoyed cocktail hour on the outdoor terrace of Top of the Garden followed with a seated dinner giving guests the choice of braised beef short ribs, salmon and mushroom ravioli as entrees. In lieu of a traditional wedding cake, they had a tier of decadent buttercream cupcakes, in a variety of different flavors, from Sugar Flower Cake Shop.
Guests hit the expertly lit dance floor as DJ Intel spun tunes of mixed genres. Sara and Somer opted to have their first dance and cake cutting when the night naturally lent itself to it. "We didn't want to be on a time schedule," explains Sara. "We wanted do the first dance and cut our cupcake when we got to it, which ended up being more toward the end of the night and made for a very relaxed and enjoyable celebration!"
Vendors:
Photographer: Amber Gress Photography
Venue: Top of the Garden
Cake Designer: Sugar Flower Cake Shop
Florist: Dawn Melanie Designs
Catering: JPO Concepts
Gown/Suit: Selia Yang and Hugo Boss
Entertainment: DJ Intel
Lighting: Robert Stark Lighting