By Mary Elizabeth
Wedding planning isn't always Pinterest-perfect. There are bumps (hell, sometimes sinkholes!) along the way. And that's okay because ultimately these obstacles bring you and your fiancé/e closer together.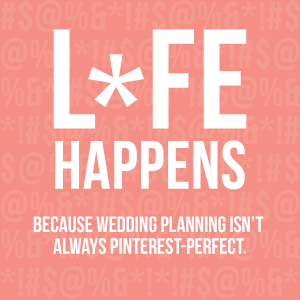 I have never been a lovey-dovey type of girl, however, like most girls I did look forward to planning my wedding the way I imagined it. I operate under an OCD, high-strung, plan-everything-perfectly mentality whenever I have a project in my sight—unfortunately, the outcome ends up being more of the Griswold-family-vacation fashion more often than not. When my engagement was nearing its end (and the big day was just within my grasp) all of the last-minute details seemed to multiply out of nowhere. Thankfully, I had an expert team of bridesmaids who helped me with all my down-to-the-wire deets. I anticipated the day before my wedding being all Champagne-infused brunches and bridal party mani/pedi heaven, but I was unaware of just how crazy the last two days would truly be.
When I returned home from work Thursday evening (T-minus 48 hours to the wedding), I discovered my floral arrangements delivered were completely wrong. This wasn't a simple error … this was a cosmically cruel and unfair dilemma dealt my way. The size and quantity of my hydrangeas were not what I had ordered! With my wedding being on Saturday, I had zero time to have them reshipped. After a nasty bridezilla moment with the vendor, I did what any bride-to-be would do: I had a full on outburst, emotional meltdown, and after some yummy cocktails, I sprang into action.
When Saturday arrived, my girls and I had a beautiful arrangement of hydrangeas in our bouquets, lining the inside of the church, and on every table of the reception hall. Everything worked out perfectly! That being said, for the next two days I watched constantly on the news for a report of a mad woman clipping hydrangeas from every bush in her neighborhood, parents' neighborhood, and the coffee shop around the corner because that is exactly how my dilemma was solved. When neither the police nor my neighbors came knocking on my door, I relaxed and settled into my honeymoon as a newly (and deviously) happily married woman!
Have a crazy tale (insane vendors, unbelievable bridesmaids)? We wanna hear from you! Share your story (we'll keep you anonymous!) and we'll laugh, cry and shake our fists alongside you. Email us at [email protected]