By Meghan Kennedy | Photography by Krista Photography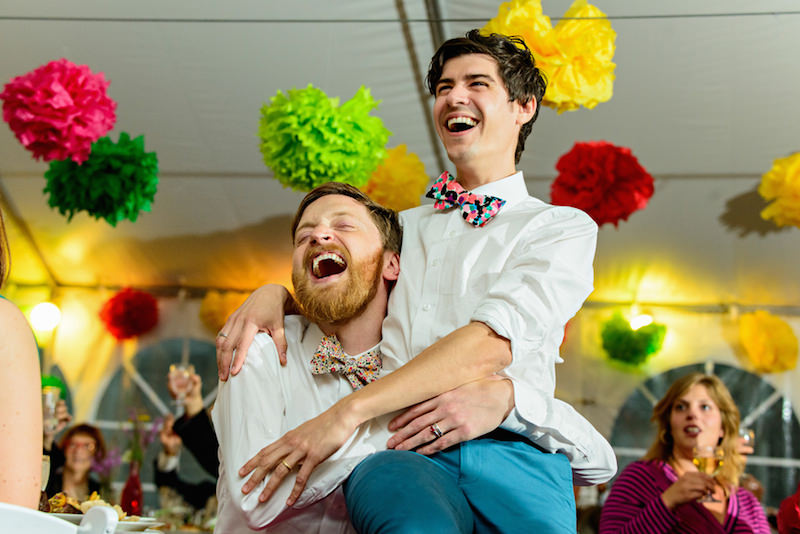 When the grooms describe their wedding as looking "a bit like a quinceañera thrown together by a manic drag queen," you know you're in for a treat. Kirk and Ryan's super vibrant wedding in the woods is a pure candy-coated wonderland. Shot by CoCo Boardman of Krista Photography, you can tell these two are absolutely destined for a long and happy life.
The Love Story
Ryan and Kirk's love story began in Spain and spans ten years of love and laughter. After moving in together, sharing a life and two adorable dogs, they finally tied the knot in Massachusetts on August 23, 2014. You can read more about Kirk and Ryan's proposal in their engagement feature.
The Venue
The venue is nestled in the heart of the Massachusetts woods where the sun streams through the forest — of course, this was a perfect setting for such a jubilant, eye-popping event. Kirk and Ryan's every-color-on-the-wheel wedding is set off nicely by the neutral tones of the woods. They chose it for its laid back and peaceful environment and the fact that it housed 40 of their 100 guests for the weekend was a great bonus, too. Ryan exclaims, "Perhaps most importantly, the retreat had a great space for campfires and the perfect layout for the most epic Nerf gun fight of all time!"
The Fashion
In keeping with their brightly hued nuptials, the grooms couldn't just stand there in basic black suits. Ryan wore teal slacks with a bright blue jacket and a multicolored bow tie, and Kirk broke out a pair of hot pink pants, a bright red jacket and a floral bow tie. The wedding party? In every shade of the rainbow you could imagine, of course!
The Ceremony
From the minute they proceeded down the aisle, guests were in for a treat — the couple switched from tradition to popular at the drop of a hat, going from Pachelbel's Canon in D to "I Do, I Do, I Do" by ABBA. The custom ceremony was detailed right down to the hand drawn wedding contract — and absolutely breathtaking. The wedding contract, a blend of Ketubah and Quaker traditions, Kirk and Ryan's friend Emily hand drew different animals along the border ranging from narwhals to beavers to dodo birds, and every attendant signed it; the couple now gets to look at it every day from its spot on the wall in their living room. "Our friend and human one-man show Oron officiated through tears," says Ryan. "We had amazing readings including a poem read by poet Elizabeth Witte, our earliest email exchange read by friends Kristen and Abby who were with us when we met each other in Spain, and surprise readings from the Little Prince and The Muppets that turned us into puddles." The most sentimental aspect? Kirk serenading his husband with "Let's Fall In Love" as he strummed a ukulele.
The Décor
The floral décor had to be as wild as the color scheme, so naturally, the centerpieces contained flowers picked from the surrounding woods. Wrapped in twine for the attendants and set out in bottles as centerpieces, the designs featured delicate Queen Anne's lace, purple loosestrife and yellow tansies. They set out gummy bears because as Kirk tells us, Ryan is addicted to them; the crafty couple also used old Bingo cards from a flea market as table cards.
The Party
Kirk and Ryan worked with the head chef at the retreat to plan out the perfect late summer menu: "We had a great collaborative exchange in creating dishes that had a backyard picnic feel like buttermilk-brined chicken, flat-iron steak, charred corn and shaved summer squash salad." Instead of a large, tiered confection, Ryan and Kirk asked their friend Megan to create several smaller strawberry and cream Chinese sponge cakes.
The newlyweds made a playlist for their party rather than hiring a DJ. They had two rules: no first dance and no slow songs, ensuring the night was a dance party up until the very end. As for favors, they went above and beyond (and that's not a joke — it's an interstellar gift!). Ryan says, "We turned a construction paper cut-out into tote bags for everyone. I cut out a little blue robot family heading toward a crimson rocket ship destined for some planetary body in the sky. A sparkly cellophane bag of gummy bears waited for guests at their seats because gummy candy is a must at all time in all situations."
Memorable Moment
Our moment alone after the ceremony with our dogs, Bruno and Dragon.
Vendors:
Venue & Catering: Essex Conference Center and Retreat
Photographer: Krista Photography
Bow ties:CCA Design, Southern Gent BowTies | Dog bow ties: The Kozie Canine