By Brittny Drye | Photography by Allie Siarto Photography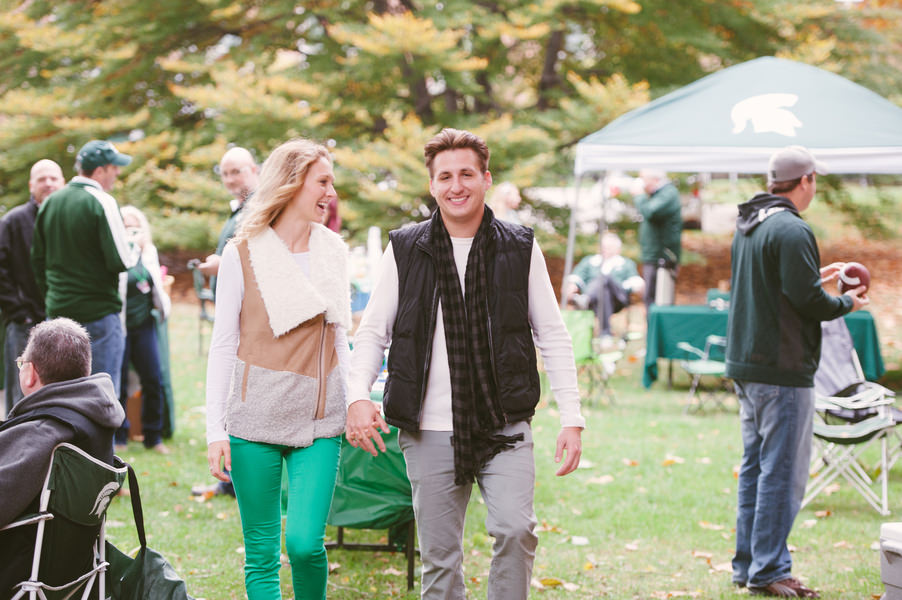 Any college sports fan can appreciate the thought and planning that went into this Michigan State proposal (secretly captured by Allie Siarto Photography). With campus tradition and romance reigning supreme, Phil swept Maggie off her feet in true Spartan style.
The Love Story
The Chicago couple met one summer afternoon at a bar ("Sunday Funday!"). Their relationship quickly grew and Maggie knew Phil was the The One after a cute, albeit clumsy, scenario. "One day we were walking around the beautiful city of Chicago, holding hands and I was just talking away," explains the bride-to-be. "Phil walked quietly, giving me his undivided attention and looking at me the entire time. All the sudden he runs — smack! — into an electrical box on the sidewalk. It was that exact moment I knew I would love him forever."
The Engagement
The couple drove up to Michigan State (where Maggie attended college) for the biggest football game of the year: Michigan State vs. University of Michigan.
They woke up before the rest of campus stirred and walked the quad that had turned into a kaleidoscope of brightly hued fall autumn leaves. "The sun was seeping through the clouds with just enough light to cast on the rarest form of cedar trees. I can't remember my school campus ever looking so beautiful. The chance of seeing leaves in these colors is so rare because it might only occur one week out of the entire year," adds Maggie.
"It had been about one year since we last tailgated and I had made an effort to show Phil the tradition we Spartans share at the Beaumont Tower. This bell tower sits tall in the central location of campus, and, as the story goes, if you kiss your lover under the shadow of this bell tower you will remain together forever."
The morning that would forever change their lives, Phil took Maggie to the bell tower. "As we slowed our walk up the hill to the bell tower, Phil took a sigh and looked into my eyes. Something magical began to happen!" Maggie exclaims. "Softly spoken, Phil spoke words of promises to make me the happiest girl forever and to always love me. He kissed me gently, got down on one knee, and said those four words I was waiting to hear for a long time. Yes yes yes!!!"
The couple later celebrated with friends in true tailgating form — and in case you're wondering, MSU beat UM 35-11 that day!
The Ring
Phil picked out a gorgeous round cut solitaire diamond held up by an infinity band of smaller diamonds. "It is exquisite," gushes Maggie.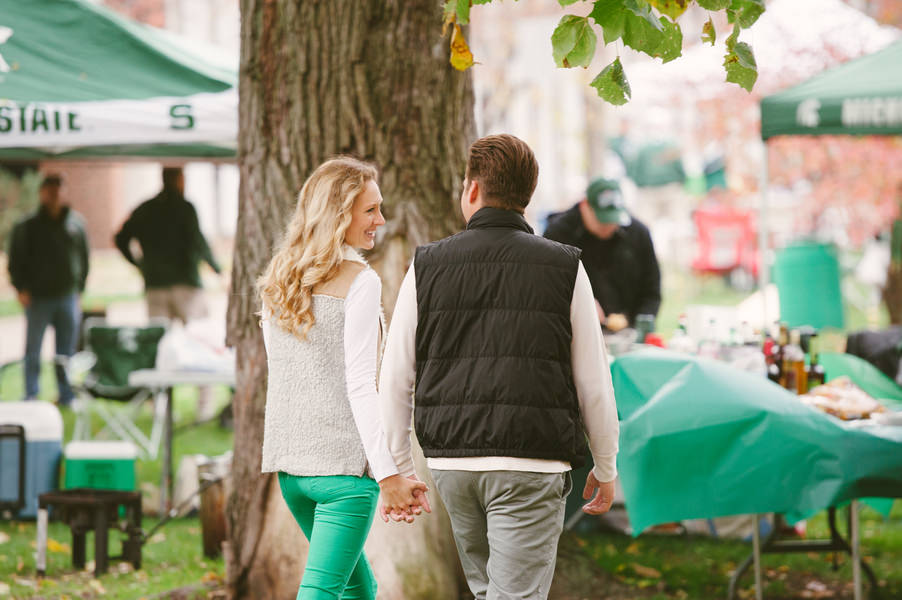 Wedding Date: November 7, 2015