Working in the wedding industry, we've seen our fair share of proposals. From traditional to unconventional, seeing a proposal captured on camera always brings a smile to our face. But when we caught a glimpse of Matt and Mikelle's waterfall proposal at Lower Falls Bridge, captured by Lindsay King Photography, it seriously tugged at our heartstrings. In this series of photos, you see Matt clutching a ring box behind his back while Mikelle beams unknowingly next to him with zero idea that her love is about to ask one of the most important questions of her life. The joy they both feel once Matt gets down on one knee just spills out of these images, making it one of our favorite proposals to date!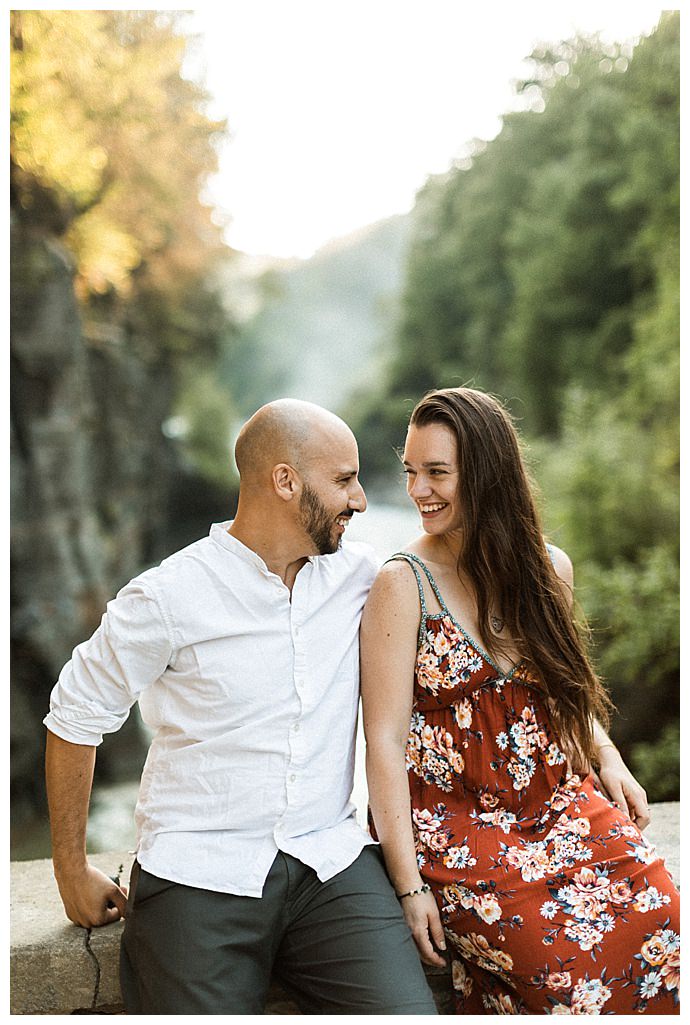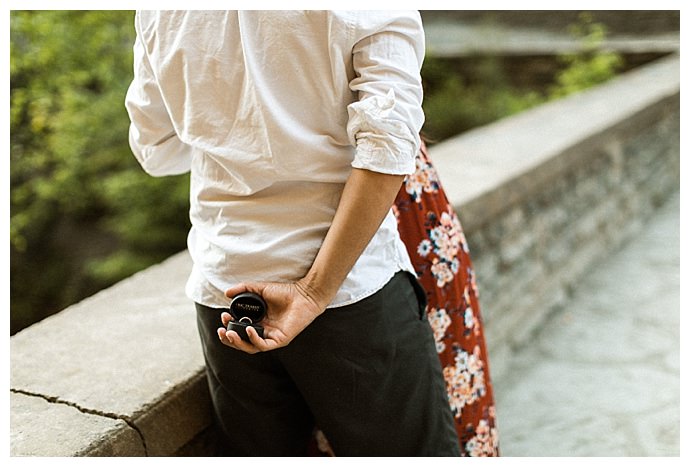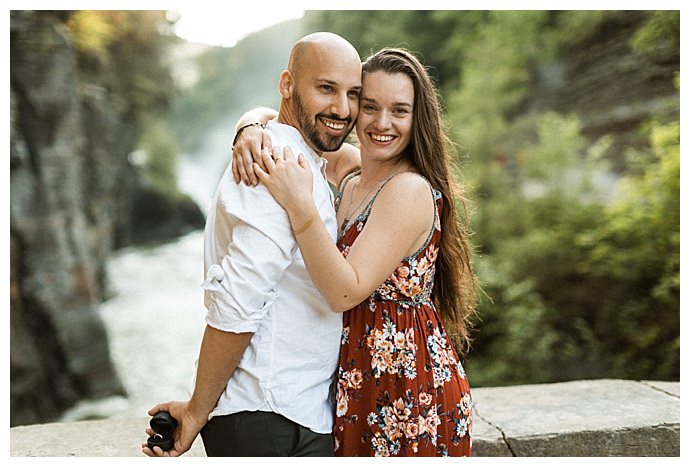 The Love Story
The night that Matt and Mikelle first met, Mikelle had just finished a dance performance on the Lower East Side in New York City. Her best friend was in town for the occasion and invited some friends from college out for drinks to celebrate. Matt and Mikelle immediately struck up a conversation and spent most of the night getting to know each other, but they eventually parted ways. Throughout the next year, they kept in touch with casual check-ins, but it wasn't until almost exactly a year later from the day they first met that they decided to get together for drinks. "We met up at the same dive bar we first met, and the rest is history," Mikelle says.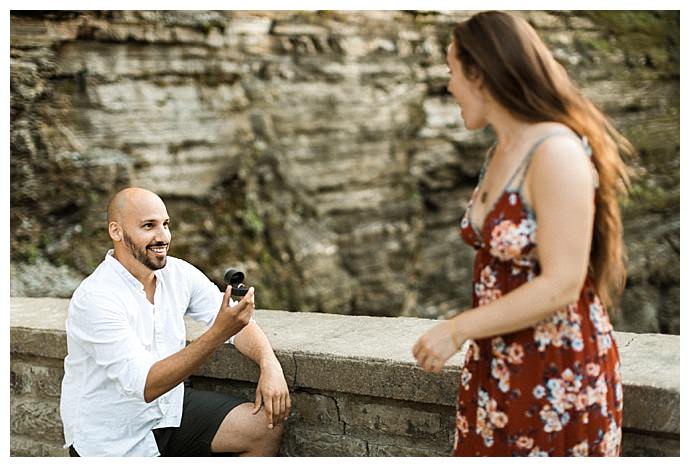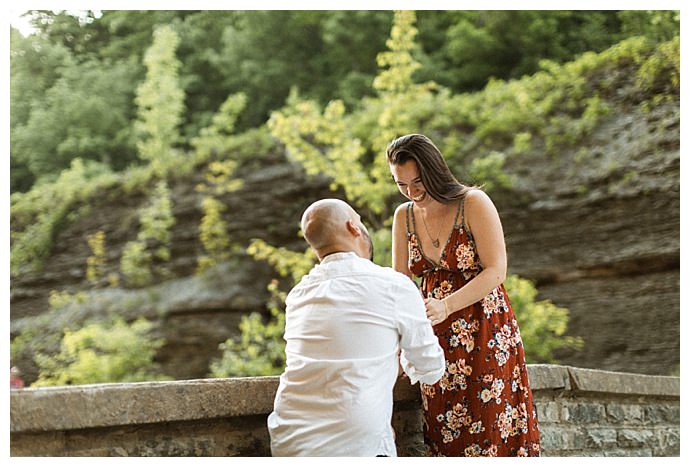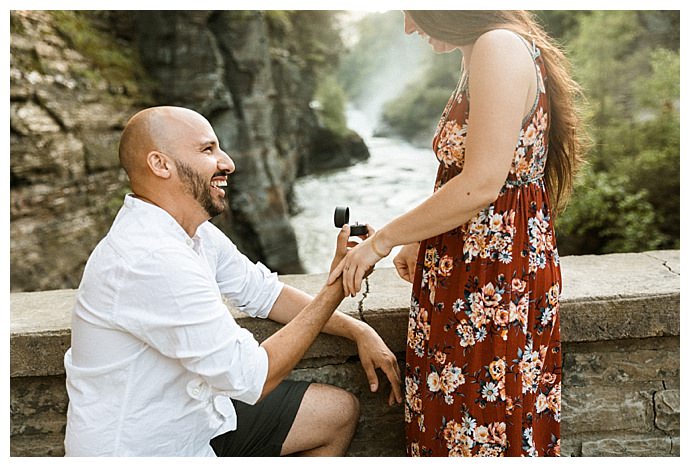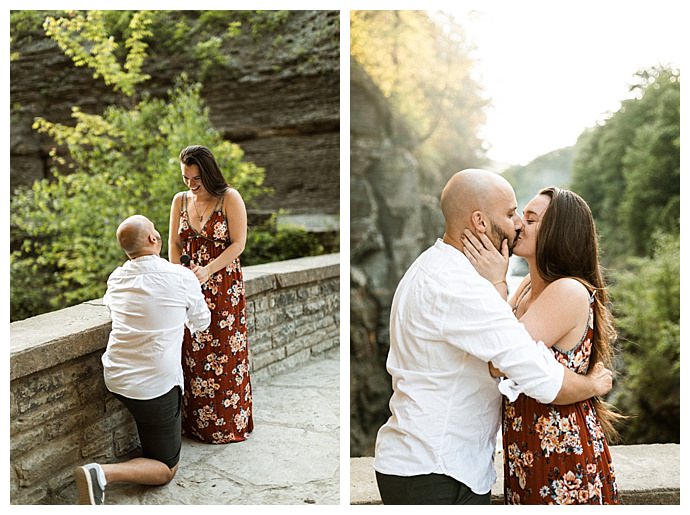 The Proposal
After Mikelle guessed Matt's original proposal plan down to the location and how he'd pop the question, Matt had to enact a plan b. For Memorial Day weekend, Matt and Mikelle had plans to go camping with their close friends Lindsay and Greg. "Since Lindsay, Greg and Matt are all amazing photographers, any time we get together, we pack an outfit and fit in a portrait session with each other in whatever beautiful place we find," Mikelle says. After they set up camp in Letchworth State Park, they headed out for a hike. "About halfway through, we found a beautiful bridge," Mikelle says. "We all looked at each other excitedly saying, yes, this is the spot!"
They quickly changed out of their hiking gear and Lindsay and Greg started snapping pictures while Matt discretely pulled the ring box out of his pocket. "At one point, I had my arms around Matt's neck, and I noticed his arms were a little shaky, but I thought maybe he was just nervous about being in front of the camera," Mikelle says. Matt then suggested they take a picture facing the mountains until Greg told Mikelle she could turn around for the next shot. "When I turned back around, Matt was down on one knee just smiling at me," Mikelle says. "I gasped, and we both just laughed in happiness. I was about to say yes when I realized he hadn't asked me yet." With a little prompt from Mikelle, Matt asked her that important four word question, and Mikelle finally got to say yes.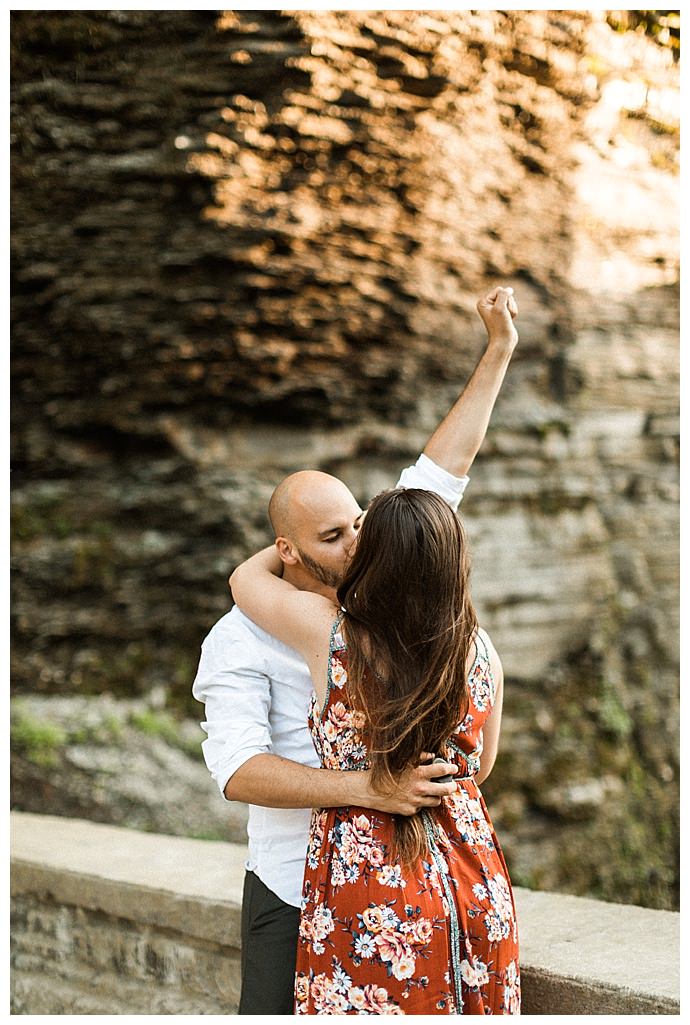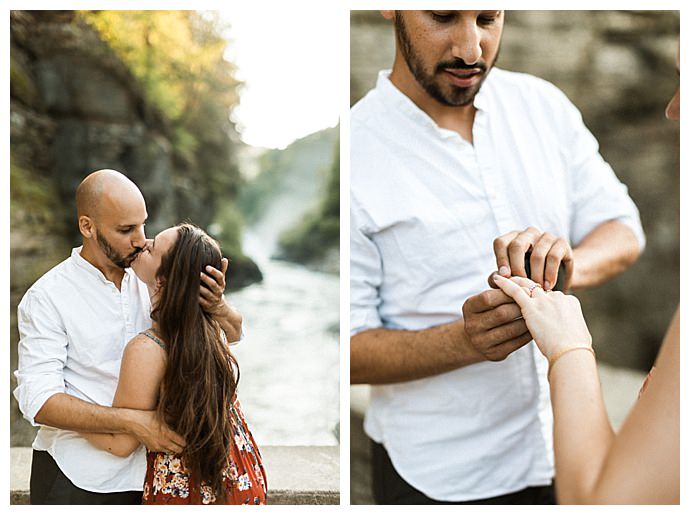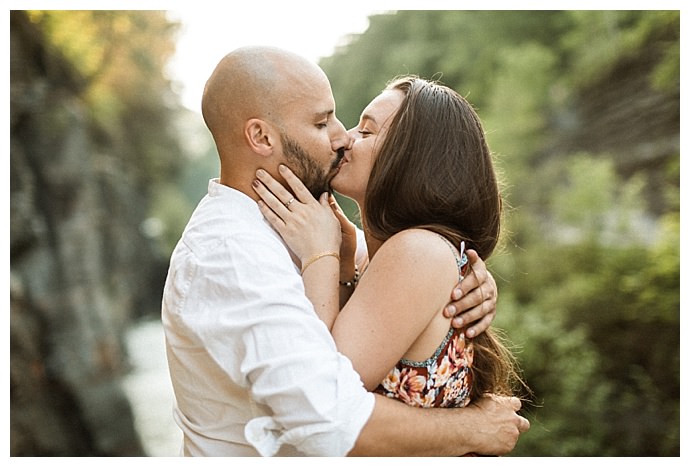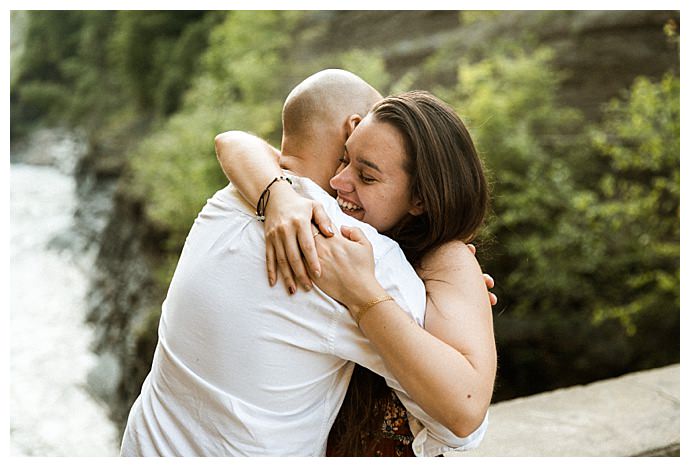 The Ring
"The band is from Trabert Goldsmiths in San Francisco," Mikelle says. "We picked it out together and loved it because it is unique and simple. It is rose gold with baguette diamonds along the top. The diamonds are conflict free and GIA certified, which was also important to us."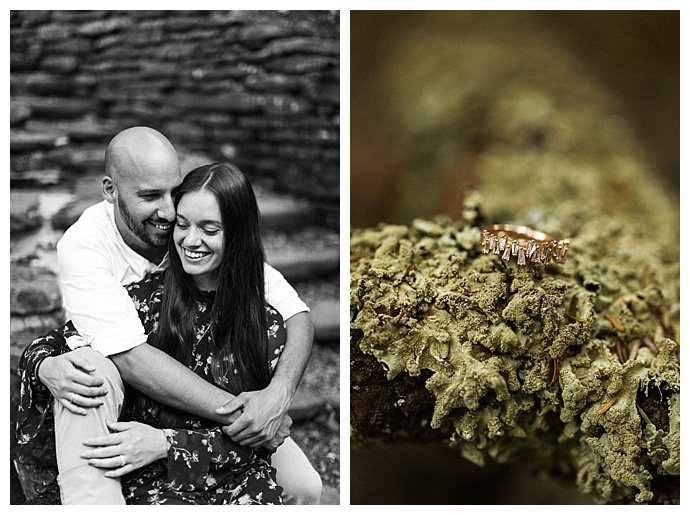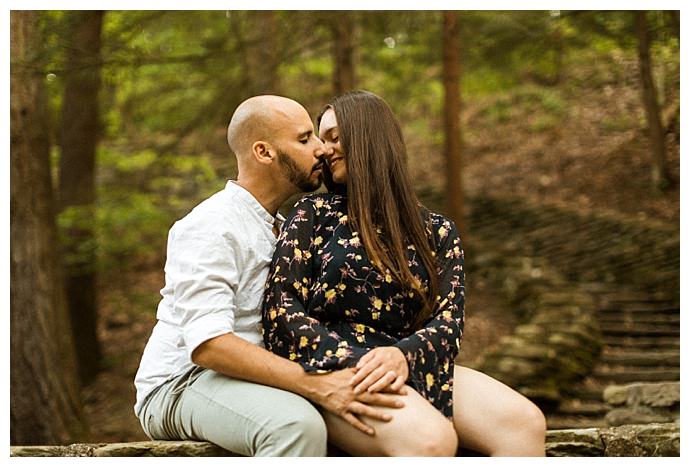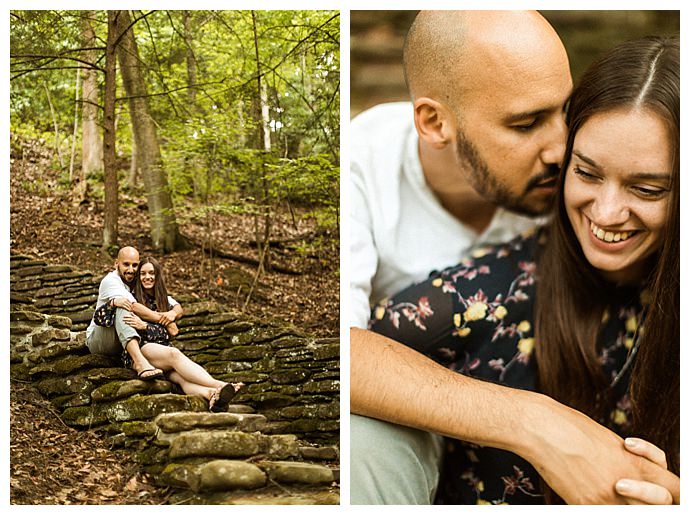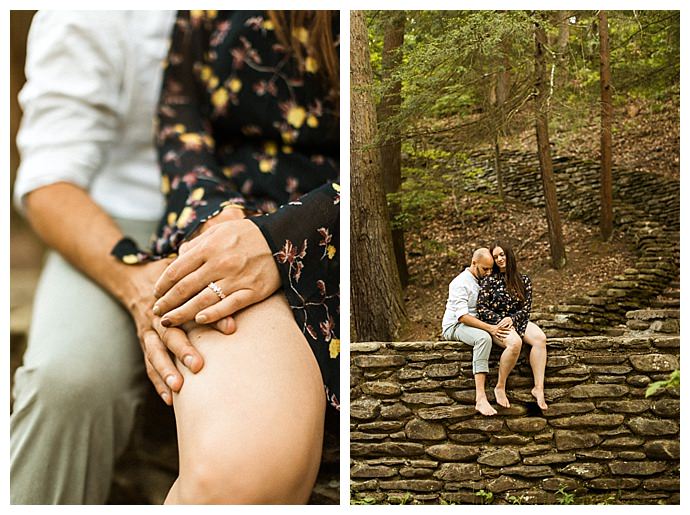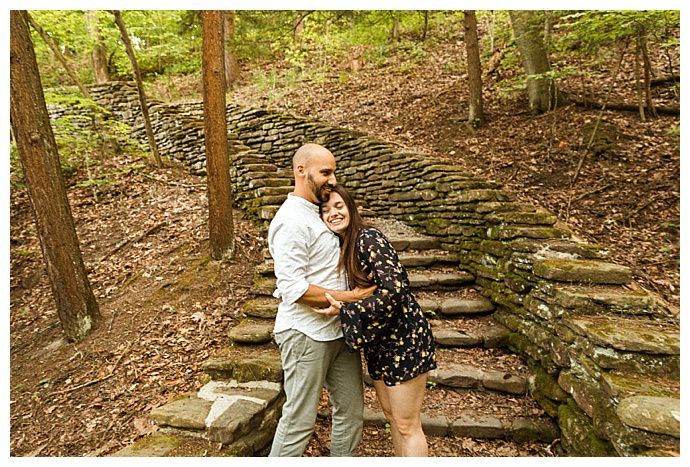 Memorable Moment
"I think it was just after she turned around and I had the the ring in my hand, seeing her face made me freeze, but in more of a loving way," Matt says. "We then both started to laugh uncontrollably and smile at each other. Then after about a minute she says 'so, are you going to ask me?' I then realized I had just been sitting there silent, I couldn't take my eyes off her. Then I asked, and she said yes!"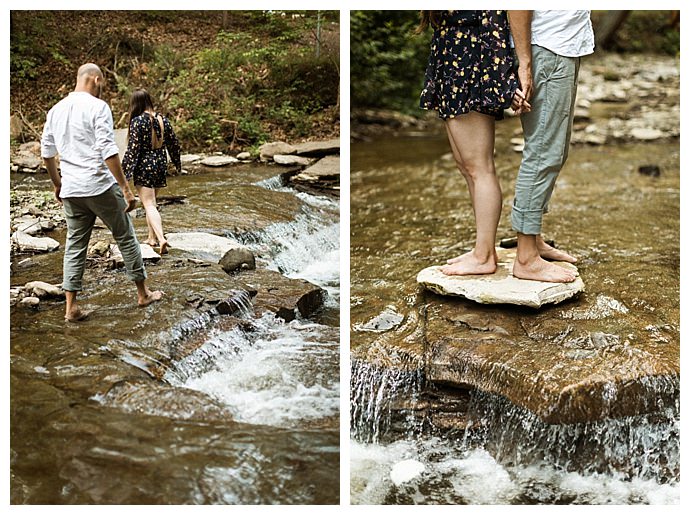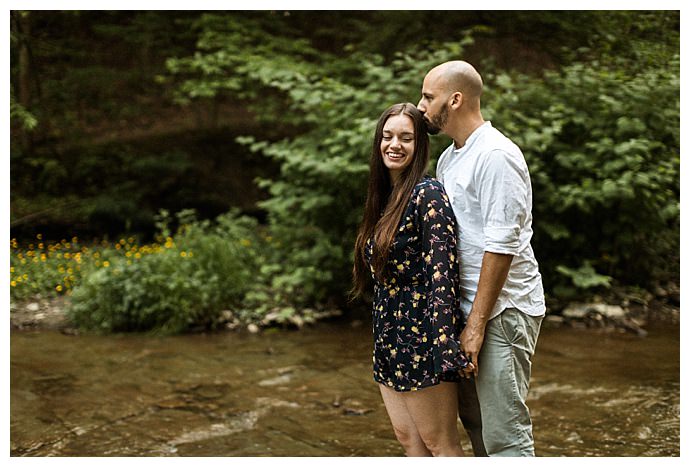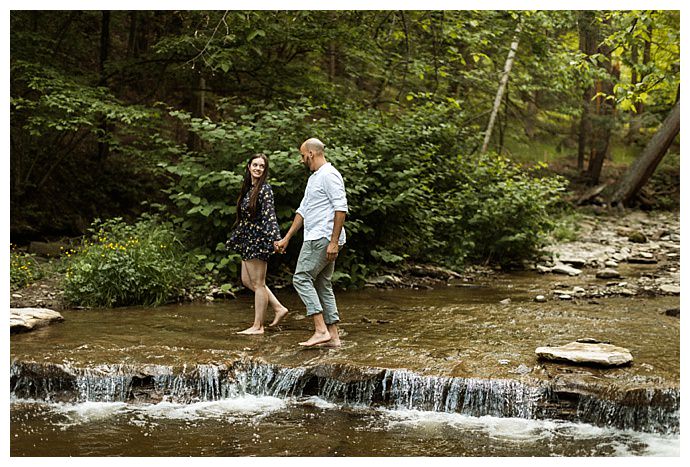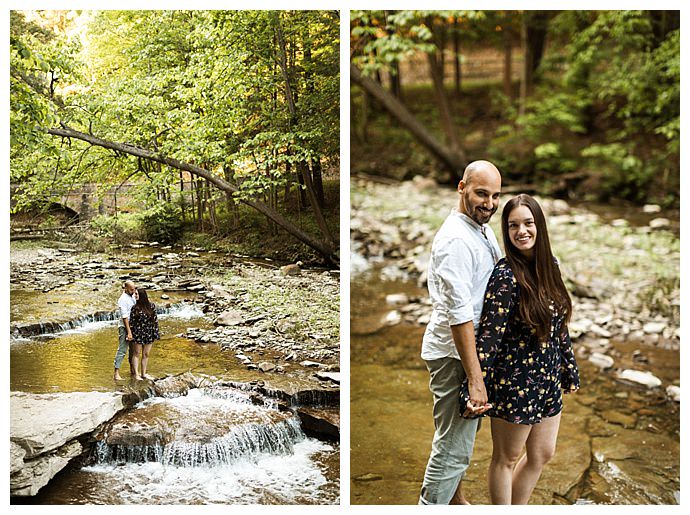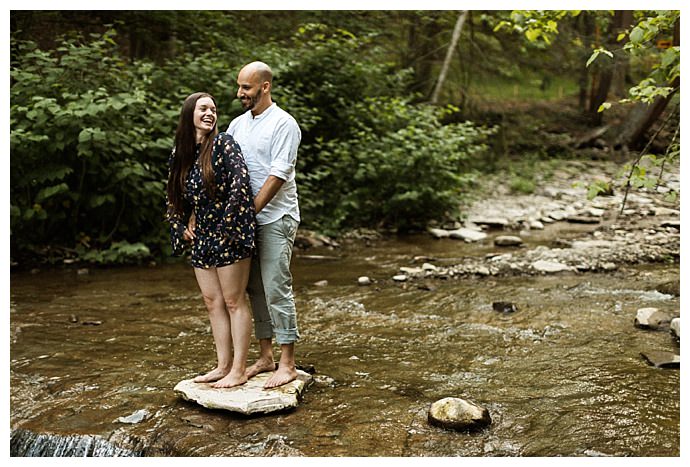 Written by: