The aptly named Tequila Weddings photographed Mike and Eli's fun and flirtatious wedding that was infused with the perfect touch of modern luxury. With white calla lilies and roses, floating candles and gold accents at Chicago's historic venue, The Ivy Room, the grooms exchanged vows in a touching ceremony before throwing an epic celebration for their guests. And for a couple whose engagement story is one for the books, it's no surprise their gorgeous wedding followed in suit.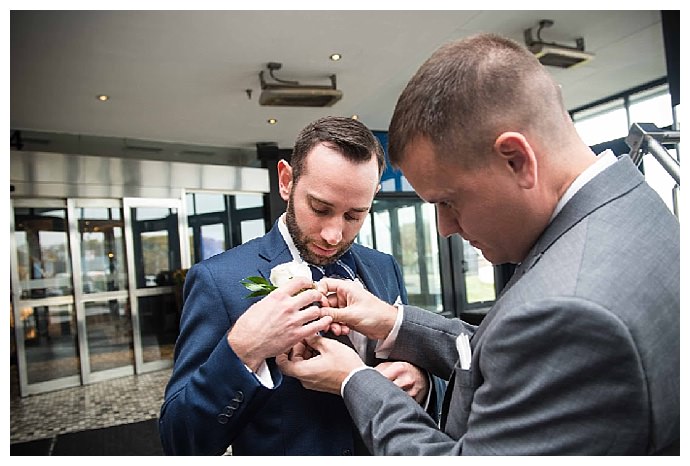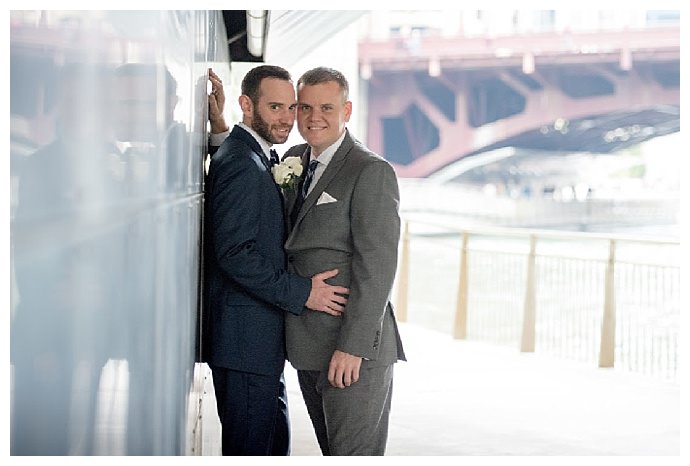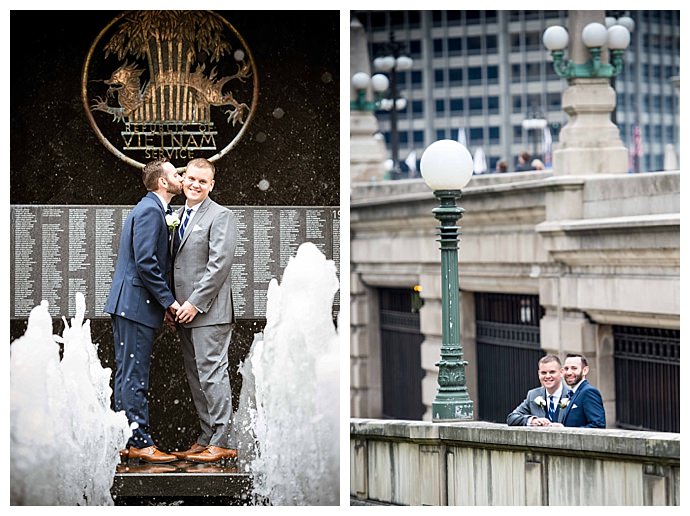 The Love Story
The details of the first time Mike and Eli met are up for debate depending on who you ask. The facts remain that they both found themselves at the Rock Bar in New York City — Eli with the New York Gay Football Team and Mike with a friend who had just moved into town. Eli remembers charmingly engaging Mike in conversation after spotting him across the bar, while Mike insists he had to wave Eli over after he drunkenly made eyes at him for several minutes. However it happened, they exchanged numbers, and, little did they know, it was the beginning of their happily ever after.
After three wonderful years filled with not-so-subtle hinting that Mike was eager to get married, Eli planned a grand surprise and a proposal that completely blew Mike away. With a little help from a coworker, Mike was talked into happy hour at Rock Bar before Think Social Drink Local, a business school fashion show he was planning to attend. But when he arrived at the bar, Eli was clad in a three-piece suit with other plans for their evening. A white stretch limo whisked them away on a journey through the city and down memory lane as they visited locations significant to their relationship. At each stop, Eli had a ring for Mike. But not just any ring, Eli gave Mike a drink token from the bar where they first met with a hole drilled through the middle, a spoon bent into a ring from the Stumble Inn where they had their first date, a hot sauce cap from the restaurant where they officially started dating, and a pin with a drilled hole from Brooklyn Pride where Eli first told Mike he loved him. The tour ended in Fort Greene Park in Brooklyn, where Mike spotted their friends atop a hill holding candles. And as they walked up the hill, Mike saw his mom, whose fear of the city kept her from visiting for the past seven years that he had lived there. And there, in front of everyone, including a pregnant sister present through FaceTime, Eli got down on one knee and gave Mike the final ring of the day.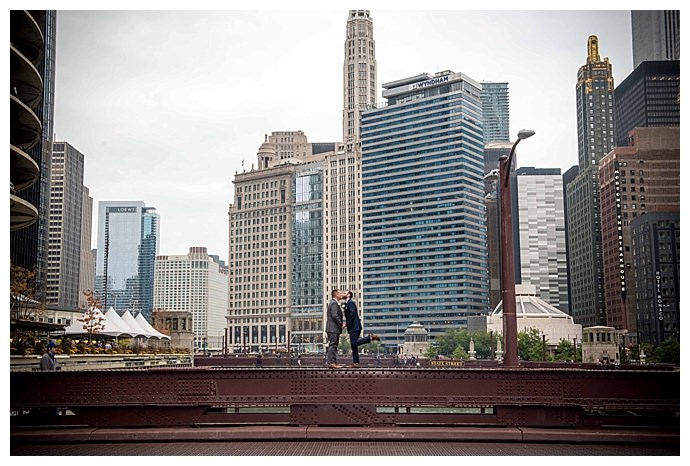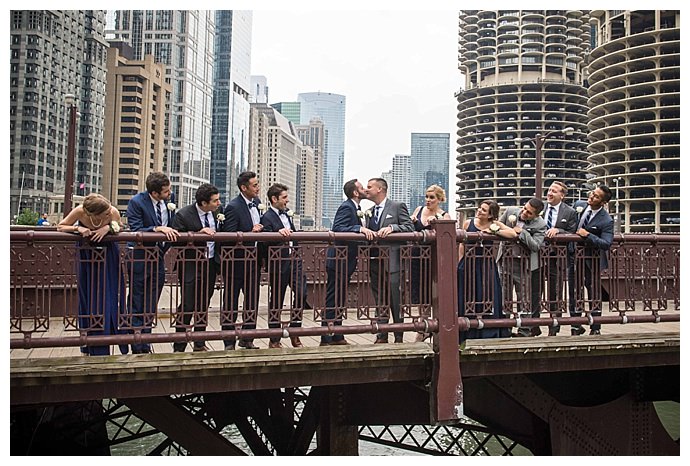 The Ceremony
Mike and Eli wore complementary suits for their ceremony, Eli in a navy three-piece suit with a gray vest and blue bow tie and Mike in a gray three-piece suit with a navy vest and blue tie. Floating candles lined the rose petal-covered center aisle where the wedding party entered before Mike and Eli made a grand entrance with their mothers by their sides. Along the outer aisles, the grooms entered at the same time, Eli stealing a look across the room at Mike walking down the aisle, before meeting at the front to start the journey of their marriage together. They wrote their own vows, which Mike says were funny and touching, and they sealed the ceremony with an epic dip kiss before gleefully recessing back up the aisle after being declared husbands.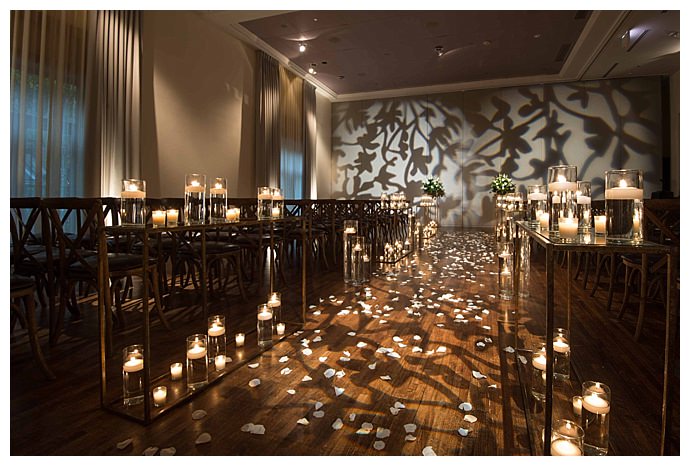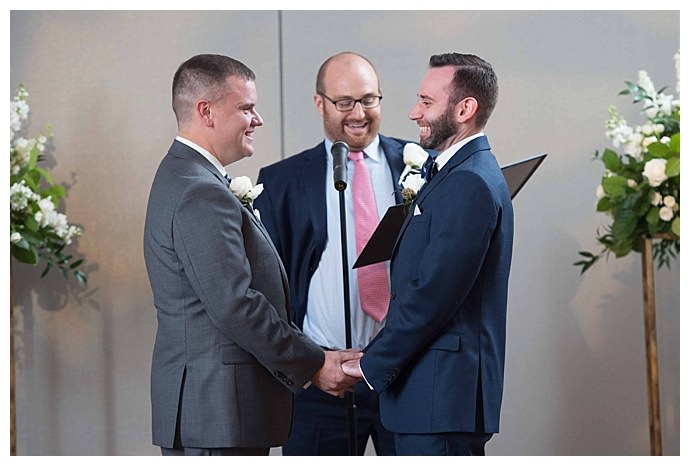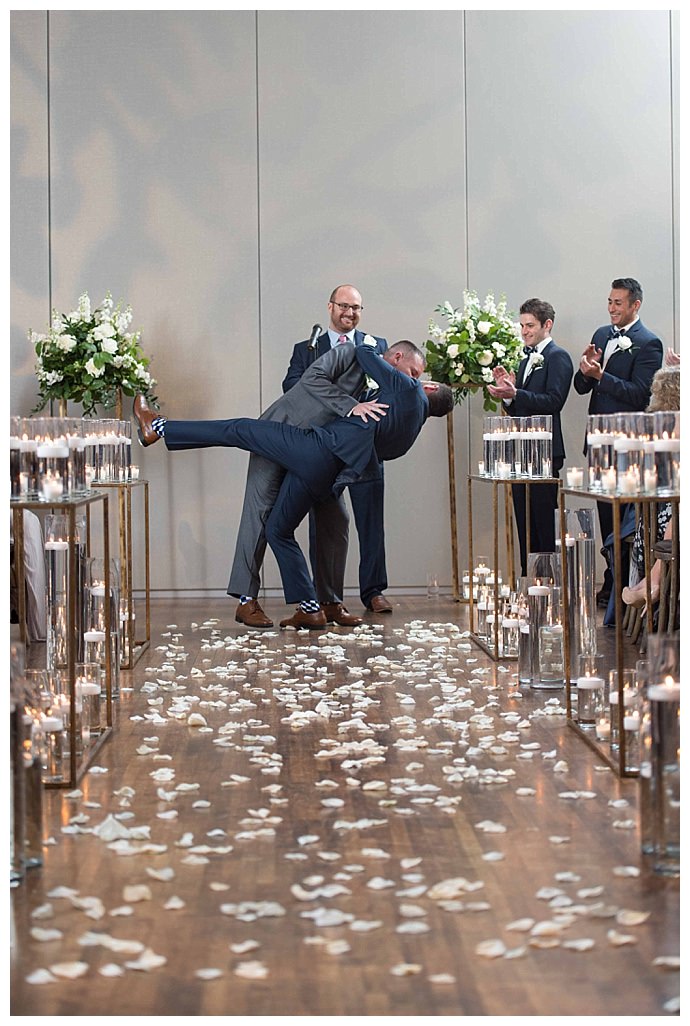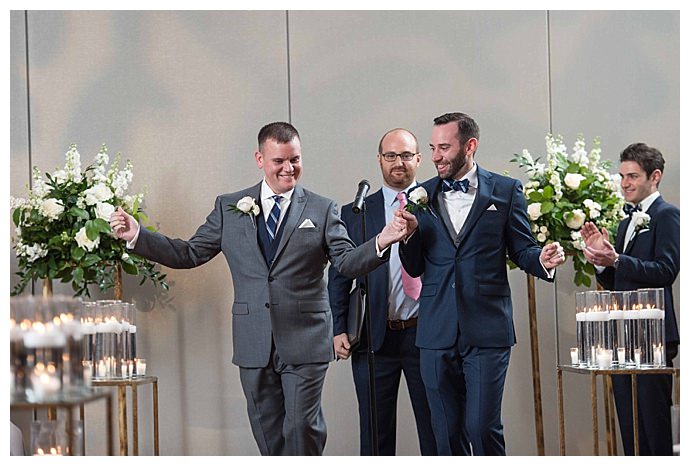 The Party
With a navy, old gold and ivory color palette, Mike and Eli used floating candles and white calla lilies and roses to transform Chicago's Ivy Room into an elegant space for their reception. Round tables and two long king's tables with gold metal frames were illuminated by candlelight, and guests enjoyed a sumptuous dinner of cream of cauliflower soup followed by game hen stuffed with mushrooms or a vegan pot au feu. In lieu of a wedding cake, the grooms had a delicious caramel apple tart with mascarpone ice cream for dessert.
But the real fun started after the meal, when Mike and Eli hit the dance floor for their first dance. An acoustic version of Robyn's "Hang With Me" played sweetly as the newlyweds enjoyed a slow dance before transitioning into Robyn's original, upbeat version when guests joined the happy couple on the dance floor. "The dance floor was completely packed for the rest of the night," Mike says, adding that they insisted on excluding traditional wedding songs from the playlist and instead jammed out to Beyonce and Britney Spears. And as the end of the night drew near, Mike and Eli had an epic walkout with their wedding party Ru-Paul style with colorful wigs, heels and boas, which made for a great memory and a perfect ending to the night.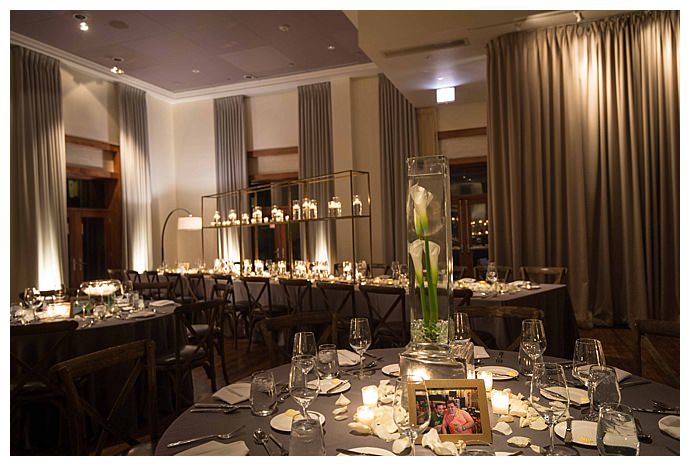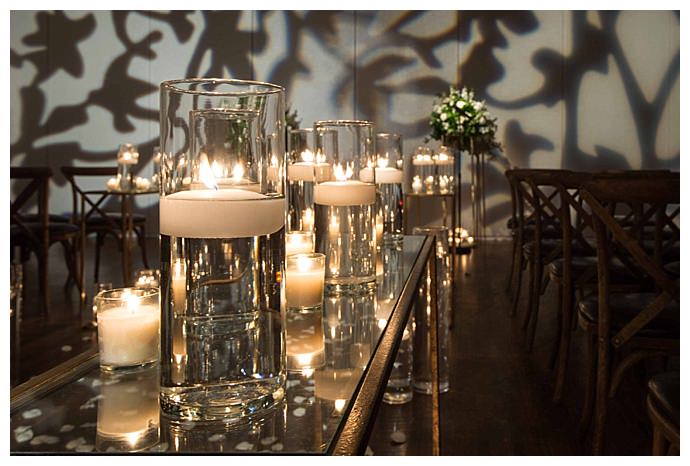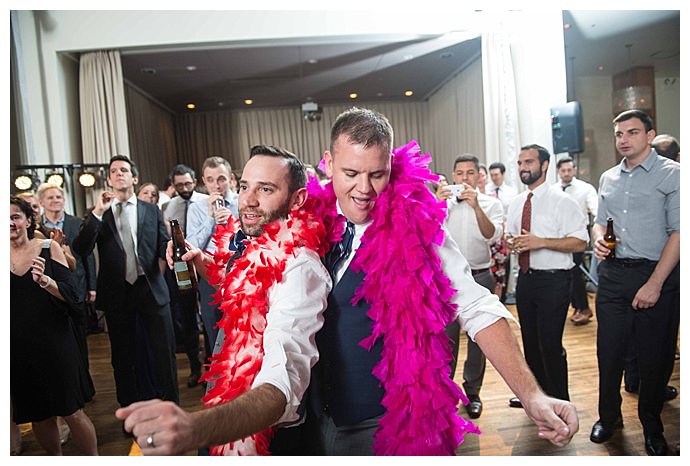 Memorable Moment
Mike says the most memorable moment from the wedding was, "The song Eli chose for us to walk down the aisle. It was my first time hearing it in that moment, and I could not stop from crying. Looking across the room and seeing Eli there with his mother knowing we were about to get married was beautiful."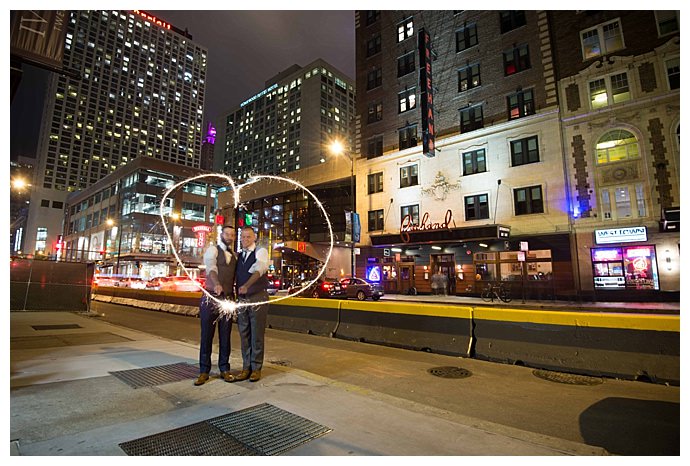 *Editor's Note: This post contains affiliate links. Each time you purchase an item via our affiliate links, Love Inc. is receiving a small percentage of the sale, thus you are helping our small, equality-minded business grow and allowing us to provide more content for YOU! Isn't that just fantastic?