Colder weather is knocking at the door, so it's only fitting that we're featuring Michael and Sylvain's winter wedding today, which took place in a castle in Colorado. The grooms opted for an outdoor ceremony in the chilly January air, but they pulled out all the stops to make sure their guests were cozy and warm. An eggnog and hot chocolate bar was available for pre-ceremony sips, and the grooms embroidered custom Martha Stewart blankets with their wedding coat of arms for guests to wrap themselves in as Michael and Sylvain exchanged vows.
For their wedding, captured by Frances Photography, Michael and Sylvain designed a personalized day that honored both their French and American cultures. "Since our wedding also involved the union of French and American families, we made sure to have elements of both cultures represented," the grooms say, "sometimes individually and other times as clever hybrids — like our wedding cake, which married the traditional French croquembouche with the American tier cake." Their cake was a showstopper to say the least but only second to the glowing grooms who got to commit to forever together on a day they'll always cherish.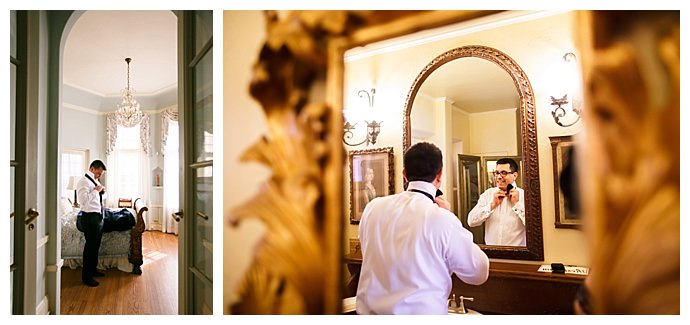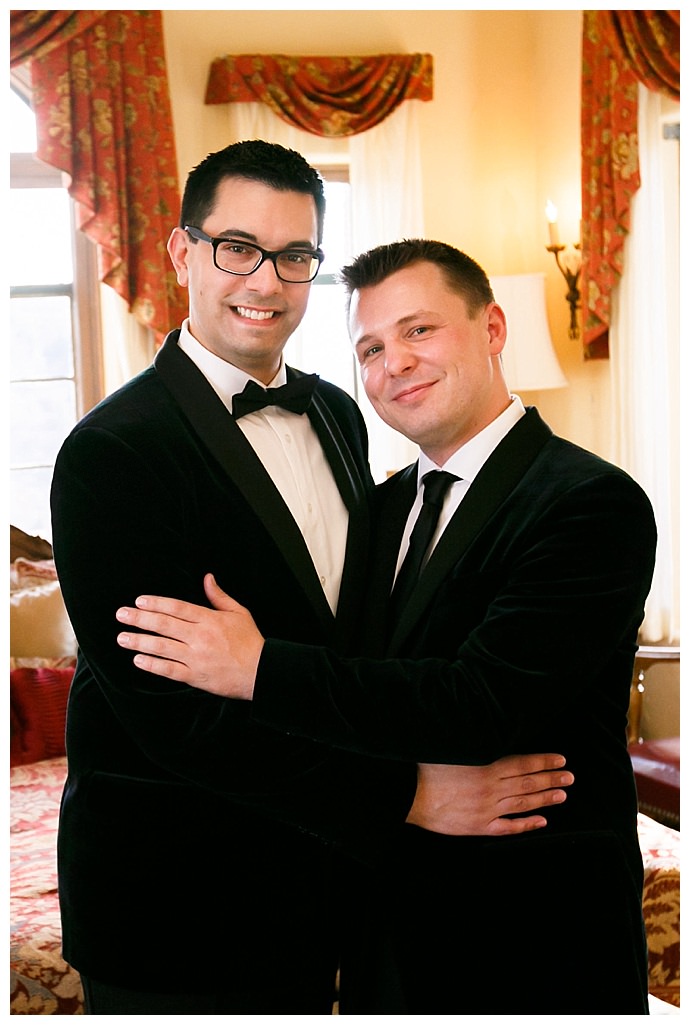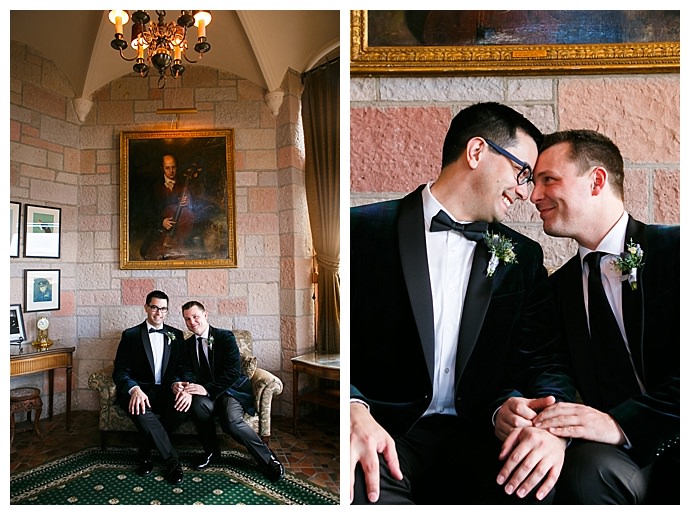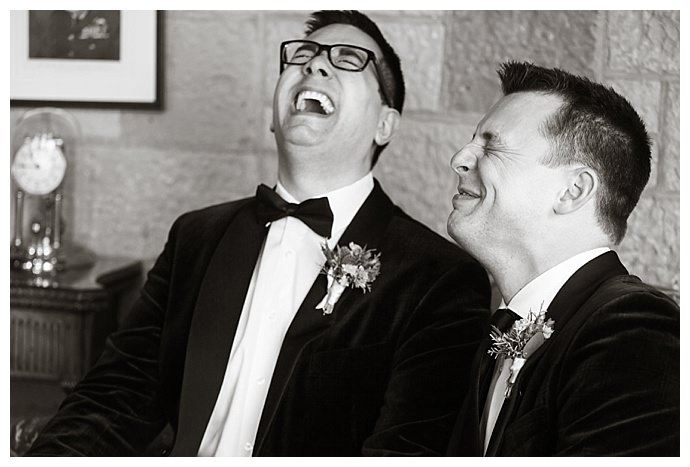 The Love Story
Michael and Sylvain were both living in Cambridge, Massachusetts, for college when they first met. Although they attended different schools — Michael at Harvard and Sylvain at MIT — they'd walk past each other on Massachusetts Avenue every day on the way to class. They had caught each other's eye, and one day Michael decided he had to find a way to talk Sylvain. So he hopped on Facebook, and after a quick search, located his profile. He sent him a message, and it wasn't long before they were meeting up at a fancy French restaurant in Boston for their first date. Seven years after their first meal together, Sylvain took Michael to L'Espalier where they were treated to a chef's gastronomic dinner, consisting of 12 courses and 14 drinks, before he asked Michael to marry him.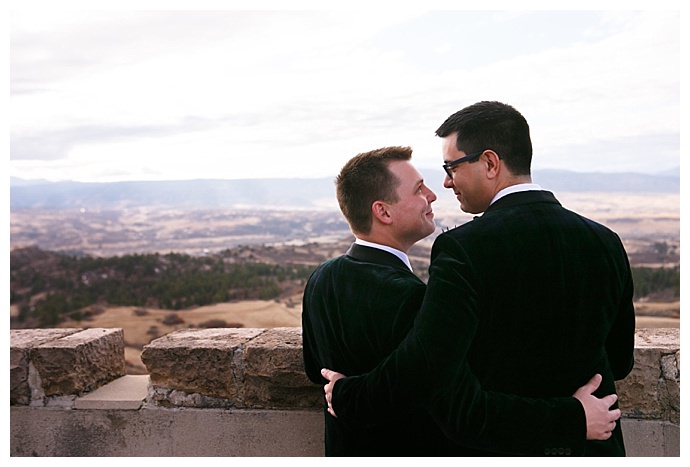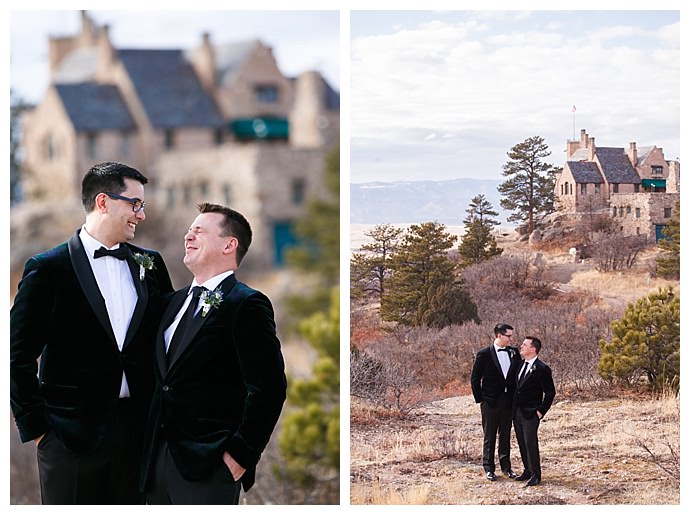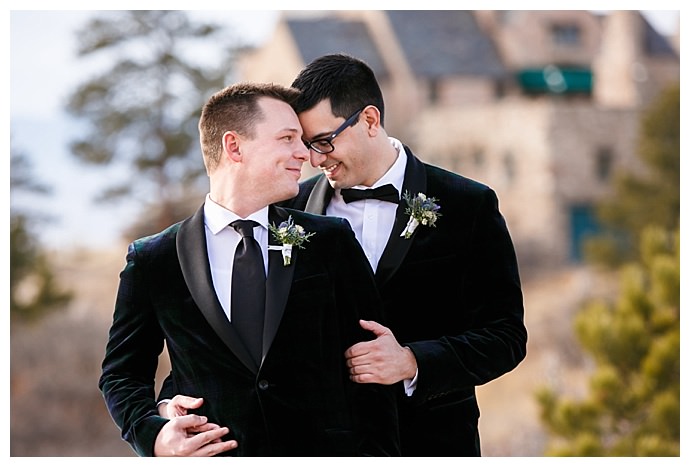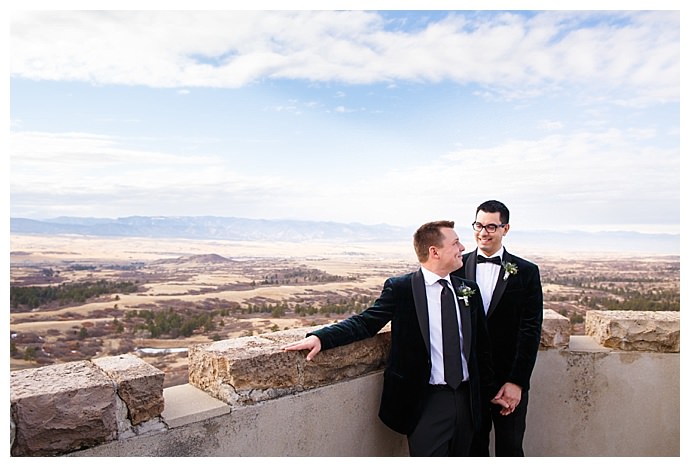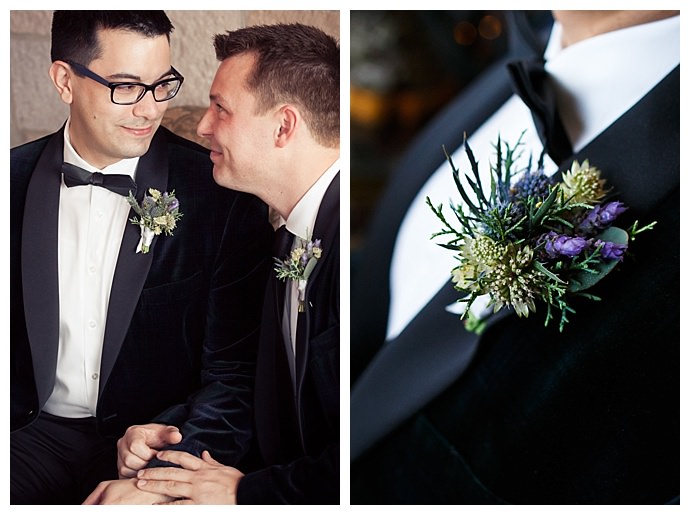 The Ceremony
Michael grew up not far from the venue, and was always curious about the Scottish gothic-style castle nestled in Daniel's Park. And when they learned about Cherokee Ranch & Castle's history and art collection, it felt like the perfect place to say "I do." With only 44 guests, Michael and Sylvain put a lot of thought into creating a memorable experience for everyone involved, beginning with the ceremony.
"We designed the wedding to be an intimate experience for all, so we wanted that to extend to the ceremony," the grooms say of their choice to arrange the guests' chairs in a semi-circle around the altar that encouraged their friends and family to mix together instead of choosing sides. "With all of this, we wanted to create the feeling of being enveloped all together and to reflect that idea that a successful marriage depends on the love and support of a community organized around the couple."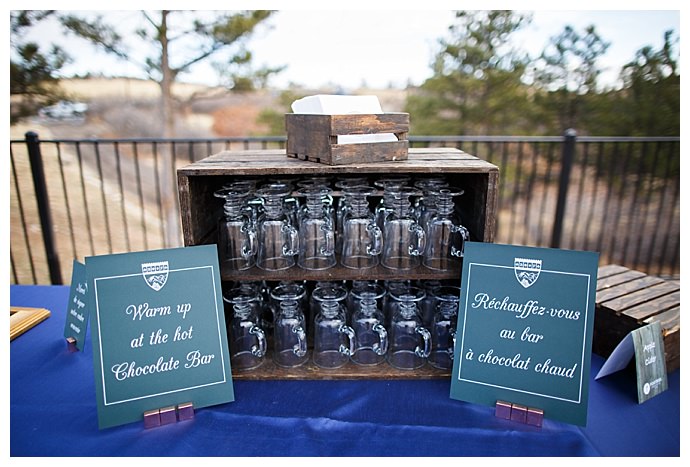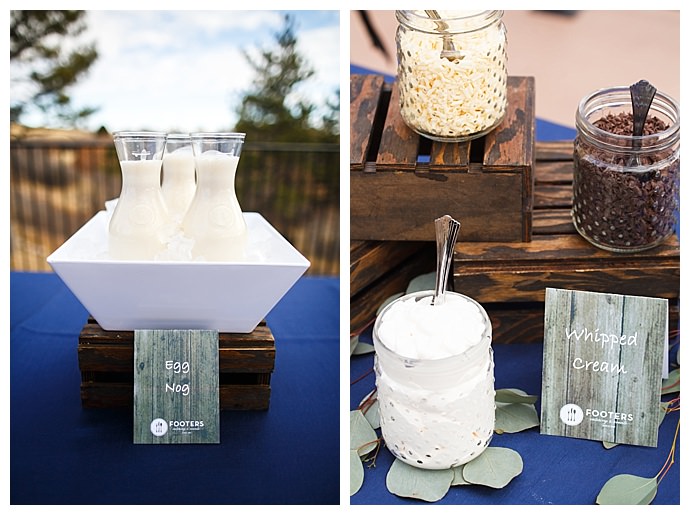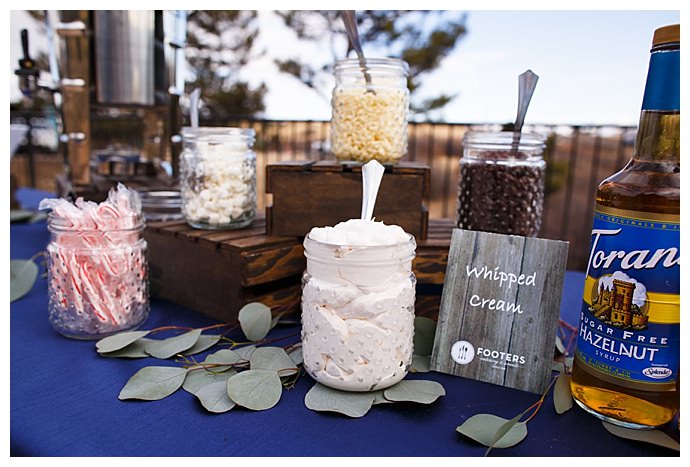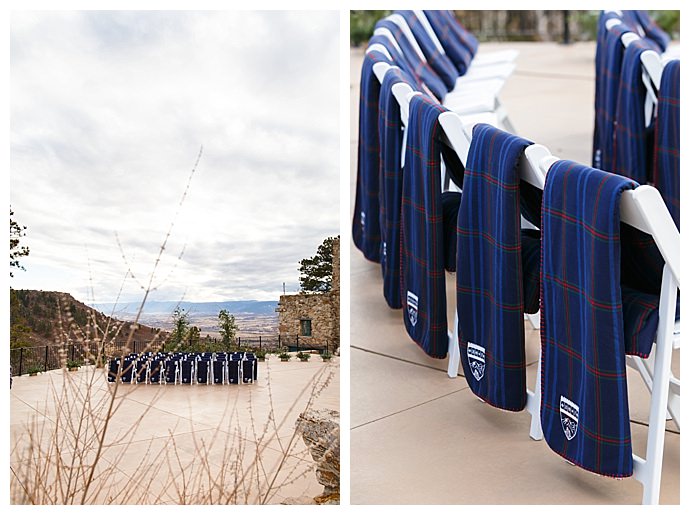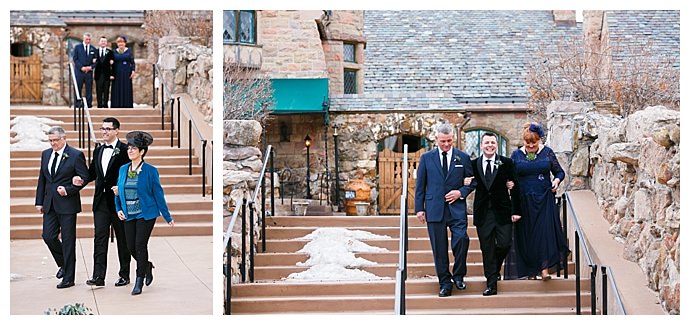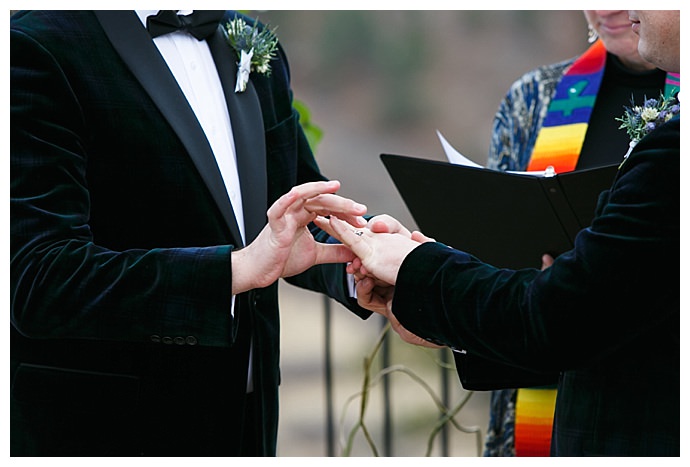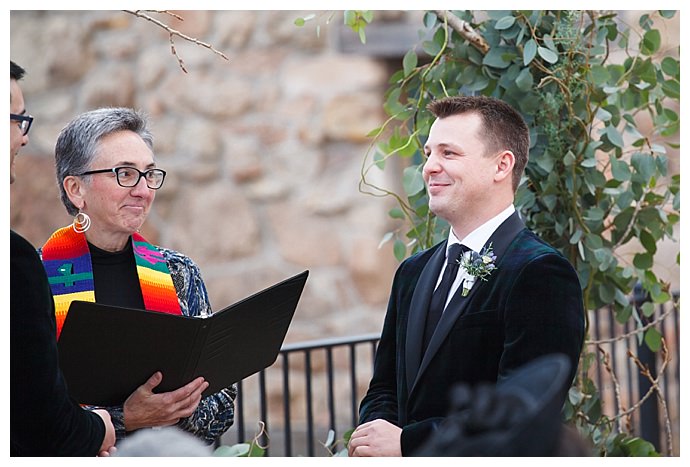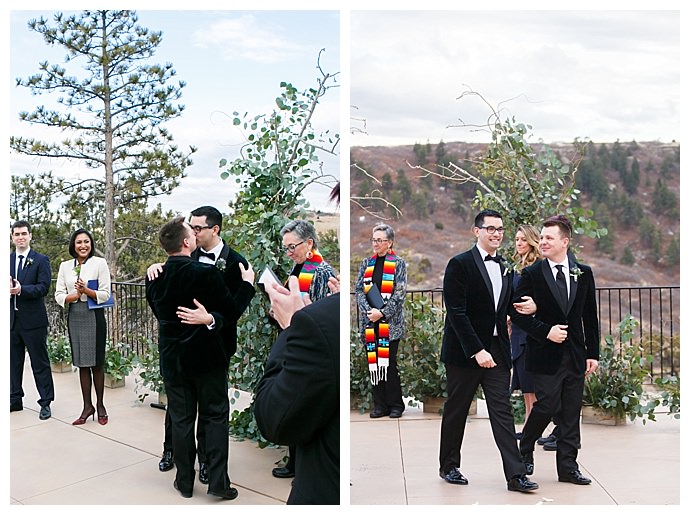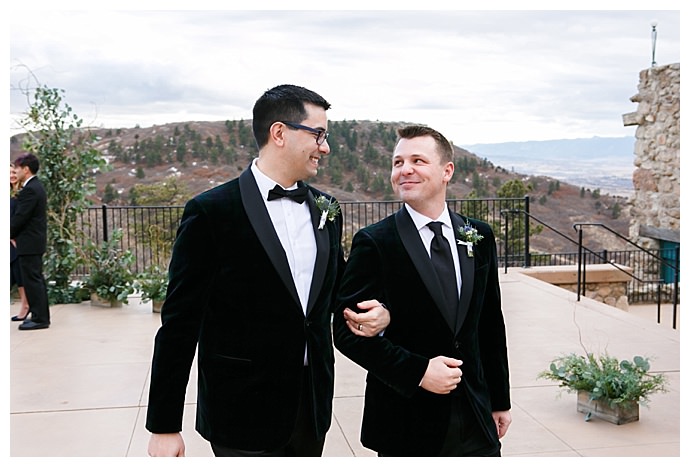 The Party
Inside the castle, an extravagant display of floating candles lined the u-shaped table where guests gathered for dinner. The night's cuisine was of the utmost importance to the grooms, who helped curate the menu. "We served a seated gastronomic dinner to our guests," Michael and Sylvain say. "We wanted them to remember our wedding as the best dinner of their lives and designed, with the staff at Footers, a 10-course meal that would mix the French tradition of wedding dinners with Rocky mountain flair." Displaying the 10 courses, a green menu card with a gold wax seal featuring their wedding coat of arms mirrored the green table numbers that were decorated with a mountain motif.
The same motif was also infused into their wedding cake, which made a bold statement, suspended from a chandelier draped in eucalyptus in the middle of the room. A French delicacy of cascading golden brown croquembouche wrapped around their inverted four-tiered white cake that had mountains etched into the frosting. "It was a masterpiece and won a cake design award," the grooms say. "It was both awe-inspiring and delicious!" After the newlyweds cut into their cake and shared a taste, leaving a dusting of frosting on their noses, they took to the dance floor for their first dance as husband and husband to Edith Piaf's "La Vie en Rose." Then it was time for the guests to join them. "Sensational violinist Maestro Hughes and his DJ partner rendered a magical program all evening, from magical classical music at the ceremony to a medley of French and American classics throughout the evening."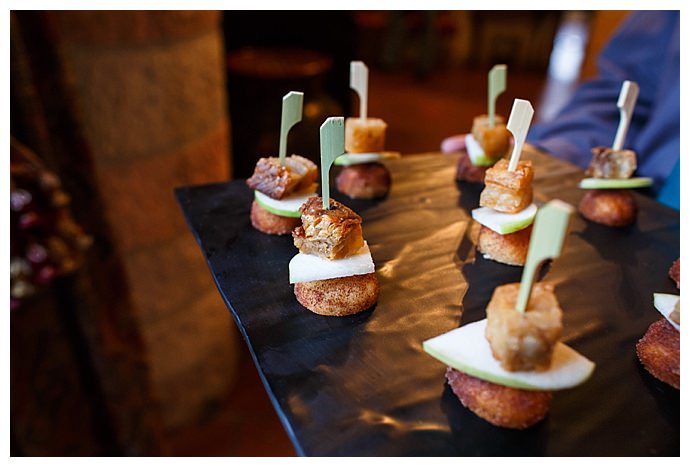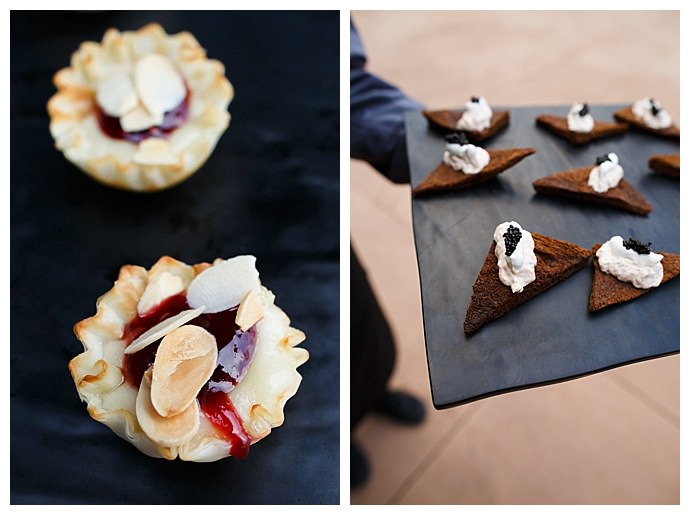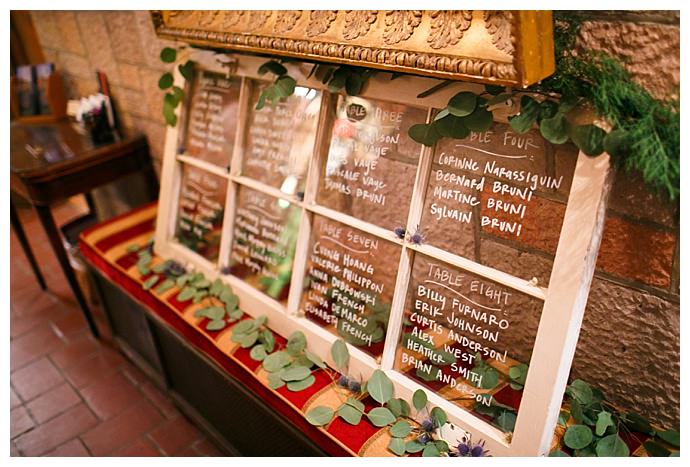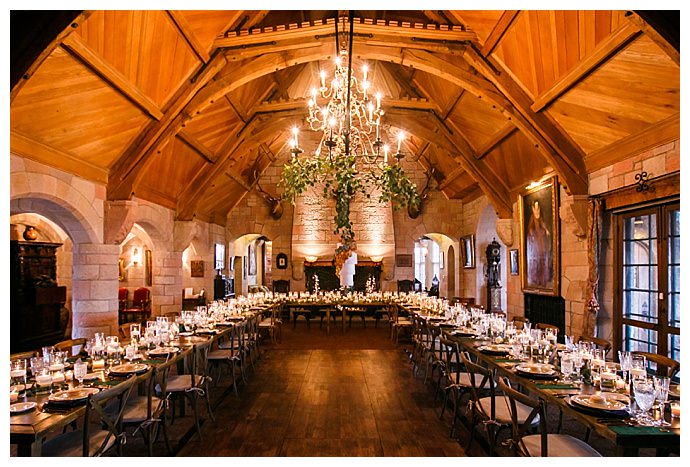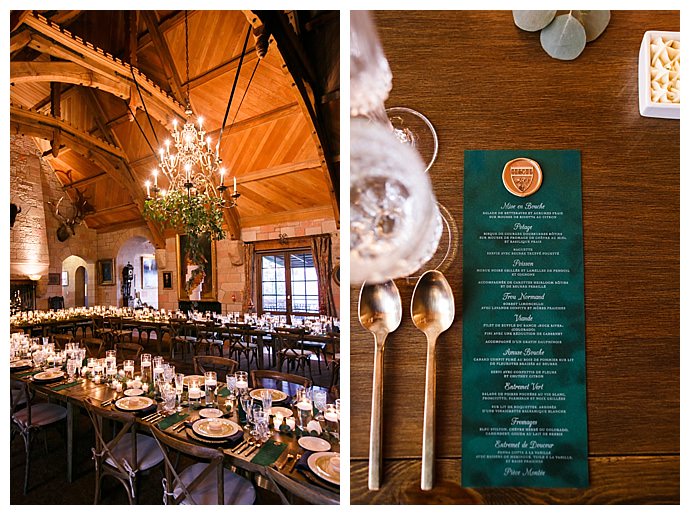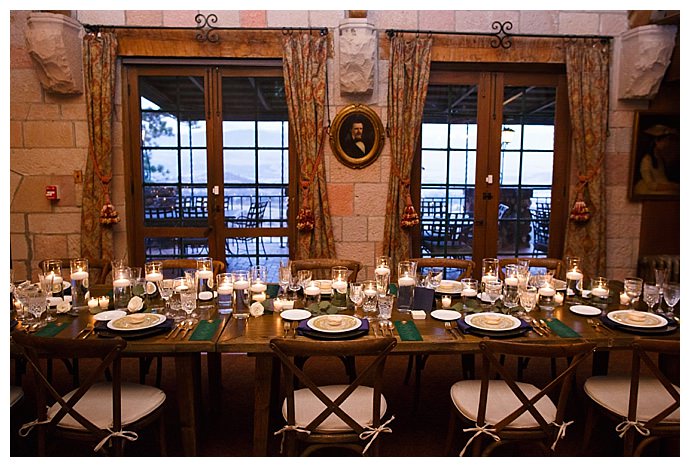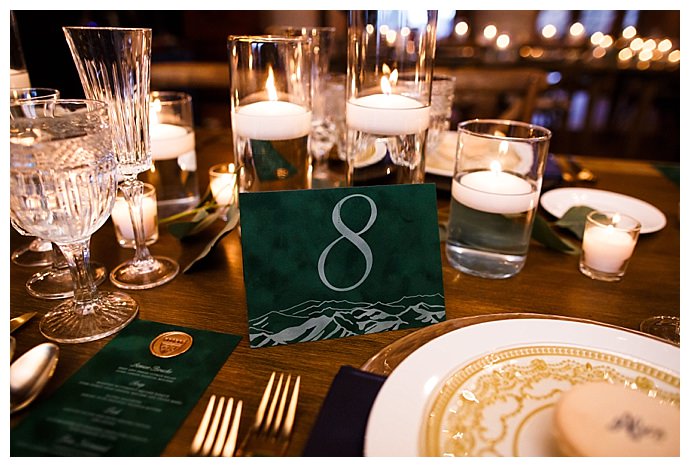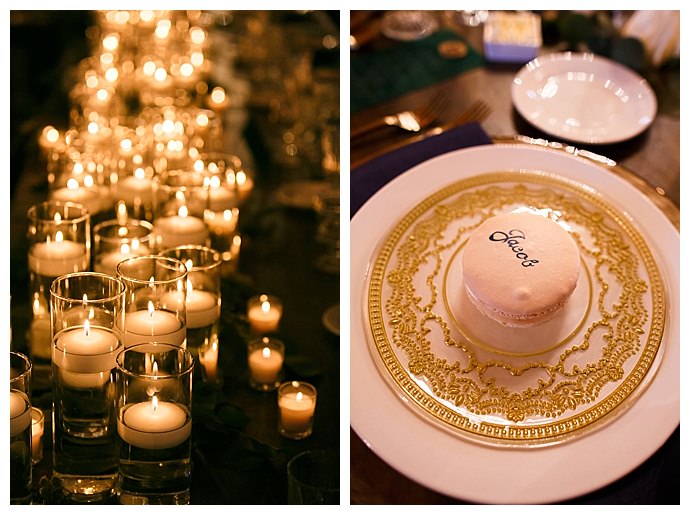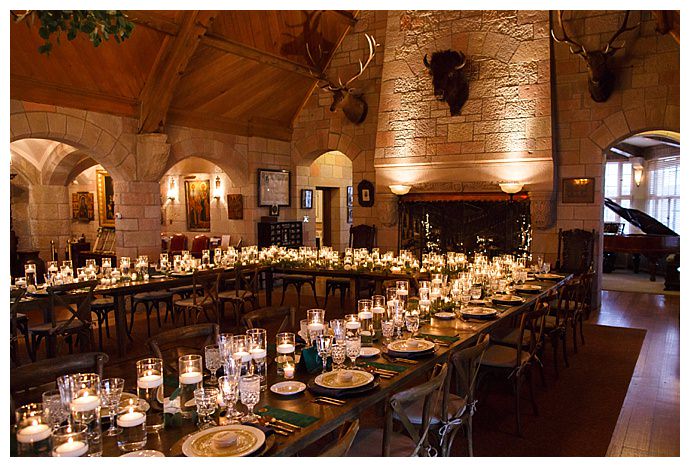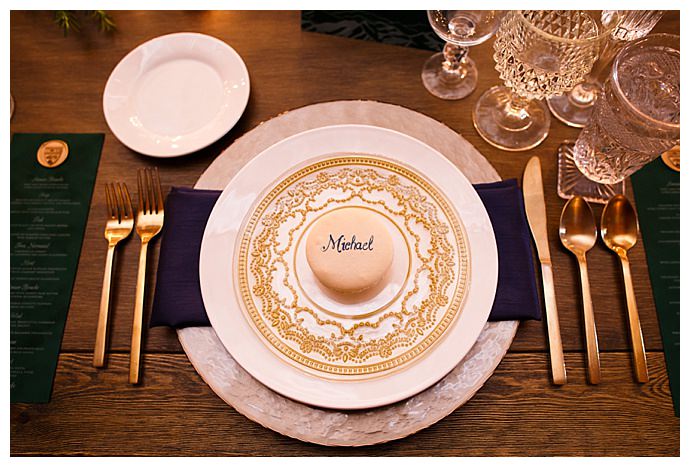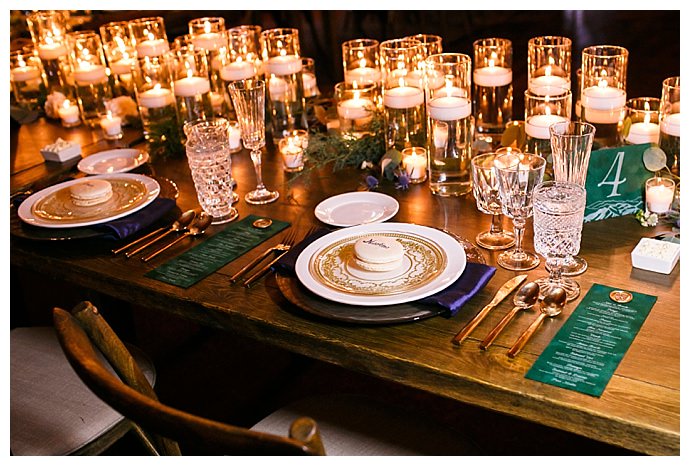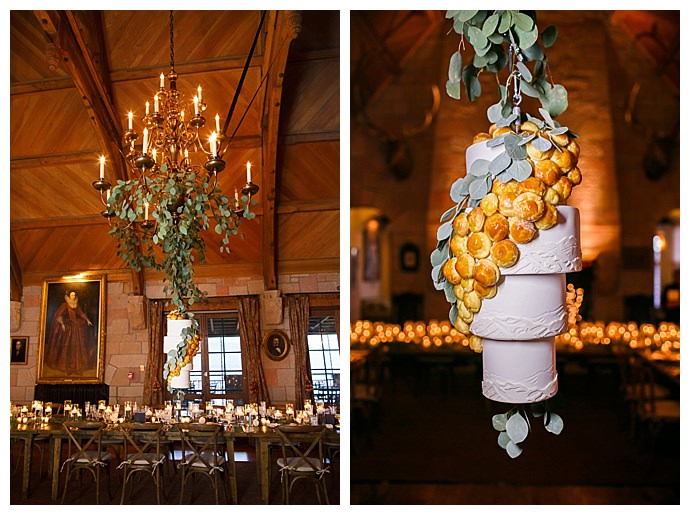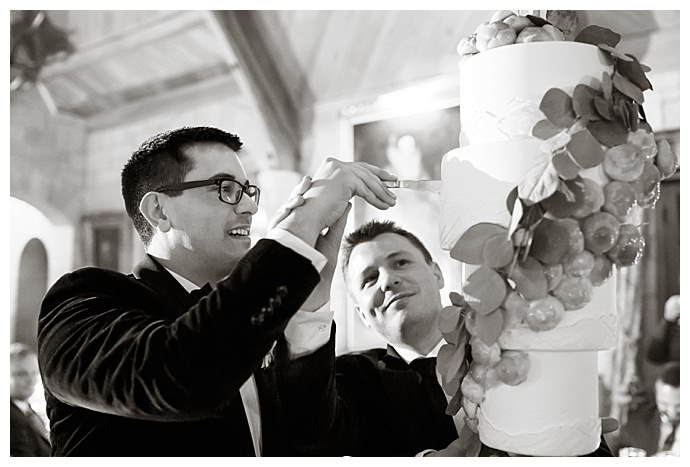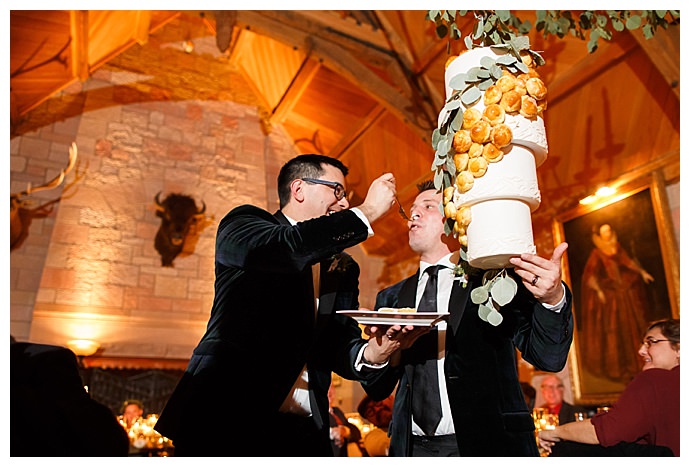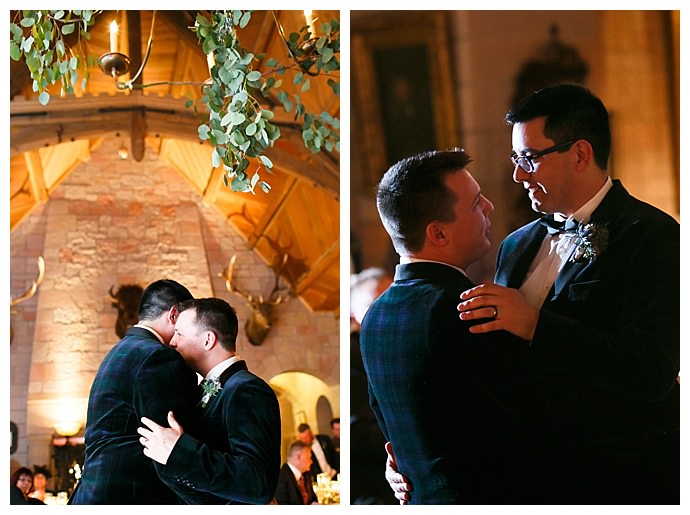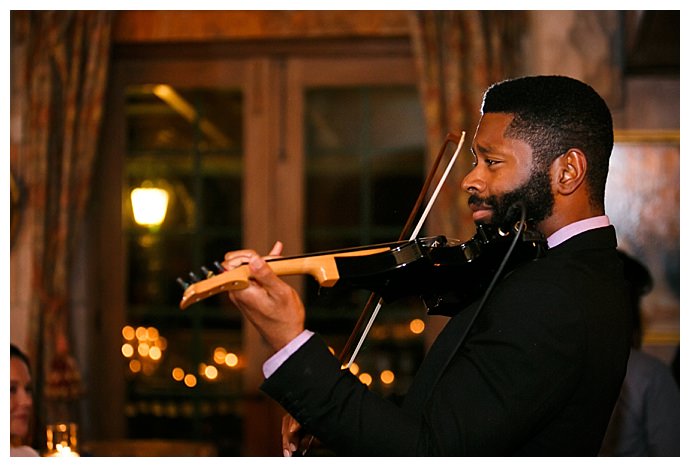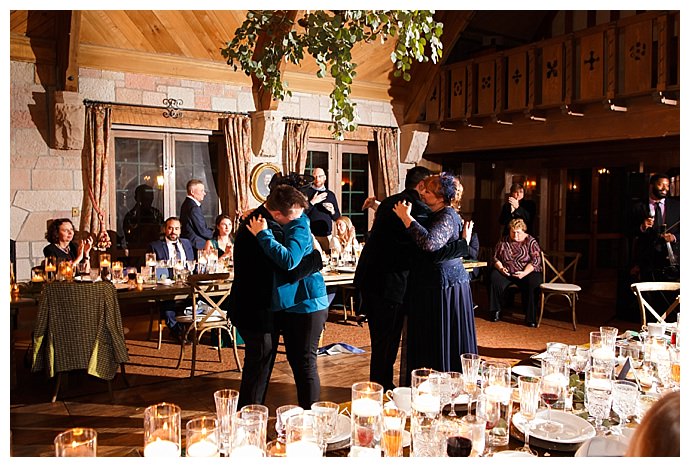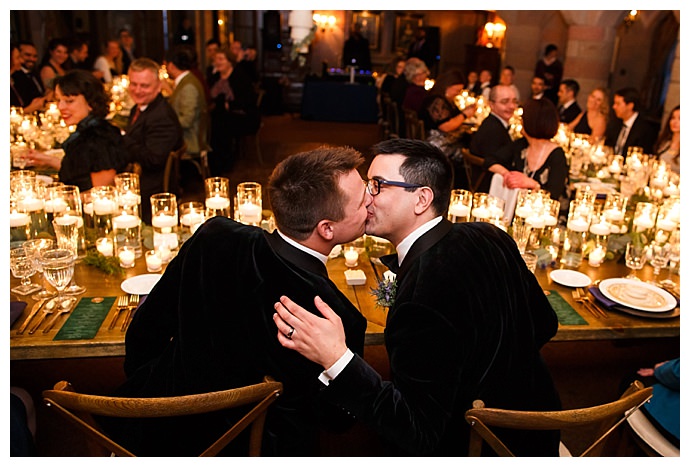 *Editor's Note: This post contains affiliate links. Each time you purchase an item via our affiliate links, Love Inc. is receiving a small percentage of the sale, thus you are helping our small, EQUALITY-MINDED™ business grow and allowing us to provide more content for YOU! Isn't that just fantastic?
Written by: