By Shannen Hofheimer | Photography by Bonnallie Brodeur Photographers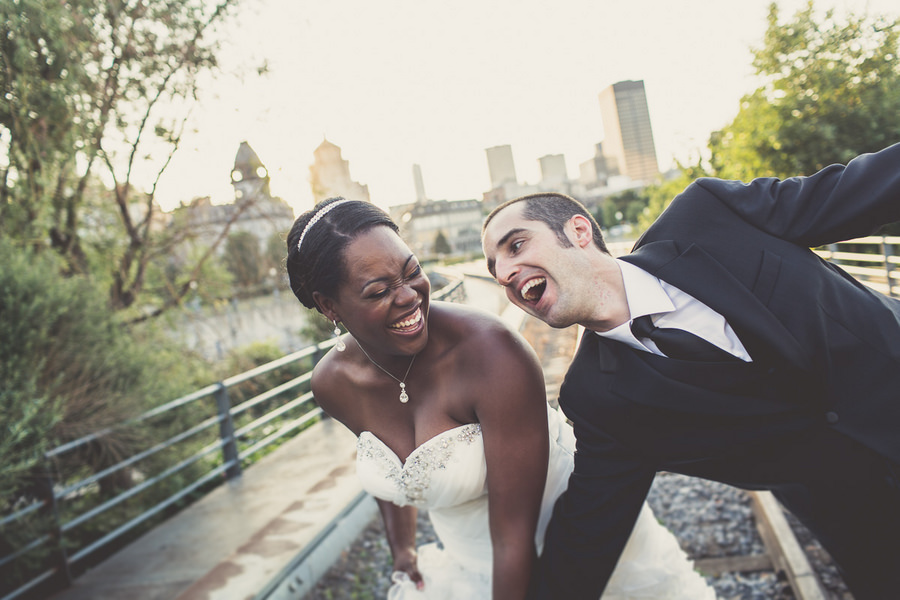 On Mercedes and Mark's wedding day, nothing — not even Mother Nature's heavy showers — could put a damper on the joy, happiness and overwhelming love they felt for one another. After taking stunning shots at the Château Joliette Hotel and attempting to round up all 400 guests in front of Joliette Cathedral for a group shot (no small feat for any photographer), the newlyweds and Bonnallie Brodeur Photographers made their way to a beautiful, rustic barn to do their couple session away from the commotion. However, once the skies unleashed their wrath, they realized they would have to postpone. But despite the hurdle, everything happens for a reason. This beautiful couple was able to enjoy taking their photos in a more relaxed environment, the pressure of getting back to any festivities alleviated. Plus, it gave them plenty more quality time to spend with their guests … which is much needed for a celebration this big!
The Venue
Mercedes and Mark exchanged vows before a plethora of beloved guests on May 14, 2014 at the beautiful, architecturally-stunning Joliette Cathedral in Quebec. The structure was not only a vision, but was large enough to accommodate the couple's enormous family and supportive friends.
The Ceremony
Regardless of how beautifully classic and traditional a wedding is, every ceremony is always infused with something that makes it especially personal and sentimental for the couple. For Mercedes, she wanted to ensure that her mother, who passed away a mere few years ago, was remembered during the ceremony by lighting a candle in her honor. The bride's family members also came together to play the music throughout the ceremony, symbolizing the ever-poignant familial bond, support and encouragement that is so special for a couple to have on their wedding day.
The Fashion
Mercedes looked absolutely gorgeous in her wedding gown by Anais Design, dripping in diamond baubles, while Mark looked dashing in his JAF suit.
The Inspiration
Mercedes and Mark chose to keep their floral design simple and elegant, paying homage to spring with greens, yellows and whites. Lit trees with delicately hung escort cards surrounded the tent while lanterns and glamorous chandeliers hung from the ceiling, giving their reception a romantic, mystical glow.
The Party
At La Distonction, the happy couple shared a first dance and of course, got wacky in the photo booth. And what would a good photo booth be if it didn't come complete with some mustaches, oversized lips, some lightning bolts (which probably paired perfectly with the stormy skies) and colored chalk?
Memorable Moment
Sometimes, it's best when things don't exactly go according to plan, giving us spontaneous, zany anecdotes that we can look back on fondly for years to come. For Mercedes and Mark, nothing was more special than getting caught in the rain…and realizing that their love can literally weather any storm.
Wedding Vendors:
Photography: Bonnallie Brodeur Photographers
Ceremony Venue: Joliette Cathedral
Reception Venue: La Distinction
Floral Design: Fleurs et Passion
Cake: La Crème des Gâteaux
Dress: Anais Design
Suit: JAF
Entertainment: Béatrice Noël et Mario Gravel de Discomach
Makeup/Hair: Coiffure Rubik and Mélissa François