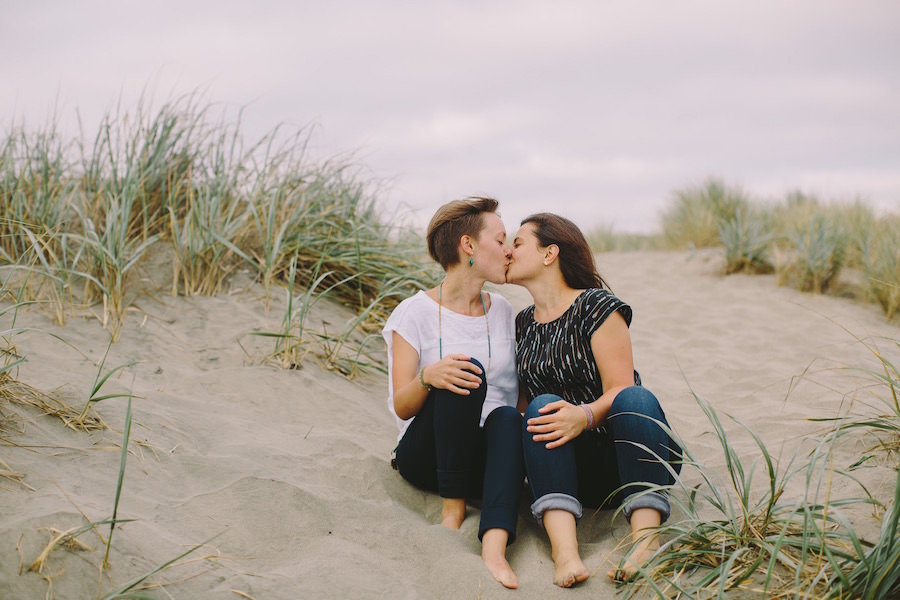 McKenzie sneakily brought her girlfriend Tori to the place where they had fallen in love: San Francisco. After spending the day together in the city, they ended up at Ocean Beach, where Flytographer Danielle was at the ready, lens in hand, waiting for McKenzie's seashell cue. Even with a minor hiccup ("there were basically no shells on the beach that day," laughs McKenzie), the proposal went off without a hitch and was beautifully documented, along with their post-engagement glow.
The Love Story
Tori and McKenzie didn't begin dating immediately. After meeting at a monthly queer women's dance party in Washington D.C., they first connected over music (McKenzie is a bass player, Tori's a singer) and soon joined forces in a rock band. A year and a half later, their hearts began to beat to a new drum and they decided to give a relationship a try.
It was clear from the very beginning that they both saw forever in each other. "Once we got together, we talked a lot about the future — marriage, kids, where we might live — but we always skipped over the getting engaged part. I decided it was time to act, so I got some advice from Tori's sister and brother-in-law, and got to planning!"
The Proposal
It was during a trip the two took to San Francisco that McKenzie fell in love, and found out later that Tori had shared the same. Because of the city's sentimental value to the couple, she knew she had to pop the question in SF. She just had to figure out how to get her there …
"Luckily enough, a month or so prior to my planning, Tori and I had booked flights to Oregon to visit my family in late August. This was the solution: I could change the flights to fly into San Francisco instead, and she would not have to know!" exclaims McKenzie of her plan. "I barely told anyone that the proposal was coming, so it would be a surprise. The day of the flight to 'Oregon' came, and I was out-of-my-mind nervous. I thought I had it well-planned down to the last detail, so all I could do was go with it. I was able to get her all the way to Oakland without any suspicion. When we got there I was like, 'So we're not actually changing planes here; we're staying here in San Fran for the day!'" 
Tori went with it, excited of her girlfriend's surprise but none the wiser of McKenzie's ulterior motives. They lunched on the best tacos in town, shopped around the Mission District and relaxed in the sun at Dolores Park.
Later that evening on their way to "dinner," their Uber driver took them through Golden Gate Park and stopped at Ocean Beach where, unbeknownst to Tori, photographer Danielle was at the ready. "When Tori figured out where we were, that was the first time she got suspicious about what was happening. We walked around on the beach collecting rocks and shells for a bit while the two of us were trying not to act super nervous."
"Danielle's cue to know I was about to propose was when Tori and I compared our seashell findings. This was the only trip-up! There were basically no shells on the beach that day," laughs McKenzie. "Tori thought it was pretty weird that I was so insistent on finding shells when there weren't really any to be found, but she was so nervous with hopeful anticipation that she just went with it and channeled her nerves and excitement into the task. I was so grateful for this!"
"We found a few shells, and we stopped on the beach to compare them and pick our favorites. I had placed the ring under the stack of shells in my hand, so when I got to the bottom of the stack, I said, 'Okay, I have one more,' and I opened up my hands with the ring sitting there and asked her to marry me. She said 'Yes!' And Danielle captured the moment beautifully. It was perfect."
The next morning, they hopped on their flight to Oregon, where they were able to make the big announcement to McKenzie's family in-person.