By Meghan Kennedy | Photo by Mathy Shoots People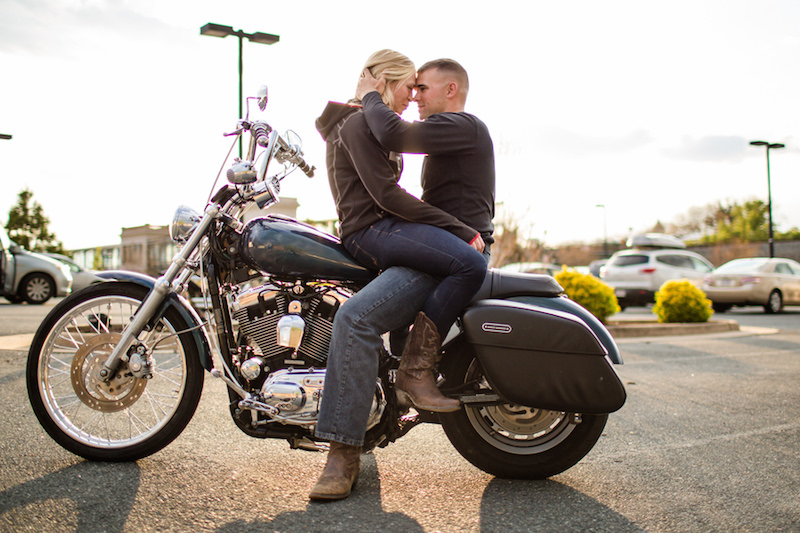 Matt and Monica are not your average couple. When they're not riding their motorcycles together, they're hanging out around Virginia spending as much quality time together as they can. Their engagement shoot done by Mathy Shoots People shows how much fun these two have together — and how all their shared interests make them perfect for each other. The session, done on Main Street in Fredericksburg, Va., features a charming town as the backdrop for an even more charming couple.
The Love Story
College sweethearts Matt and Monica met through the Marine Corps Officer Commissioning program, while Matt was a junior at Michigan State University and Monica was a sophomore at Alma College. They dated for a year before getting engaged in December 2013.
The Proposal
Matt and Monica knew they were meant to be together forever about six months into dating, but the proposal didn't come until six months later: the day after Christmas. Since Monica is very nontraditional — and is especially not a fan of a "down on bended knee" proposal — Matt wrapped the ring up like a Christmas gift and asked her to marry him once she opened it. Monica tells us about the proposal, "I knew it was coming… and hoped he could deal with my stubbornness forever!"
The Ring
The ring is a princess cut, vintage '20s style, reminiscent of The Great Gatsby era. It features small diamonds along the double band leading up to the center diamond, with heart-shaped gatherings of smaller diamonds flanking the stone.
Wedding Date: September 13, 2014