By Brittny Drye | Photography by Amy Little Photography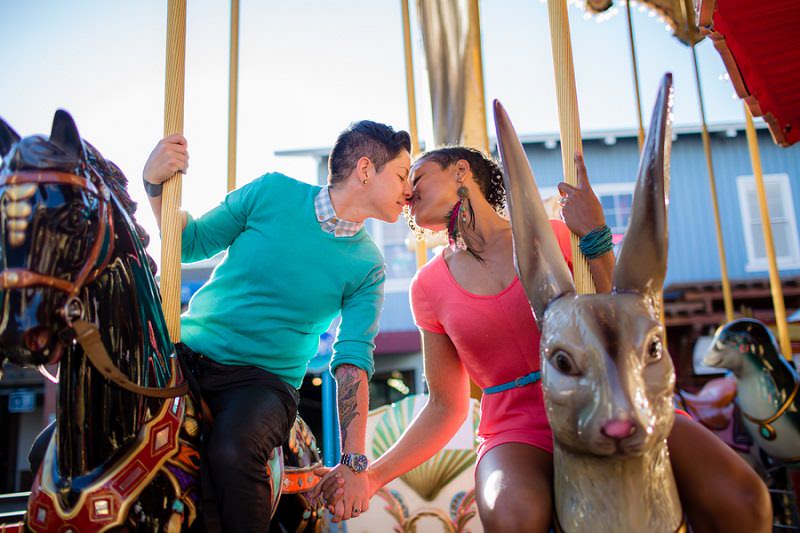 There's just something about San Francisco that's pure magic and when you have a photographer as talented as Amy Little following around two people who are as madly in love with each other as Chae and Miki, the result is going to be one jaw-dropping engagement session. "We love the Bay Area — San Francisco has some great memories for us," says Miki. "When we first met, we loved to explore the city together."
From kisses at the piers to hand-holding down San Fran's famously steep streets, this session is filled with charm, love and breathtaking photography.
The Love Story
It was love before even first sight for these two, who met through a personal ad on Craigslist. "I knew she was the one right after reading her ad," says Chae. "I hadn't even met her yet." Chae's instincts were spot on and their relationship grew over the next four and a half years until she took it to the next level by asking Miki to marry her.
"I wanted to propose to Miki because I knew she wanted to propose to me and I wanted to beat her to it. With same-sex couples, people tend to expect the more masculine of the two to be the one to propose, but I didn't want it to be that way because we're not like most couples. I wanted her to know that I loved her and she deserved to be loved and cared for for life," explains Chae of her decision to pop the question. "So I bought a ring after frantically searching the entire month of November to find the right one and brought it with us on our trip to Maui in December."
Chae was waiting for the absolute perfect moment, which didn't come until their very last day. After hiking through a bamboo forest, they happened upon a tall, secluded waterfall and Chae knew that this was it. Surrounded by rainbows, mist and wildlife, she asked Miki to marry her. "I was so in shock, in tears, I asked if she was sure but what I really meant was 'Is this really happening?!'" laughs Miki. "It was such a perfect day. I couldn't have been more surprised or happier."
The Ring
"The ring was difficult to say the least," says Chae. "Miki prefers more masculine style so finding a ring that fit her finger and wasn't too over-the-top, shiny or flashy was very hard." She ended up choosing a thick white gold band accented with three princess cut diamonds stacked down the center.
Memorable Moment
"The most memorable part was actually the setting. Waterfall, clear hot day. And the love in Chae's eyes as she asked if I would spend the rest of my life with her."
Wedding Date: In 2016