Although Mark and Steven went to City Hall to officially tie the knot, they still wanted their friends and family to be a part of the momentous occasion. So two days later, they invited everyone to Williamsburg for a joy-filled celebration at Brooklyn's MyMoon, where they had a surprise in store for all of their guests. Williamsburg Photo Studios was there to capture all the endearing moments, which began with the grooms getting ready together at The William Vale with Manhattan's notorious skyline in the distance.
And when it was time for the day to come to an end, Mark and Steven were reminded of how loved they are. "The whole day was a blur, but our favorite part of the day was having everyone that we cared about in our lives in the same place," Mark says. "Everyone was part of the celebration and we know everyone had a good time."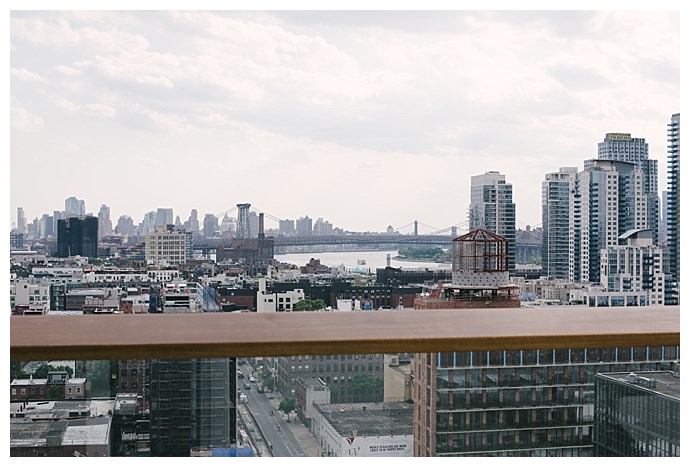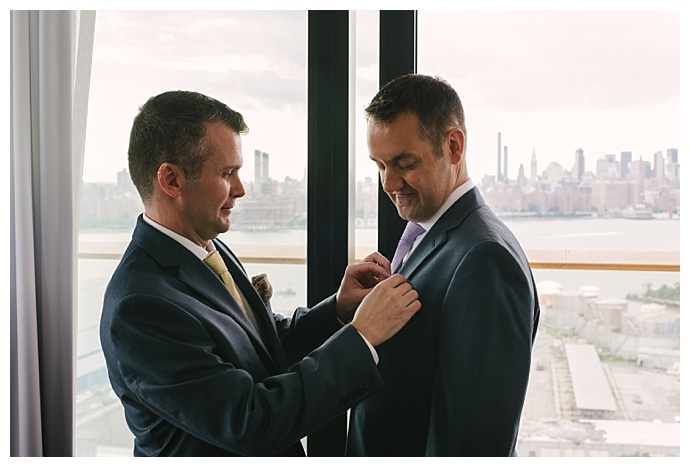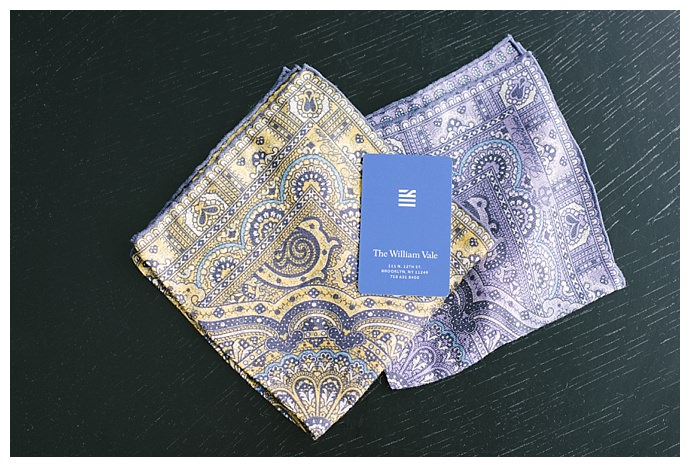 The Love Story
Mark and Steven had both planned to escape the hustle and bustle of New York City summer weekends by joining a share house on Fire Island. "We both joined a summer share through different friends and met our first day," Mark says. "I was sitting at the outdoor patio table having a drink with new friends, and Steven walked up the stairs to the table and said to me, 'you're cute.' That was our first meeting, and we've been inseparable since."
When Mark decided he wanted to spend the rest of his life with Steven, he called all of their family to let him know of his plans to propose. He wanted it to be a casual, intimate affair, so he planned to surprise Steven after work one day with champagne. "When Steven came home from work, I poured the champagne and had him go to our terrace to wait for me," Mark says. "When I came outside, I got so overwhelmed that I just started to sob and threw the ring at him."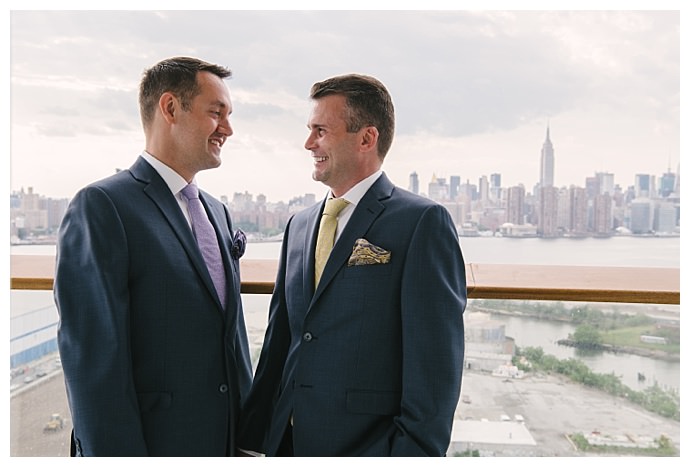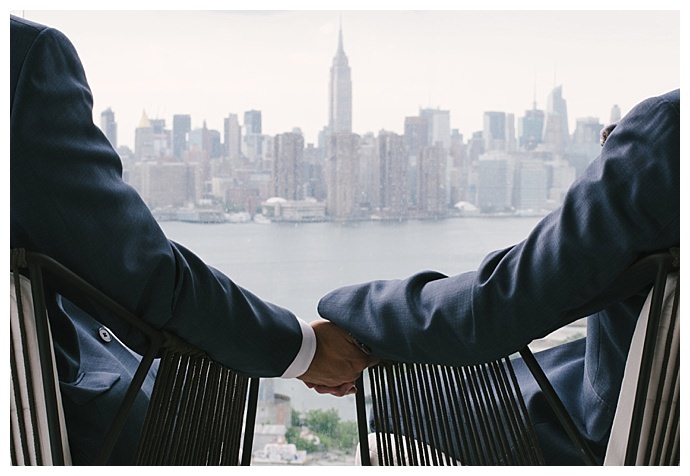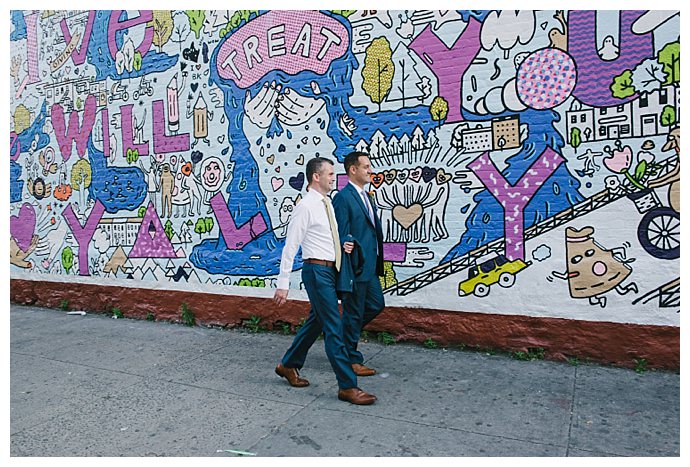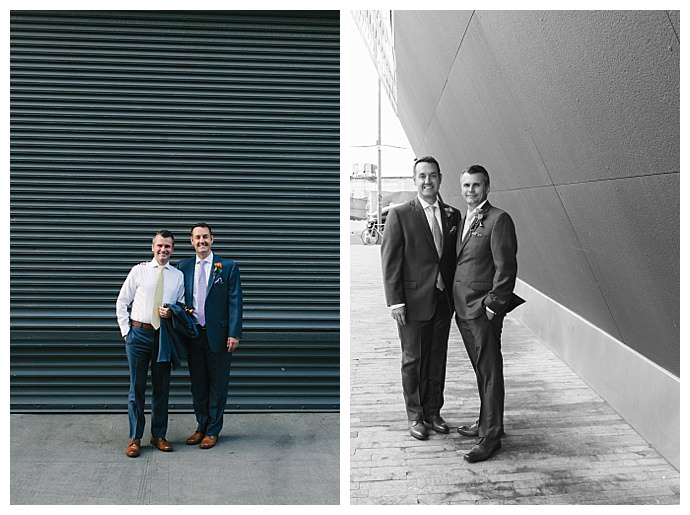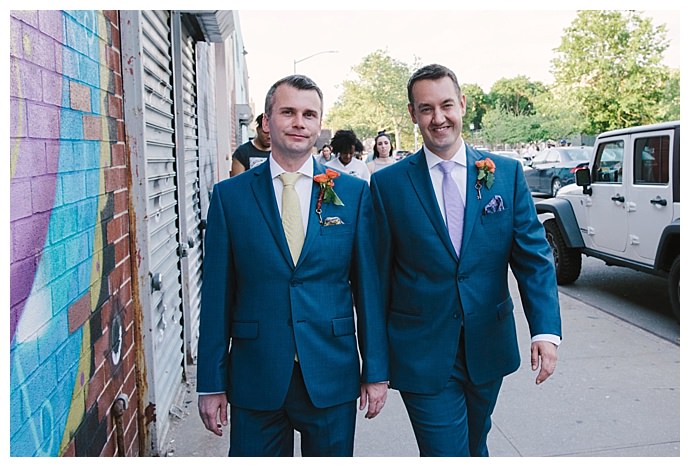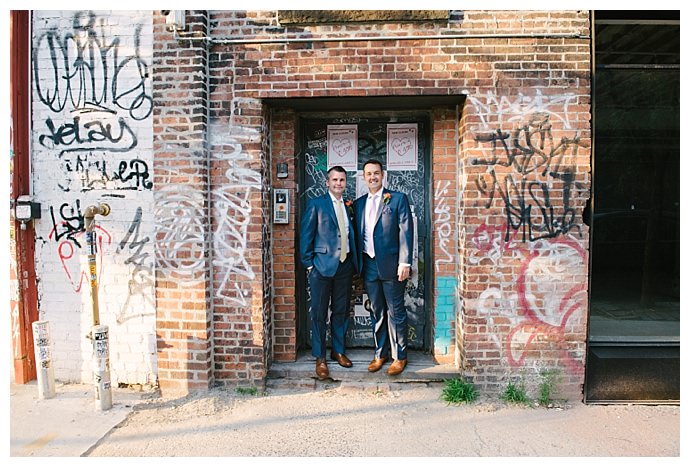 The Ceremony
Two days prior to the celebration at MyMoon, Mark and Steven had wed in an official ceremony at New York City's city hall on the day of their 10-year anniversary, so their guests were under the impression they were joining the newlyweds for a cocktail party and reception. However, Mark and Steven had a surprise up their sleeves. "At the wedding celebration, we surprised everyone by having a surprise ceremony that was administered by one of our best friends, who we had dressed as a judge — in formal robe and wig!" Mark says.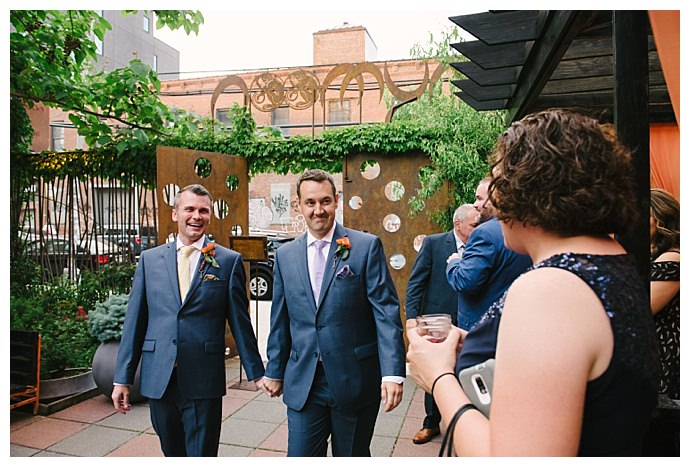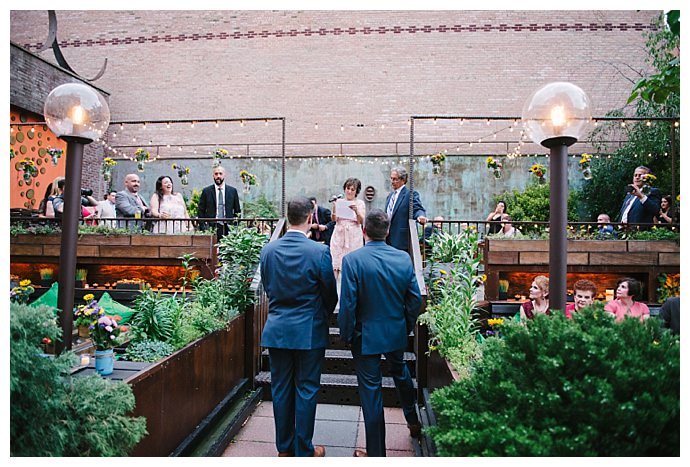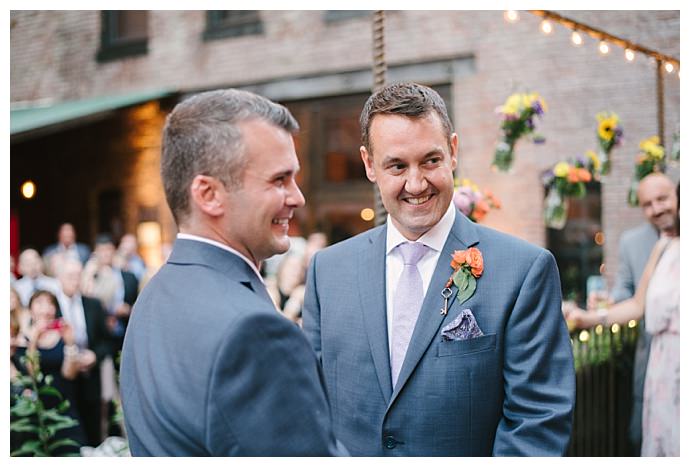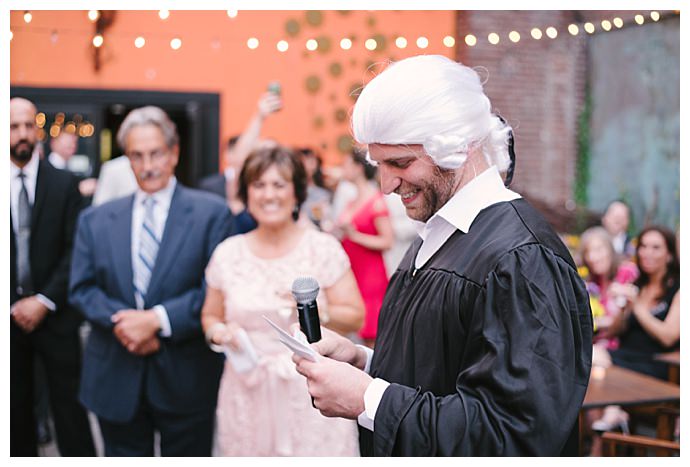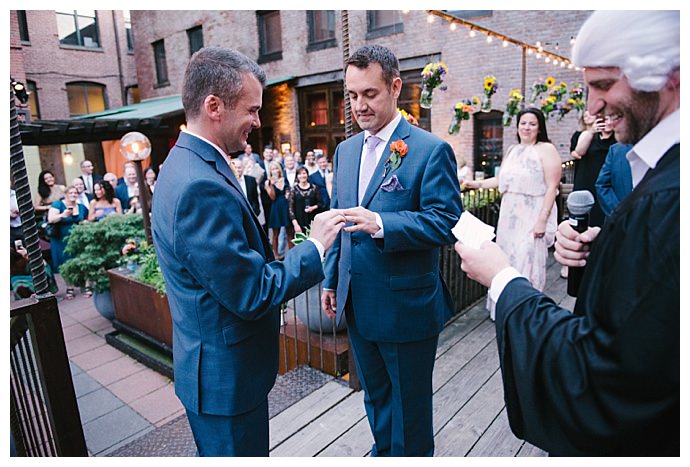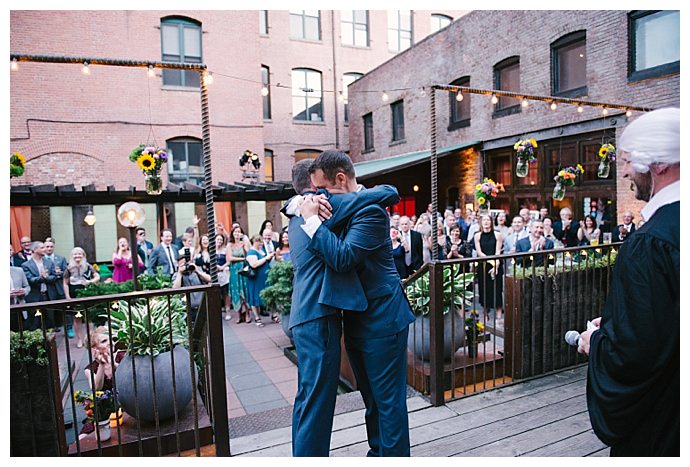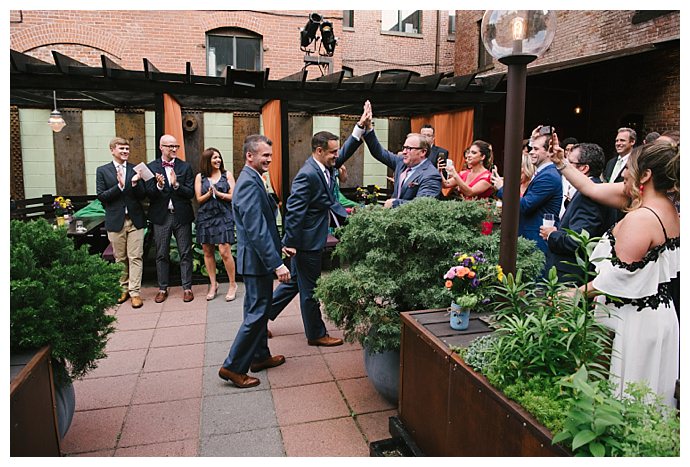 The Party
For their summer wedding, one of their best friends selected all the flowers. "She knew that we both loved sunflowers and kept things wild with a variety of flowers," Mark says. "The flowers looked perfect in the venue and kept the industrial feeling of MyMoon and Williamsburg." One of Mark and Steven's greatest passions is traveling, so they also incorporated a travel theme into their decor. They decided to forego a formal meal and had a variety of delicious passed hors d'oeuvres available for guests to enjoy in between bouts on the dance floor. The grooms were adamant on having a DJ who could keep the energy high throughout the night, which kept the celebration going all night long. "We loved every second of sharing our day with our family and friends, and it was a long night of partying," Mark says.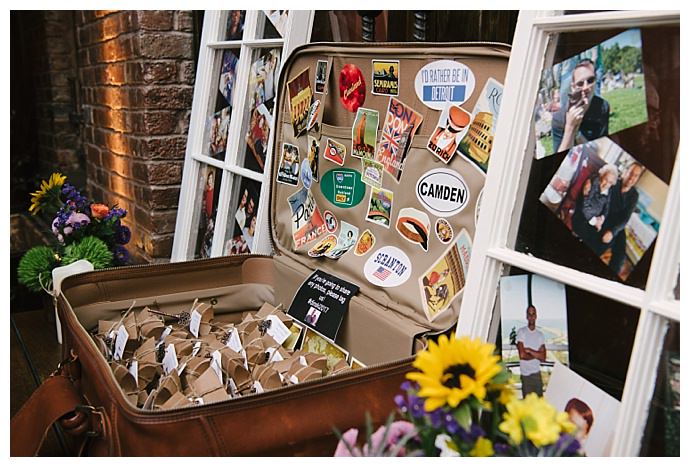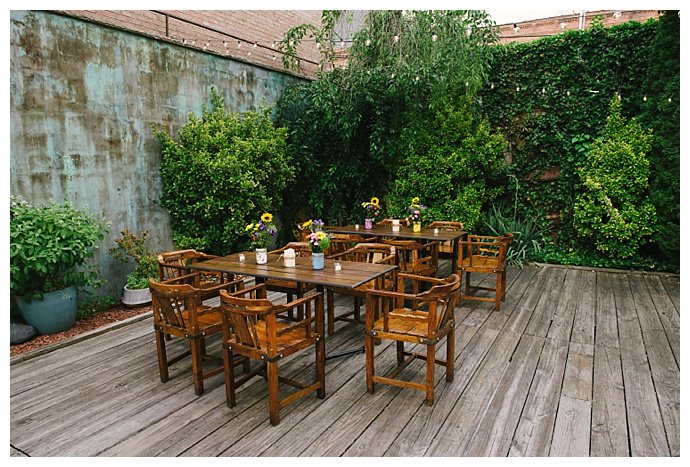 Submitted via Matchology
*Editor's Note: This post contains affiliate links. Each time you purchase an item via our affiliate links, Love Inc. is receiving a small percentage of the sale, thus you are helping our small, equality-minded business grow and allowing us to provide more content for YOU! Isn't that just fantastic?
Written By: