Planning a wedding is one thing. Planning a wedding while tackling the design and decor is an entirely different animal. But for DIY-enthusiasts, Ed and Katharine, they welcomed the challenge. "From the beginning, I knew I was going to have a very handmade wedding," the bride says. "Both Ed and I love to make things and enjoy creating and learning how to do new things. Planning and designing my wedding felt like the biggest art project of my life!"
Captured by Alexandra Knight Photography, Ed and Katharine's DIY wedding at UW Botanic Gardens, Center for Urban Horticulture is filled with beautiful blue hues and pin-worthy handmade details that are sure to make you swoon.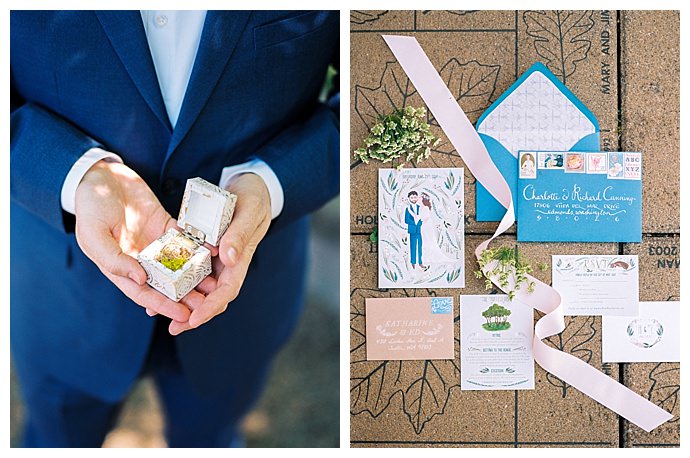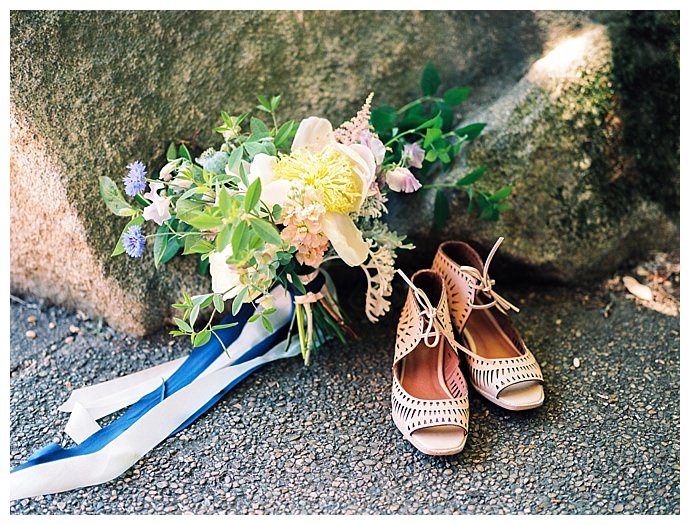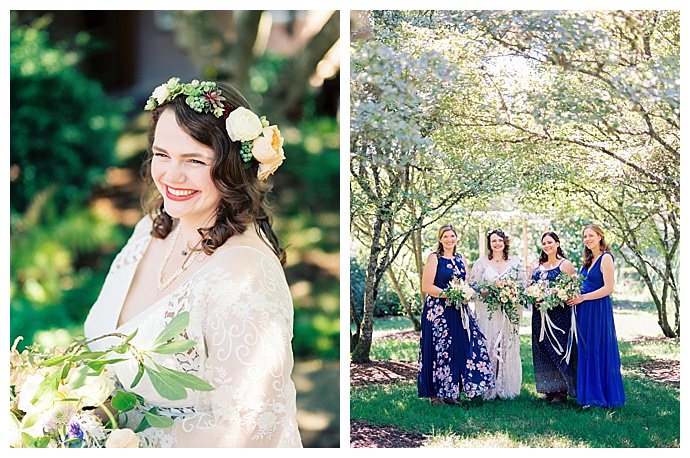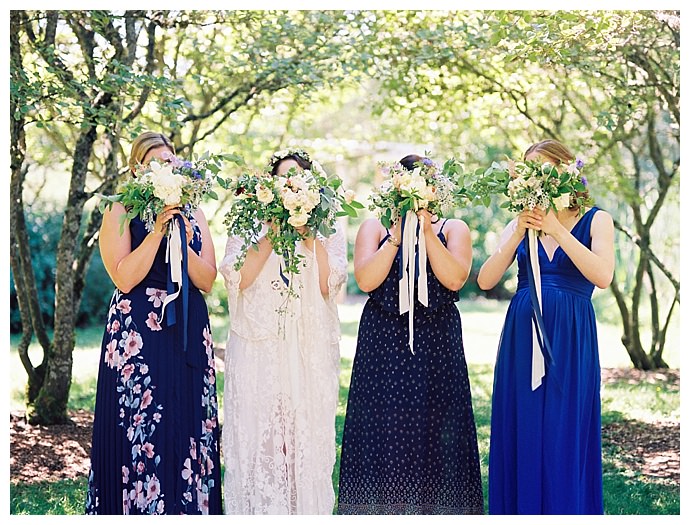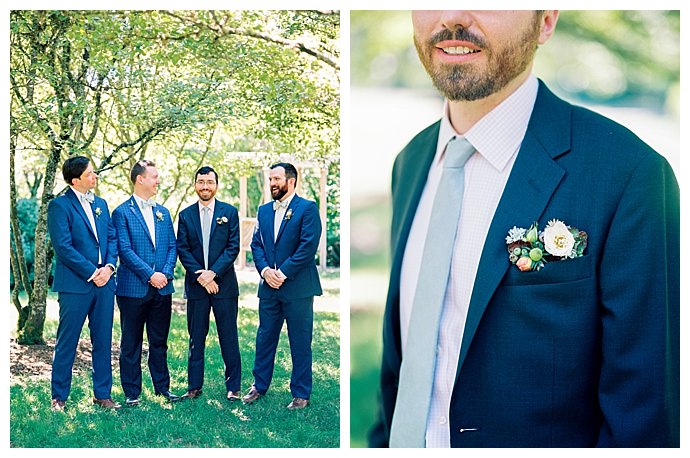 The Love Story
After they connected online, Ed and Katharine met up at a charming local coffee shop in Seattle's Greenwood neighborhood called Chocolati. "Almost from that very first date we both knew we had found someone special," Katharine says. "We hit it off so well that we talked there for several hours and then just kept finding more things to do. We decided to go grab a bite to eat and then to another place for drinks. The date started at 6 p.m. and we didn't say goodbye until 2 a.m.!" That night sparked many more nights of long conversation, and Ed was soon thinking about how to propose.
The problem with surprise proposals is that they don't always go according to plan. "I actually messed up Ed's first proposal attempt," Katharine says. "Ed wanted to try to recreate our first date in reverse so that we would end up back at Chocolati, where he would then propose. But after dinner, when Ed suggested we go there, I was feeling kind of cranky and tired, and I wanted to just go home and go to bed." Ed tried to keep his proposal plans alive, but it wasn't in the cards for that night, so he took her home. "Thankfully though, he decided to try again!" Katharine says. "The actual proposal took place at this tiny little city park near our home." After dinner, Ed and Katharine walked to the park to watch the sunset over the Olympic Mountains. "Ed took me over to a private spot under a big, beautiful tree and got down on one knee," she says. "It was so sweet and lovely and intimate because it was just the two of us in this quiet, beautiful setting. Later he told me about the first attempt and we both had a good laugh!"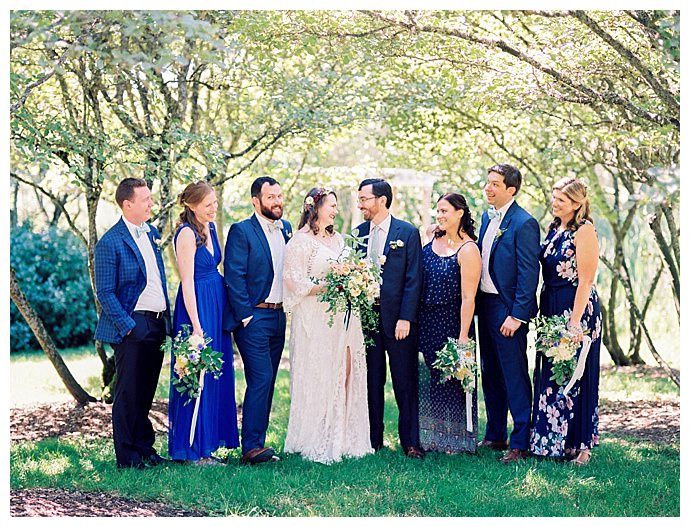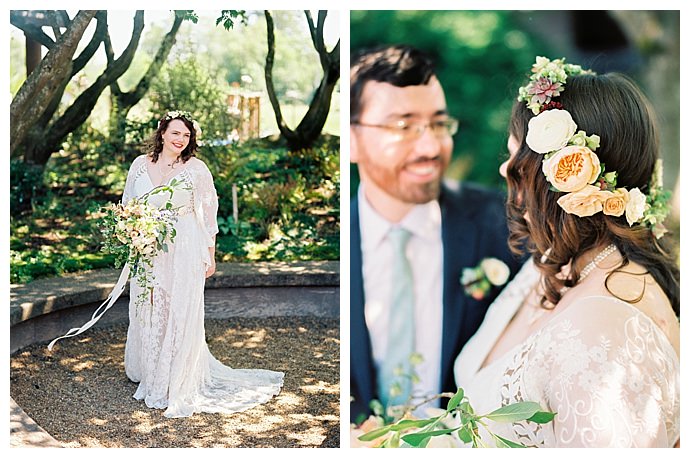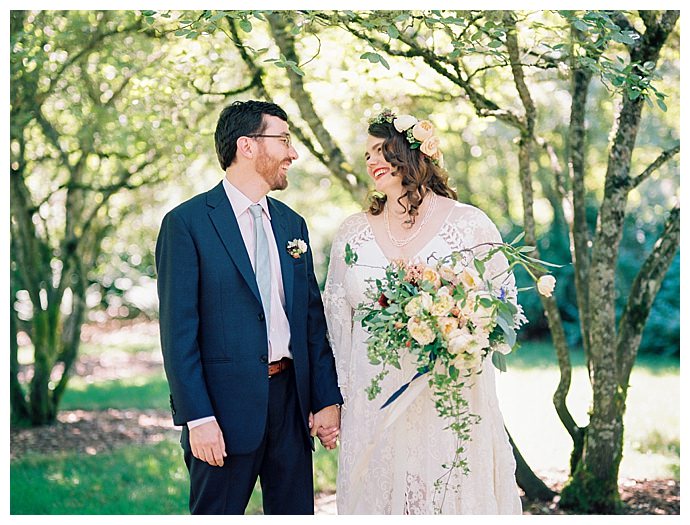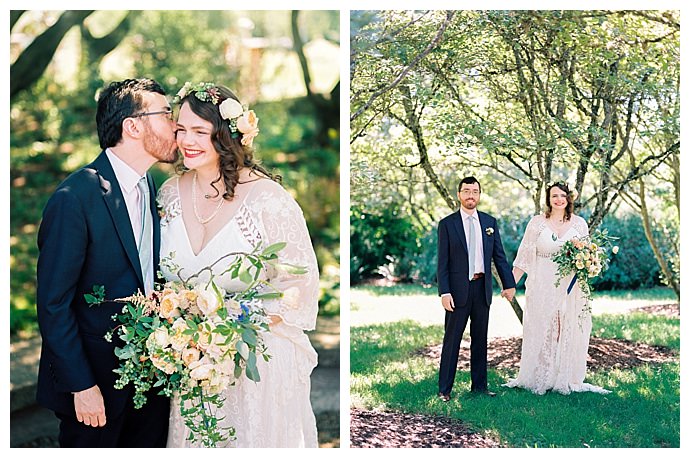 The Ceremony
Ed and Katharine had their hearts set on on an outdoor ceremony, but when you live in Seattle, the weather has to be taken into consideration. "When we first saw the UW Center for Urban Horticulture we knew it was exactly what we wanted in a venue," Katharine says. "The Center for Urban Horticulture had just the right balance of indoor and outdoor spaces that we knew, rain or shine, would be beautiful."
Once the venue had been selected, they got to work designing a personalized day that celebrated their love. "It was really important that we both saw ourselves in the wedding we were planning," Katharine says. "We wanted our wedding to be a reflection of ourselves as individuals and as a couple. This is one of the reasons we decided to write our own wedding ceremony and vows, and this turned out to be a really rewarding experience because it helped us really examine why we love each other, why we decided to get married, and what we want to stand for as a couple."
It was also important to them to have an egalitarian ceremony that incorporated modern twists on old traditions. "For example, instead of being given away by my father, we did a family receiving. Our officiant asked my parents if they accepted Ed into their family to love, care for and honor as their own, and they replied 'We do!' Ed's parents were asked the same about me. It felt like a wonderful way to honor both our parents and symbolize the joining together of two families"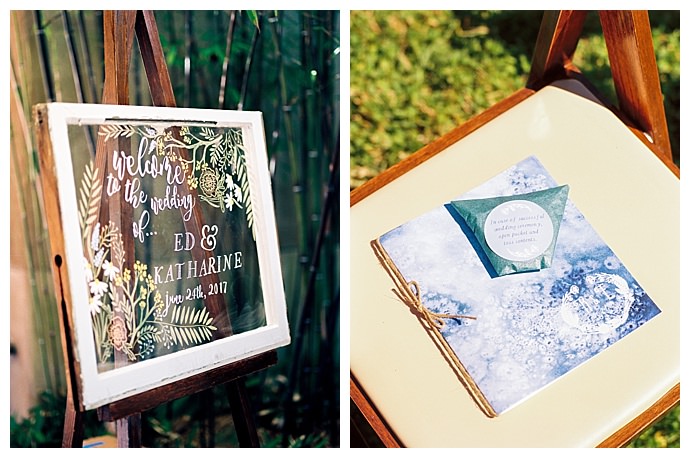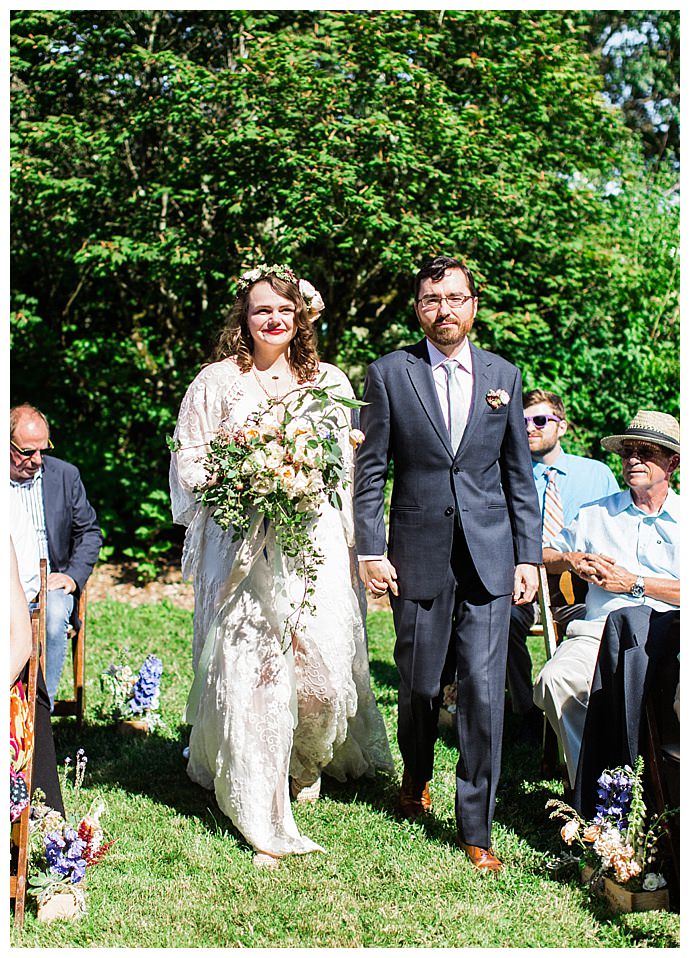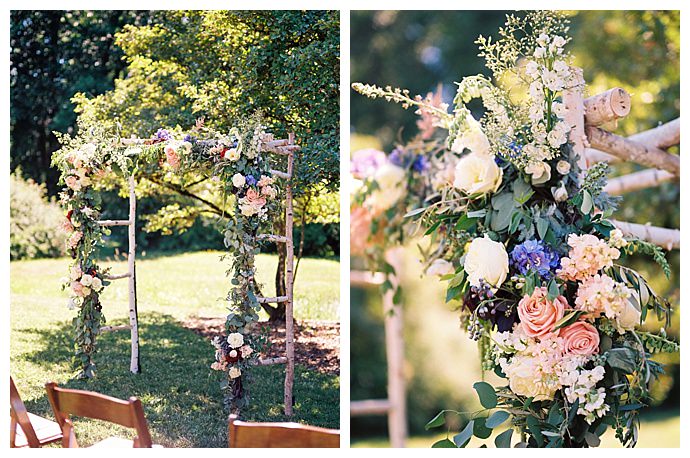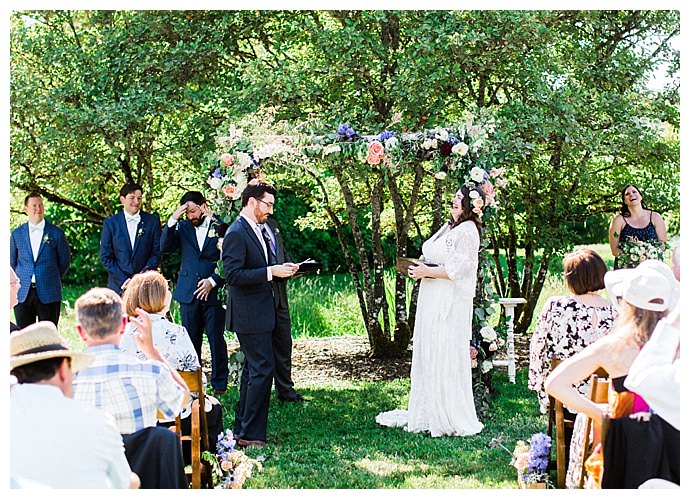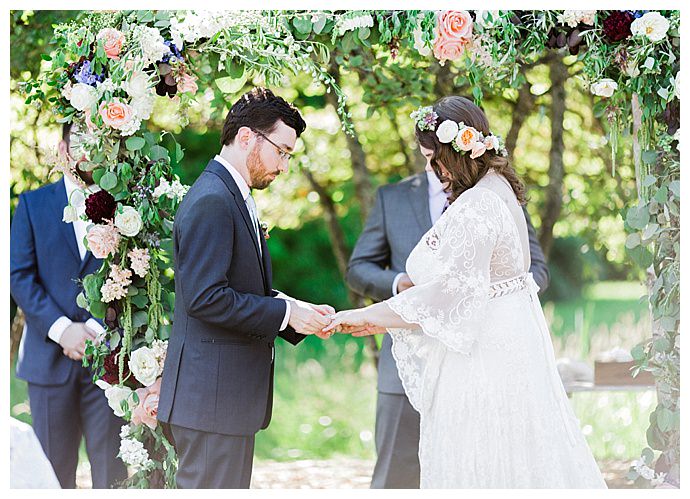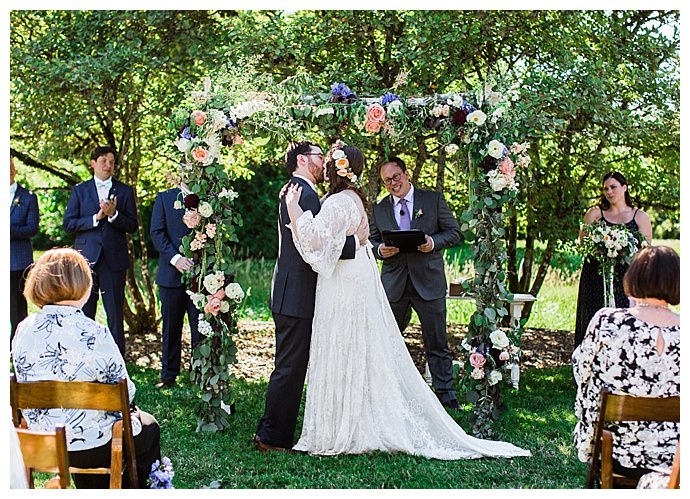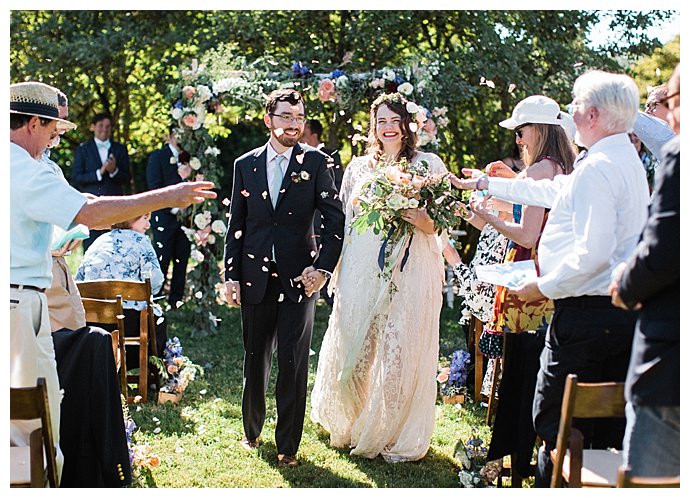 The Party
In keeping with their venue, Ed and Katharine integrated a botanical theme into their decor with gorgeous, lush florals and plenty of succulents and air plants. Inspired by the color indigo, Katharine incorporated beautiful shades of blue into the design along with hues of sage and blush. She and Ed DIY'd most of the decor, putting their sewing and dyeing skills to the test to create everything from shibori napkins and table runners to the bunting flag banners that were strung across the room. So as a way to thank guests for celebrating their big day, they created a DIY terrarium bar for favors. "This turned out to be a huge hit with our guests and it was so fun to see what everyone made," Katharine says.
To keep the celebration more festive and less formal, they skipped a caterer and instead brought in a food truck for dinner. And for dessert, the newlyweds asked their friends and family to contribute treats to add to the dessert table. So in addition to a three-tier nearly naked wedding cake, guests enjoyed a variety of sweet, homemade delicacies.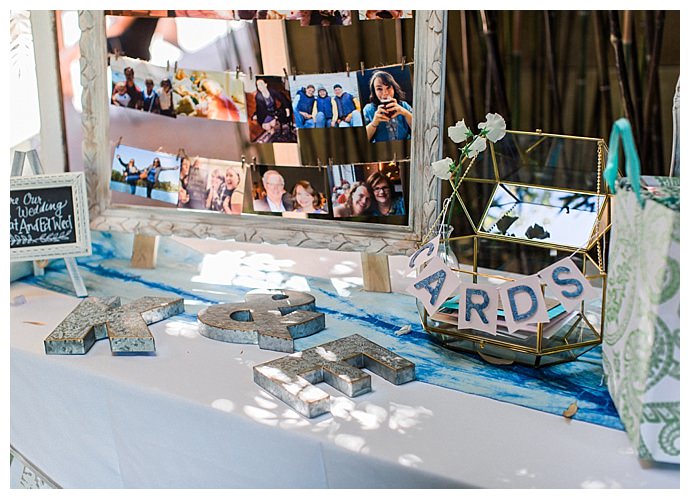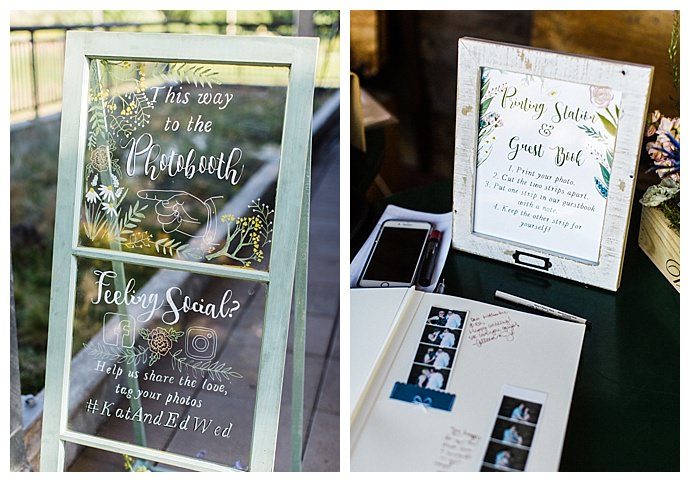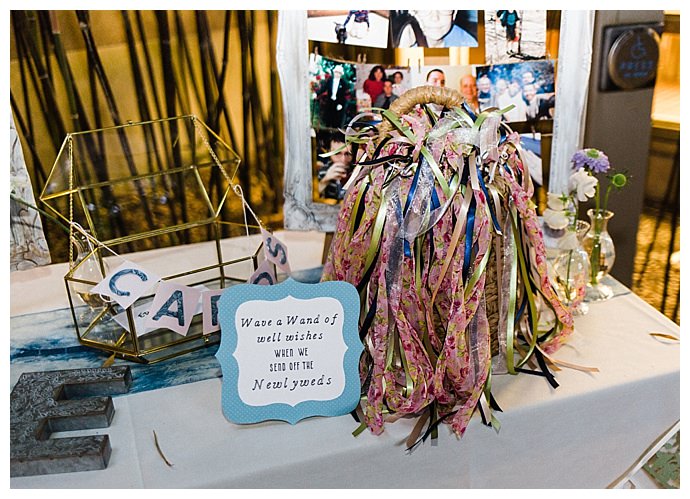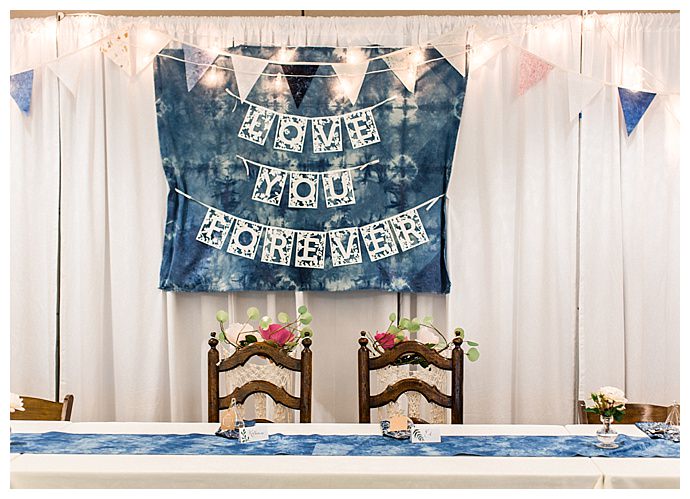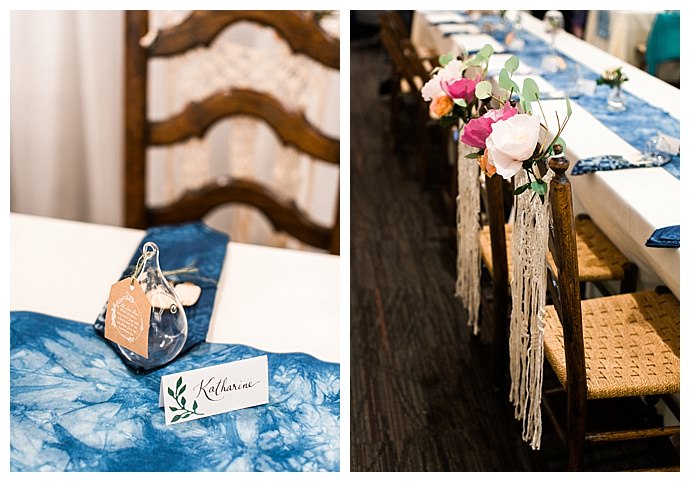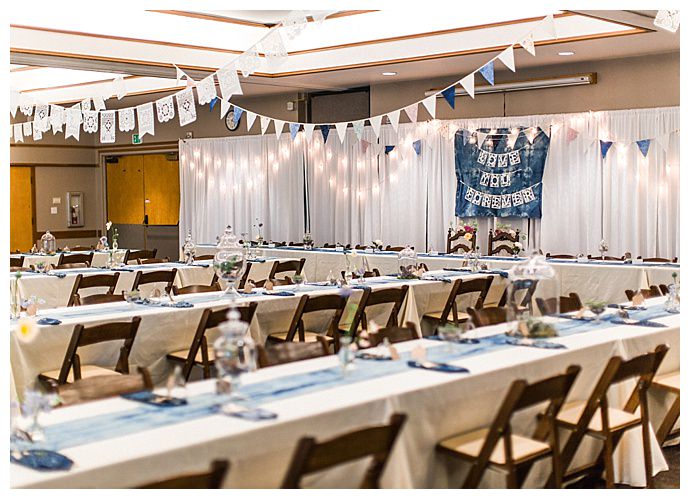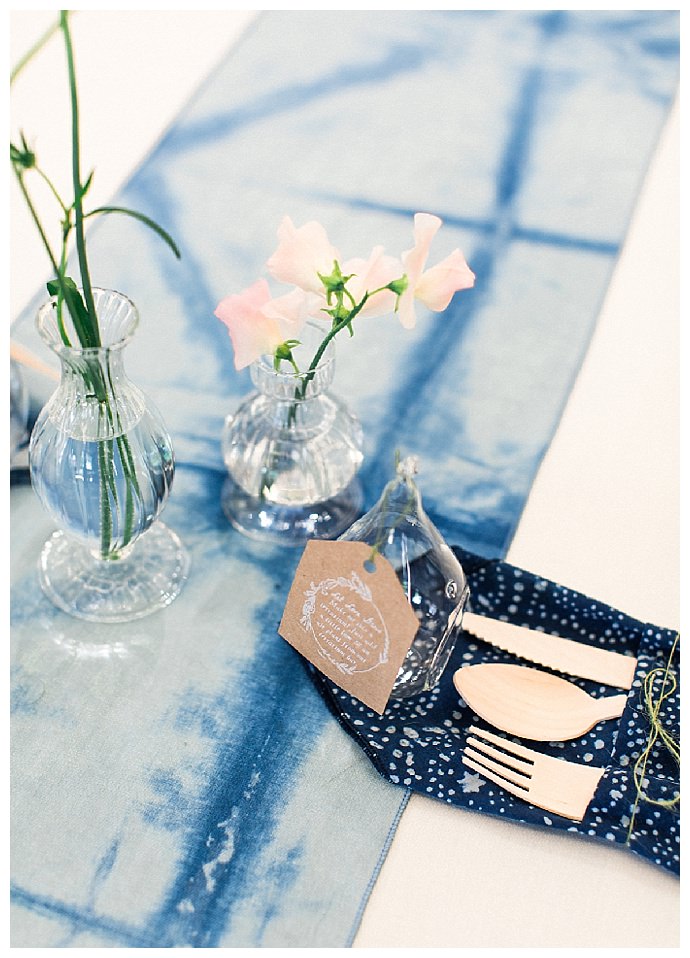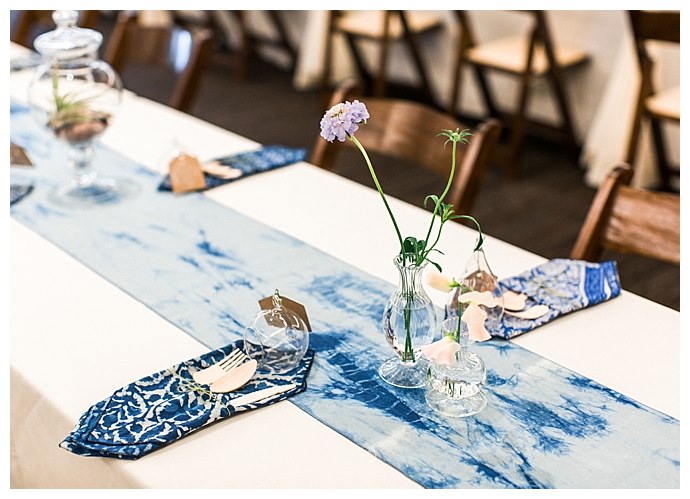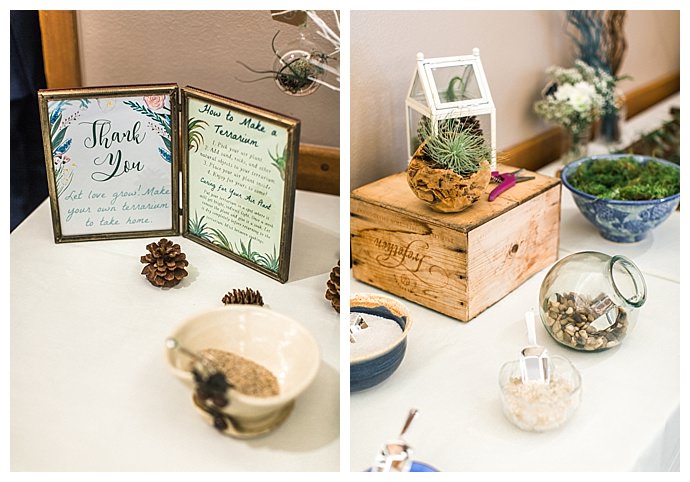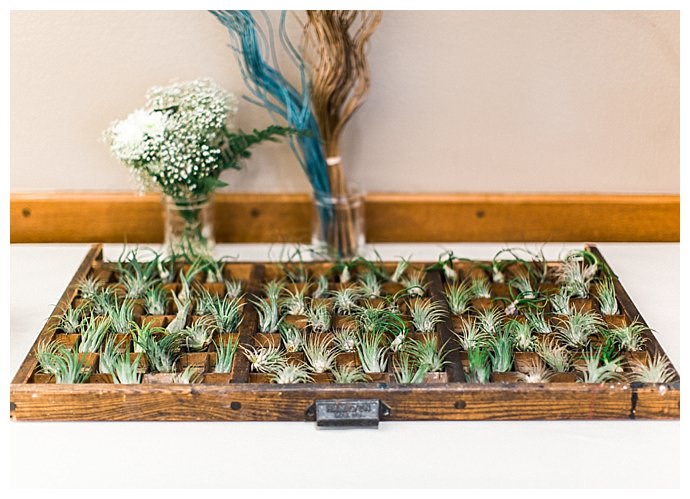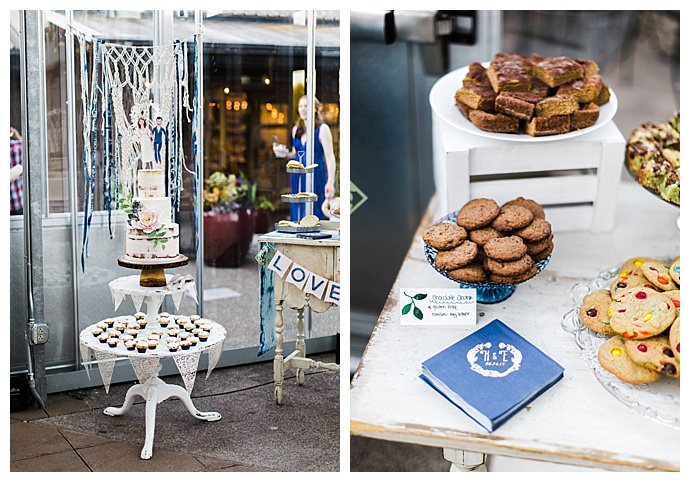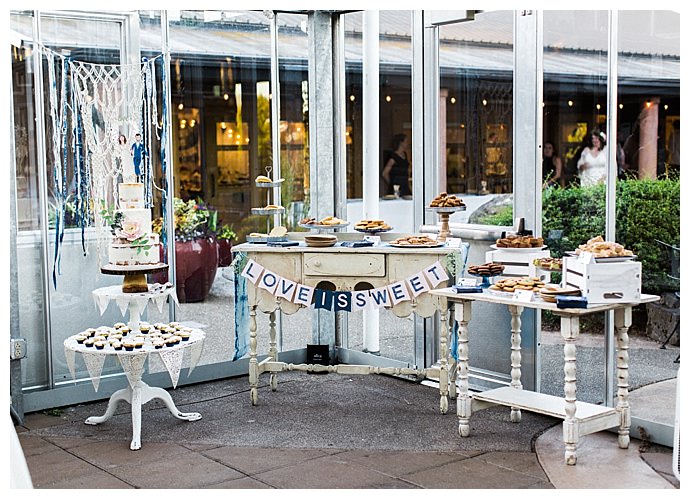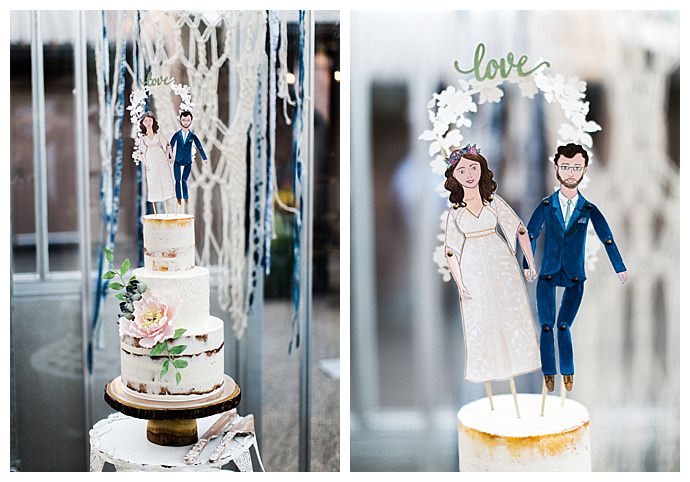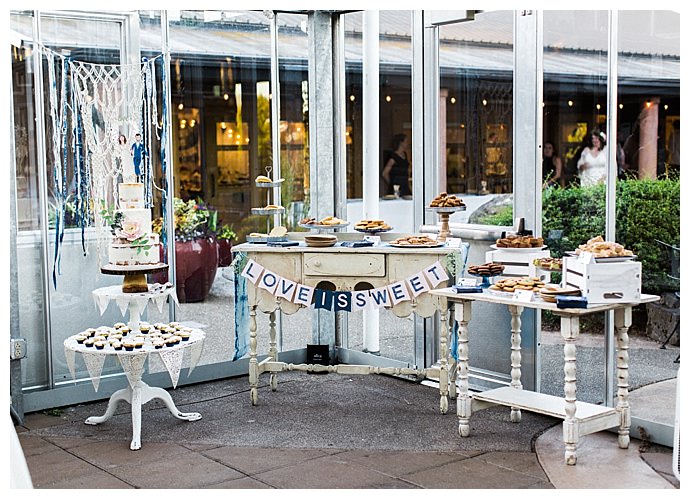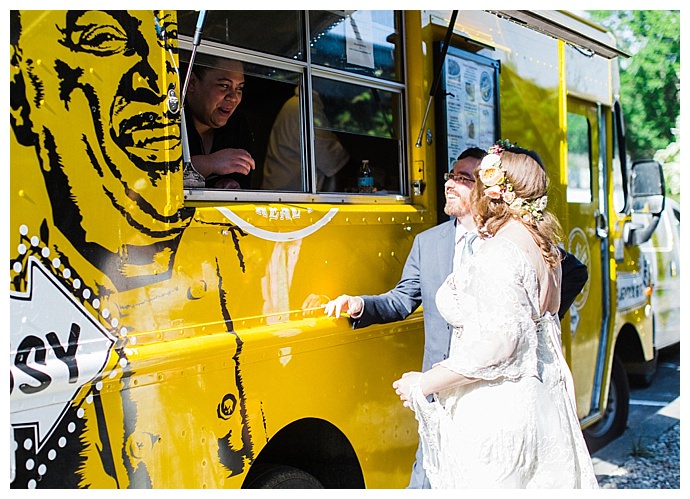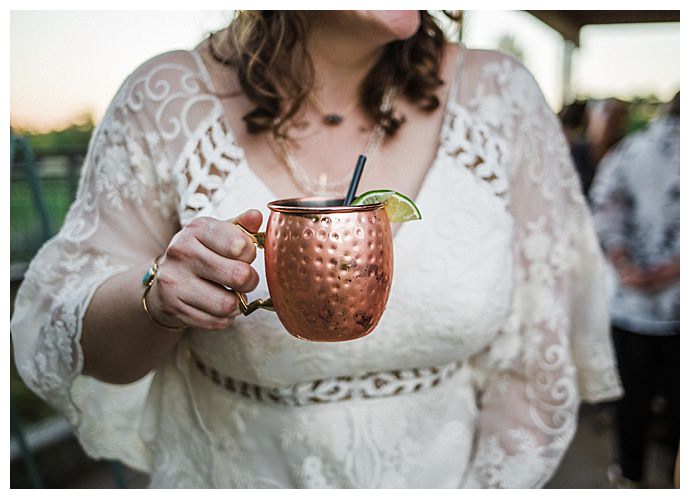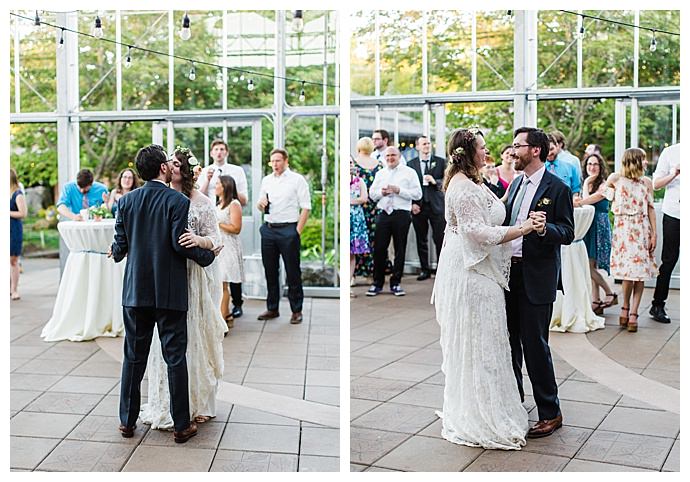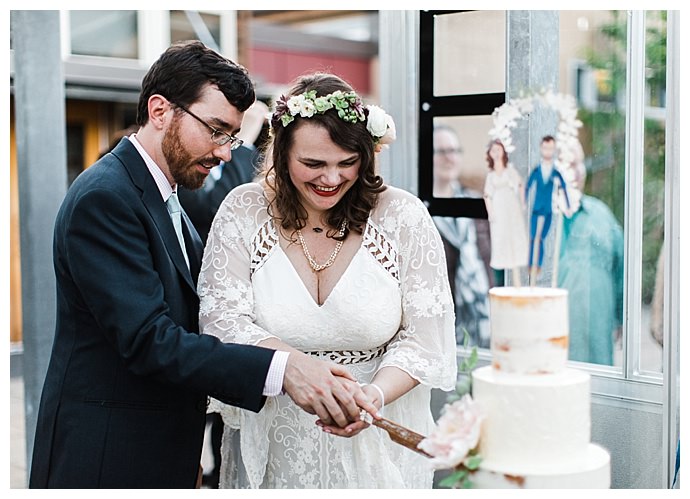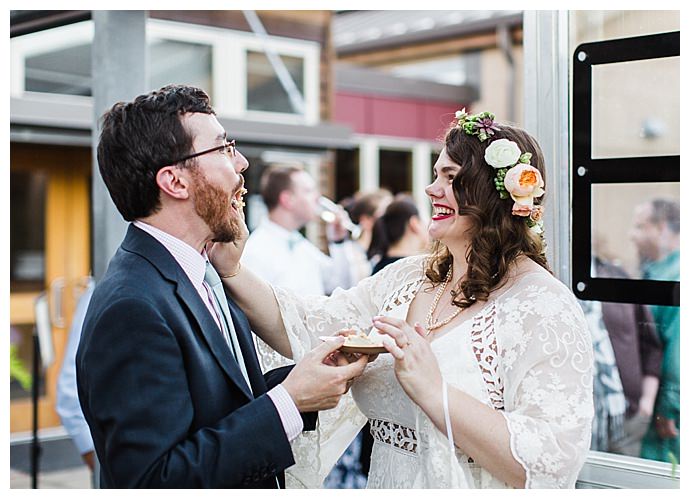 Memorable Moment
"One of my favorite moments of the day was taking a big group photo of everyone who attended the wedding," Katharine says. "We had everyone gather outside in the garden for the photo, and then right afterwards we did the toasts. I'm so glad we took the group shot. It's one of my favorite photos from the day–surrounded by all our family and friends."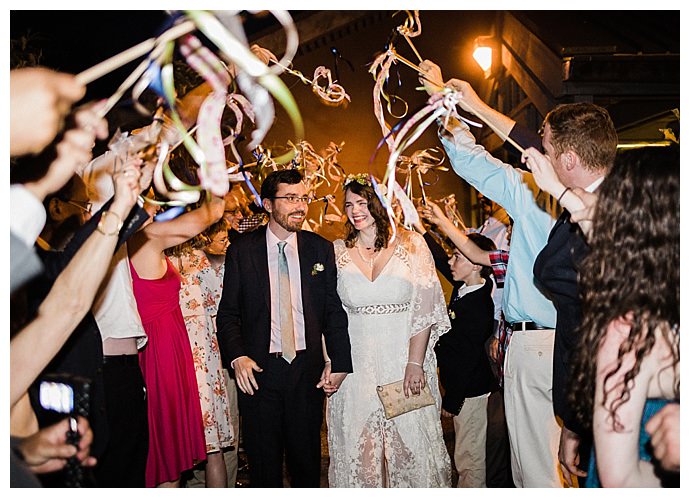 Shop this Wedding

Submitted via Matchology
*Editor's Note: This post contains affiliate links. Each time you purchase an item via our affiliate links, Love Inc. is receiving a small percentage of the sale, thus you are helping our small, equality-minded business grow and allowing us to provide more content for YOU! Isn't that just fantastic?
Written By: