When planning their wedding, Emma and Spenser wanted the focus to be on the food, second to their nuptials, of course! So when The Publican became available, they jumped at the opportunity to have their wedding there. And for the couple who met while working in a restaurant, it couldn't have been a better choice.
In the heart of Chicago, Emma and Spenser's closest friends and family gathered for their intimate wedding and celebrated cocktail-party style after the "I do's." Charming in Love Photography captured all the sweet moments between Emma and Spenser from when they embraced for the first time on their wedding day to the laughs they shared during the ceremony.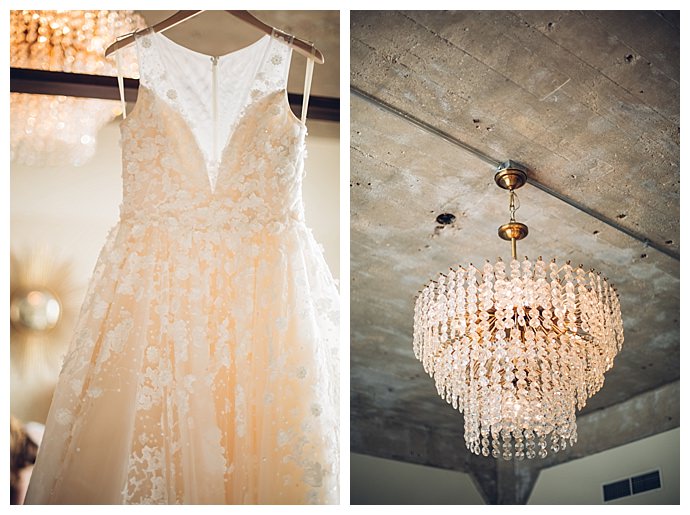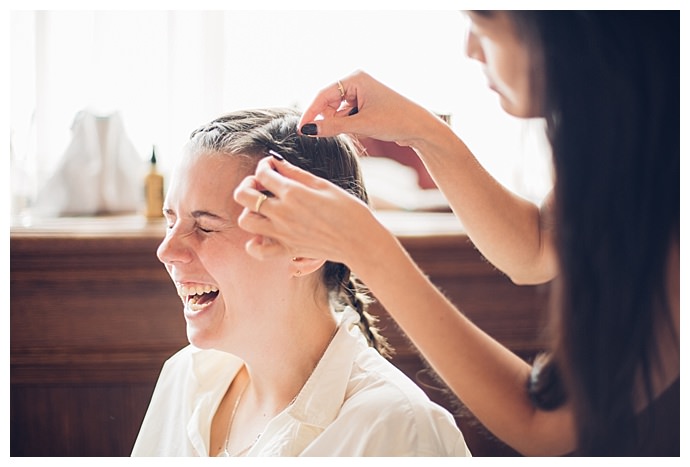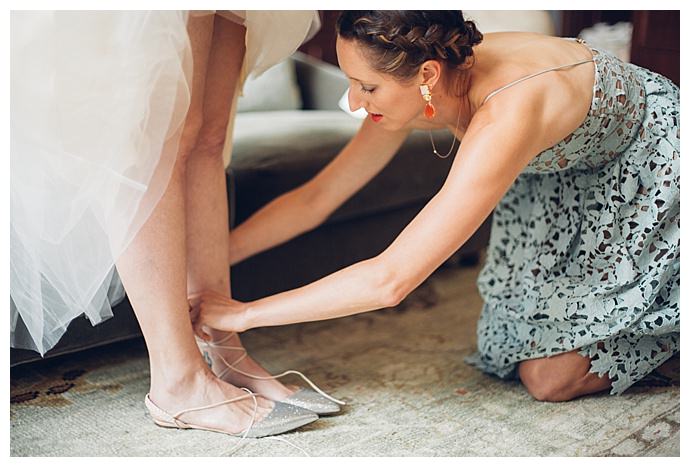 The Love Story
One of the thrills of starting a new job is all the new people you get to meet. On Emma's first day at Fish Bar in Chicago, she couldn't have anticipated that she'd meet someone who would change her life forever. But as she arrived for her first day, Spenser was the one in charge of her training.
Years later, Spenser planned a unique proposal using a tree in their neighborhood that they dubbed the Boo Radley Tree because of its large knothole. "I went out ahead of time and filled the hole with vending machine toys," Spenser says. With the ring in a container in his pocket, he and Emma went out for a walk, and Spenser slyly pointed out the toys in the tree. "She started pulling them out, at which point I palmed the ring and pointed out one she had missed, covertly dropping the ring into the hole," he says. "As she reached in for the last one, I got down on one knee."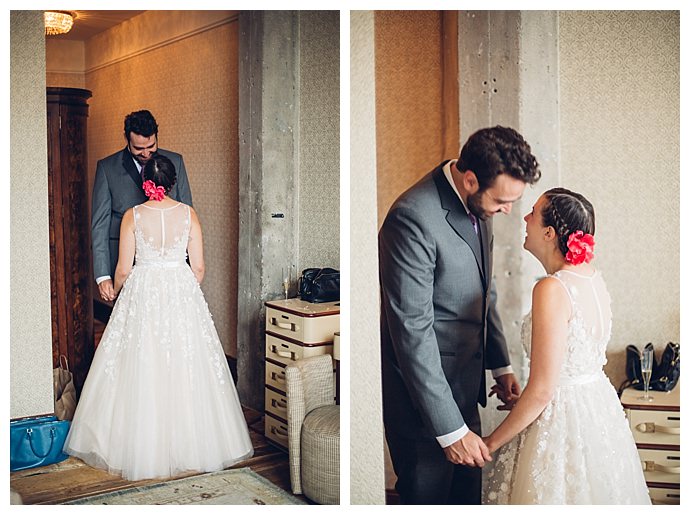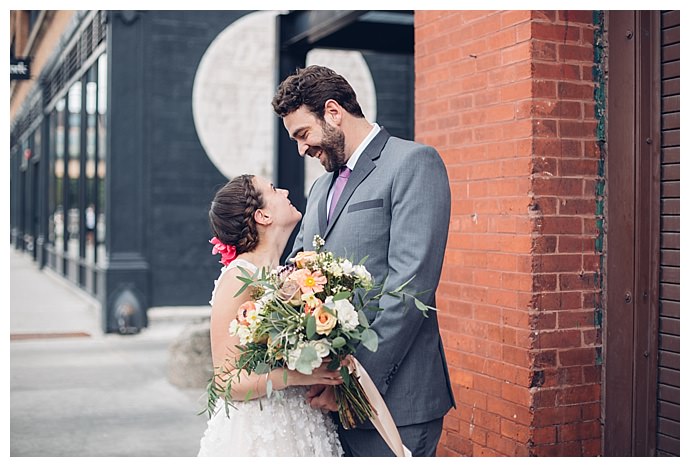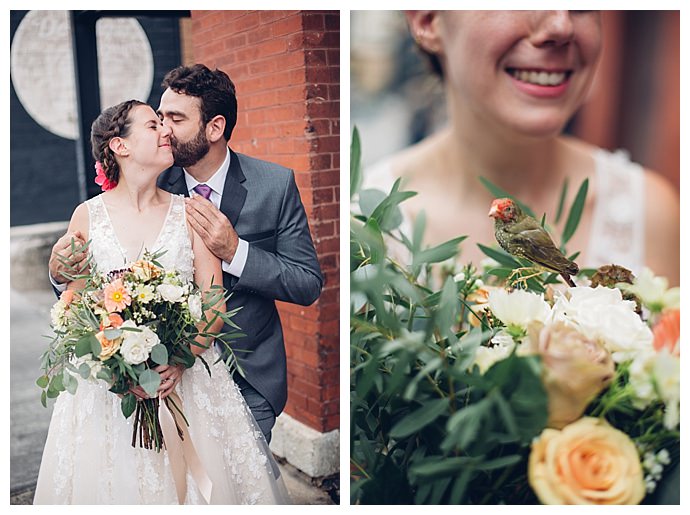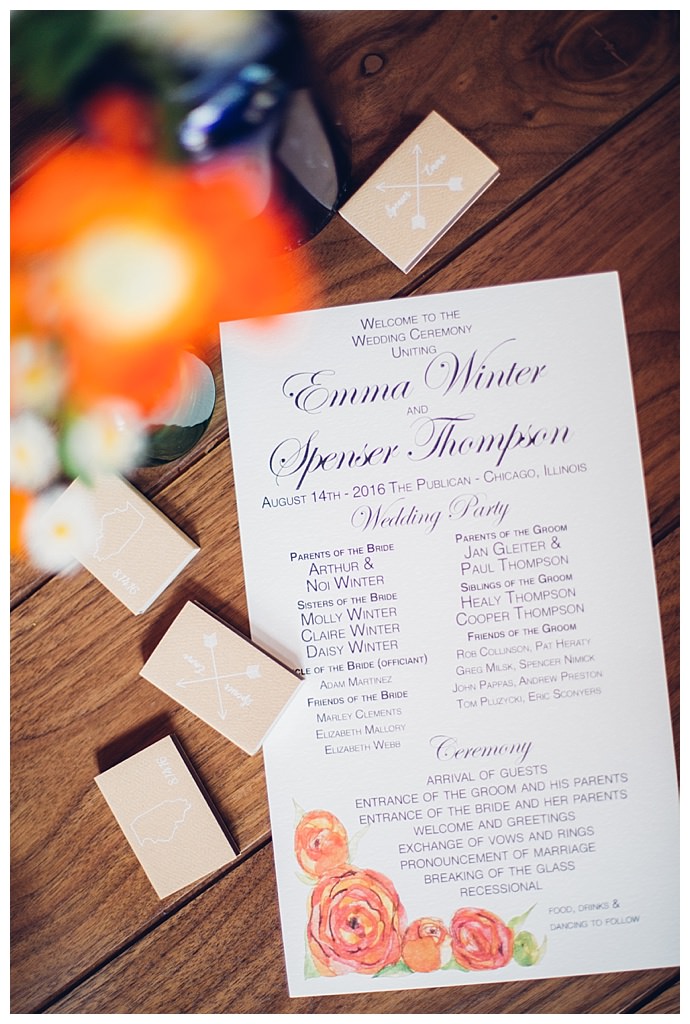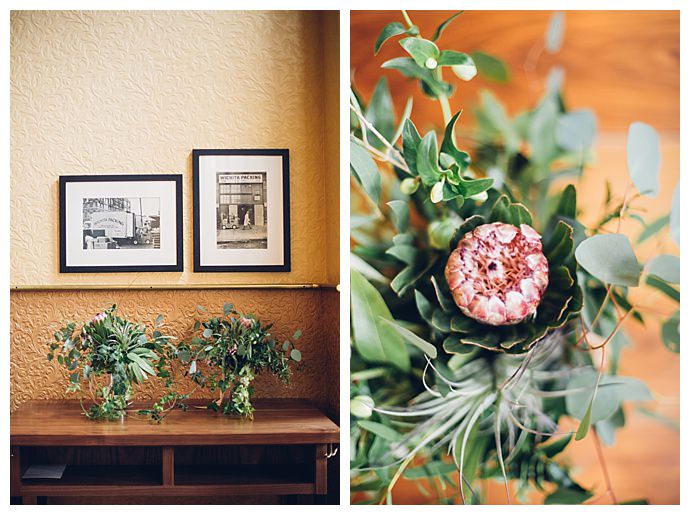 The Ceremony
For their intimate ceremony, the bride wore a romantic BHLDN gown covered with delicate floral appliques, and she completed the look with a pink flower in her hair. The groom's look was inspired by a dapper two-toned suit that Michael Strahan wore to an awards ceremony. "Spenser had his suit custom made in Bangkok," Emma says. "It was a gray, three-button suit with dark gray lapels and pockets." Emma walked down the aisle with a gorgeous bouquet of peach-colored blooms and lush greenery, and with their friends and family surrounding them, Emma and Spenser said "I do" underneath a huppah held by their friends.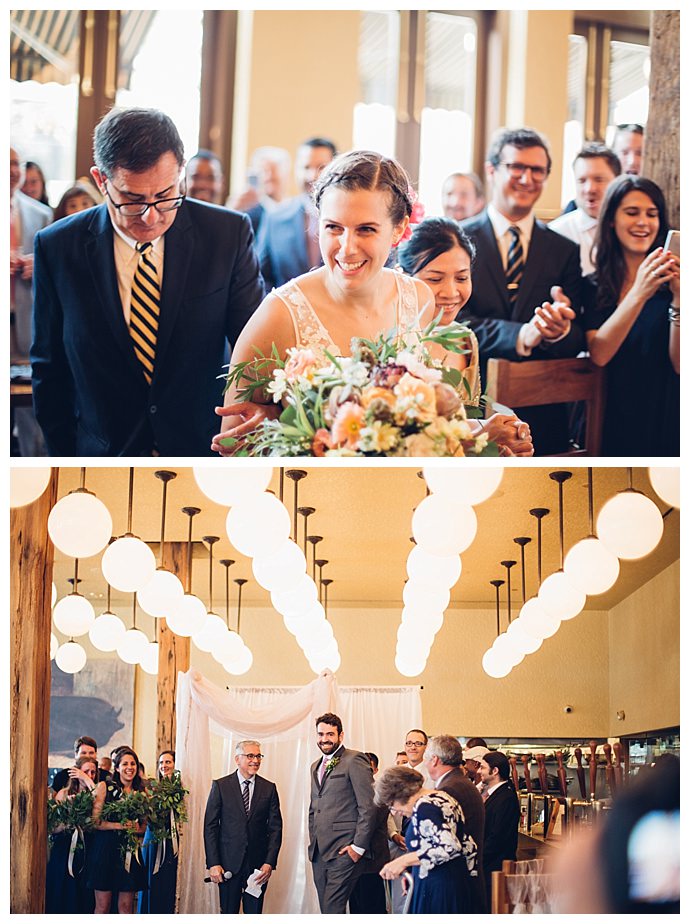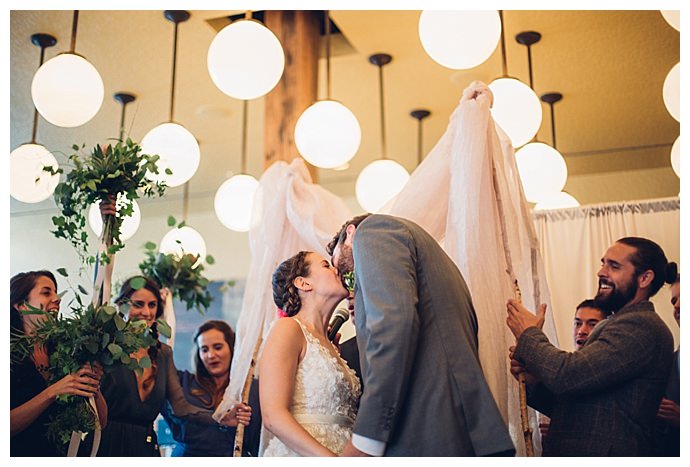 The Party
Emma and Spenser chose The Publican, a restaurant specializing in farmhouse fare in Chicago's meatpacking district for their wedding and reception. "We basically wanted to have a huge cocktail party," Emma says. "The food and beverage were among our top priorities, which made a restaurant the perfect venue for us." Emma and Spenser were drawn to the open layout of the restaurant, which is set up like a German beer hall with beautiful brick walls and wood beams, providing the perfect space for both a ceremony and reception. As the night came to an end and guests went home with personalized matchbook favors, one of the newlyweds' most memorable moments was taking a shot with the remaining 20 guests to close out a perfect day.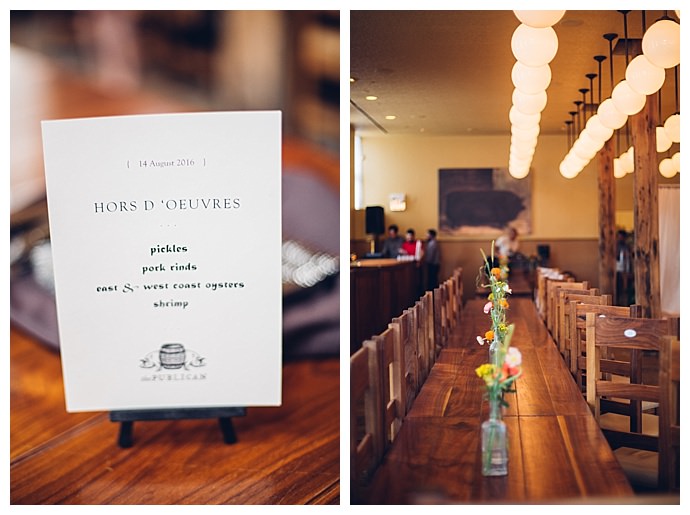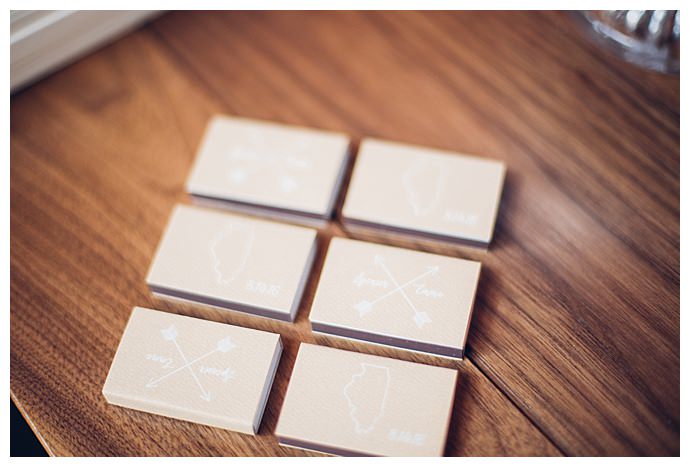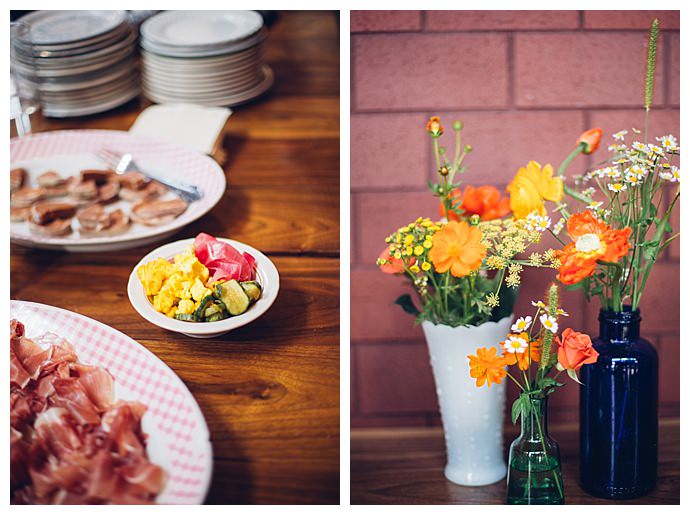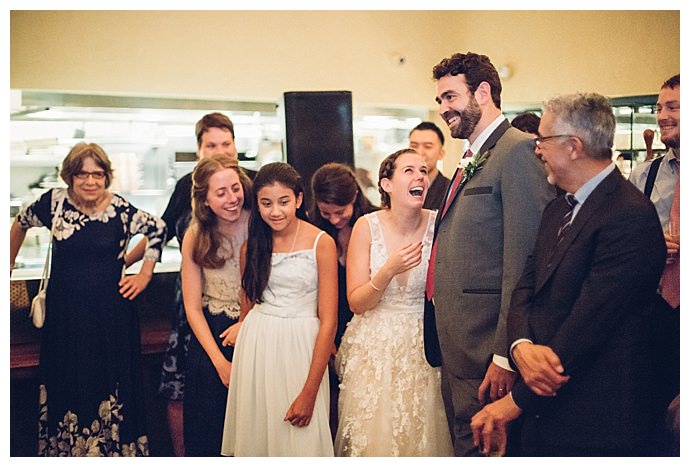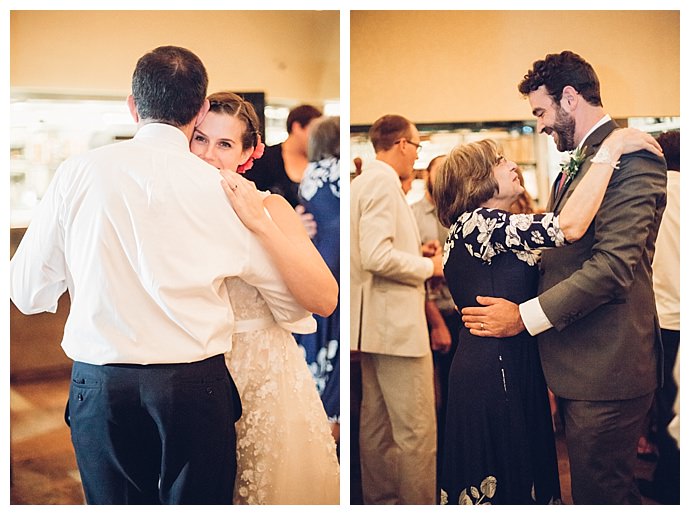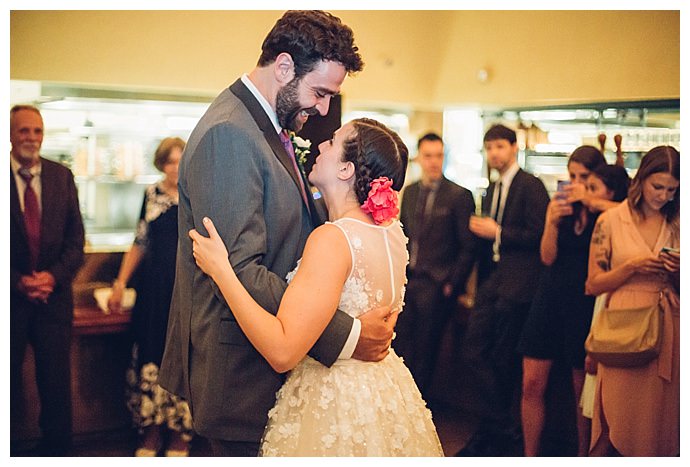 *Editor's Note: This post contains affiliate links. Each time you purchase an item via our affiliate links, Love Inc. is receiving a small percentage of the sale, thus you are helping our small, equality-minded business grow and allowing us to provide more content for YOU! Isn't that just fantastic?