By Meghan Kennedy | Photography by Amber Gress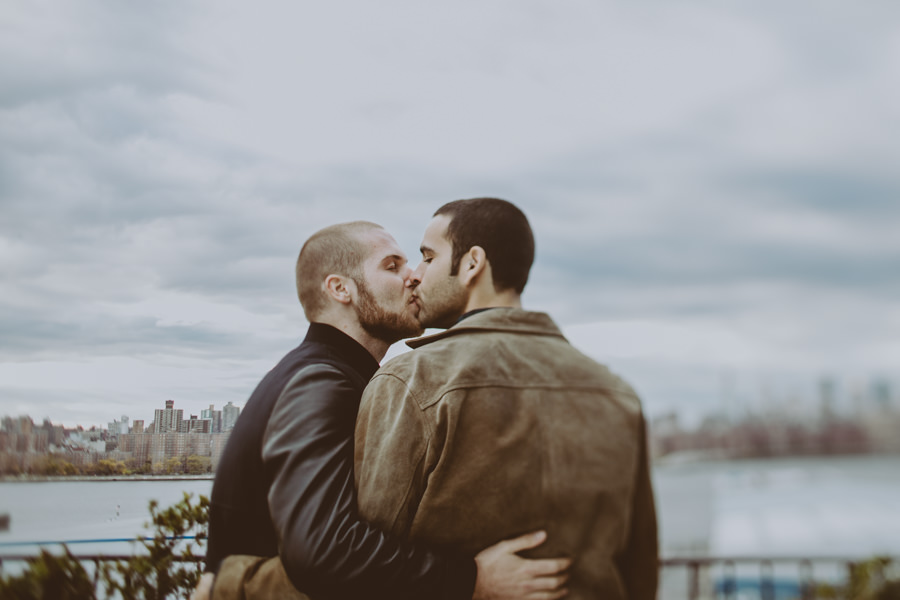 Sometimes the stars align in a way that promises good fortune, and that's certainly the case with New York City couple Kurt and Kyle. The two are interested in astrology, so it's only fitting that fate would find them on the same study abroad trip and then again getting engaged four years later almost to the day. The couple view this Brooklyn engagement session by Amber Gress Photography as a prologue to the wedding day … a "to-be-continued" of sorts, complete with a drive to their wedding venue, the Wythe Hotel, capturing the cool vibe of this downtown couple.
The Love Story
Kurt and Kyle met in college on a study abroad trip to Prague, where they shared a dorm. "It's not that I believe in love at first sight, but it felt so right when we met — despite the debauchery you would expect from college students studying abroad," laughs Kurt.
After their study came to a close, they carried their love back overseas to college in New York City. Of their love story, Kurt maintains that there was no specific moment when he knew Kyle was the one — that the reassurance of knowing they are meant to be grows every second of every day that they're together. "We also LOVE Lady Gaga. Like LOVE HER," he adds.
The Proposal
Kyle says that although they had discussed getting engaged, Kurt kept changing his mind about whether or not he actually wanted to be proposed to. "Once I figured out a day that would work, I took him to St. Marks Square in the East Village. It was our meeting point in college — halfway between our apartments. He figured it out once we got there, started to turn and pull a runaway bride, but I got on my knee too quickly."
Kurt agrees. "My first thought was, RUN!" he laughs. "I have to admit I was total runaway bride about the proposal. But like Kyle mentioned, I was so indecisive about what I wanted. He pulled through in the end."
After saying yes, the two celebrated by heading out to brunch together and telling their entire social network the news. "We were on our phones the entire time — standard us!" laughs Kyle.
The Rings
Kyle's wedding band is platinum, while Kurt's is gold; the grooms-to-be plan on getting them engraved the day they say "I do."
Memorable Moment
Kyle: We're both pretty into astrology, and we figured out a couple months later that there's actually an astrological compass cemented in the cobblestone at the church square. In four years we had never noticed it. On the day I proposed it had snowed, so we didn't even realize I was basically kneeling over it.