By Meghan Kennedy | Photography by Pure Style Photography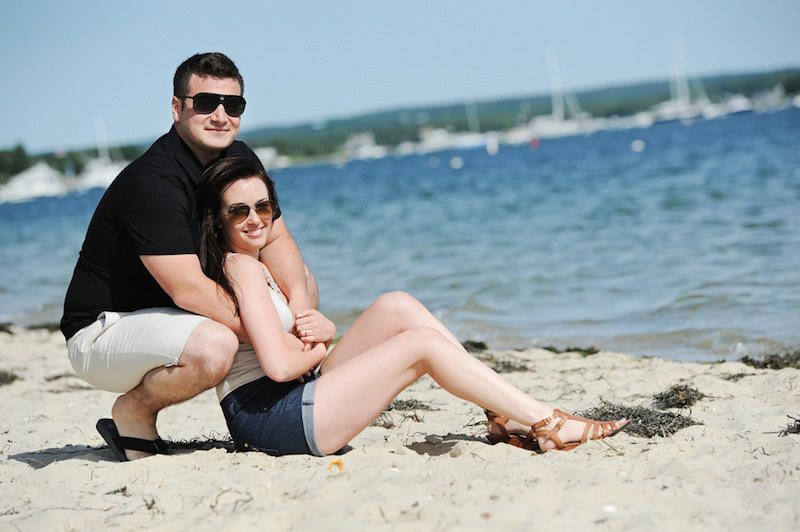 Carlie and John are a Boston couple who have known each other since they were teenagers. After a first attempt at a relationship, they put their romance on hold for a few years until they knew they could be serious about each other — fast-forward almost a decade and these two lovebirds are now planning their wedding. This dreamy e-sesh was shot by Pure Style Photography at a beach in their hometown where they had their fateful first date, making it all the more meaningful.
The Love Story
"High school gym class" is a phrase that usually strikes fear into the hearts of young and old alike. But for Carlie and John, it's where these two soulmates first met and John took Carlie out on her very first date. "We went out for pizza and a walk on the beach. We both remember almost every detail from that night because that's the night we fell in love," she reminisces.
John ended things a few weeks after their first date only because he knew the timing wasn't right. "He knew I was the one and he knew if we stayed together from such a young age we would never make it. So we parted for four years."
Every summer, John would call Carlie to see if she was available, and she wasn't until she turned 18. That, she says, was the time she was finally ready to be with the love of her life. They have been together ever since, dating for six years before John popped the question.
They've grown up together during those six years — they went to college, traveled with John's band, moved to Boston from their hometown, and started their respective careers. Carlie says that although they didn't date for four years after their first initial date, she knew that John was the one when she was 14-years-old. "During those short weeks we dated, he took me to a lake one warm night. We walked to a dock to look at the stars, and within five minutes of sitting on that dock, we saw a shooting star. That's the moment we both knew."
The Proposal
John proposed under the fireworks on the Fourth of July in Boston, Mass. Standing on the Harvard Bridge, he surprised Carlie with a proposal after a trip home to see their family.
Earlier that day, they had went out to buy a bike — a 1974 green bicycle "with a horn that sounds like a duck", Carlie remembers fondly. On their way back to Boston, John stopped at a jewelers' to pick up a watch — but he had actually picked up the ring, with Carlie none the wiser.
John, Carlie and two of their friends rode bikes down to the bridge to catch the fireworks, and when the finale started, John proposed.
"He took off his hat and got on one knee. He opened the ring box and said, 'Will you marry me?' I was in shock. I bent over with my hands on my knees and said 'Oh my God' about 20 times. I heard our friend behind us say, 'Carlie, did you say yes yet?'" laughs Carlie. "At that point I came to my senses and said, 'Yes!' — I didn't really know what was happening. He caught me completely by surprise!"
The Ring
Carlie's ring is a high setting of three princess-cut diamonds, with the center stone slightly larger than the stones flanking it; it also has small, channeled diamonds down each side of the band. As the bride-to-be says, "it's very sparkly and very feminine — I love it!"
Wedding date: July 12th, 2014