Wanting to take your engagement shoot to the next level? Industry pros lend ideas for bringing personality into your e-sesh.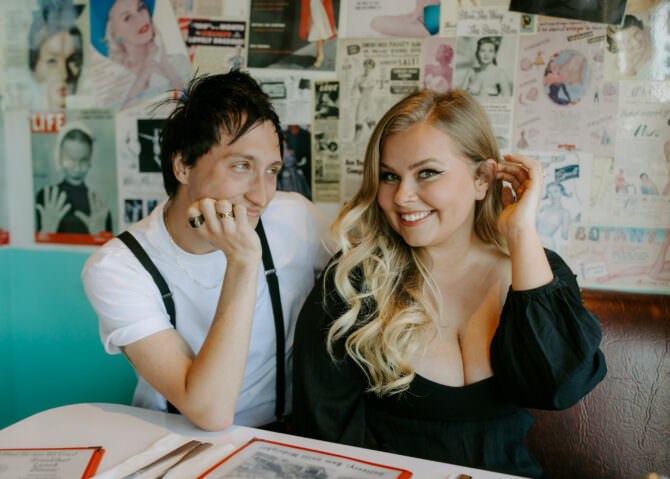 Around Town
Look no further than your favorite local joints. "Go  to  your  favorite  pizza  shop,  clothing  store,  dive  bar  or  amusement  park," says Keith Phillips, Classic Photographers. "You are going to get some cool-looking photos and you are definitely going to have a blast doing so." | Photo by Emily Arnold Photo from Katy and Tate's 50s Style Diner Engagement Session
Incorporate Video
A big trend that we're seeing? Video engagement sessions! "Like wedding films, the style and contents varies," says Rachel Jo Silver, founder of LoveStoriesTV.com. "Some include interviews with the couple about their love story or proposal, some just have music and capture the couple in sweet scenes, some include calls-to-action and act as a digital Save The Date for the wedding or extra content for the couple's wedding website."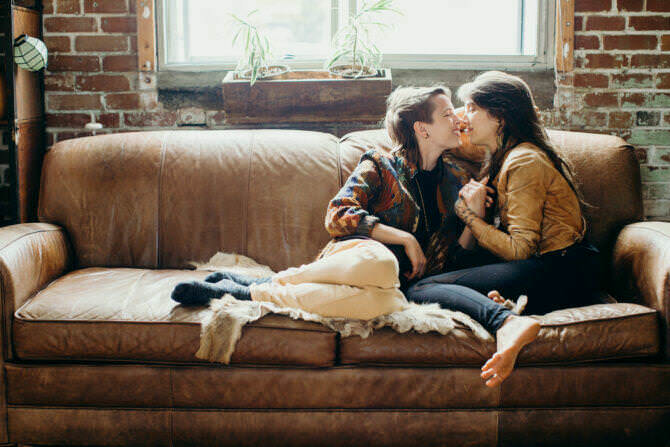 At-Home Intimacy
"We love engagement sessions that capture date night in or lazy weekend mornings — this is an easy, relaxing shoot that rounds up the warm fuzzies," says Lesley Smith of Ceremony App. "Wear what you normally wear, cook your favorites, and even do chores around the house. You'll be surprised at what photographs well — hello, spaghetti and wine! — and will really have the opportunity to tell your story together." | Photo by Weddings by Nato from Soleil and BunBun's Cozy At-Home Engagement Session
PRO TIP: Lighting can be tricky in homes, so connect with your photographer about lighting needs beforehand.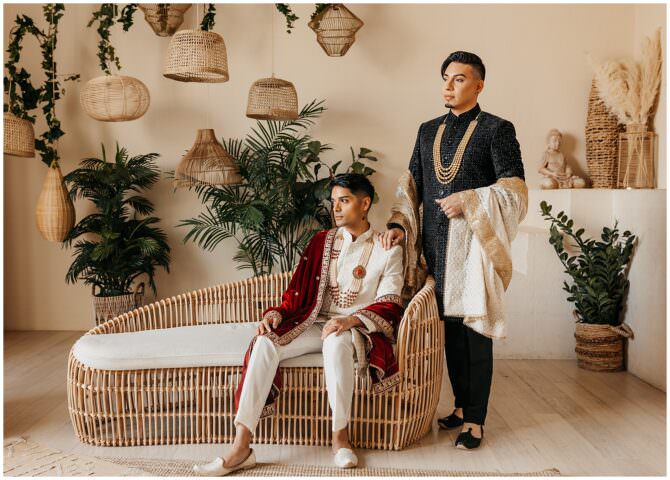 Glam It Up
"I encourage my couples to create a Pinterest board with inspiration photos that help me and my team create a one-of-a-kind experience," says Pittsburg photographer Angie Candell. "On the day of their photoshoot, they're pampered with hair and makeup and I work with a vintage rental company to design a session that's based around their style." Go big by creating an entire styled lounge to snuggle in, or simply hang a chandelier from a tree for a touch of glam. "If you like the idea of capturing real life but want something more artistic, consider renting or buying formalwear for the shoot. Think ball gowns in Ikea. Tuxes in Target. Cocktail hour in Waffle House," says Smith. "It's a great way way to balance a typical day with something special." | Above photo by Courtney Marie Imaging from Robby and Erik's engagement shoot 
PRO TIP: Be sure to get permission before shooting in a store or restaurant.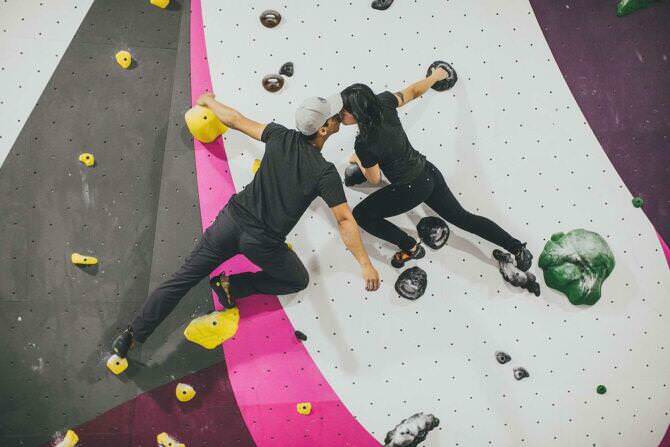 Interest-Driven Imagery
Turn your hobbies up a notch! "So you and your partner love to swim? Why not be super extra and have your e-sesh under water! Crazy about some other activity? From indoor rock climbing to shooting pool to dancing like nobody's watching, there are endless possibilities when it comes to playing up your passions," says Jenna Miller, Here Comes the Guide. | Photo by David Lai Weddings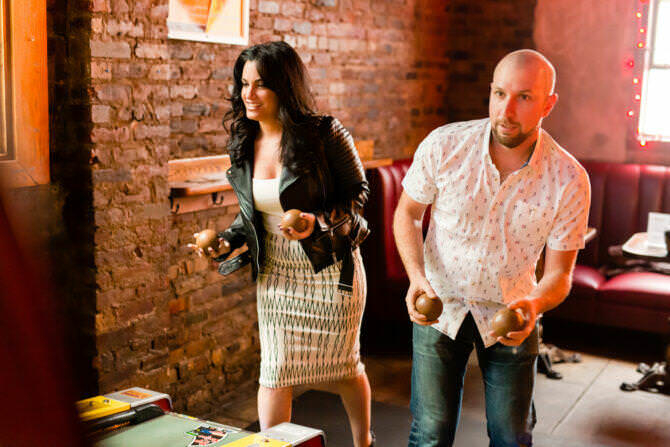 Nods to Nostalgia
Activities like riding a carousel or playing games at an arcade are sure to bring up happy childhood memories and create instant smiles. | Photo by Casey Fatchett Photography from Chiara and Andrew's Skee Ball Arcade Engagement Shoot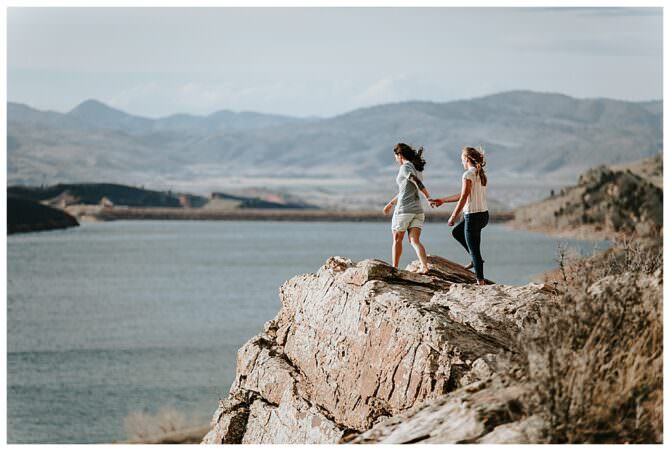 Adventure Awaits
Miller also recommends taking your engagement shoot to new heights — literally. "For thrill-seeking couples, have your your e-sesh on a mountaintop or in a hot-air balloon guarantees the view will be almost as stunning as you two are!" | Photo by Jennifer Morgan from Jaime and Chelsie's Colorado Engagement Session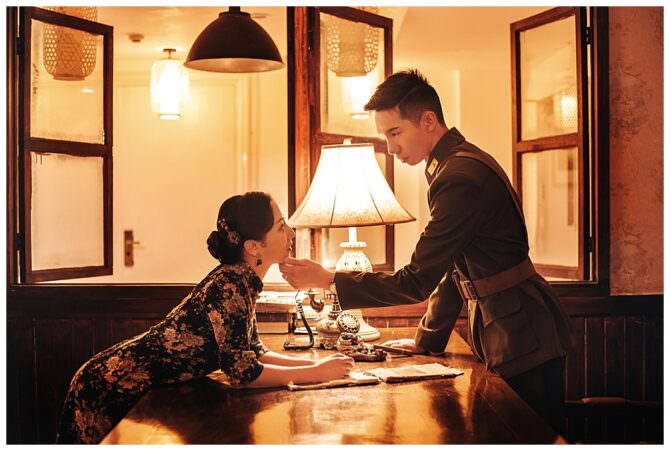 Vintage Vibes
If you're a couple who is into everything vintage, Smith suggests recreating favorite old photos of loved ones. "Not only can you have fun sourcing clothes and even traveling for the shoot, you can create a beautiful gallery wall with the old and new photos." Phillips adds that vintage transportation, like a vintage car or motorcycle, are perfect photo opps. | Photo from Leah and Justin's Vintage-Inspired Engagement Session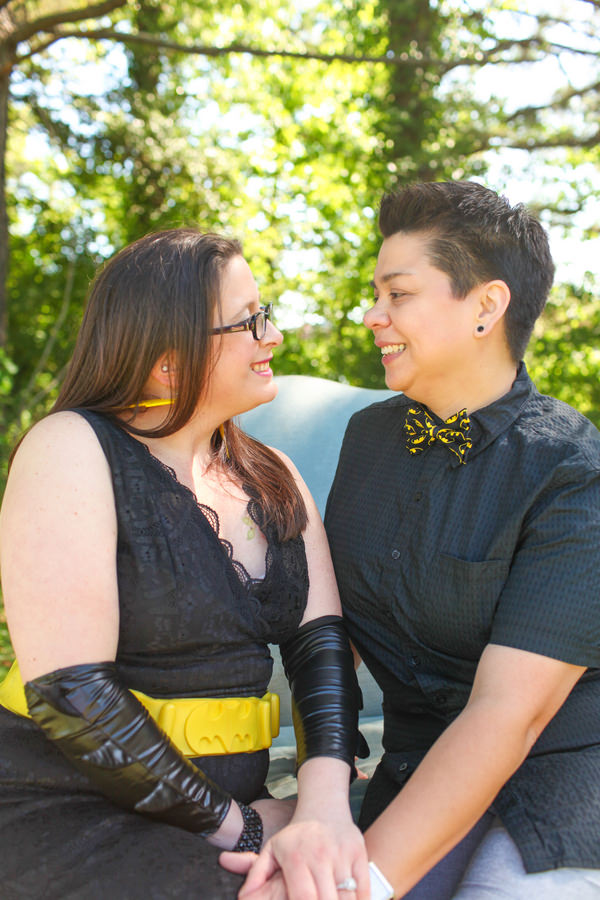 Nerd Out
"Embrace  your  inner  geek  and  use  your  love  for  comics  or  even  Star  Wars  and  incorporate throughout  the  shoot," says Phillips. "From  lightsabers  to  capes  the  possibilities  are  endless." Photo from Dana and Glenda's Adorably Nerdy Engagement Shoot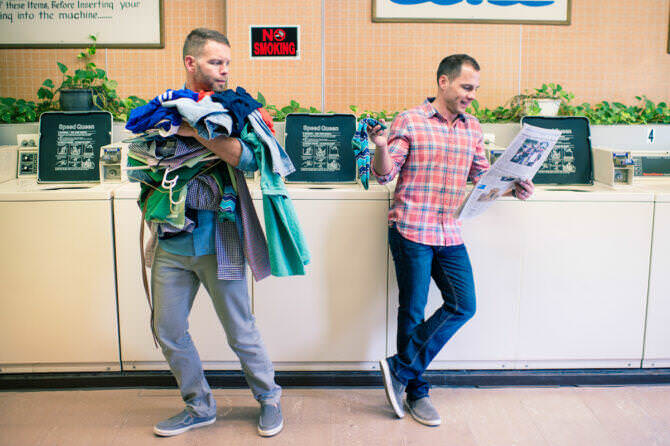 Day-In-the-Life
Have your photographer follow you through a typical day: grabbing your morning coffee, doing laundry or grocery shopping, and hitting up happy hour. There's beauty in the life you share together, and it's fun to have a snapshot into your everyday life. | Photo by Michael Nova Photography
Cover photo by Luxe & Co. from Brendon and Devon's Sexy Motorcycle Engagement Session