By Brittny Drye | Photography by Samantha Lauren Photographie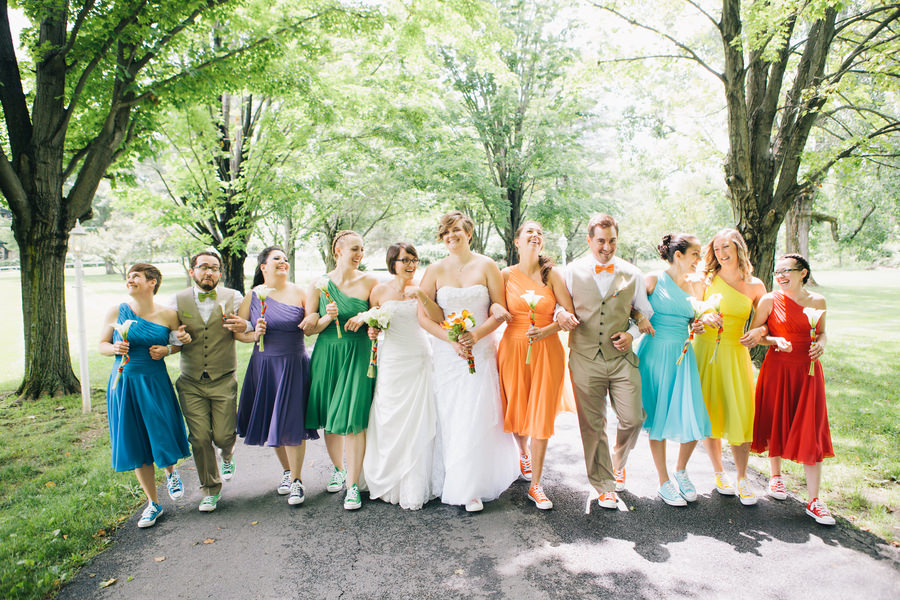 As if a rainbow-themed wedding could get any more awesome, Jessica and Courtney's special day was sprinkled with details giving nods to marriage equality and the way they met (which you know we're suckers for). And thanks to Samantha Lauren Photogarphie's brilliant eye, the emotions, colors and fun just pop off the page. 
The Love Story
They met while working at their local movie theater and, after realizing they had more than just blockbusters in common, their friendship swiftly turned into something more. Three years later, Courtney took Jessica to a movie at, of course, the cinema they had met at.
"When the movie was over, I was ambushed by some theater employees, asking about our anniversary and talking about the movie. Court ran up front, claiming she had to use the bathroom. After a few minutes of talking, the employees led me up front where 'Marry You' by Bruno Mars was playing," explains Jessica. "As we rounded the corner, into the lobby, three of our friends and Court were dancing, their backs toward me. One at a time they turned around revealing the front of their shirts, 'Will' 'You' 'Marry' and the Court turned around 'Me?'"
The Inspiration
The 100-year-old Hudson Valley estate, The Meadowbrook, painted a romantic backdrop for these two lovebirds to say "I do." The brides infused a rainbow of colors with brightly hued wedding party attire (including colored Converse sneakers!) and escort cards, calla lily bouquets wrapped in themed ribbon and rainbow temporary tattoos championing marriage equality.
The Ceremony
"We knew that we wanted people to have fun, and have a different wedding experience so we started off by having our DJ Bri Swatek play 'Same Love' by Macklemore and Ryan Lewis. Our wedding party began walking down to this, we wanted to set the mood," explains Courtney. "Once our first bridesmaid walked down, we had the DJ cut the music and change it to our proposal song 'Marry You' by Bruno Mars. Once that song came on, we danced down the aisle."
The brides symbolically joined their families with a sand ceremony ("We picked green and orange sand, our favorite colors") and after exchanging vows and rings, they recessed to, fittingly, "Somewhere Over the Rainbow" by Israel Kamakawiwo'ole.
The Party
Guests were navigated to the reception thanks to movie theater-inspired signage. Jessica and Courtney had their first dance to "A Thousand Years" by Christina Perri, "which everyone in the movie theater industry best knows it as that song from 'Twilight,'" adds Jessica. The brides cut into a tiered cake that had rainbow sugar flowers cascading down the side and they created a DIY photo booth with multicolored streamers and fun props, both were a huge hit.
For favors, they set up a candy bar filled with movie theater favorites (luckily not with movie theater prices!). "We tried to keep the rainbow theme here as well with candy like Skittles, Sour Patch Kids, Starburst, M&Ms and Airheads," explains Courtney.
"I know people say this all the time, but our wedding was just so perfect," says Jessica. "We loved every minute of it and every memory. If we had to pick just one, hearing the crowd burst out in cheers and laughter when we started dancing down the isle was pre\y great. We knew then and there we had them hooked."
Wedding Date: June 14, 2014
Vendors:
Photography: Samantha Lauren Photographie
Venue: The Meadowbook
Florist: Kamilla's Floral Boutique
Wedding Dress (Courtney): David's Bridal
Wedding Dress (Jessica): Lady Gray
Bridesmaid Dresses: Lady Gray
Music: DJ Bri Swatek