Photography by Angela Cappetta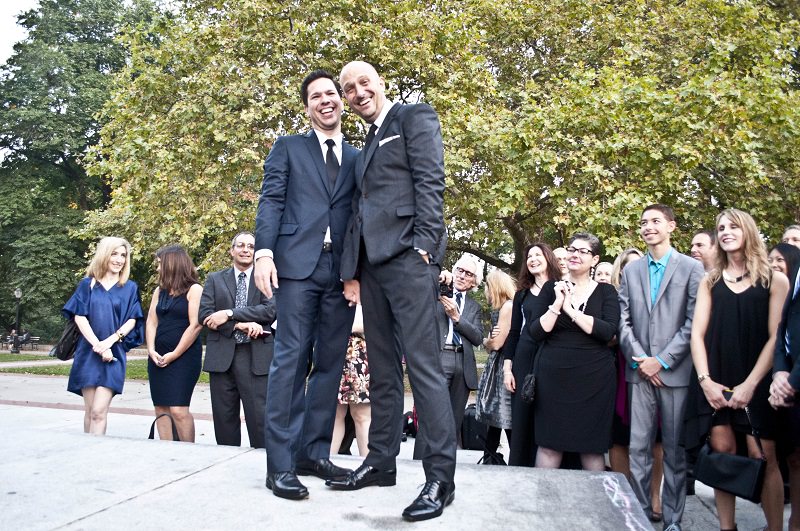 After flirting with the idea of a destination wedding, Jeff and Alberto finally decided to have their celebration in Brooklyn, where they live and have built a beautiful life together and it was the best decision they could have made. Their Fort Greene Park ceremony is perhaps one of the most heartfelt we've seen, with a focus on not just the love they have of each other, but the love and support their friends and family have had for their relationship along the way. From a mariachi band and crowd sing-along of "Just the Two of Us" to herb-based floral arrangements and an olive oil wedding cake, their unique celebration was infused with elements that make their 10-year love so special.
[raw]
[/raw]
The Engagement: Having both gone into a mutual friend's birthday party with a "arrive early, leave early" strategy, Jeff and Alberto were the only ones there at the start and wasted no time in getting to know each other. "It was meant to be obviously," says Alberto. "We had our first date a week later."
After growing their love for several years, Jeff decided to propose during a trip to Venice for Alberto's birthday. "What is it with us and birthdays?" laughs Jeff. After popping the question, Jeff opened the ring box that was unexpectedly empty. "The ring had somehow fallen out into my suitcase during the travel shuffle so it was empty when the big reveal happened. It was the ultimate production fail!" says Jeff. "Mortified, I ran back up to the room, tore through my bag, found the renegade ring and continued the proposal. He said 'yes.'"
[raw]
[/raw]
The Venue: "We love the life we've built together here and it felt right," says Alberto of their choice to stay stateside. They held the ceremony in Fort Greene Park in Brooklyn on a beautiful fall day. "The park is beautiful and iconic," he continues. "It exists in large part due to the efforts of Walt Whitman, which seemed appropriate for a wedding of two gay men."
They held the reception at a charming townhouse-turned-restaurant nearby called ICI, which is known for their fresh and local take on French cuisine, an aspect that earned them praise from their guests when it came to the savory menu.
The Fashion: Jeff wore a gray Paul Smith suit paired with classic black wingtip shoes while Alberto looked handsome in a navy John Varvatos suit and black oxfords. They each wore cuff links made from keys of an old New York Times typewriter that spelled out each others' initials.
[raw]
[/raw]
The Ceremony: With the fall foliage in full force, they walked hand-in-hand up a hill in the park to where their guests were gathered underneath a monument, as a mariachi band played one of their favorite songs. It was important for Jeff and Alberto to celebrate not only their relationship but those who have supported them throughout the years. Their friend Miguel Gutierrez, who is a star in the modern dance world and a talented singer, led the crowd in a rendition of "Just the Two of Us." "He started his number by teaching our guests the base line to the song and had them carry it through as he sang the lyrics," says Jeff. "It was brilliant because not only was it a beautiful version of this classic song but it involved participation from everyone there as well."
[raw]
[/raw]
They also incorporated the Jewish tradition of seven blessings, where each of the blessings were delivered by a family member or friend in their own way that was heartfelt, often referencing personal anecdotes and observations that added to the intimacy of the ceremony. Alberto's father hosted the vow and ring exchange, and pronounced them married as their guests (and nearby passersby) cheered.
The mariachi band then led the party pied piper-style down the hill, out the park gates and to the restaurant. Jeff and Alberto sneaked away for a glass of celebratory Champagne before joining the revelry. "This was a suggestion made by our friends who had also recently been married," says Jeff. "It was nice to slow things down and reflect on the events that had just happened, the events that were about to happen and, most importantly, on each other."
[raw]
[/raw]
The Party: They kept the decor simple and informal with herb and flower arrangements sprinkled amongst votive candles throughout the two sections of the restaurant. As a nod to Alberto's culinary skills within their friend group, black basil was mixed with thistles and dark-colored seasonal blooms to give it a masculine feel. Their inventive menu consisted of French country flavors including seasonal mushroom bruschetta, heirloom tomato gazpacho shooters, shrimp a la plancha with grits and pappardelle with roasted fall vegetables. Along with the olive oil cake, which was made by the chef of a restaurant the couple frequented on Sunday mornings, guests could tickle their tastebuds with bittersweet chocolate mousse and bourbon panna cotta for dessert.
After an evening full of toasts, great food and celebration, guests were gifted with vintage copies of Walt Whitman books wrapped in striped ribbon and stamped on the inside with a custom illustration. As they exited, they were surprised with a food truck where they were treated to all-you-can-eat tacos and quesadillas to soak up the merriment.
[raw]
[/raw]
Memorable Moment: We both agree that arriving to the site of the wedding ceremony in the park was the most memorable moment. We arrived at the foot of the hill in the park, which is quite large and spread out. It was the perfect autumn day and the trees were in full fall color, with a carpet of yellow and orange leaves all around on the ground. The Manhattan skyline was in the background, as was a setting sun that enhanced the foliage and gave everything a warm glow. Hand-in-hand, we looked up saw 110 of our nearest and dearest looking back at us from the top of the hill. The mariachi band started playing this gorgeous song in Spanish that we both love and the crowd erupted with applause. It was the most all-encompassing feeling of love, joy and celebration that we had ever felt and set the stage for the happiest day of our lives.
[raw]
[/raw]
Vendors
Photography: Angela Cappetta Photography
Ceremony Venue: Fort Greene Park
Reception Venue: ICI
Floral Design: Saffron
Mariachi Band: Flor de Toloache
Cake: Carolina Fidanza of Saltie
Suits: Paul Smith and John Varvatos