By Brittny Drye / Photography by Karla Korn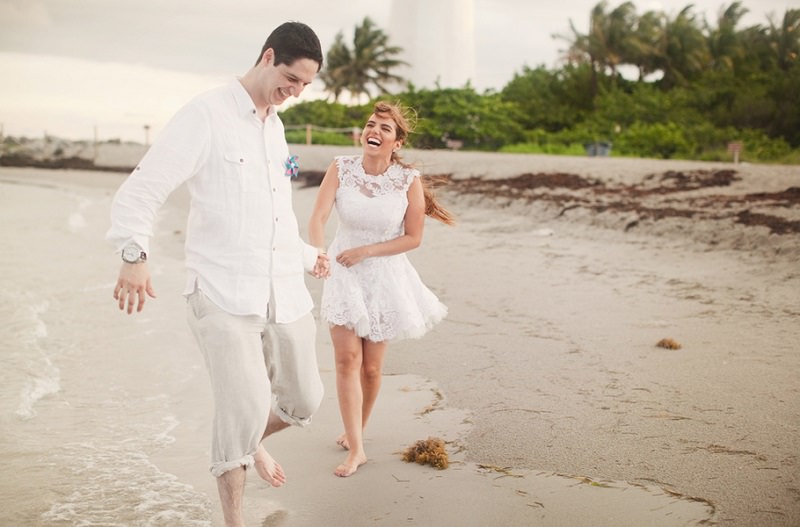 Traveling in from Colombia, Paola and Alejandro wanted a small, romantic destination civil ceremony to celebrate their love. With waves crashing into rocky Miami beaches, they exchanged vows in a shelter at the base of a lighthouse as a rainstorm raged outside. Afterwards, the sun peeked out just enough for their photographer, Karla Korn, to capture some special moments of the ecstatic newlyweds on the beach.
[raw]
[/raw]
The Love Story: With one kiss, Paola and Alejandro went from high school best friends to soul mates. "I felt a lot of butterflies in my stomach, so in that moment, I thought that our friendship was much more than we always had thought," says Paola. Their love grew throughout their college years and one evening, Alejandro popped the question over a romantic dinner celebrating their anniversary.
[raw]
[/raw]
The Fashion: "I wanted a fresh and romantic look for our wedding," explains Paola of her custom dress choice paired with Toms that meticulously blended romantic with relaxed. The groom wore beige linen pants, a white guayabera and red Toms. Their boutonniere and bouquet were both made of brightly hued felt for a playful pop of color.
[raw]
[/raw]
The Ceremony: The couple exchanged vows with their immediate families surrounding them. During the ceremony, they each poured a different color of sand into one clear vase, representing the merging of two families.
[raw]
[/raw]
Vendors
Photography: Karla Korn Photography
Venue: Bill Baggs Cape Florida State Park