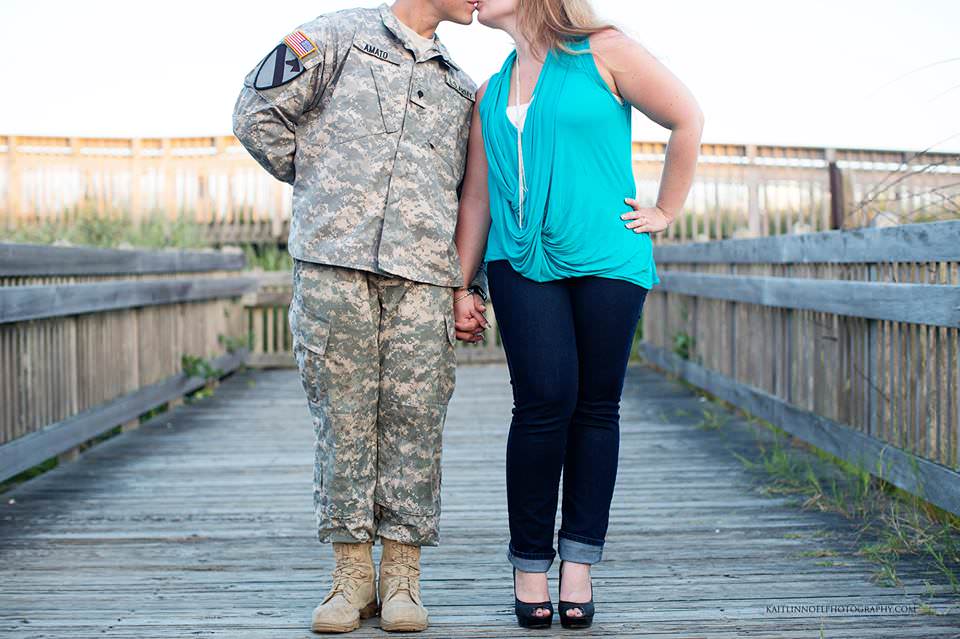 Military weddings come with their own unique sets of traditions and issues that civilians just can't understand. You know you're a military bride or groom when …
Your engagement ring is a miniature version of your fiancé/e's class ring.
Your wedding invitation listed the ceremony time as 1400.
You don't have to spend money on a dress or suit.
 You cut the cake using a saber.
You have to carefully explain to your calligrapher the importance of title etiquette for the invitations.
Members of your wedding party are all from different states.
Because of leave, you may only have a few months to plan the wedding.
You and your guests sip on grog.
You have to invite the boss.
Your biggest fear is not whether your flowers will wilt or if it will rain—it's if your fiancé/e will be forced to work on your wedding day.
Guests can be assured that the ceremony will start on time.

You know the phrase "Welcome to the [insert branch of service]," is followed with a slap on your ass from someone other than your new husband or wife.
There are A LOT of swords/sabers at your ceremony.
You secretly hate another engaged couple because they booked the one Jewish chapel on the installation for the day you wanted.
You can get married at Shades of Green at Walt Disney World.
Your wedding colors are red, white and blue.
Your wedding party would be more comfortable in camo.
You tell guests to send gifts directly to your home instead of bringing them to the wedding on the installation not because of convenience but because otherwise they'll be unwrapped for security inspection at the gate.
You try to either avoid 5 p.m. altogether or meticulously work it into the program.
You piss your wedding planner off with your inability to totally commit to plans until three months before the wedding, as you wait for leave approval.
Your DJ is confused as to why The Marines' Hymn, Anchors Aweigh, Semper Paratus, The Army Song or the U.S. Air Force is more popular than Kanye West's latest hit.
Photos by Kaitlin Noel Photography; Sandra Costello Photography