By Brittny Drye | Photography by Heather Phelps-Lipton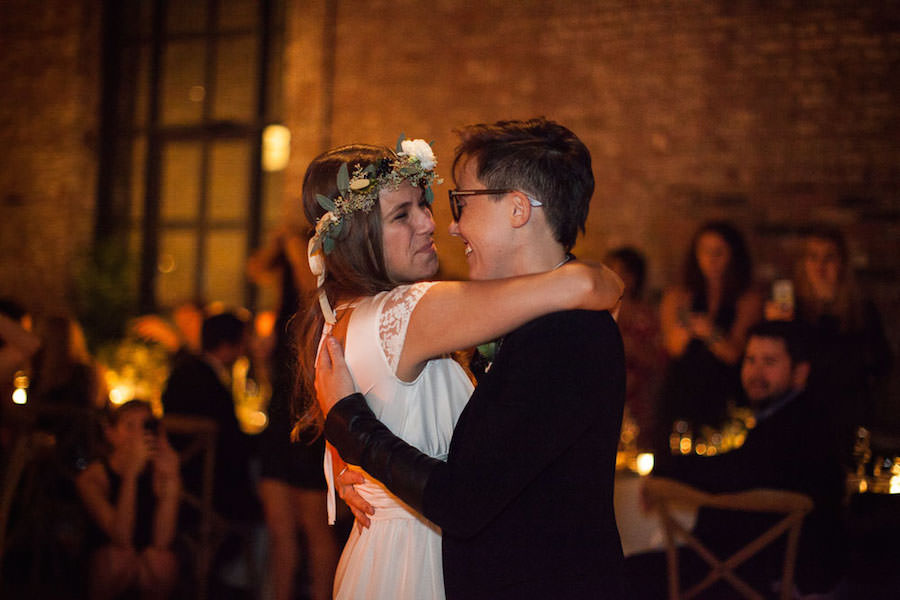 You can tell just by how these two lovebirds look at each other that their love runs deep. Anna and Elise's Brooklyn wedding was brought to life with a few of our favorites (Tinsel & Twine! The Wythe Hotel! Heather Phelps-Lipton Photography!) and their love is made up of elements — respect, trust, compatibility — that is the perfect formula for happily ever after. 
The Love Story
Anna and Elise's New York love story begins with a mutual friend introducing the two, knowing they would hit it off. Chapters of love-filled romance ensued, complete with taking a business leap together to own a restaurant in their Brooklyn neighborhood, and soon after, Elise was asking Anna to be her wife. "The proposal was completely natural — Elise is a chef and works long hours. She came home from work late one night with a bouquet of flowers, sat me down on the couch and asked to spend the rest of her life with me," reminisces Anna. "I said yes and we celebrated with Champagne and our two Chihuahuas, Shye and Lo."
The Venue
With a business to manage, the two knew that proximity was a priority. "We had originally hoped to have our wedding outside of the city, but knew there was no way we would be able to plan something long distance," notes Anna of their venue hunt. "Anyone who owns their own business knows that it is pretty much nonstop — we wanted wedding planning to be as stress-free as possible!"
Their search led them to the nearby Wythe Hotel, a chic industrial-style space in Williamsburg with a wide variety of rooms to host the ceremony, reception and after party.
The Ceremony
Anna, clad in a custom wedding dress from Stone Fox Bride, exchanged vows with Elise, who looked dapper in rag & bone separates, underneath a suspended chuppah in front of 110 of their nearest and dearest. With the creative direction of the DUMBO-based dream team Tinsel & Twine, the room was transformed into a secret garden-style enclave, wtih lush greenery hanging from the ceiling and candles casting a romantic glow. Their ceremony was the perfect blend of Judaism, Buddhism and Paganism elements, paired with readings by Elise's brother from Emily Dickinson and the Dalai Lama.
The Party
Natural elements weaved into the reception room with wildflower arrangements of king protea, dahlia, scabies pods, ranunculus and ferns spilling over the industrial vessels made of mixed stone, wood and antique silver. "Everything just felt so lush and magical," adds Anna. Dip-dyed cheesecloth runners lined the tables that house the family style dinner consisting of a menu that met the high expectations of the restauranteurs. "We wanted to avoid the typical wedding fare. Our menu ranged from frisee salad to seafood toast, house-made sausage, beautifully roasted trout and the most delicious short rib," says Anna. "The kitchen was kind enough to provide us with a mid-course sunchoke veloute, one of our favorites!"
They kicked off the dancing portion of the evening with "Harvest Moon" by Neil Young, performed by their hip wedding band, The Affections. "Photos from our first dance perfectly capture the essence of our wedding night," exclaims Anna. "Happy and relaxed, dancing alone while the people we love the most watched from a distance." After a few rounds on the dance floor, the lovebirds invited everyone to join. While guests were dancing their hearts out, Elise and Anna snuck away for an intimate cake-cutting ceremony and later surprised guests on the dance floor with passed root beer floats. "Those were a big hit," adds Anna.
Though the reception came to a close, the party was far from over. Guests were invited to another area of the Wythe, which the couple and their design team transformed into a sexy, gothic space, featuring a rich palette of deep pinks and burgundy and was decorated with black bat orchids, dahlias, animal skulls, antique shoe forms and pipes with candlelit mood lighting. "It was so cool to surprise guests with a totally different vibe," exclaims Anna. "Our guests said this part of the night looked more like a Santeria altar."
"One thing we will never forget is what it felt like to be surrounded by so much love and support. To have all of the people who love you and whom you love in one room is a remarkable feeling. At the same time, there were moments throughout the evening where we felt as if no one was watching, it was only the two of us."
Wedding Vendors:
Photography: Heather Phelps-Lipton Weddings
Design: Tinsel & Twine
Venue: Wythe Hotel
Floral Design: Tinsel & Twine
Cake Design: Wythe Hotel
Wedding Gown: Stone Fox Bride
Wedding Suit: rag & bone
Wedding Band: The Affections
Makeup/Hair: Soon Beauty Lab