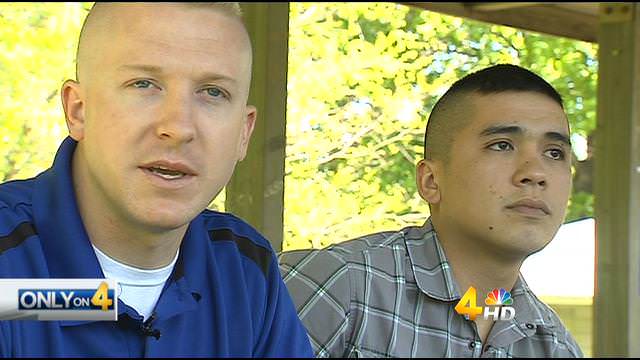 Being based in New York City, it's hard to imagine a world where same-sex couples are turned away from their wedding vendors, and I get asked all the time, "Does that seriously still happen?!" Yes. Yes it does.
Case in point, Mint Springs Farm, a rustic venue in Nolansville, Tenn., just a short drive south from Nashville. When Anthony Wilfert and Brian Blas, two Iraq War veterans who had fallen in love under Don't Ask Don't Tell, were given a tour by an employee, they were assured that a same-sex ceremony would not be an issue. Days later, they received an email from the owner saying they could no longer host their wedding there.
In a statement to a local news station, the owner used the state law as an excuse. "We only do weddings at our facility. When we went into this endeavor, we knew that due to the nature of our business, this situation would arise. However, Tennessee law currently states that same-sex marriage is prohibited by the Tennessee State Constitution. Because we only host weddings, we cannot violate Tennessee law."
Of course, this is total b.s.—Tennessee does not recognize same-sex marriages performed in the state but it in no way prohibits same-sex couples from having a ceremony. It's pure discrimination … plain and simple. At least have the audacity to own up to it instead of hiding behind a fake legal reasoning.
"To have fought in the military for freedoms and liberties of all Americans, it can be quite deflating to come back to fight a whole new set of obstacles," said Wilfert during an interview with News Channel 4.