The most powerful tool in your wedding arsenal has been in your wallet this entire time. Not your credit card (let's give that particular tool a much-needed break). Instead, turn to your library card to grant you access to everything from video tutorials, to equipment rentals, to craft supplies.
Local libraries are a treasure trove of resources, beyond antiquated books on etiquette and collections of classic love poetry. Today, they house collections of items and services ranging from the practical, like passport photos and paperwork for the honeymoon, to the whimsical like snow cone machine rentals. Makerspaces, tools, tutorials, not to mention an army of knowledgeable librarians, can help bridge the gap between the wedding you envision and the one you can afford.
Makerspaces in libraries are becoming increasingly more common and are a great hub for creating mementos, wedding party gifts, and other details. These types of hands-on workshops are popping up in cities everywhere. In many you can find Cricut Printers, graphic design software, leather stamps, wood burning kits, and more. You don't need to invest in expensive equipment to create customized gifts, invitations, even photobooth props—check with your local library first!
Many of the spaces are home to laser engravers perfect for custom toasting glasses; screen presses to make tote bags as part of a welcome gift for out-of-town guests; even a banner maker for directional signage. Just north of Chicago, the Skokie Public Library gives cardholders access to an embroidery machine to create lovely handkerchiefs or pocket squares. Or utilize their Glowforge laser engraver which works on leather, fabric, wood and more. What a great way to create personalized belts, suspenders, wallets, or coasters.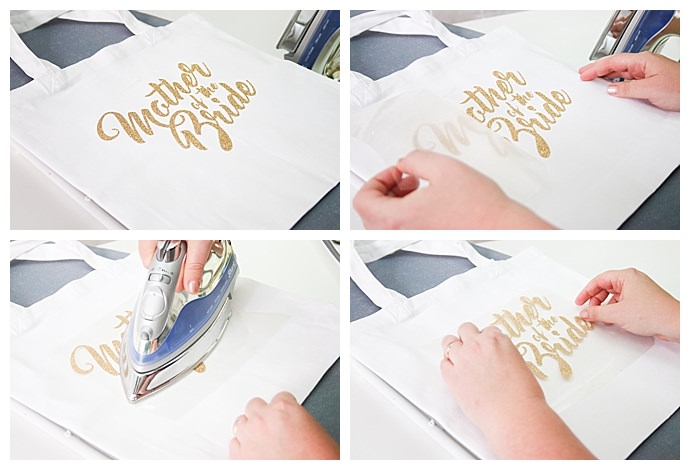 If DIY-ing your wedding feels both appealing and overwhelming, libraries can help here, too. Many systems offer free access to CreativeBug, an online database of instructional videos for crafts. Learn from experts on how to make everything from cake toppers to boutonnieres, to paper fans, to photo walls. Explore by skill level, search for inspiration (there is an adorable tutorial on felt drink markers), or peruse ideas for romantic centerpieces and lovely accents.
Additionally, most libraries host in-person classes featuring skills which can easily be applied to wedding details. A winter workshop on making resin snowman ornaments is a great way to practice creating lovely dishes to hold wedding rings. Spring flower arranging is a great chance to try your hand at beautiful and affordable centerpieces. Check for classes on paper arts, embroidery, graphic design, even dance lessons.
Crafts and gifts aren't the only way libraries can make your dream day a reality. Libraries of Things are gaining traction in public libraries nationwide. These are amazing special collections of, well, things! Each one is different and houses various items, everything from cake pans to power tools. If you haven't looked into what yours can offer, check it out. Just seeing what's available can give you ideas or solve problems you didn't know you had.
Many venues, such as parks or private homes, seem like unique and cost-effective solutions for your nuptials, but they don't always provide audio/visual equipment, seating, or other event supplies couples take for granted. Rental fees for chairs, tables, microphones, and tents add up in a hurry. Before you hand over a down-payment, visit your friendly neighborhood librarian — it may surprise you just how many of these practical items can be checked out from the library. Furthermore, some library systems have reciprocity programs, meaning if you can't check items out from your local collection they may be able to request it from one nearby.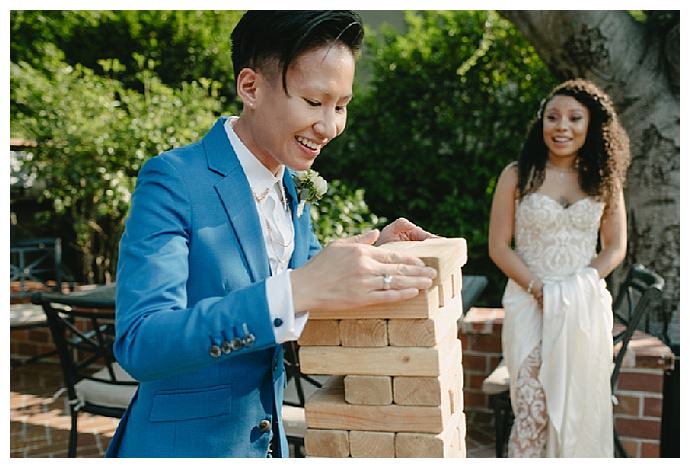 Now that the gifts have been made, the lovely personal details added, and the practical items are sorted out, it's time to focus on the party! Outdoor receptions or cocktail parties are always more fun with croquet, giant Jenga, bocci ball, or oversized checkers—all commonly available at various libraries! If you think instant cameras, movie theater popcorn machines, or telescopes for stargazing would be a great touch but can't justify the cost, your library card may hold the answer. A perfect example of a party collection is housed at The Washington County Library where cardholders have access to a fog machine, bubble machine, and a chocolate fondue fountain. You can even amplify your afterparty—many libraries offer inflatable movie screens, projectors, speakers, karaoke machines, and lots more.
You also never know what partnerships your local library may have leveraged on your behalf. Many have tickets to local zoos or attractions for out-of-town guests. In one of my favorites, the Akron-Summit County Public Library allows guests to check out certain pieces of art from the Akron Art Museum—imagine picking out some amazing décor to place behind the head table or cake table.
Pause your wedding plans. Visit your local library. Get creative and explore all the options available to you and see what new ideas come to life to make your day that much more special.
Written by Erin Sernoffsky | Cover photo from Sarah and David's Dupont Circle Engagement Session, photographed by Hay Alexandra Photography | Bottom photo from Sabrina and Shalita's Intimate Backyard Wedding, photographed by Jerry Yoon Photographers