As we know, the wedding industry is extremely heteronormative, and that extends to all of those cute details that surround it: cake toppers, chair signs, bach party decor … the list goes on. You have to either buy two Mr. and Mrs. items and put the appropriate titles together, or you have to scour the web to find same-sex options. And don't even get me started on how little there is out there for nonbinary individuals. This extra legwork is why I created the Love Inc. shop, which is a curation of inclusive wedding products from brands and makers that I've found across the Internet, so you can imagine my delight when I was introduced to a site that was dedicated to all things LGBTQ+ wedding products (and then some!).
Dash of Pride is an online shop by Jenna Szyluk, who has created an array of stylish products for your wedding, your home, Pride and more. I love everything that Jenna is doing and had a chance to sit down with her to learn more:
When did you launch Dash of Pride?
I launched Dash of Pride in May 2020, just as the pandemic was shutting everything down. It has been an interesting year to say the least.
What inspired you to create Dash of Pride?
There were multiple situations that led to the conception of Dash of Pride. Initially, while looking for a wedding venue, we faced discrimination and were turned away. My wife and I married in 2019, and while planning our wedding we realized our community was underrepresented when it came to event decor and supplies, making our dream wedding difficult to plan. Products for two women (or two men) proved challenging to find. We ended up buying two packages of "Mr. & Mrs." products to make a "Mrs. & Mrs." set of chair backs. It was in that moment of frustration the idea for the brand was born! To further solidify this, after our wedding, our wedding planner came to us and asked if she could use the "Mr & Mr" chair backs for her wedding the following weekend. I knew then and there that this was an underrepresented industry.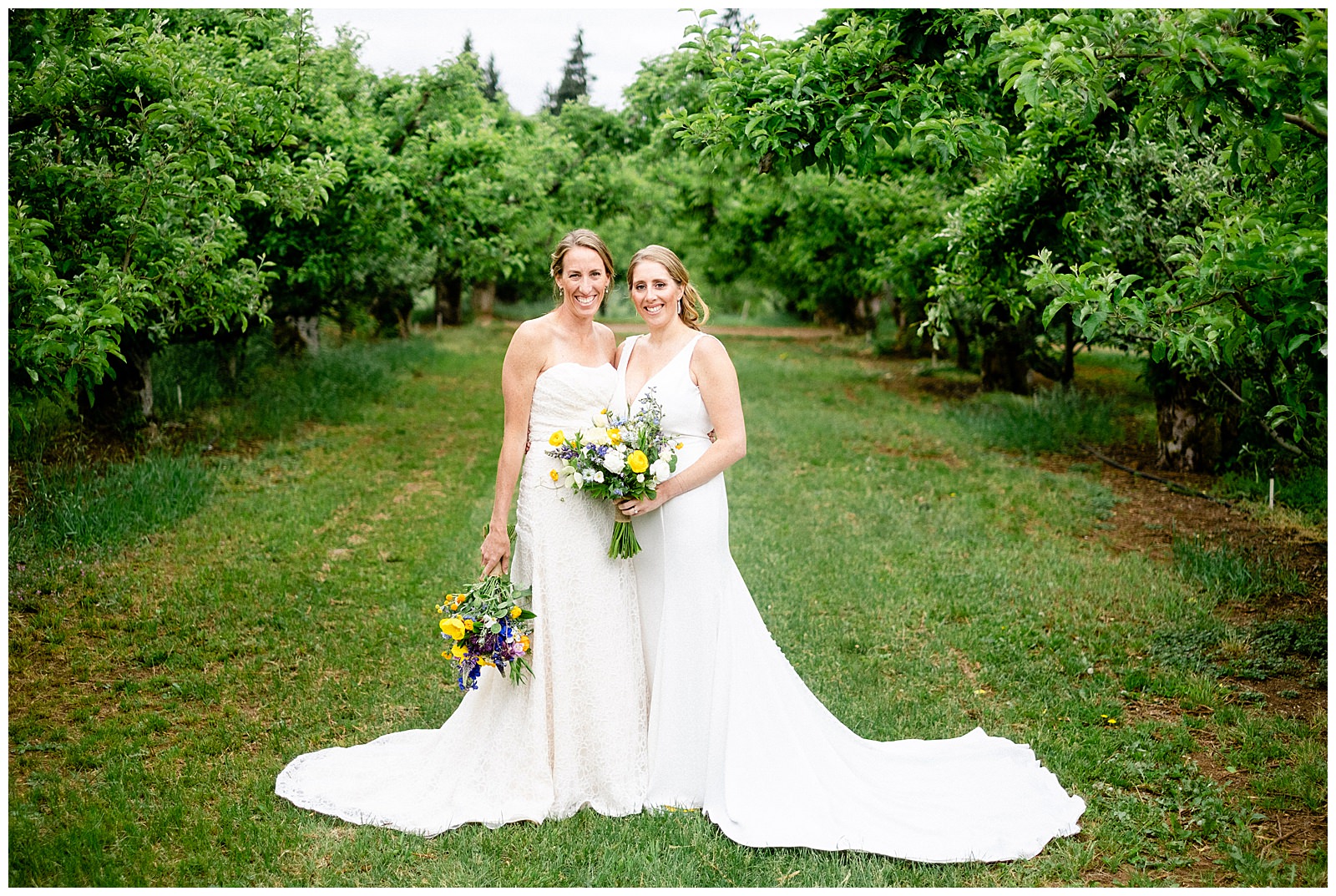 What types of products do you carry?
When I launched Dash of Pride, I really wanted to focus on the wedding industry and the heteronormative discourse around it. At the launch we had a variety of products such as wedding stationery, greeting cards, banners, cake toppers, socks, LGBTQ+ wedding t-shirts, mugs, pronoun pins and so much more. As the pandemic started to hit, I quickly made a shift and added a line called "Everyday Life." This line includes Pride gear with products representing over 10+ pride flags inclusive of our LGBTQIA+ community. The Everyday Life line has a wide variety of products such as t-shirts, bags/totes, aprons, placemats, mugs, laptop sleeves, greeting cards, flip flops, blankets, dog bandanas, etc. I have also started to incorporate kids and baby/infant products into the store.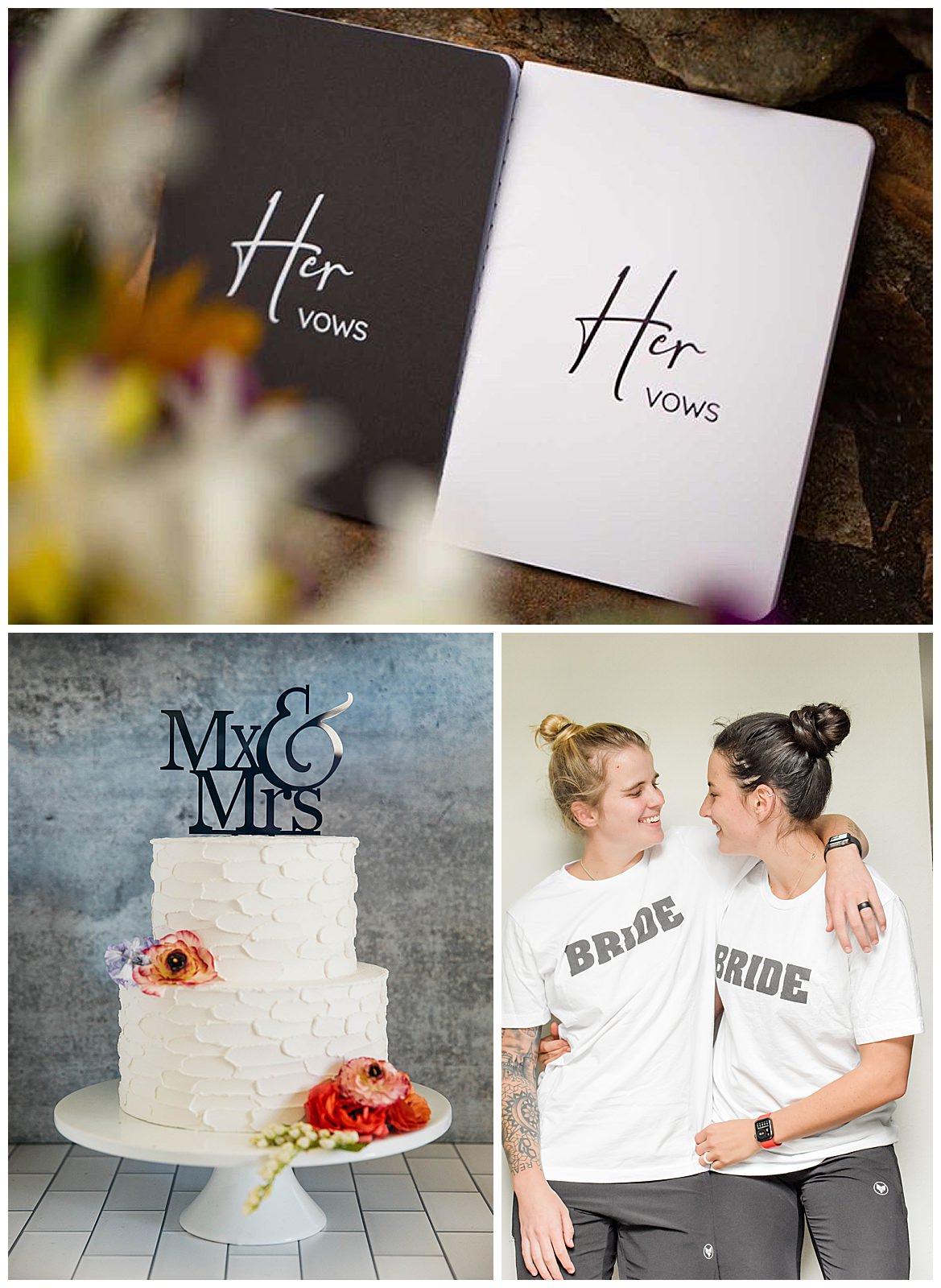 Do you create your own products or do you have vendors you work with to create them? If the latter, how do you find vendors to work with?
As of right now, I have designed all the products myself. I have a degree in graphic design from Syracuse University's Visual and Performing Arts School, and although I have taken a circuitous route, I have reconnected with my love of design with Dash of Pride. I was recently contacted by a designer who asked to work with Dash of Pride. Until then, I honestly had not been looking to collaborate due to the fact that I am the sole employee learning how to run a business, create a website, design a product, etc. I realize that this is a possibility and am open to different ideas and collaborations as the business grows and evolves.

Be sure to check out our favorite picks from Dash of Pride's collection on LoveIncShop.com!
What have been some of the hardest wedding-related products to find that were representative of LGBTQ+ couples?
Overall, I believe the hardest thing as an LGBTQ+ couple is that there isn't just one site to go shopping for your wedding where you feel safe and seen. The more I delve into the community, the more I identify those who are underrespresented, such as nonbinary and transgender folx. Dash of Pride is currently the only store where you can find representation for all parts of our community. We have Mx cake toppers, banners, wedding stationery, greeting cards, cufflinks, "their" vow books and pronoun pins. These are all items for the entire LGBTQ+ community that generally can be tough to find. I am really excited about the new line of wedding t-shirts that will be coming out soon with all the different representations (i.e. – Bride, Groom, Broom, Gride, Merrier, Newlywed and Nearlywed)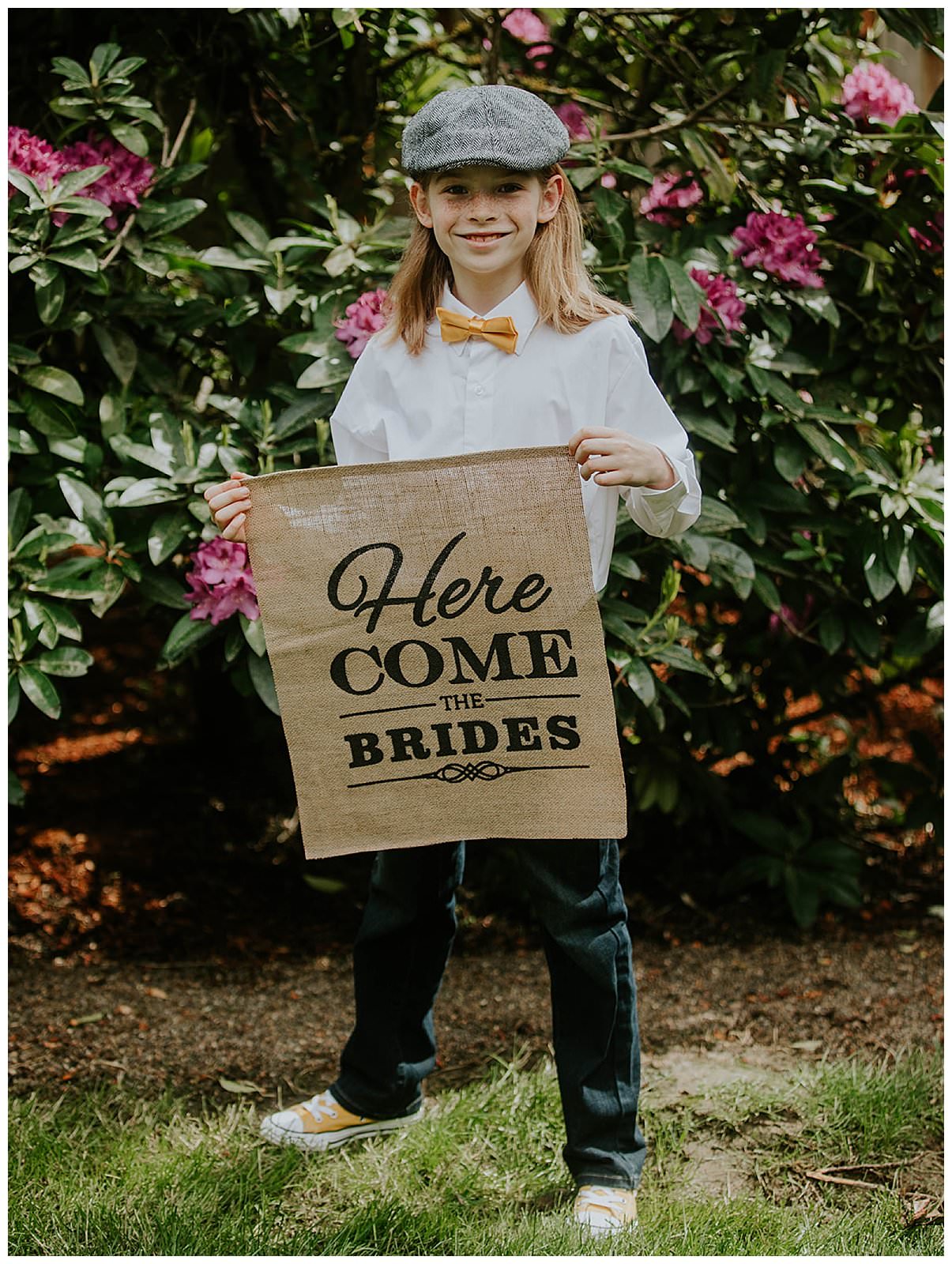 I love that you have so many nonbinary options — tell us about the lack of representation in the wedding space specifically for nonbinary individuals and couples. Do you see it getting better?
Thank you. Yes, there is a huge gap in the wedding industry when it comes to nonbinary and transgender folx. The conversation regarding this gap is starting to happen, which is wonderful, but I think we have a lot of work ahead of us to see improvements. The wedding industry is a billion dollar industry with a ton of professionals all over the country. Those in the wedding industry can be the catalyst to change by altering their vernacular (using "they/them", etc), having a LGBTQ+ friendly website, and having forms or welcoming words like "partner 1 or partner 2" on those forms. These are just a few examples of how small changes can lead to a more inclusive space. I know that change is not easy and I don't expect it to happen overnight, but any small change can fuel larger ones. We want everyone in the LGBTQ+ community to know that we see them and will fight for them. They have every right to have their dream wedding!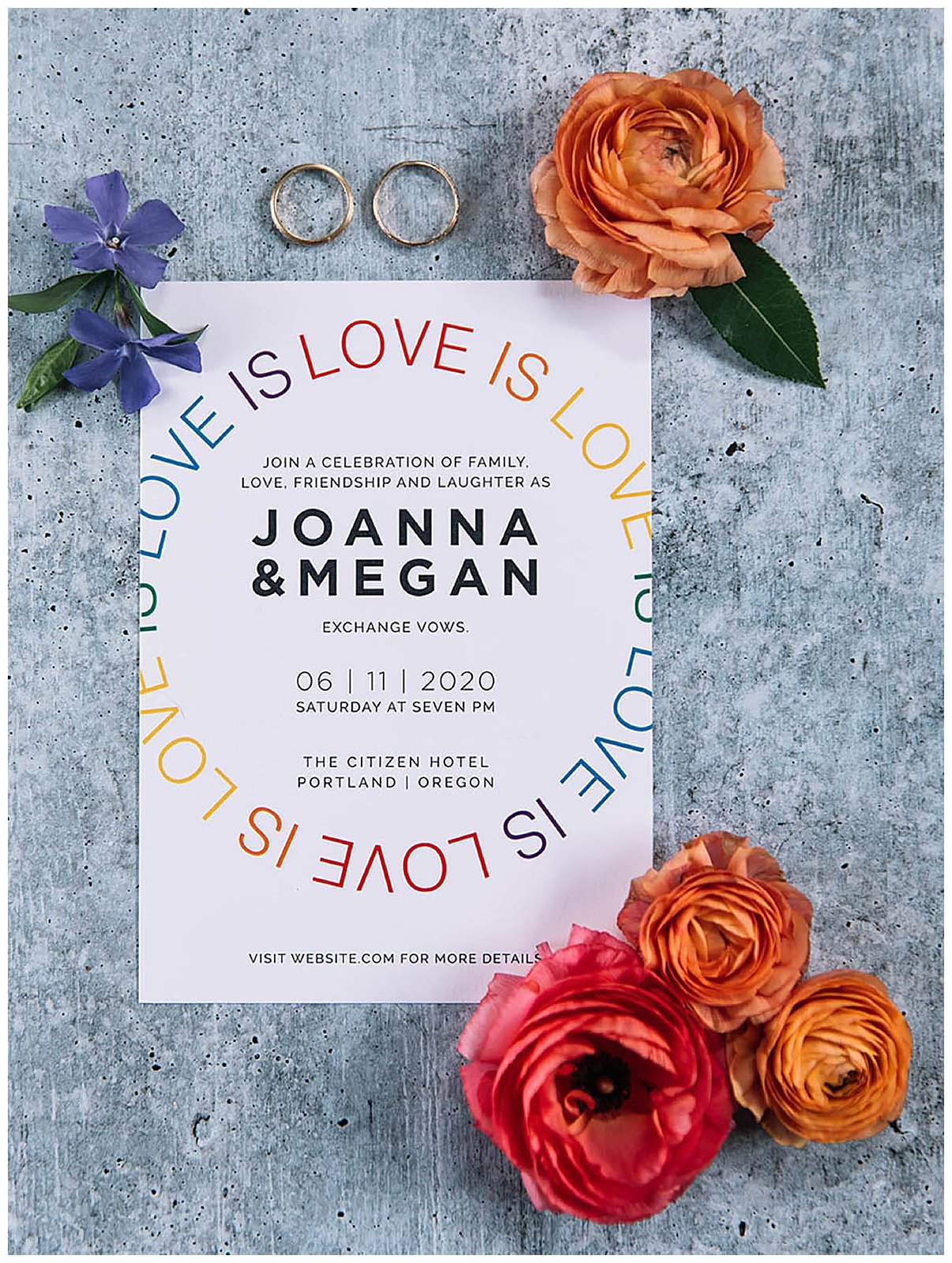 What are some of your favorite Pride products from your shop?
There are so many to choose from! If I had to pick a must have item it would be the Pride Weekender Bag. It is an amazing, durable bag for the beach or pool. Last year our family took that bag everywhere with us and it has taken a real beating. Other items I love and that are popular are the Pride aprons, tote bags, t-shirts and I see our new line of pet bandanas flying off the shelves this summer.
Be sure to check out our favorite picks from Dash of Pride's collection on LoveIncShop.com!