When actress Shalita Grant and her fiancée, Sabrina, began planning their wedding, it became clear that many of the traditional aspects of a wedding weren't what they had envisioned for their day. "We did away with any aspects of the traditional wedding that felt like artifice for us," the brides say. "So our guests didn't experience most of what they would have at a traditional wedding — and they didn't miss it."
With help from Tickled Events, they began to craft a day reflective of their relationship that included a ceremony at San Francisco's City Hall and ended with an intimate reception in a beautiful backyard filled with lush flowers where lawn games were played, drinks overflowed and tasty fare was served. Captured by Jerry Yoon Photographers, Shalita and Sabrina's intimate wedding makes a strong case for designing a day that's true to you!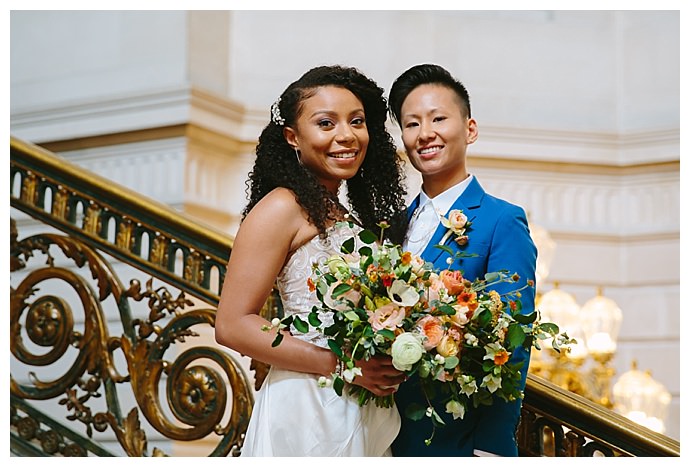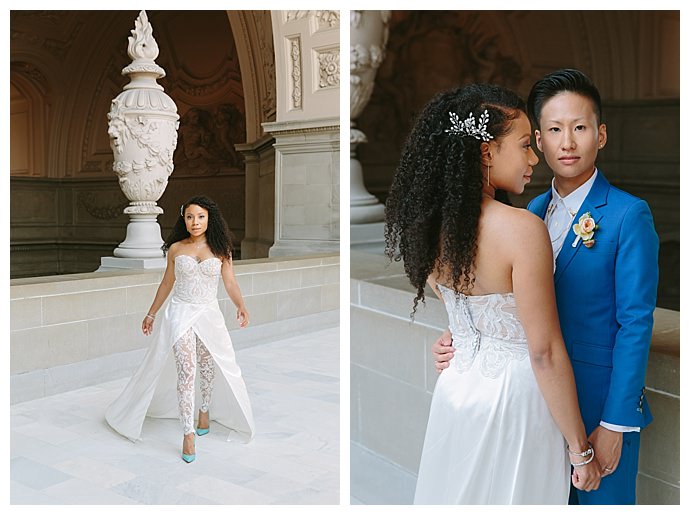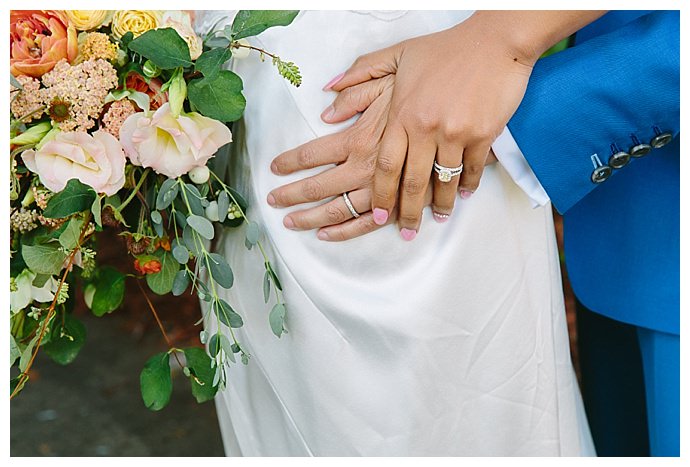 The Love Story
Shalita and Sabrina's vision for a non-traditional wedding mirrored the origins of their relationship, which began with them separated by nearly 1,900 miles. After connecting on the dating app, HER, one of the only online dating spaces specifically for queer womxn, Shalita and Sabrina had to whether long distance as Shalita was living in The Big Easy filming "NCIS: New Orleans" while Sabrina was in LA. But their bond proved to be stronger than the distance that was between them, and after a year of flying back and forth to spend time together, Sabrina took the leap and moved to Louisiana. Not long after, she proposed to Shalita on a skiing and snowboarding trip in the mountains of Whistler in British Columbia with a cushion cut canary diamond ring.
After taking some time to bask in the bliss of the newly engaged life, Shalita and Sabrina were anxious to get the next chapter of their life started, and in only two months, they pulled together a beautiful, intimate wedding that uniquely honored their relationship and included the people they love most.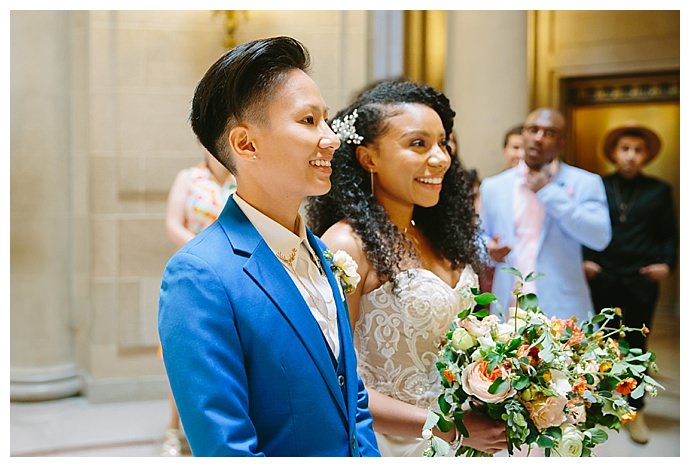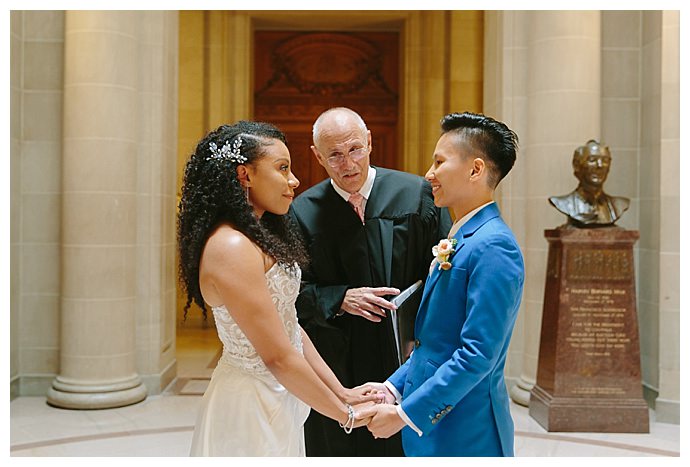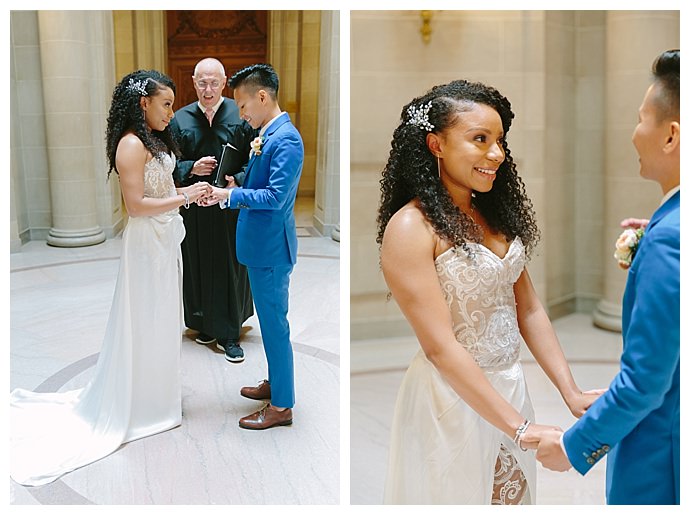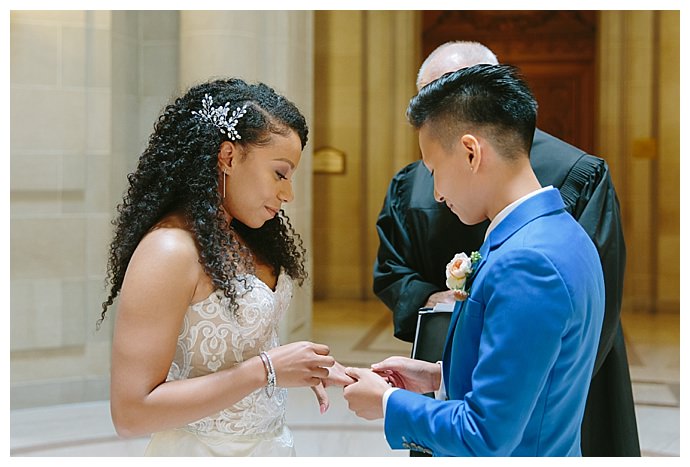 The Ceremony
A special place for both brides, Shalita and Sabrina were drawn to the charming hills of San Francisco and couldn't think of a better place to declare their love for each other than the city with one of the largest LGBTQ communities in the world.
Clad in a stylish bespoke three-piece blue suit by Bindle & Keep, Sabrina and her bride, who wore a bespoke lace jumpsuit with a flowing overlay skirt, embraced the element of surprise that comes with a City Hall wedding. "When you get married at City Hall, the risk is you never know what it'll be like because it's still a public municipal building," the brides say. "We were married August 8, 2018, an auspicious day, and when we arrived, it was a wedding bonanza! It was so much fun to be in attendance with so many beautiful happy couples and their guests — the air was palpable with love and excitement."
Among the enchanting architecture of the historic landmark, Shalita and Sabrina waited their turn to say "I do" while their photographer recounted tales from other weddings she'd captured at City Hall. "Our wedding photographer told us about one of her favorite wedding officiants while we waited, and she hoped we would get him to perform our ceremony," the brides say. "You don't get to choose who performs your ceremony, but as luck would have it, he was our officiant." Surrounded by the love of their 15 guests, the officiant led Shalita and Sabrina through a moving ceremony that they say they'll remember forever. "The officiant was so funny and expressive," they say. "He made the ceremony memorable, and he kept us present in the moment, which is a huge gift!"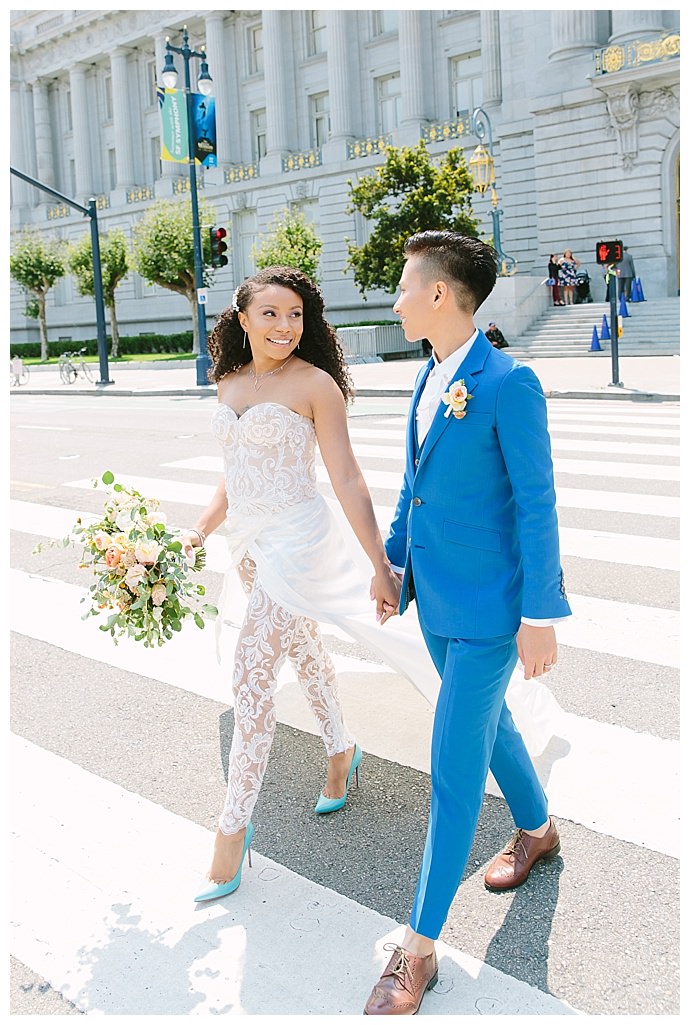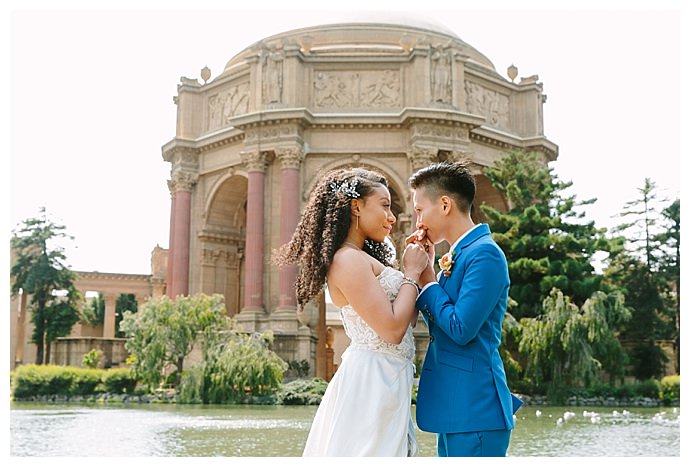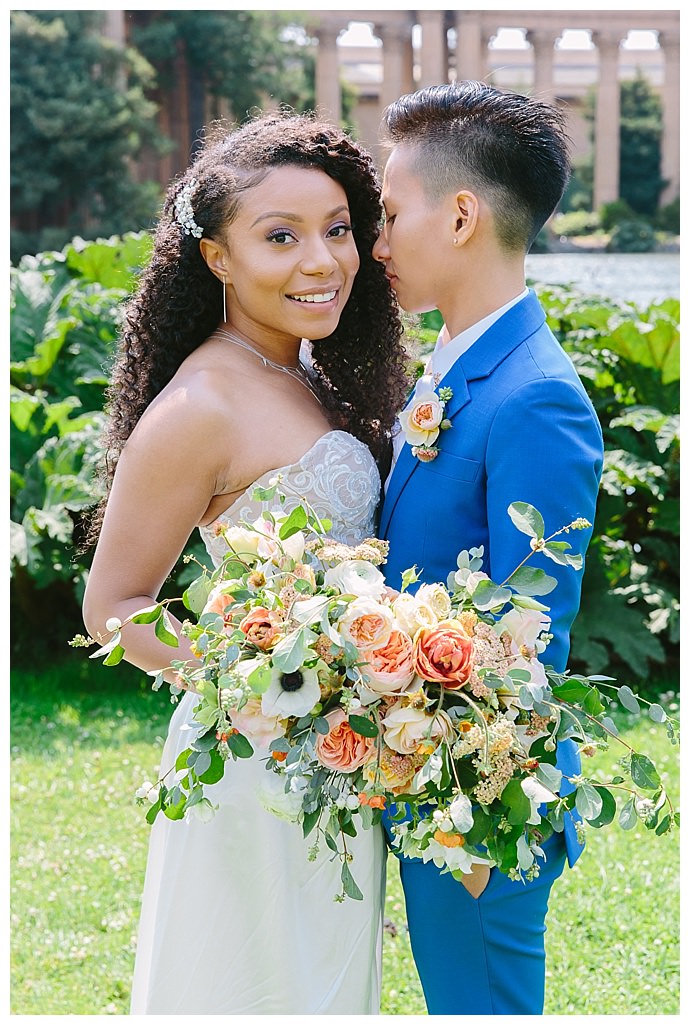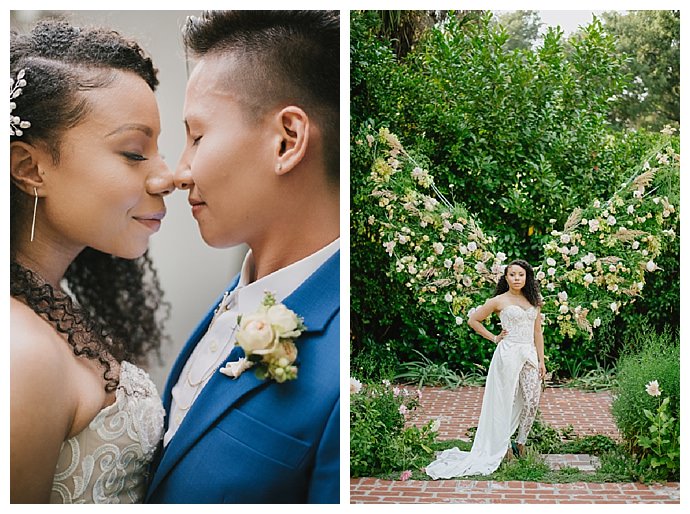 The Party
With their wedding bands secure on their ring fingers and a new prefix of Mrs. added to their names, the newlyweds and their guests piled into Mercedes Sprinter vans and headed south, winding along the Bay's coast to Paolo Alto. Their reception was held at one of the city's former Mayor's homes, a gem of a venue where a manicured lawn and lush garden with sprawling flowers greeted them. The inviting outdoor space provided an intimate setting for their non-traditional reception, which took on the feel of a casual hangout with close friends where corn hole, giant sized games of Connect Four and Jenga sparked an evening filled with laughter.
Gorgeously lush floral arrangements created by Vo Florals took the place of decor, and one of the brides' favorite details was a striking floral angel wing installation, which became an instant, Instagrammable hit among the guests. "We got really lucky with our reception location because the backyard was already full of gorgeous flowers," the brides say. "It felt like being in a little wonderland with the addition of the hanging floral arrangements and the angel wings."
Nestled in a cozy covered area in the backyard, the same pale pink, orange and white blooms sprinkled between lush greenery starred in the arrangements that hung above and lined the farm table that was set for intimate party of 15. "We hired Chef Francis Ang and his wife Dian of Pinoy Heritage to create a Southeast Asian and Pacific Islander-inspired five-course plated dinner as well as passed hors d'oeuvres," Shalita and Sabrina say. The chefs prepared crispy chorizo empanadas, black cod sinigang, pancit with mussels and shrimp and pork belly adobo, which everyone raved about.
"The dinner was spectacular, but after dinner was my favorite," Shalita says. "We had coffee and cake, and I switched into a pajama onesie, and we played Telestrations. We laughed 'til we cried — it's my favorite thing to watch people be free to be their authentic selves and play. It was so fun to provide that space for people on such an important day for me." Playing games with their guests after dinner was a highlight of the day for Sabrina as well. "It was a great feeling being married, so full of delicious food and excited for more fun with our friends," she says. "It felt great to be in my pajamas feeling so relaxed, comfortable and happy on my wedding day."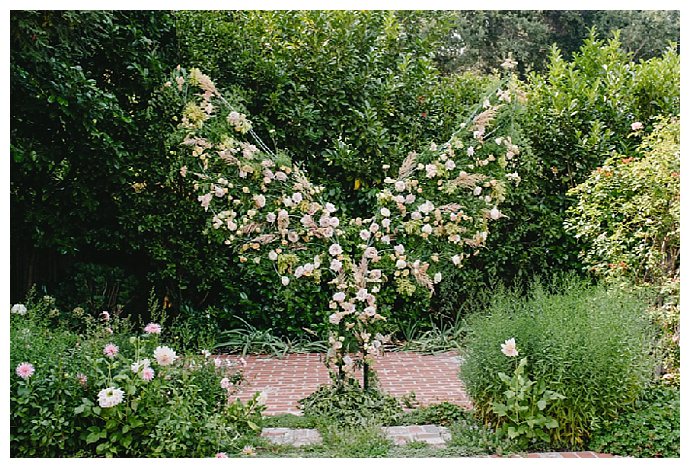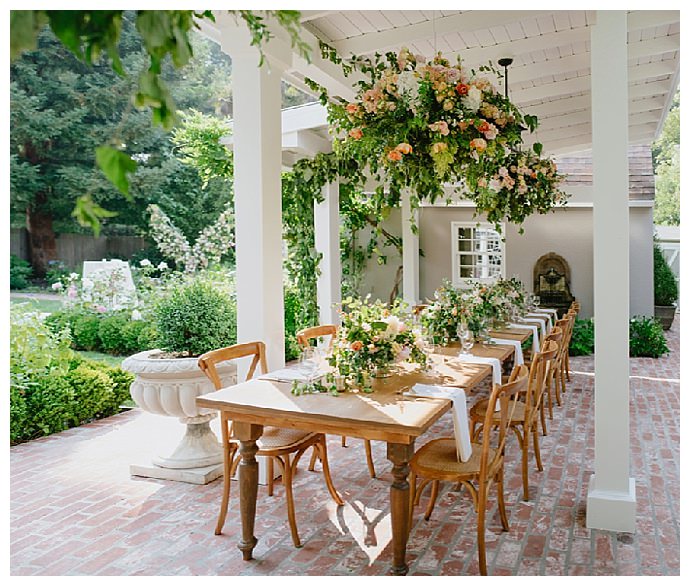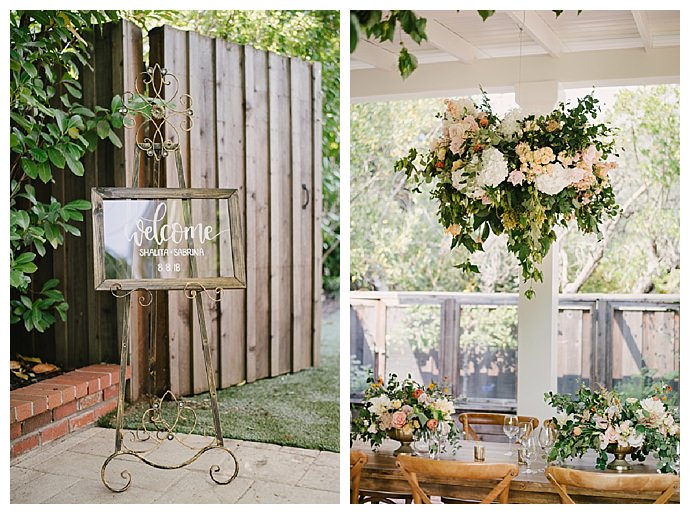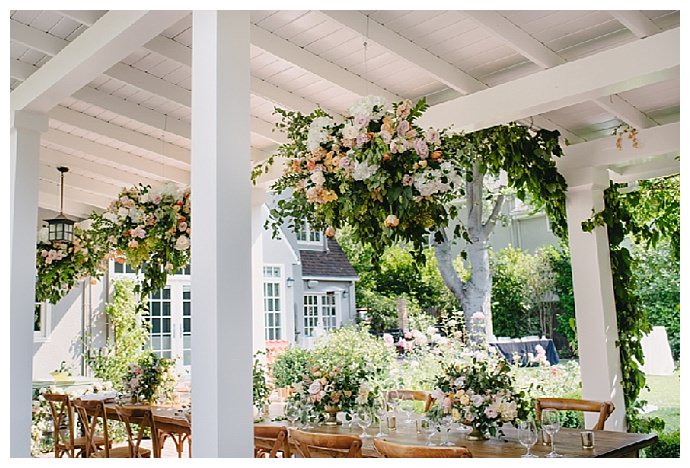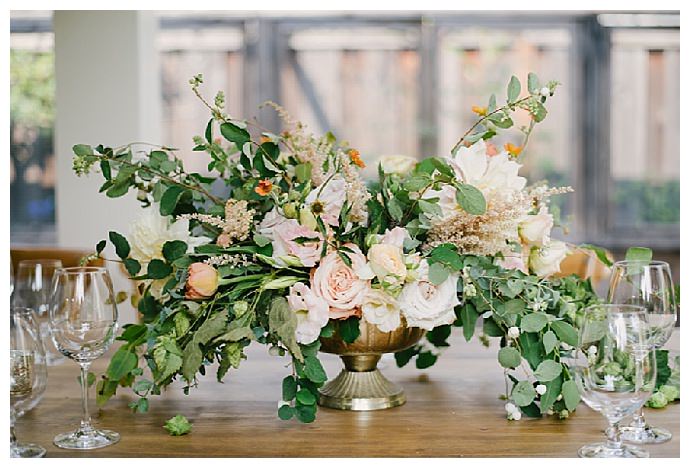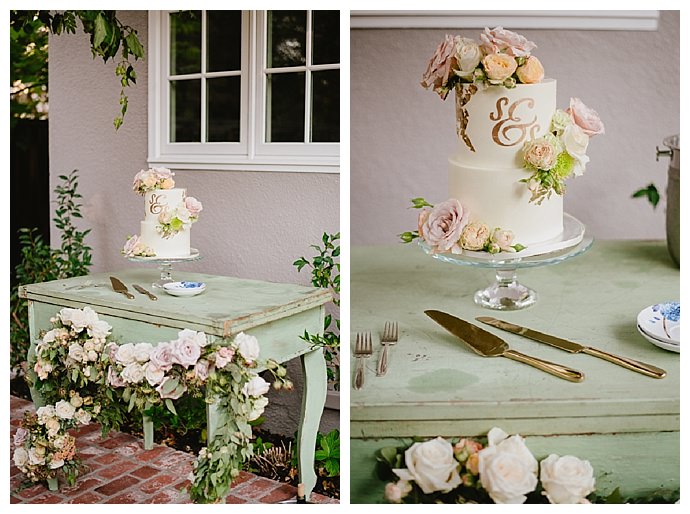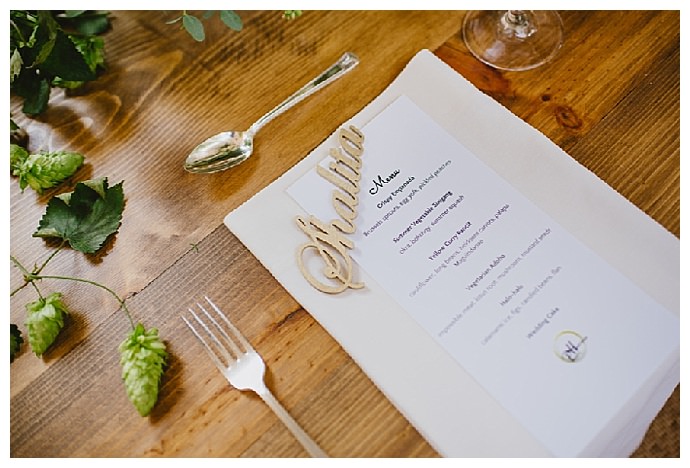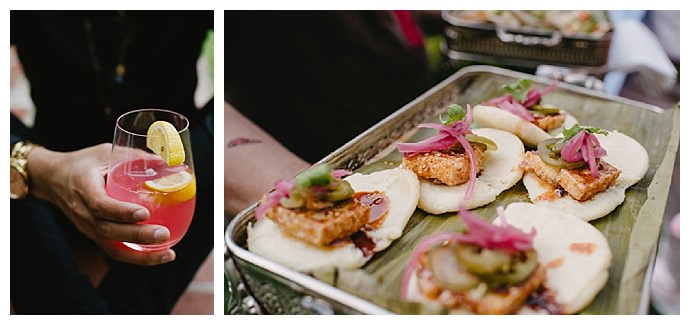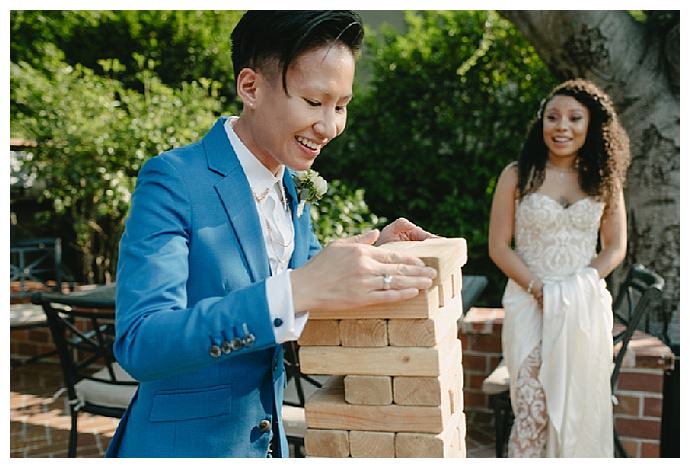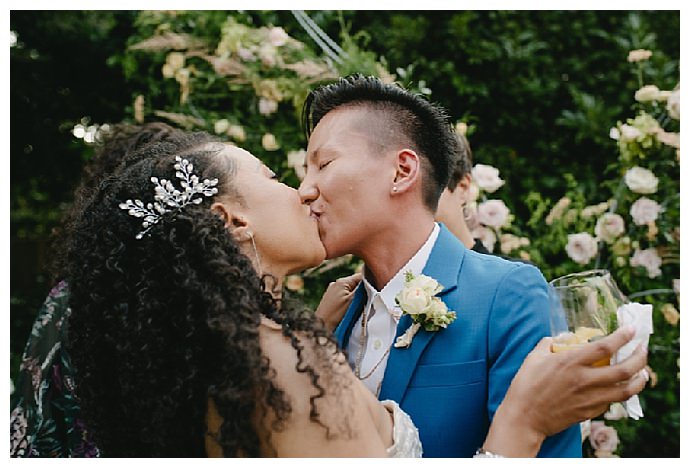 Written by: