By Kaitlynn Moquet | Photography by Kelly Guenther Studio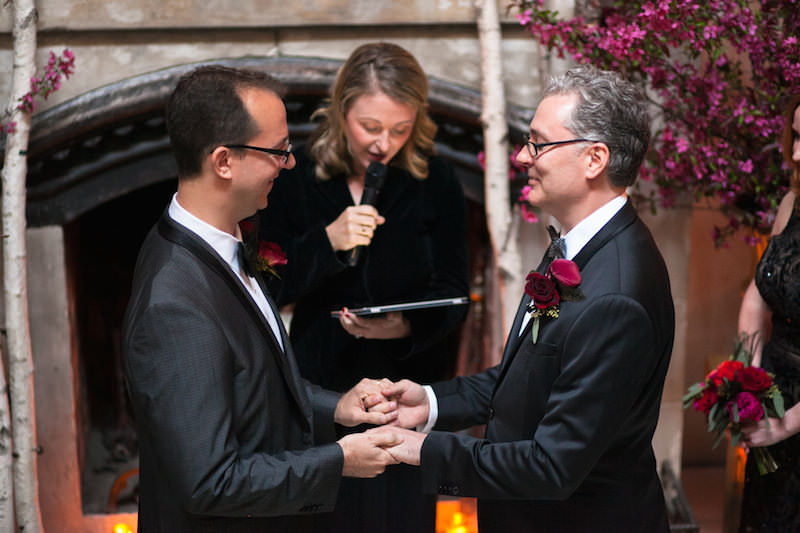 Self-proclaimed foodies Greg and Michael knew that the reception cuisine would play a significant role in their wedding day. With a priority of finding a venue that they could bring their own caterer, they came across 632 on Hudson, an antique-laden townhouse-turned-party space. The hidden gem spurred their carnival theme vision, executed amazingly by Bernadette Smith of 14 Stories with fortune tellers giving guests a peek into the future and burlesque entertainers serving absinthe cotton candy.
The Love Story
Before Greg and Michael even laid eyes on one another, they formed an instantaneous connection over their mutual passion for fine dining. When the couple first met online, they spoke of their love for food and this topic has continued to be important in their relationship as they continue to spend time together bonding over delicious delicacies.
"The first topic of conversation was about our love of food," the newlyweds remembered. "It became an immediate bond between us, interestingly, food was also the topic of their first disagreement, but it has nevertheless remained a central part of how we have built our relationship."
The Venue
After searching long and hard for the perfect venue and visiting approximately 15 potential locations, the couple found the dream place to hold their wedding ceremony and reception—632 on Hudson, a townhouse in New York City. The two were drawn to the space's unique and interesting qualities, which enabled them to execute their carnival fun house theme perfectly.
"The space is itself whimsical and very fascinating, full of rooms just inviting you to explore and look around at the antiques from around the world," the couple agreed.
Another reason they chose this location to tie the knot and party the night away after was because of its catering options (they are foodies, after all). "We are both passionate about food so we wanted the focal point of our wedding to be on fine dining and preferred a space where we could bring our own caterer," the two said.
The Fashion
The glowing grooms both looked sleek in their bow ties and dark tuxedos from Hugo Boss, paired with a deep red rose boutonniere as a touch of their dark red, gold and blue color scheme.
The Ceremony
To make their wedding more personal, Greg and Michael had a close friend officiate the ceremony that took place in front of a gorgeous white bark fireplace surrounded by deep red flowers. As family and friends gathered close to witness the two exchange vows, they were treated with a musical performance. "The highlight was a violin performance of 'True Colors' by another friend," the grooms recalled.
The Reception
"The foundation of the design were vintage carnival-esque graphics," they explain. "The save-the-date featured a crystal ball and that theme carried through. Even the seating cards were carnival tickets passed out by the emcee."
Greg and Michael had the emcee dress as a carnival barker, hired a fortune-teller to entertain guests and had a sophisticated burlesque entertainer serve absinthe cotton candy as dessert.
The couple shared their first dance as newlyweds to 'They Can't Take That Away From Me,' by Frank Sinatra and continued celebrations throughout the night with a hora.
And it's no surprise that these self-proclaimed foodies' reception meal was one for the books, featuring a five course-tasting menu that included an impressive menu of meats, seafood, rice and vegetables with alcohol pairings.
The couple decided forego the wedding cake and instead passed out small desserts that were inspired by plating at Jean Georges.
 Vendors
Photography: Kelly Guenther Studio
Venue: 632 on Hudson
Wedding Planner: 14 Stories
Florist: Fleurs
Catering: Naturally Delicious
Wedding suit: Hugo Boss
Emcee: SOTU Productions
Entertainment: Wendy Kidd Entertainment 
Stationery: Ladyfingers Letterpress