Group tour itineraries not only give you a done-for-you itinerary, but they allow you to connect with others while still allowing couple-only time for romance.
Let's be real. Secluded, romantic, honeymoon bungalows will never go out of style. All-inclusive resorts absolutely have some great amenities. The traditional idea of a honeymoon definitely isn't going anywhere.
But about couples looking for a little more adventure? How do you spice up your honeymoon with authentic food, unforgettable expeditions, or deep dives into new corners of the world?
For soonlyweds looking to make some real memories, group travel or planned tours may be the ticket to an unbelievable kickoff to married life. These days, travels with a tour group or through a tour operator are not the stuffy image of city hopper bus tours, 4pm dinners, or lengthy stopovers at tourist traps. Today, tours offer more authentic experiences of local life, and carefully curated itineraries.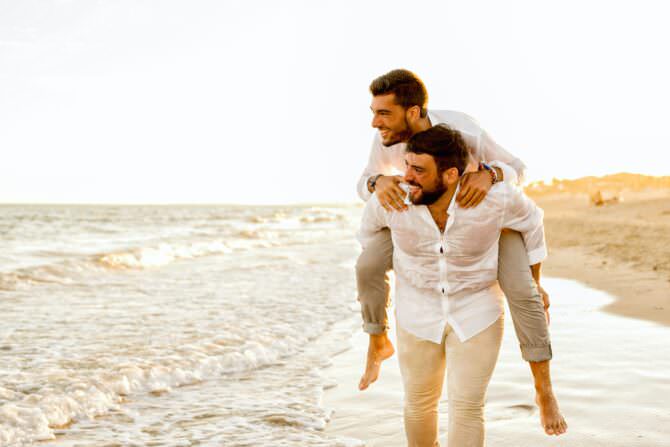 Sonya Stephens works for Wild Women Expeditions, a company that books adventure travel by and for women around the world. She also leads her own tours, such as a yoga retreat to Chile, and a running expedition in Portugal. Stephens said that she regularly sees couples taking part in group adventures.
"We actually have a lot of couples join us," Stephens says. "It's such a great bonding experience to try something you've never done, or learn a new skill. Trying new foods or learning new customs can really bring you even closer together."
Couples can find a tour for every interest, activity level, and location, from romantic Persian cooking tours, to trekking the Galapagos islands, to adventures in Cypress, to yoga retreats. Companies around the world offer choices of group or solo travel, luxury or primitive experiences, relaxing or invigorating excursions.
The benefits of traveling with a group or through a tour operator are immense—in the midst of busy wedding planning it's a massive relief to have someone else handle hotel bookings, tickets for events and museums, restaurant reservations, and arranging tours with a trusted guide. They can also take care of the inevitable wrinkles in traveling, like canceled or delayed flights.
Stephens points out that having a trusted guide eliminates a lot of the gamble of booking the wrong place, and can help you with recommendations for things to do on your own that are specific to what you are looking for.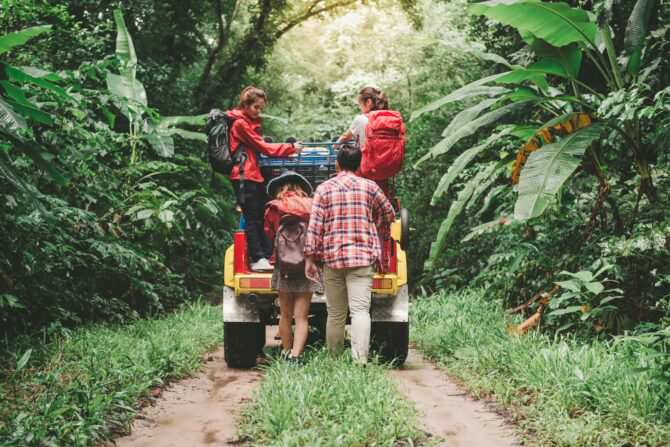 For honeymooners in particular, a good tour expertly balances planned activities or events with free time to enjoy dinner alone together or plan your own outing.
"I tend to plan more group activities in the beginning of the trip," says Stephens. "As the trip goes on there's more time to go and do your own thing, or revisit something you liked." She says it's ok to skip on certain activities you aren't interested in and do your own thing but is quick to caution, "if you find yourself wanting to skip most of the planned activities, you probably booked the wrong trip."
In general, group tours tend to skew slightly older, but Stephens isn't phased. "Look for what you're into—hiking, or art, or food. Look at what the activities are. If you are interested in them, it's going to attract like-minded travelers, who are into doing the same things you are. Regardless of age, you're going to make some new friends this way."
When it comes to finding the right tour operator or travel company, Stephens compares it to dating—you have to know what you're looking for, and find the perfect fit for you. Some options are more structured in their time, some are more flexible. Be sure to read the itinerary carefully, check the credentials of the company and their guides.
It's also important to look for companies that support local economies, use fair employment practices, are well-versed in LGBTQ+ safety and and make sustainable and eco-friendly choices. If you aren't sure, read reviews and remember it's always ok to ask the company directly.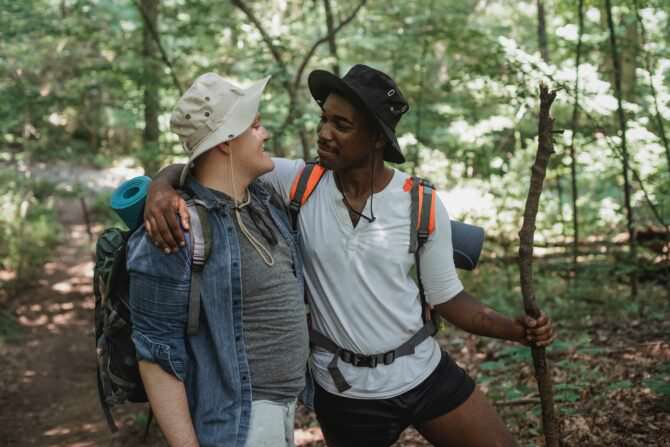 While there are countless amazing companies offering incredible experiences, here is a short list of our favorites to get you started:
Out Adventures offers small group LGBTQ+ trips and tours, from relaxing cruises, to Antarctic expeditions. Itineraries for their trips have so much to offer, but are also made intentionally flexible, perfect for honeymooners who want time to explore on their own.
Responsible Travel puts it's values directly in its name—they have a commitment to planning incredible trips all over the world with an emphasis on supporting local communities and the environment.
Trips planned for women, by women, employing local women all over the world. Their trips are immersive and adventurous all over the globe.
G Adventures is committed to making travel a "force for good," and have worked hard to make strong relationships with the local guides and communities they work with. G Adventures tours are unforgettable, from a wellness retreat featuring yoga on a Costa Rican volcano, to experiencing the northern lights in Iceland.
If you are looking for a perfect blend of luxury and wellness, look at the amazing trips with Voyemo. With trips planned specifically for honeymooners, a concierge service, and customizable options, Voyemo creates dream vacations.
Written by Erin Sernoffsky | Cover photo by Anna Shvets | Photo credits: Alberto Ramirez Sobrino | Photo by Tirachard Kumtanom | Photo by Kamaji Ogino