Daniel and Zack are not only lucky to have people in their lives who love and support them, but they are also lucky to have friends and family who were eager to step in and help make their wedding day as personal and memorable as possible. Close friends put the bouquets together with flowers purchased in bulk from Trader Joe's, family members led the Ketubah ceremony before the grooms exchanged vows in a ceremony led by Daniel's high school teacher and a close friend baked desserts for the occasion. Everyone chipped in to make their day special, and Daniel and Zack certainly felt the love all day long.
Kim C Villa Photography captured all the touching moments at their Jewish wedding at the Martin Johnson House at the Scripps Institution of Oceanography in La Jolla, California. And following a cocktail hour filled with sweet treats underneath the warm California sun, dinner was served at Officine Buona Forchetta. We simply can't get enough of these two and their beaming smiles as they begin a new chapter in their lives.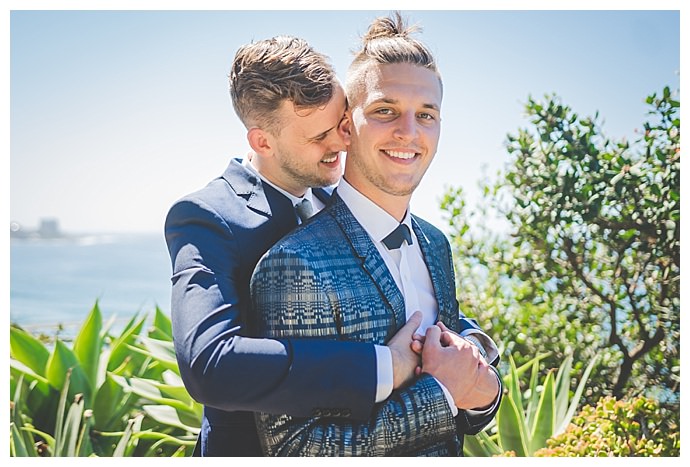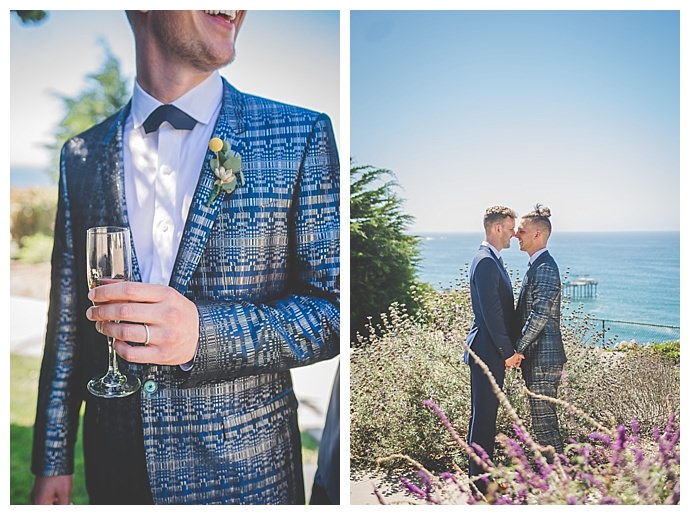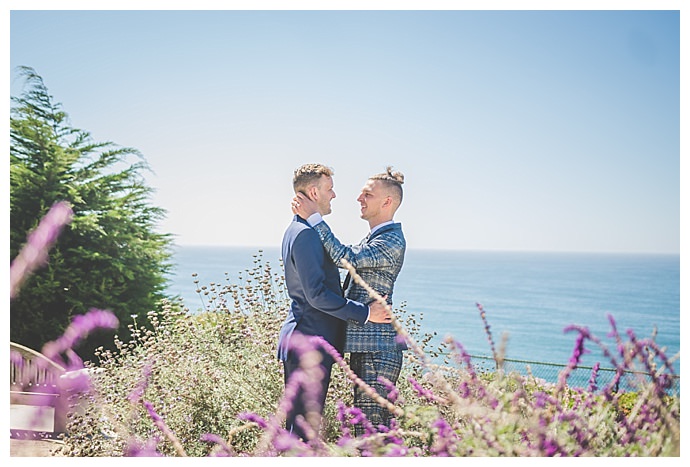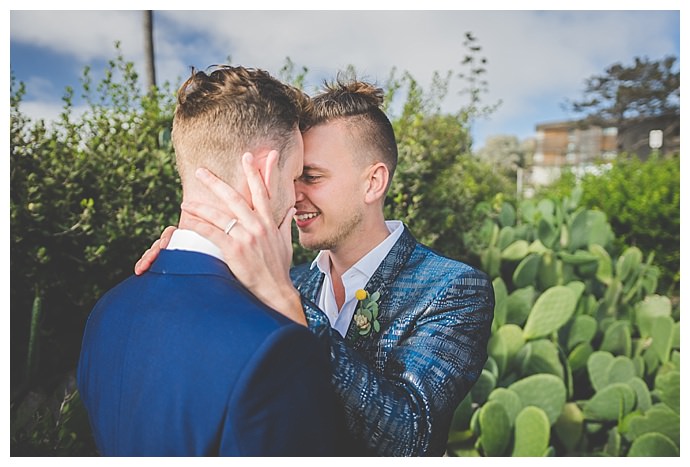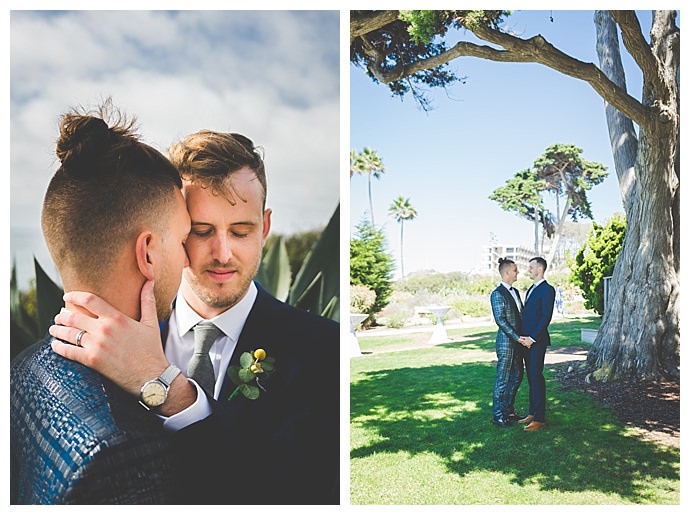 The Love Story
When Daniel and Zack were in middle school, they both had eyes for the same girl, and they quickly became enemies until years later they both landed jobs at the same clothing store. "Things were awkward for a while, but we figured out how to set the past aside and slowly started to build a friendship," Daniel says. It wasn't long before they started hanging out outside of work, and during their senior year of high school, they made it official and started dating. Their first year of college proved to be extra difficult as they navigated a long-distance relationship while at separate schools. But after that year, they realized they didn't want to be apart any longer, and they moved to San Diego to attend UC San Diego together.
Years later while Daniel was in graduate school, he spent a summer in Santiago, Chile, teaching English. As his program came to an end, Zack planned to meet him in South America so they could spend two weeks traveling around Brazil. The first surprise was a first class ticket for the flight to Brazil where they were greeted with a glass of wine and were served a delicious salmon lunch before Zack took advantage of a quiet moment and popped the question. "It was kind of comical because we were seated in first class, and the rest of the seats up there were taken by a bunch of wealthy, older Brazilian couples," Daniel says. "They were pounding back bottles of wine, and it wasn't about three hours into the flight that they all passed out drunk, and Zack used the peaceful silence to ask me to marry him — it was such a special moment!"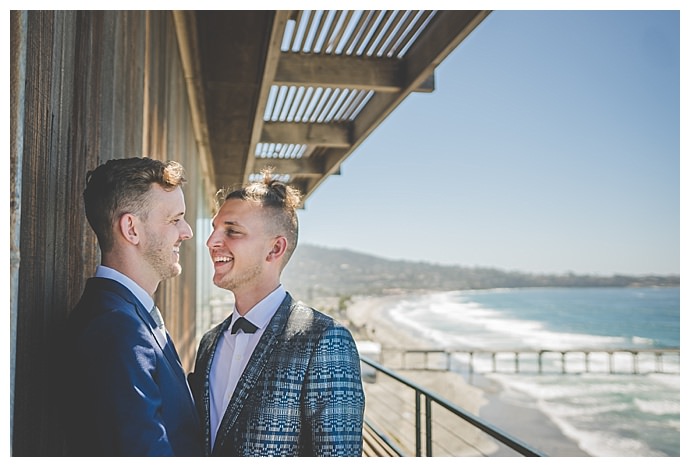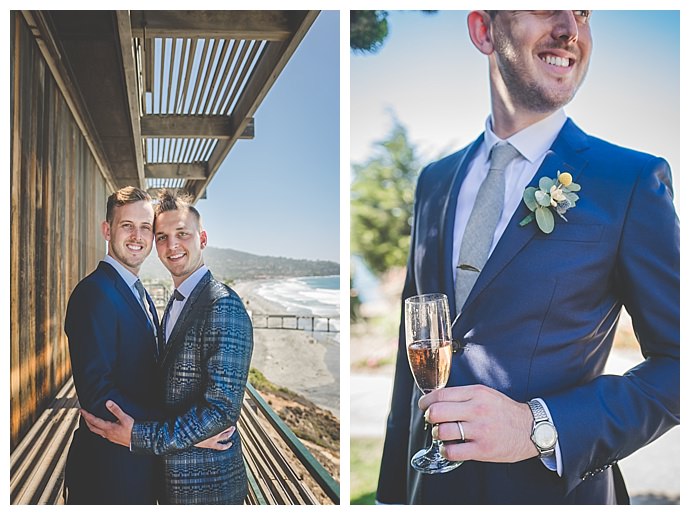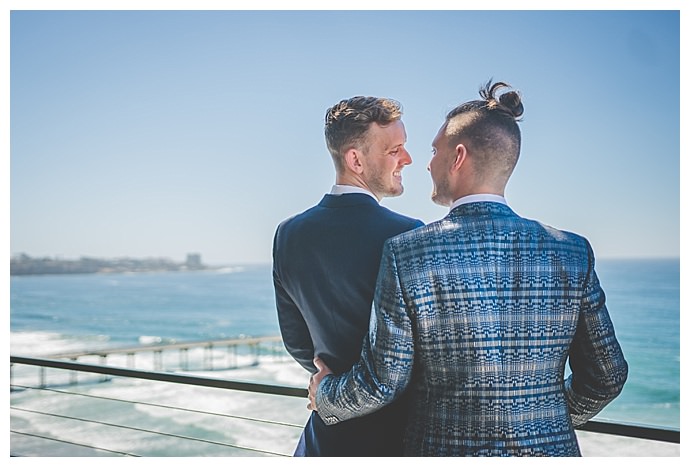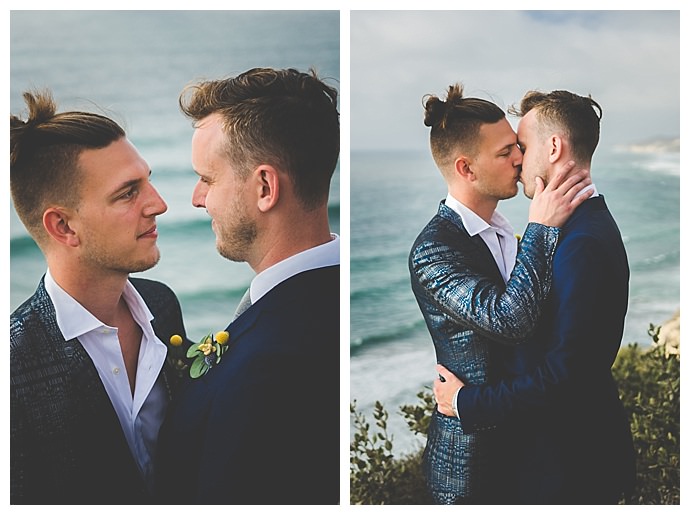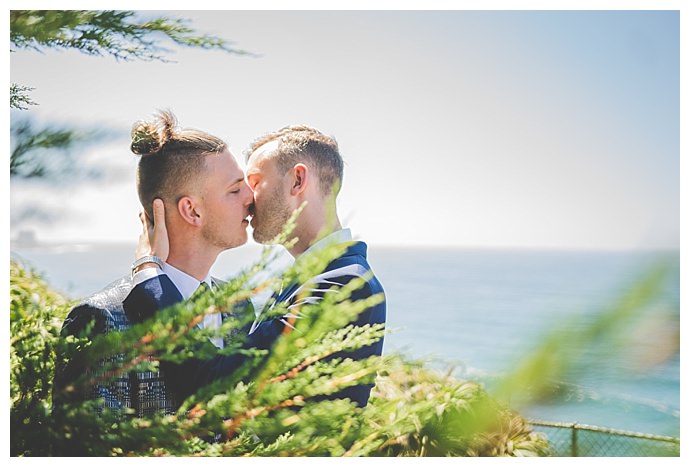 The Ceremony
Dapper attire was a must for this stylish duo, who were clad in Burberry and Dolce & Gabbana for their big day. Daniel's blue suit was accessorized with a white shirt and gray tie so as not to clash with Zack's striking jacquard suit that had a metallic-looking finish. Before the official ceremony, which was held outdoors, close family and friends gathered to witness the signing of the Ketubah, which Zack designed himself, in a ceremony led by Daniel's brother and sister-in-law. Afterward, the grooms walked down the aisle to wed underneath a chuppah built by Zack's dad, which was draped with a tallit that once belonged to Daniel's great grandfather. The grooms asked Daniel's high school teacher Hillary to lead the ceremony, as she was one of the first that Zack and Daniel came out to when their relationship began. "She knows us so well and was able to really personalize the ceremony with such grace and beauty," Daniel says. And for a modern interpretation of the Sheva Brachot, Daniel's grandmother read seven blessings for the newlyweds before they smashed a single glass together and recessed back up the aisle hand-in-hand.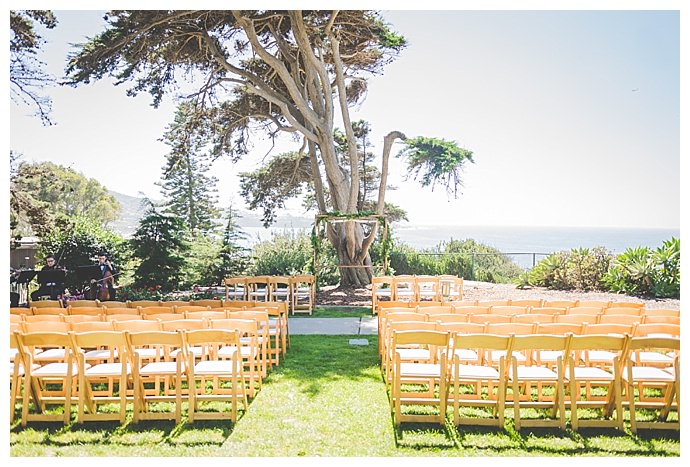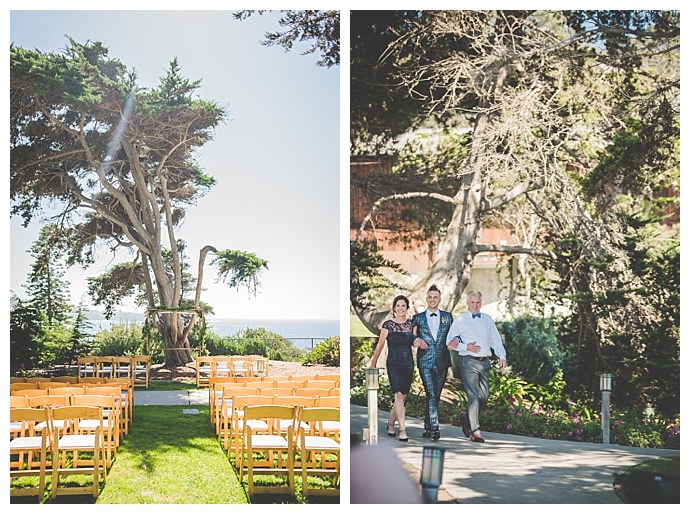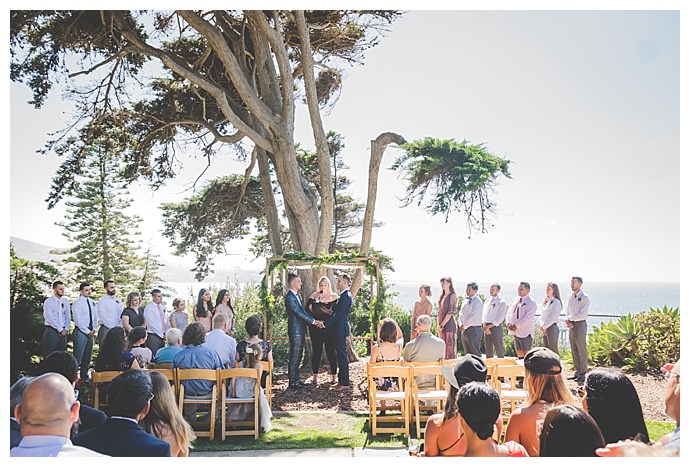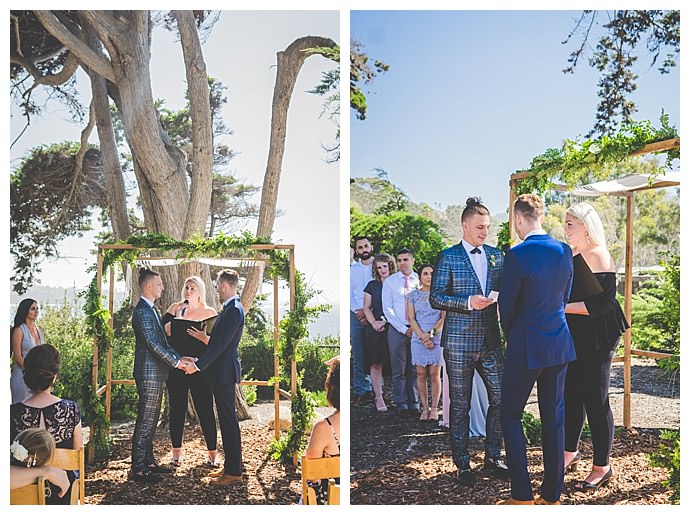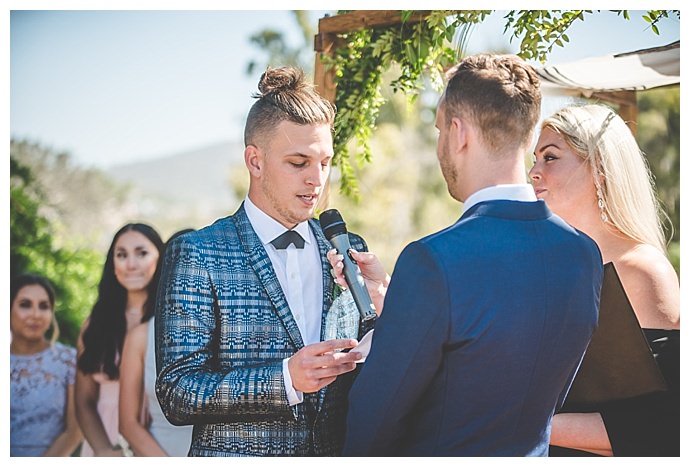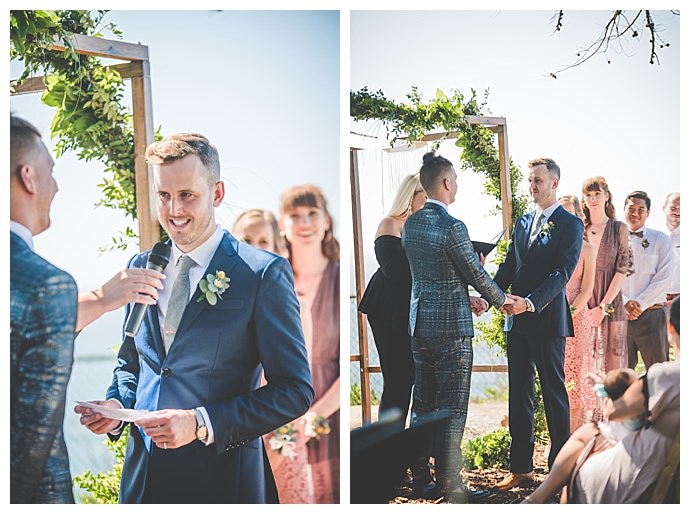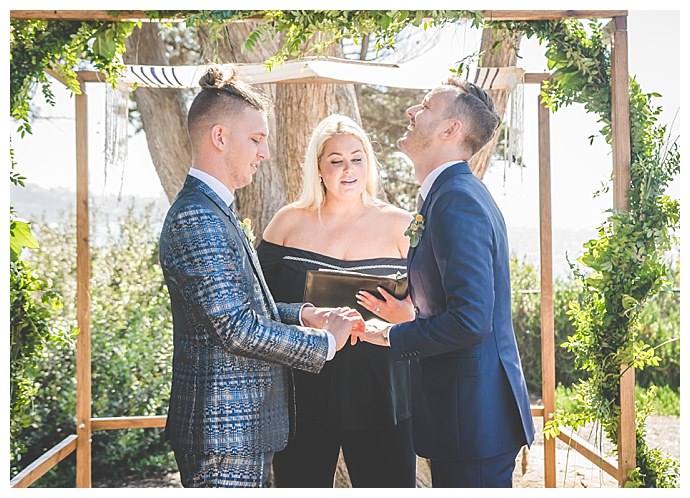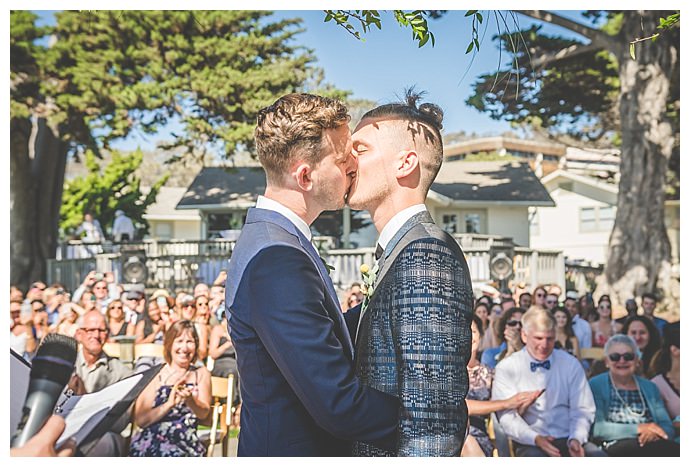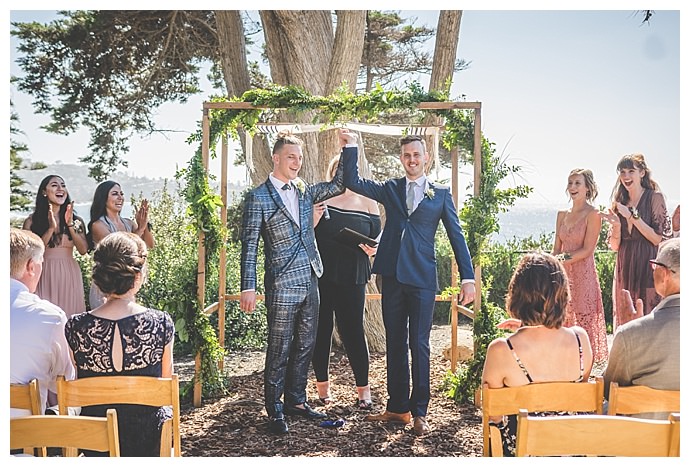 The Party
On the sun-drenched patio at the Martin Johnson House, everyone gathered for a celebratory wine reception where treats baked by their friend were also served. "In lieu of a cake, our friend April baked the most delicious Tres Leches cupcakes, Mexican hot chocolate brownies and Polvorones, Mexican wedding cookies," Daniel says. After plenty of wine was had, the grooms hosted a dinner at Officine Buona Forchetta where delicious Italian fare was served family style. The menu consisted of pesto gnocchi, ravioli and, of course, Napoli style pizza.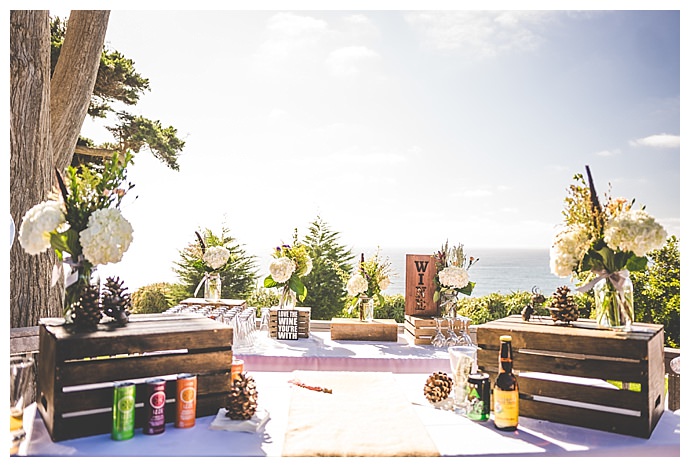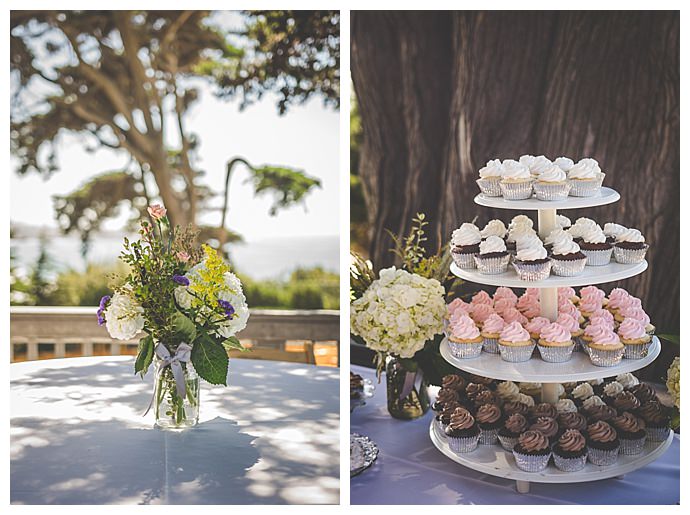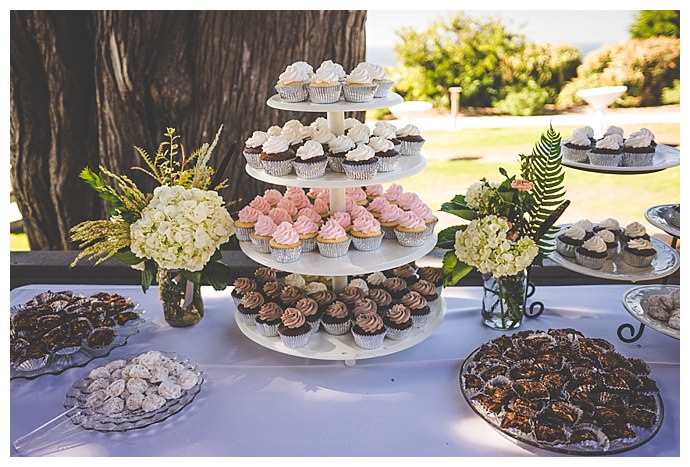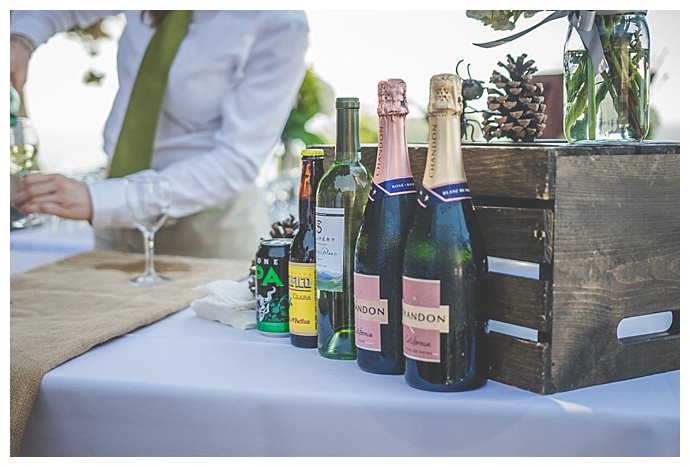 Memorable Moment
"We both agree that exchanging our vows before our friends and family was the most memorable moment," Daniel says. "Lots of tears were shed among family and friends witnessing this, especially considering that our wedding took place the day after our 10-year anniversary. It was a monumental, emotionally charged ceremony for us. It was especially moving because just five years ago we wouldn't have been able to enjoy the right to marry as a same-sex couple. We asked our officiant to thank those members of the LGBTQ community who came before and fought so hard for this right."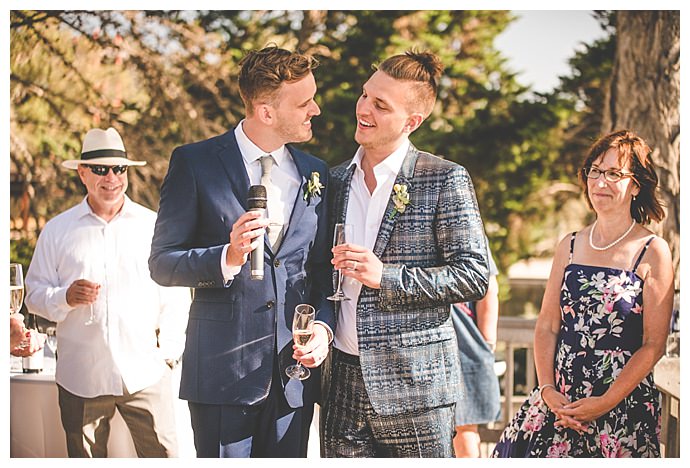 *Editor's Note: This post contains affiliate links. Each time you purchase an item via our affiliate links, Love Inc. is receiving a small percentage of the sale, thus you are helping our small, EQUALITY-MINDED™ business grow and allowing us to provide more content for YOU! Isn't that just fantastic?
Written by: