By Meghan Kennedy | Photography by Michelle Girard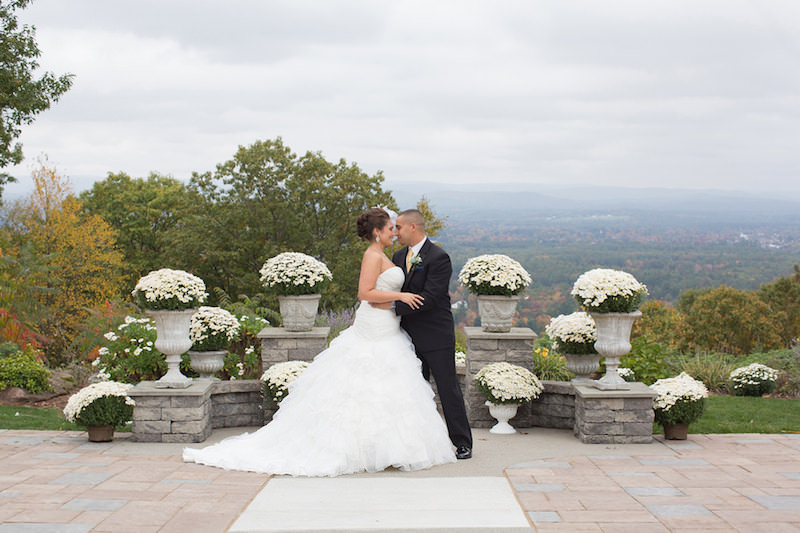 You may remember Michelle and Chris from their downtown Boston engagement shoot, posted earlier this year. Now, we're bringing you their wedding, two years in the making! There is almost nothing prettier than a fall wedding in New England, and Michelle and Chris have the pictures to prove it thanks to Michelle Girard who beautifully captured the non-traditional wedding, from the ceremony to the reception filled with personal details.
The Love Story
Chris met Michelle while she was leading a tour of a local Boys & Girls Club—two months later, he ran into her again, and finally asked her out. After a year of blissful dating, Chris proposed to her on vacation in Bermuda. The full story behind their engagement can be found here.
The Venue
The Log Cabin in Holyoke, Mass., was chosen due to its "rustic-chic look, great views of the mountains and it fit both of our personalities." They exchanged vows on the terrace overlooking the gorgeous Northeast fall foliage and afterwards retreated inside for the reception that lasted into the night.
The Fashion
Michelle wore a gown designed by Allure Couture with a birdcage veil and "something blue" peep-toe pumps to complete the look. Meanwhile, Chris looked dashing in a traditional black Calvin Klein tuxedo paired with a Tommy Hilfiger tie matching the navy-and-yellow scheme and the bridesmaids wore chic one-shoulder navy gowns.
The Ceremony
"It was important that we incorporated unique ideas that reflected our personalities and beliefs," explains the bride. Along with exchanging rings, they opted for a memory box. "Essentially, we had a wine box with two bottles of wine—a bottle of red, which is Michelle's favorite, and a bottle of white, Chris's favorite—and we included a variety of pictures from our engagement session along with personal, handwritten letters to one another. We also asked our loved ones to add a special something to the box—pictures, cards, music—anything they wanted to share with us. We also put aside some cash for a future dinner date." Michelle and Chris decided to open the box on their fifth wedding anniversary, because "it's a nice way to fall in love again."
With a palette of navy and yellow to play with, each bridesmaid carried sunflowers, a favorite of the bride. Michelle's bridal bouquet featured a mix of white florals with sunflowers, yellow garden roses and billy balls.
The Party
The couple's DIY floral design featured centerpieces filled with blue gemstones, dark cherry Manzanita branches, and fabric orchids attached onto each branch. Each orchid had a sparkle gem in the center of each blossom and was meticulously put together by Michelle and her mother in order to stand out. In lieu of a traditional guest book, Michelle and Chris decided to have each guest sign a piece of a wooden puzzle they had made on Etsy. The newlyweds are planning on framing the finished puzzle as a keepsake of their ceremony. They also featured a high-top table with a framed picture of two deceased, important family members: Chris's father and Michelle's grandmother. As Michelle tells us, "we had two candles lit throughout the entire ceremony and reception—it was a way of remembering that even though they aren't here with us in the physical world, at least they were with us spiritually."
The couple had a seated four-course dinner for their 150 guests, with a menu featuring sirloin with Gorgonzola, chicken a la vodka, coconut fish or eggplant lasagna. The chef at the venue designed and baked Michelle and Chris's wedding cake: a seasonal-appropriate three-tiered apple cinnamon cake with maple frosting and red velvet cake with buttercream frosting decorated with a modern striped design in their wedding colors. The couple also had strawberry shortcake offered as a dessert, since it's both their all-time favorite. For the reception, Michelle changed into a beautiful hot pink satin dress and for their first dance, they swayed to John Legend's "You and I."
They had a DJ who kept everyone dancing throughout the night, as well as caricature artists as a quirky and unique alternative to a photo booth. They also had a signature drink: hot apple cider. At the end of the night, they were sent off by their guests through a row of sparklers, in a romantic end to a beautiful night.
One of Michelle's favorite parts of the wedding—aside from her dress—were the favors, miniature picnic baskets filled with dark and milk leaf and acorn shaped chocolates. The picnic baskets were symbolic because, as Michelle says, "On our fourth date Chris picked me up from work and surprised me by taking me to a nearby beach to have a picnic that he had planned—that is when I knew I was in love, and that I couldn't mess this up because he was a keeper!"
Memorable Moment
"The most memorable moment was when we were exchanging vows. We had waited for so long to meet each other down the aisle, and exchanging our vows solidified our love for one another. We wrote our own vows, which made it that much more special."
Vendors
Photographer: Michelle Girard Photography
Venue: The Log Cabin
Florist: Durocher Florist
Cake Design: The Log Cabin
Wedding gown: Bridal & Gift
Suit: Men's Wearhouse
Caricature Artist: Ed Smith