How many times have you heard the phrase "You can shorten it and wear it again!" when discussing a bridesmaid dress? Probably too many times—but today, we swear we mean it! Erin Fetherston's long-awaited bridesmaid collaboration with Nordstrom has finally hit shelves, and we couldn't be more excited about it. The designer's dresses are essentially a spectrum of what a soonlywed could ever want: modern, bright colors and traditional soft hues, flirty short skirts and dramatic lengthy gowns.
Those who are looking to add a pop of color to their wedding need look no further than Fetherston's pink ombré or bright turquoise gowns. Skimming the floor, these dresses are simply silhouetted, and add a unique flair to your bridal party without being overwhelming. Dramatic ensembles can be found in Fetherston's foiled chiffon and rose-printed floor length chiffon gowns as well. Prints are not usually found in bridesmaid dresses, but we think these could cause a serious trend.
Simple and chic is found in the Winona and Faye sheath dresses. These short, champagne-colored numbers, and the detailing is absolutely gorgeous! The back of the Winona dress features stunning cutouts and a large bow to add some glamour, while the Faye features gorgeous floral appliqués all over the dress. These gowns are also special because there are a multitude of events that a bridesmaid could wear it to—sans alterations!—without seeming gauche or gaudy.
We absolutely love what this collection has brought to Nordstrom! ERIN by Erin Fetherston is definitely a bridesmaid line you won't want to miss.
By Meghan Kennedy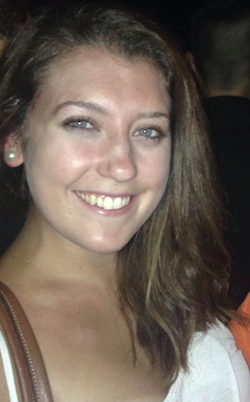 Meghan is a recent graduate of SUNY Geneseo with a degree in Personal and Professional Communication. You can find her at the nearest Chipotle tweeting about Drake, her sorority little and Project Runway.