By Shannen Hofheimer | Photography by Apaige Photography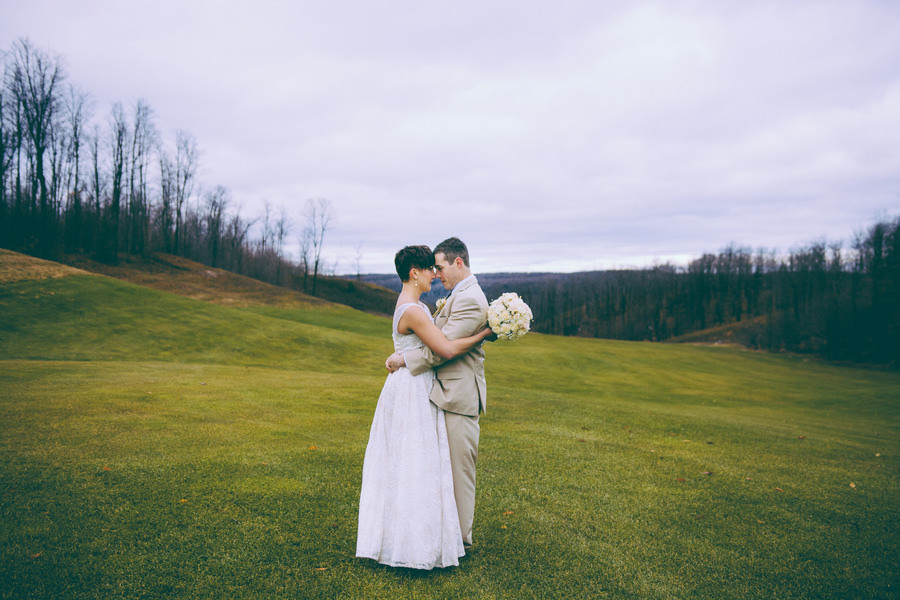 Well, if you need any motivation to get your butt to a gym and work out (and just in time for warmer weather), allow Chris and Kendra's wedding to provide you with a little incentive. I bet if I told you that you would meet your soul mate at the local gym, you'd have no qualms about putting down the remote and potato chips and replacing it with your iPod and a water bottle. Chris and Kendra's adorable love story came to fruition through a down-to-earth, rustic celebration in Gaylord, Mich., and their wedding photos taken by Ashley Kuntz at Apaige Photography are stunningly moody, emotional and artsy.
The Love Story
At Grand Valley State University in Allendale, Mich., Chris and Kendra's romance was destined to unfold. For three months, Chris and Kendra would work out at the university gym associated with their apartment complex at the same time every day. "Both sharing glances but never saying hello, we would go back to our apartments and talk to our roommates about the 'girl at the gym' and the 'guy at the gym'. Finally, I got brave — sort of — and stuck a note on his windshield after leaving the gym," explains Kendra. "I figured out what he drove — might be creepy, but it worked! — left him my number and an hour later he texted me. The rest is history."
"Chris took me back to that gym to propose. I had no idea what was happening, since we had moved away … all I knew was that we were headed back to our college town to grab dinner. A few odd turns and it clicked that we were taking a detour. When he had me pulling into the parking lot where the gym was, it dawned on me that this was it. He led me into the gym, which had roses all over the ground and a path leading to the ring. He got down on one knee there, and I said yes!"
The Venue
Chris and Kendra held their ceremony at the beautiful St. Mary Cathedral Church, then proceeded to celebrate their unity at Gaylord's Knights of Columbus. Being able to tie the knot at these venues was of utmost sentimental importance to the gorgeous couple, being that Chris's parents got married at the same locations.
The Fashion
Kendra, wearing an ivory A-line dress from Macy's with gold sequin beading, looked simply elegant. "I loved the simple vintage feel of the dress. It was also very comfortable!" Chris also looked extremely handsome in his khaki suit, completed with brown shoes and a brown tie. "We aren't ones for black fancy tuxes – this gave us the dressy-casual feel we were hoping for."
The Inspiration
Kendra would hardly describe herself as a fancy "girly girl." Confident in the fact that they wanted that rustic, shabby-chic ambiance, the couple was able to create a warm, relaxed and casual environment that seemed to perfectly embody their energy.
Incorporating earth tones of tans, whites, ivories, blush, gold and brown, Chris's aunt did a fabulous job with the couple's reception decor — Kendra's favorite detail being the draperies above the dance floor. As for the floral design, Kendra's bouquet not only featured pristine ivory round flowers with gold accents, but a picture of her late grandfather. "I wanted him to help walk me down the aisle, too."
The Party
After Chris and Kendra's wedding guests enjoyed a traditional sit-down dinner, they were then treated to delectable cupcakes in a variety of flavors, served on a beautiful vintage buffet table. "My husband and I cut a cheesecake covered in berries and white chocolate, so yummy!"
Chris and Kendra masterfully pulled off that shabby-chic ambiance they were hoping for, incorporating a ton of lace, burlap and other vintage touches into their reception. Old book pages with lanterns adorned the tables, and vintage doors and windows were placed around the venue, accentuated by fun lights and banners. Under the burlap draperies and muted, romantic lighting, Chris and Kendra danced to Blake Shelton's "God Gave Me You," spun by a friend of the beautiful couple.
Memorable Moment
Kendra: "Walking down the aisle to my very soon-to-be husband. Seeing how happy he looked was the highlight of my day and life."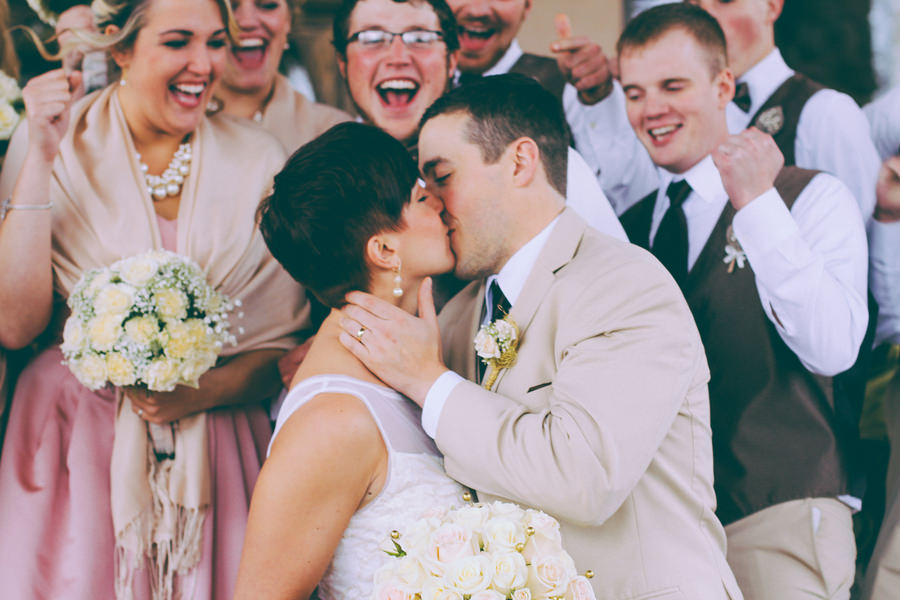 Wedding Vendors:
Reception Venue: Knights of Columbus
Florist: Flowers By Evelyn
Photography: Apaige Photography
Rentals: A Vintage Occasion
Makeup/Hair Stylist: Bliss Salon