Because weddings only come around once in a lifetime, Rebecca and Carrie wanted to make a whole weekend out of theirs. At Cedar Lakes Estate, nestled in the Hudson Valley, the brides brought their closest friends and family along for a memorable weekend in celebration of their love. With help from Bespoke Moments to plan the day of their dreams and Lindsay Brown to capture it on film, Rebecca and Carrie's whimsical wedding was filled with vibrant, lively colors and gemstone details.
Although the design elements were important to both Carrie and Rebecca, they say it was most important to them to not lose sight of the true reason for celebrating in the first place. "It's important to recognize this event is not about the flowers or the dress or even the photos but about you and your soon to be spouse," Rebecca says. "Carrie and I did a good job at this, and I believe this is one of the reasons why we were able to have a relaxed, enjoyable weekend."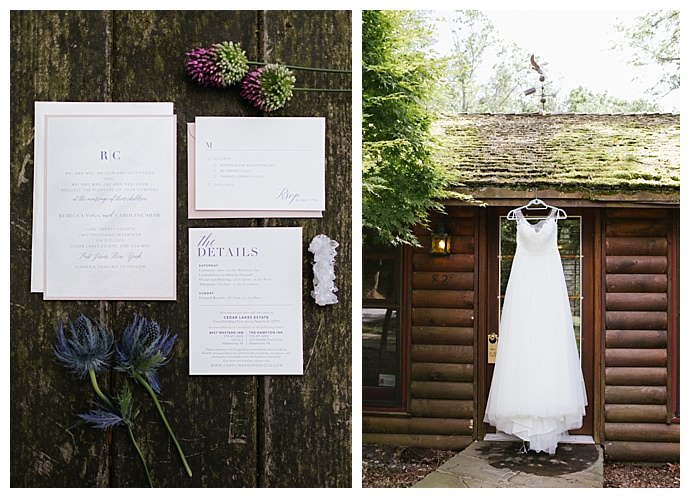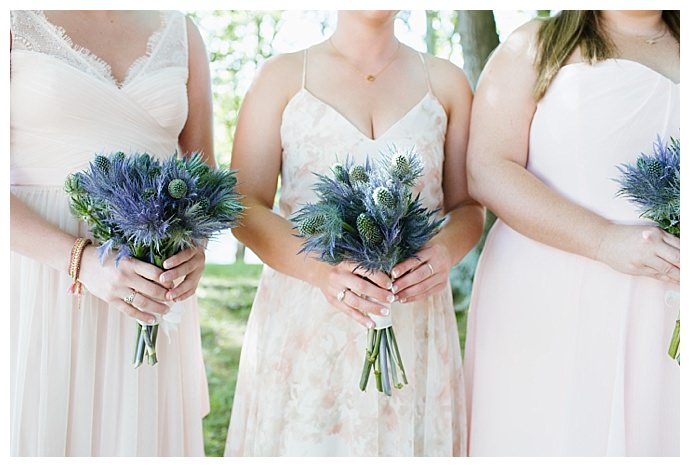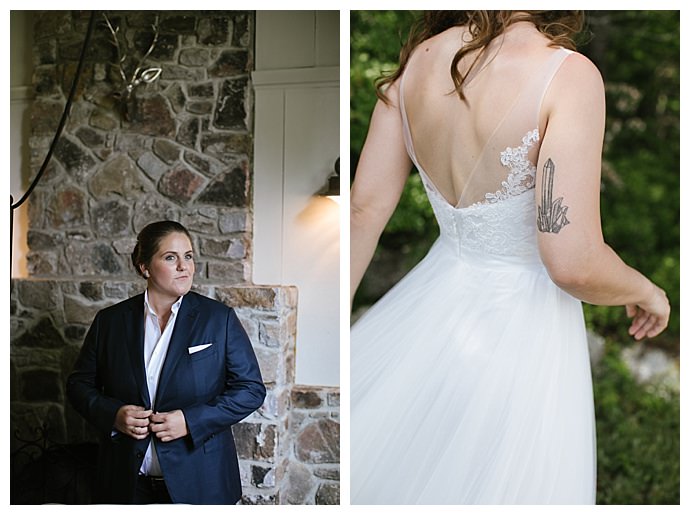 The Love Story
When Rebecca and Carrie first connected on Match.com, Rebecca was living in Vermont, and Carrie was in New York City. Over the next year, their connection proved to be unlike any other, and Rebecca soon decided to make the move to New York. Years later, on their annual trip to Park City, Utah, Carrie proposed to Rebecca while they were snowmobiling through the mountains. Once they reached the top, Carrie had previously arranged for them to have some alone time, and thankfully, Rebecca didn't find it suspicious at all when the guide left them alone.
"Carrie asked me to get off and make snow angels with her," Rebecca says. "I, suspecting nothing, started playing gleefully in the snow." It was then that Rebecca saw Carrie get down on one knee, plunging her knee into the 6-foot-deep snow, and pull a ring box out of her pocket. "She proposed with her mother's engagement ring that her parents had graciously passed down to us," Rebecca says. "It was an insanely magical moment."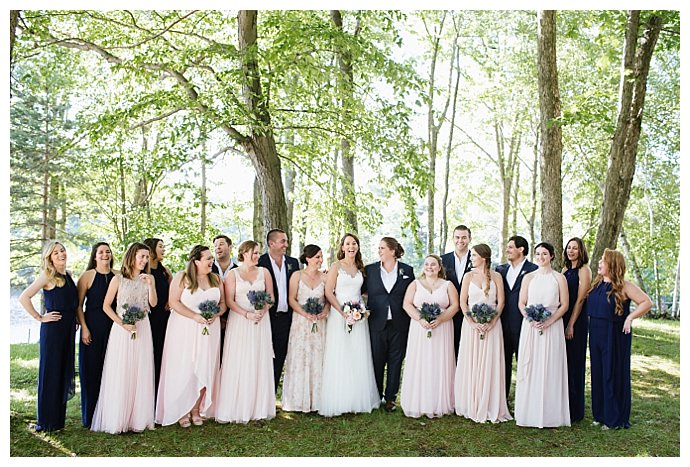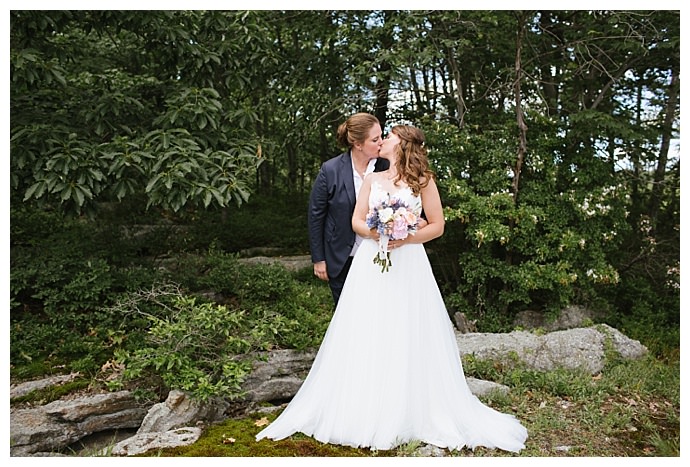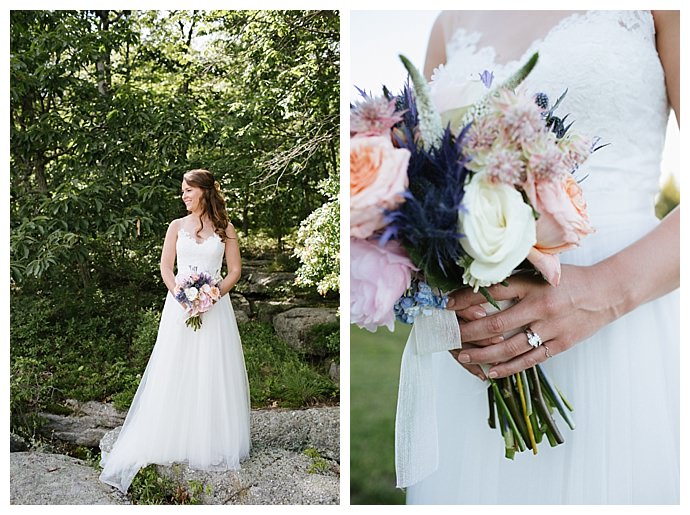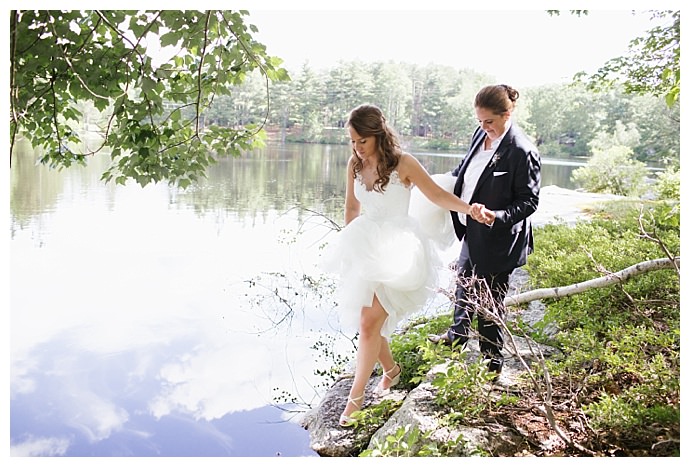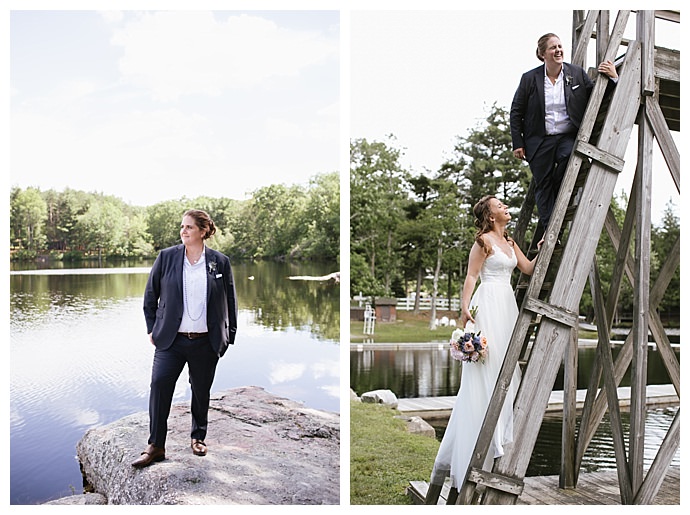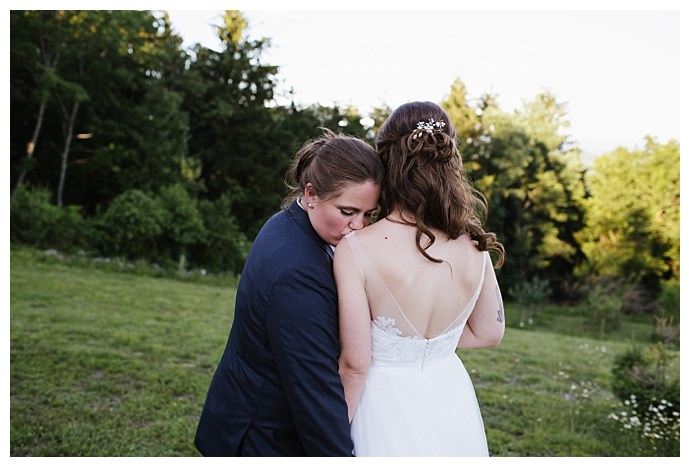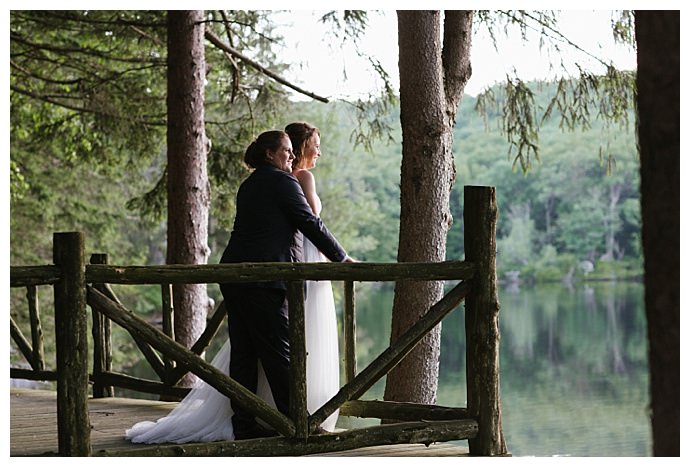 The Ceremony
A friend of Rebecca and Carrie's had recommended Cedar Lakes Estate, located in the heart of the Hudson Valley, to them for a wedding venue. And as soon as they saw it, they fell in love. After spending the morning of the wedding with their guests, taking advantage of all the property has to offer — yoga, pool lounging and zip lining — Rebecca and Carrie got ready for their mountaintop ceremony. Just before guests began to take their seats, a fawn walked through the seating area, which the brides say created the perfect ambiance. And underneath a lush floral garland strung between two vintage doors, Rebecca and Carrie exchanged vows in a ceremony led by Carrie's childhood friend, and the brides shared their first kiss as cheers erupted from their family and friends.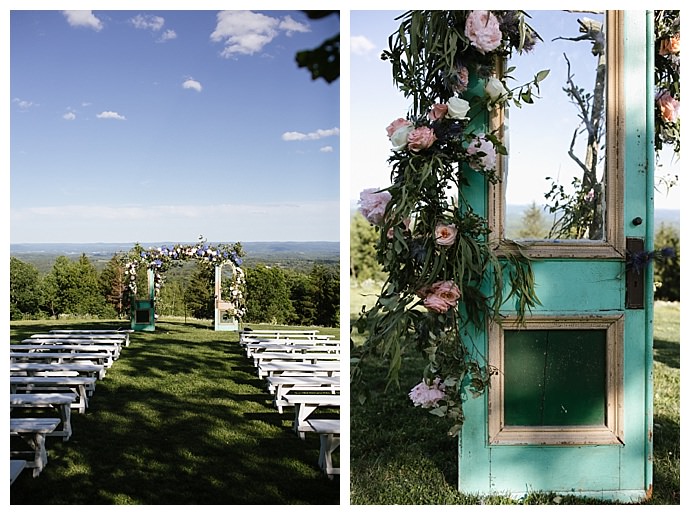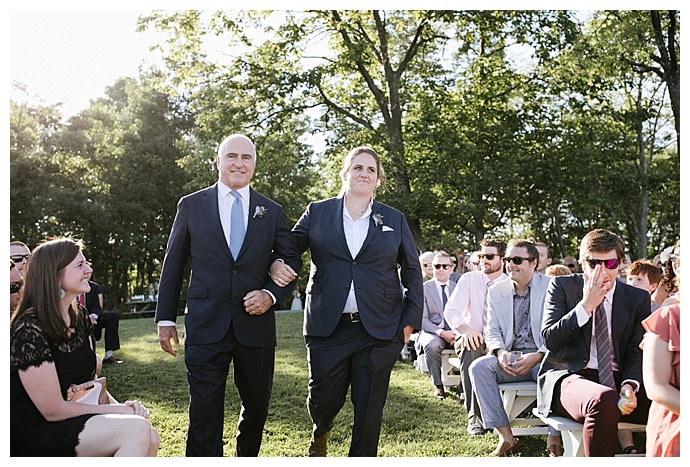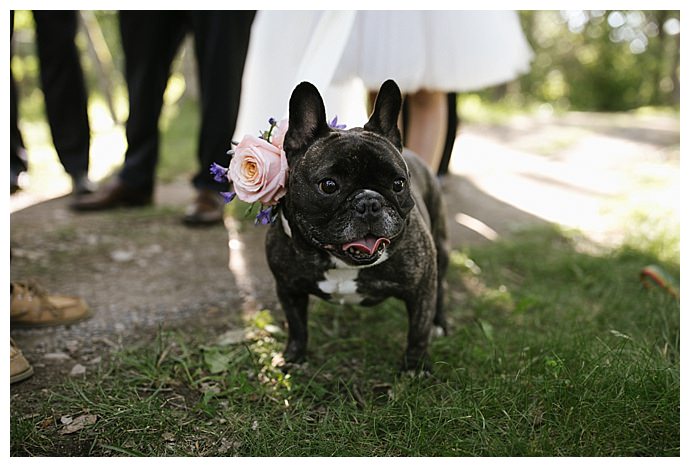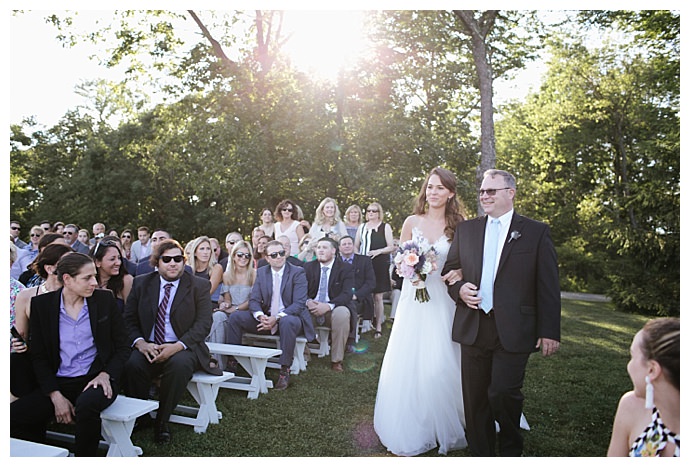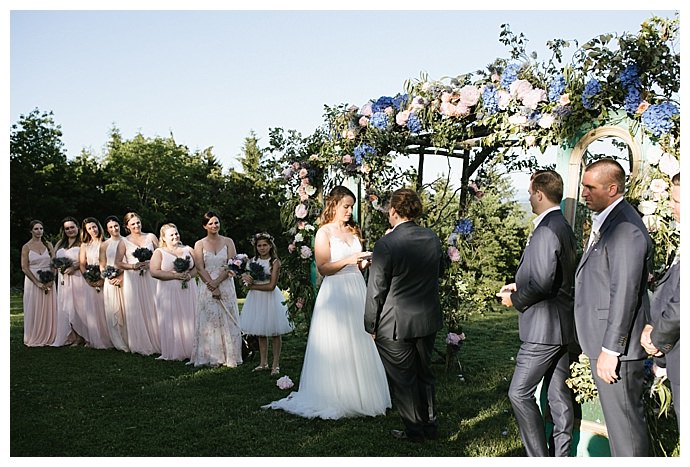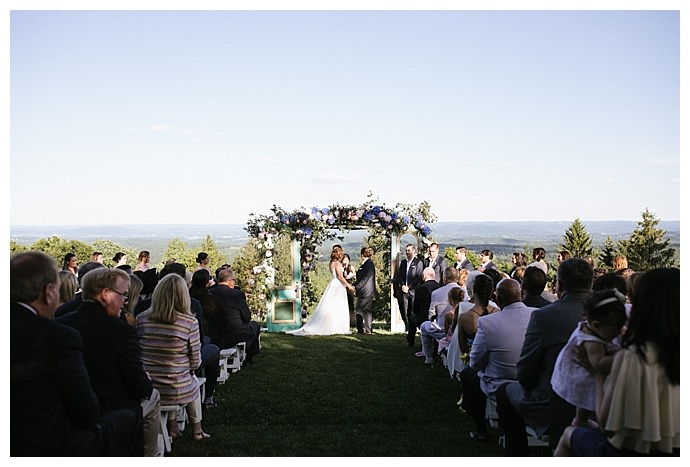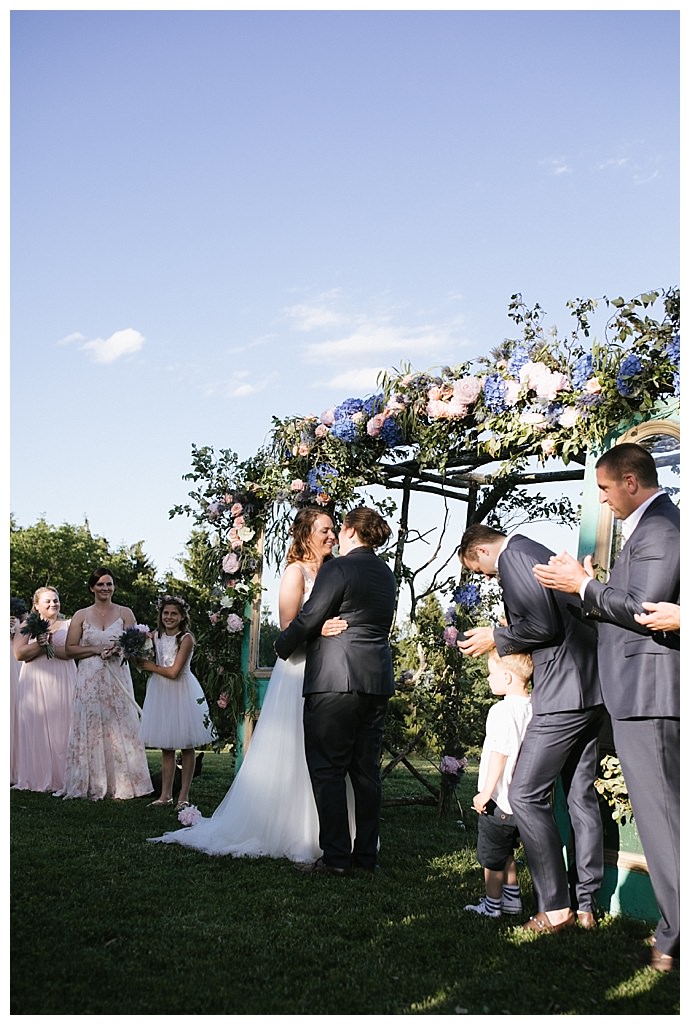 The Party
Because Rebecca and Carrie are both creatives — Rebecca is a jewelry designer and Carrie is a chef — their wedding was bound to be epic. Filled with whimsical, brightly colored decor and gemstone touches, they wanted their reception to feel less like a traditional reception and more like a party. Inside the barn at Cedar Lakes Esate, pink florals and linens decorated the long farm tables that were accented with bright pops of blue. And at each place setting, an agate-style menu card detailed the delicious dinner. "The food was insane" Rebecca says. "Our guests were very impressed — when people tell you to spend the money on food and the band, they are not lying." After the reception, an after party was held in a treehouse. "Cedar Lakes Estate served mini burgers and cheese sandwiches while we played beer pong and flip cup," Rebecca says. "It was the best weekend of our lives."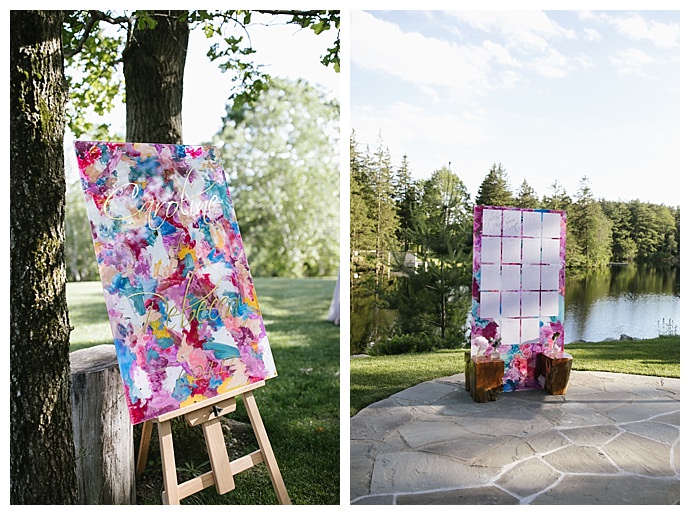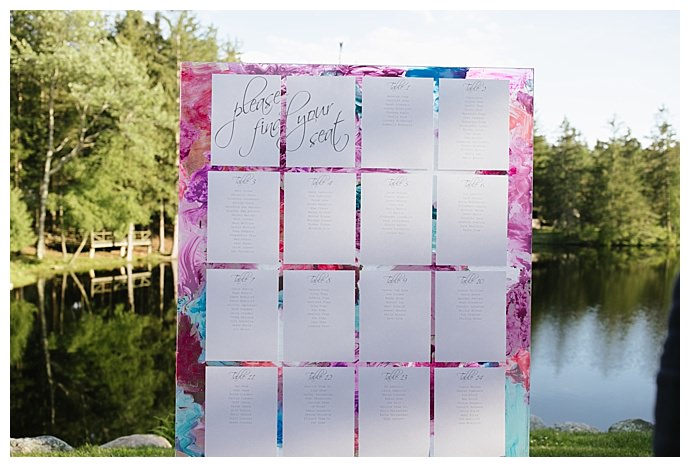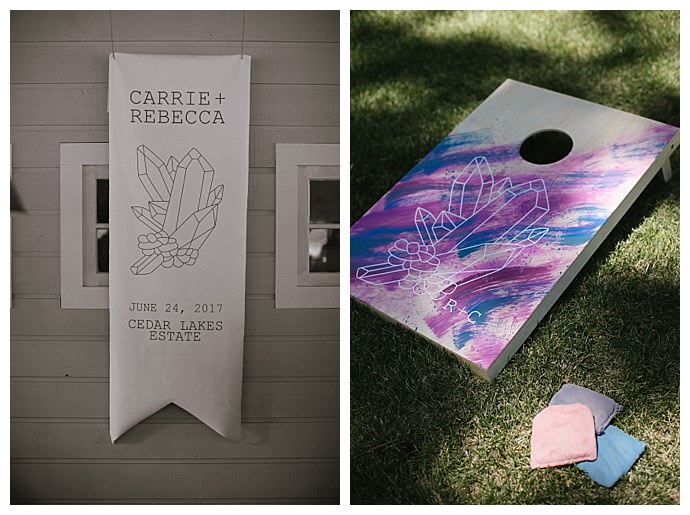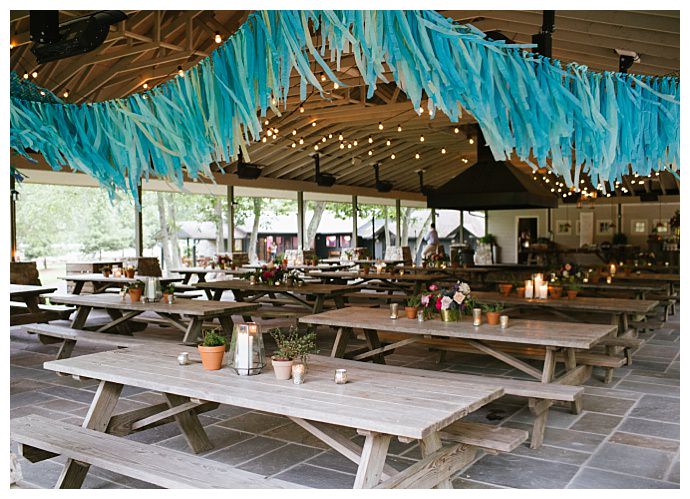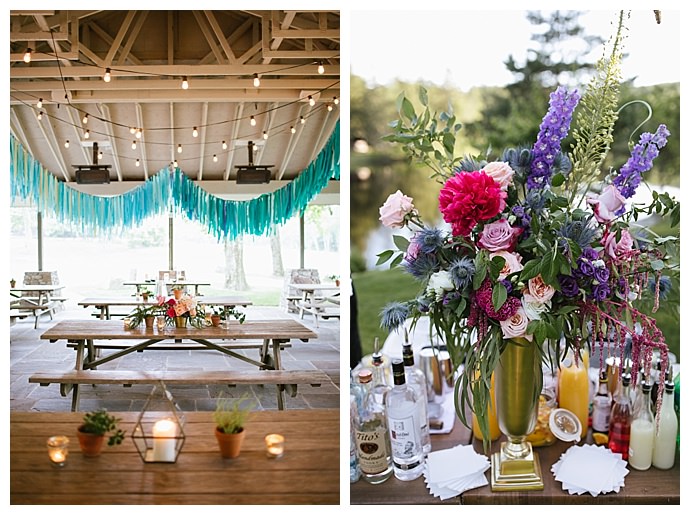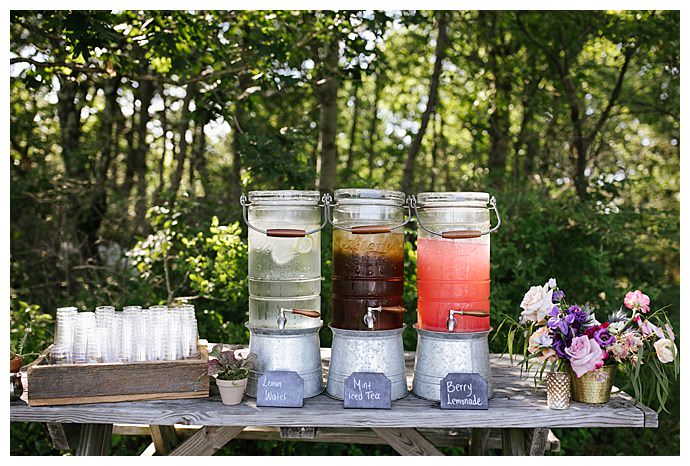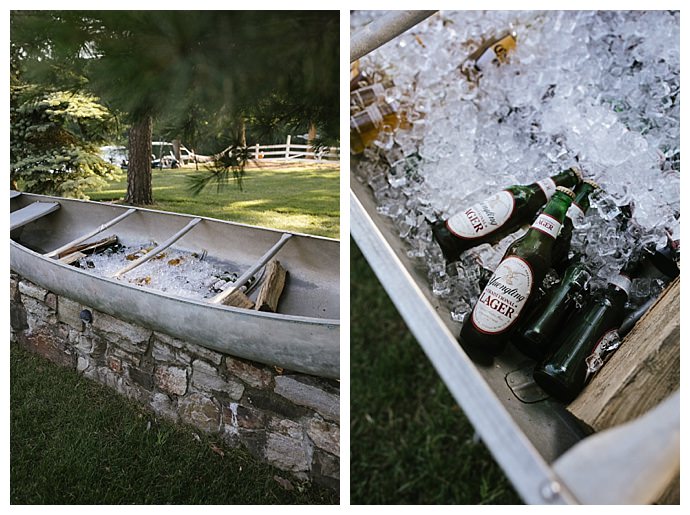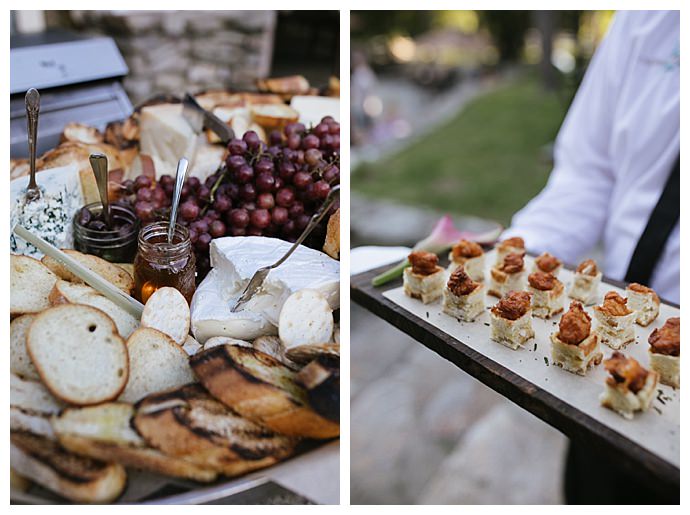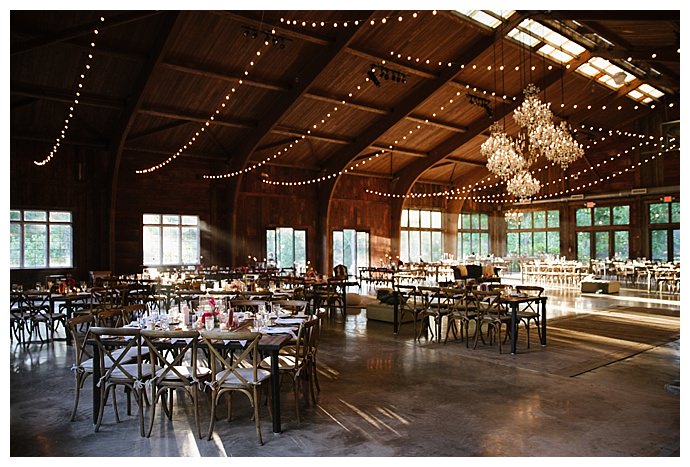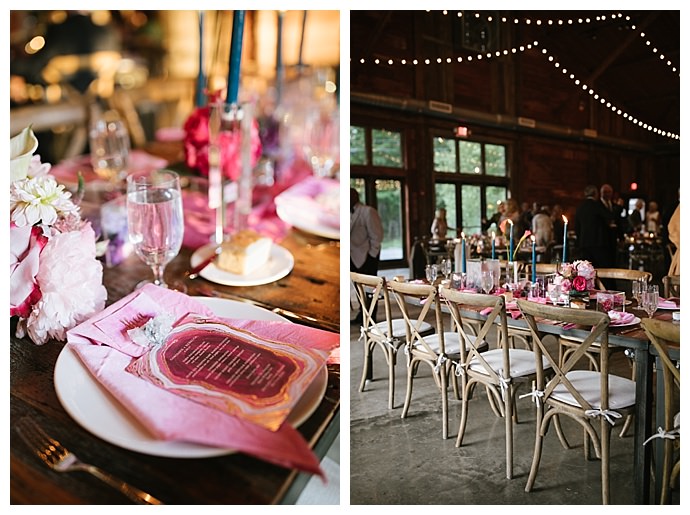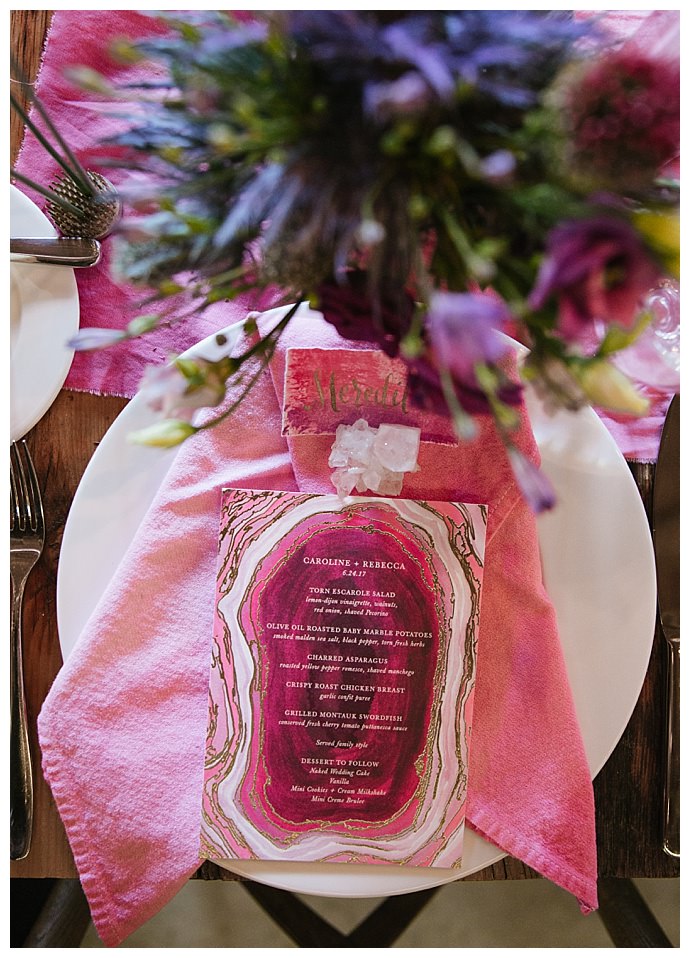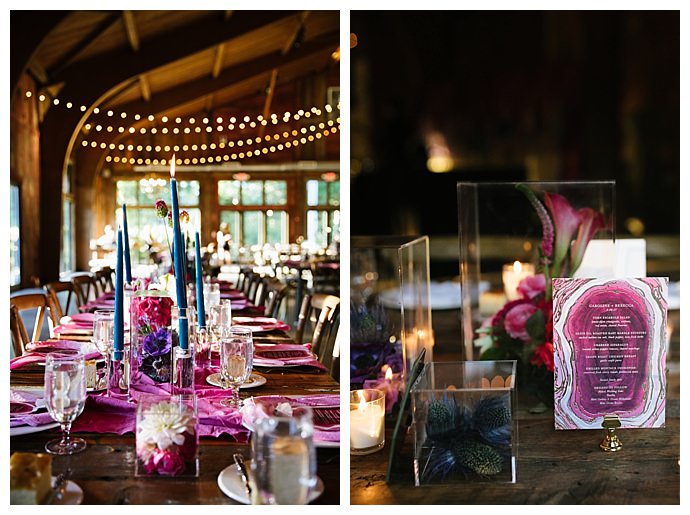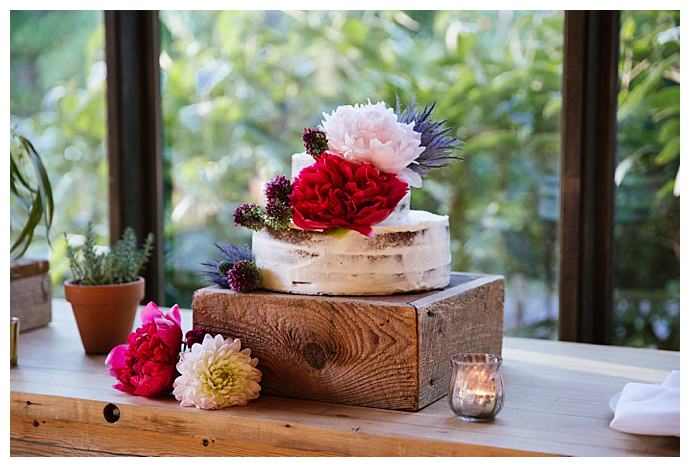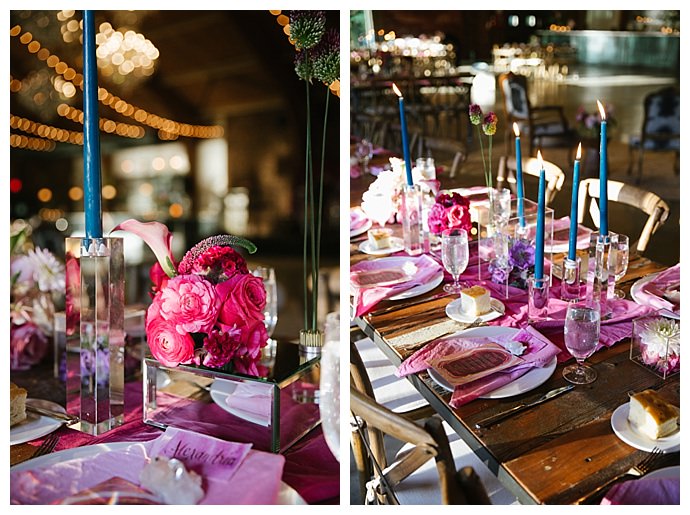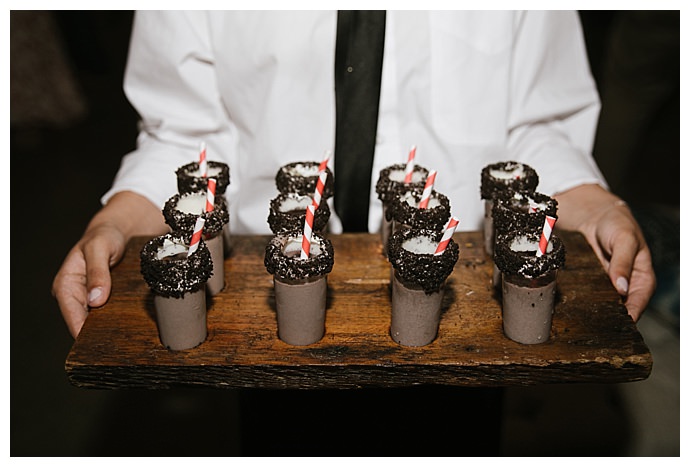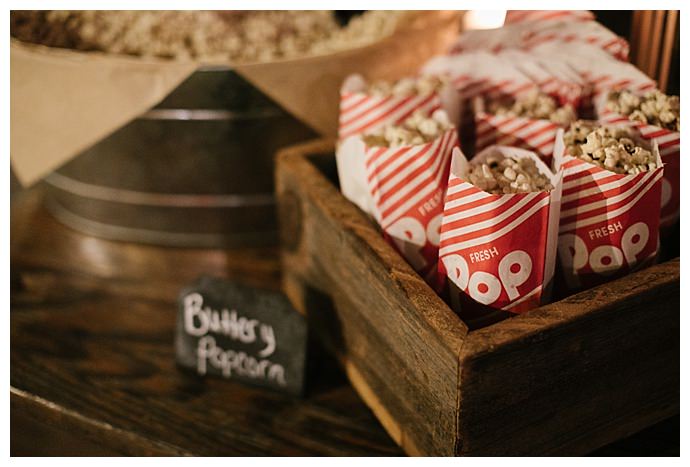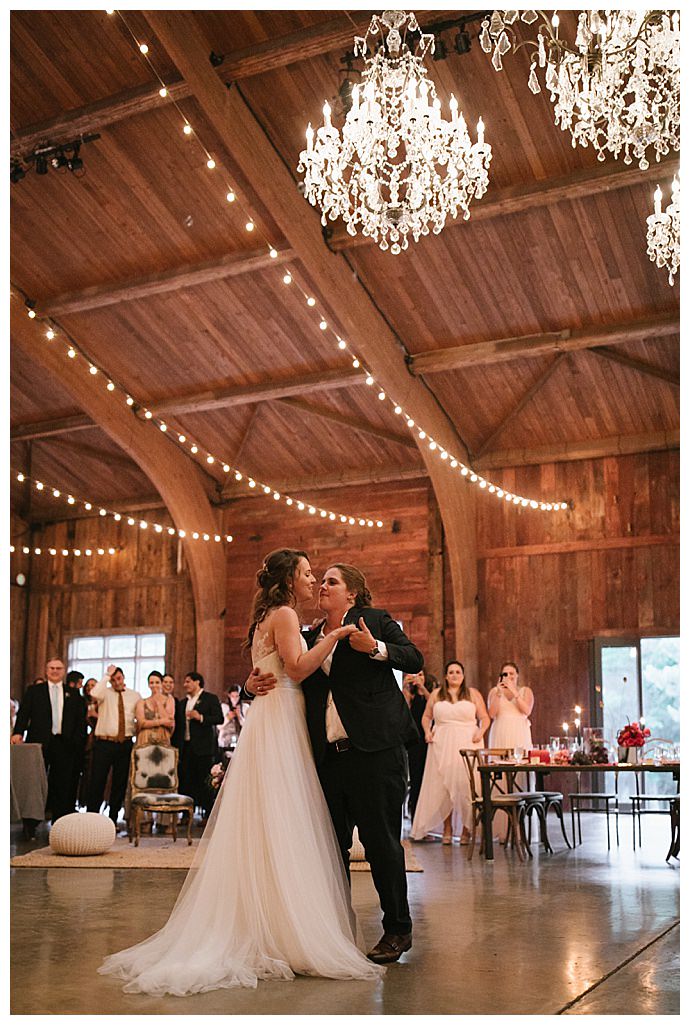 Written by: