By Shannen Hofheimer | Photography by Leslie Barbaro Photography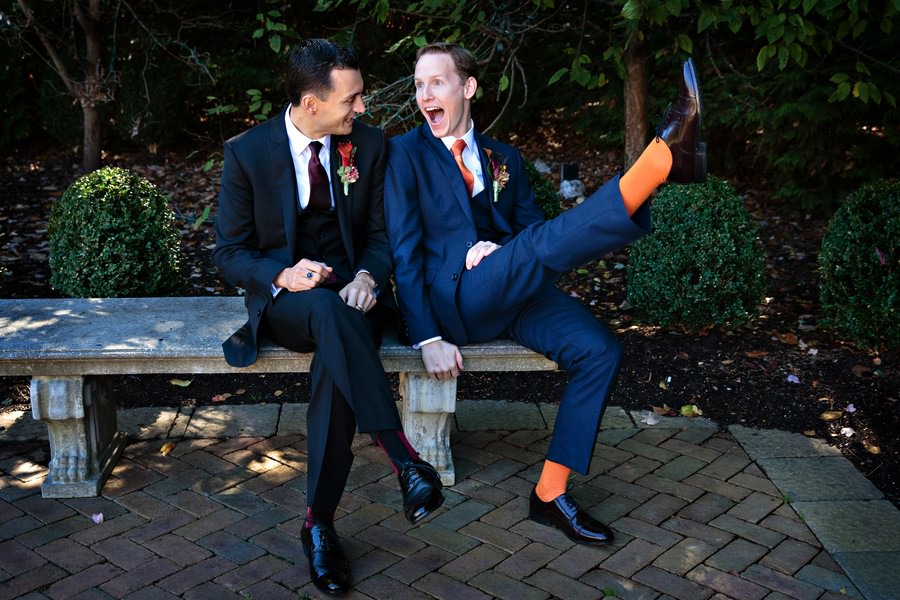 Well, if there is anything to attest to the fact that true love and soul mates definitely exist, it is the love story of Bradley and Trevor. Leslie Barbaro Photography had the privilege of capturing this beloved, glowing couple's moments when they tied the knot on October 12, 2014 — and we couldn't be happier for them. For ten years, Trevor was convinced that Bradley was forever "destined to be the man that got away" but fate had something else in store. The end result (and beginning of their happily ever after) was a day that perfectly illustrated this charismatic couple. And their hilarious recount of it will leave you laughing.
Bradley and Trevor's long, inspirational journey further instills in our hearts that timeless proverb: All good things (or great love) come to those who wait.
The Love Story
"I first met Brad when he tore into a parking lot in a beat up Chevy and promptly tumbled out of the drivers side window," Trevor begins his once-upon-a-time.
"That was spring of 2001, and it wasn't love at first sight. It took a full five minutes. He happened to be going to the college I was planning on attending in the fall and a mutual friend thought it would be good if we met. I was mad about him. He was tall, blond, blue eyed and frighteningly confident … I was a goner," Trevor gushes.
"By December, I left our mutual University for a small college just outside of New York City. We kept in touch constantly, even saw one another occasionally. But when I was ready to date, he was pursuing his career across the country. When he was ready to date, I was already dating someone else. It just seemed like he was destined to be the man that got away. Then, in 2011, after an ill-conceived six-year stint in Texas where I lost everything I couldn't pack into my car, I moved back to N.J. It just so happened that Brad moved back to N.J. the year prior. We promptly started dating. It was a rough time for me, trying to rebuild my life, but it was exciting, too, and Brad kept me balanced through it all." Here, Trevor lets Bradley take the reigns, eager to hear the passionate, romantic way he conveys the rest of their fairy tale and inevitable proposal.
"Despite the fact that I knew Trevor was 'the one' within the first ten minutes of the dating phase of our relationship, it still took us an agonizing year and a half before we were engaged. As a small tradition, we hold an annual summer clam bake at my parents' home in Cape May and decided to invite a few friends over. If this sounds fancy, please don't be fooled; it's a fantastic mess filled with cheap wine, spilled butter sauce and lobsters that may or may not be fully cooked … or dead. In any case, the friends arrived, the meal was devoured and all counts of food poisoning were avoided. Before dessert, however, our friend, Will, brought out his guitar. Odd as this may seem, it's still not out of the ordinary for Will, so nothing seemed unusual just yet. He began casually strumming and beautifully segued into one of my favorite songs, 'Just One Person.' Because our friends are performers (and we are a gay couple after all), everyone naturally knew all of the lyrics. The sun had just set and upon the final chord of the song, I look over and Trevor is still seated next to me only now he is holding something open in his hand. Of course, the sun had gone down and I thought he was asking for seconds or something. And then I saw the quick glint of light reflected off of the ring. I do not surprise easily, but I was beyond stunned. I gave a quick look up to the friends to see if they could see what was happening, only to realize from their collected looks that they ALL knew what was happening. They'd been in on it the whole time! The box was beautiful and made from a branch that had fallen from a tree in Trevor's family's yard after it had been hit by lightning. He had beautifully lacquered it and lined it with an old handkerchief that used to belong to his grandfather. It was perfect. Of course, I had my own plans under way to propose to him first, but his ring hadn't yet arrived. I saved it for a few months and gave it to him the day of our engagement party right before the guests arrived."
The Venue
Trevor and Brad commenced the next phase of their life together at The Florentine Gardens in Rivervale, N.J., surrounded by intoxicating, breathtaking scenery. "Frankly, it was the least guido place we found," Trevor laughingly admits to us. "Can we say guido in a magazine? Is that insulting? I mean, I'm Italian, does that make it better? Anywho, most places we looked at were so strongly catering to women or a certain aesthetic it was really hard to find a venue. Florentine has an understated elegance about it, which won me out. I also cannot say enough about the team and the service — they managed our every need and made everything, even a minor disaster, run smoothly. I envy their abilities." Brad quickly swoops in to agree. "I cannot compliment the staff enough. Our event coordinator, Michael Huxtable, was on board with every silly or seemingly ridiculous idea that we wanted to incorporate."
The Ceremony
To symbolize the blending of the two families, Trevor walked down the aisle with Brad's mom and vice-versa as Cat Steven's "Don't Be Shy" played.
"We were lucky enough to find someone who came highly recommended and we seemed to be all set … that is, until the morning of the ceremony," Brad begins, painting a suspenseful picture of the minor setback. "Trevor and I were downstairs at The Florentine Gardens, when all of a sudden, we receive a message saying that the officiant is lost and accidentally went to the wrong venue somewhere more than 30 minutes away. The people are already seated and we are expected to walk down the aisle at any minute. Our awesome concierge, Jason, was given a terribly vague description of our Methodist pastor — who couldn't technically marry us because of the anti-equality stance of the Methodist Church — and asked to find her amongst the guests. He did so in all of two minutes and we quickly explained to her the situation and asked if she'd be comfortable if she would have to perform the ceremony without any preparation or notice in less than five minutes. She took a deep breath, had a sip of Champagne, and said, 'Let's do it.' She then went directly upstairs to perform the ceremony and despite her announcement that she was a last minute replacement, not one guest believed her. Her words were perfect and the ceremony was far more beautiful than I could have imagined. We were truly blessed to have her preside." Side note: a non-denominational officiant witnessed the signing of the marriage license so the pastor is safe from repercussions.
After the setback-turn-success ceremony, the band began playing "In a Gadda Da Vida" by Iron Butterfly. "We both looked at each other and nearly died laughing. This was a not-so-silent tribute to Brad's mother who is an organist and also enjoys a good Simpsons reference," laughs Trevor.
The Fashion
"Brad didn't wear any underpants. There. I said it."
"Trevor wore Spanx. There. I said it."
The Party
Trevor reassures us once more, "We tried to mute any over-the-top Italian vibe. Is that better than saying guido? I give up."
"We then went to Broderick's Florist, which is a typical mom-and-pop type of place which has clearly been around for years. Our first impressions were not the best, honestly. However, judging the book by its cover was definitely our mistake as we soon were greeted by Marissa, dressed in a comfortable hoody, whose sparkling personality won us over in seconds."
After listening to the grooms' vision, she quickly began pulling curly willow branches, billy balls, antique hydrangea and deep red cockscomb. "Neither one of us really knew what we wanted, but knew on the spot that what Marissa had created was exactly what we were looking for," explains Brad.
As for specifying and labeling the tables for guests, this has to be the most exemplary of Trevor and Brad's sparkling personalities and unique tastes, and I am as in love with this creative nuance as Trevor and Brad are in love with each other. "We decided to rename all of the guests' tables. Instead of numbers, we used gay icons. Each person had their name written on their place card, instructing them to find the Bette Davis table. Or the Bea Arthur table. Or the Cher table. You get the idea. I had collected and framed several Al Hirshfeld drawings of each of the icons and had them in a small stand on each table."
For their first dance, the newlyweds swayed to "Penguin" by Christina Perri. "I am a penguin nut," begins Brad. "Anyone who knows me for more than five minutes knows that I am a penguin nut. I have a collection of penguins from all over the world and have even proven my penguin affection to animal trainers by showing them my penguin boxers just so that I might have the chance to play with the live penguins they were handling. Totally worked, by the way. Naturally, the song we danced to was 'Penguin' by Christina Perri. Trevor's sister, Dana, recommended it to us, and we instantly fell in love with the lyrics. Aside from being my favorite animal of all, the message of the song seemed to fit our long-standing friendship and later long-distance relationship perfectly. 'Like your soulmate, he's your penguin. Baby, it's fate, not luck.'"
Memorable Moment
Brad: Trevor doesn't dance. It's not that he can't, he just doesn't. And he danced at our wedding. Even more than our first dance together! I got to see him let loose and actually dance with the crowd, and it made my whole day.
Vendors:
Venue: The Florentine Gardens
Photographer: Leslie Barbaro
Florist: Broderick's Flowers
DJ/Band: Paul Anthony Entertainment