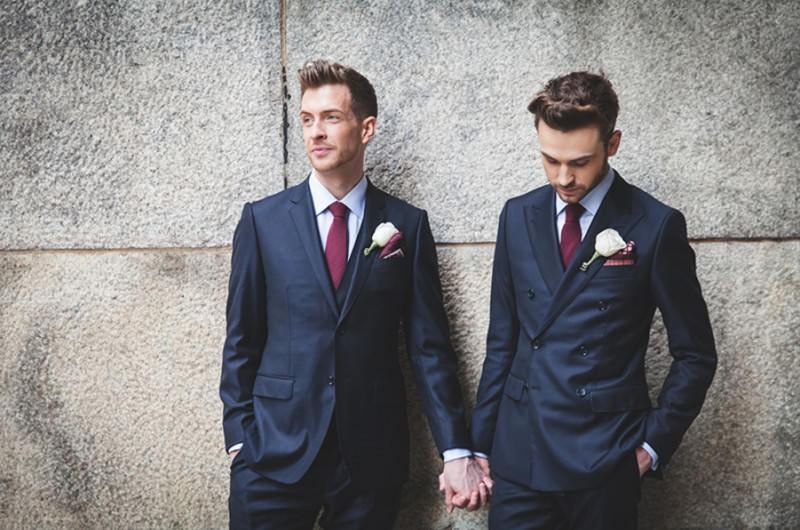 Best Of 2015: Dapper Style
As 2015 winds down, we can't help but look back on some of the amazing real weddings and styled shoots that we've featured. Over the next few days, we'll be spotlighting the best of the best of 2015, from bouquets to cakes to fashion, and we're kicking off this end-of-year series with serious sartorialists who have graced our real weddings.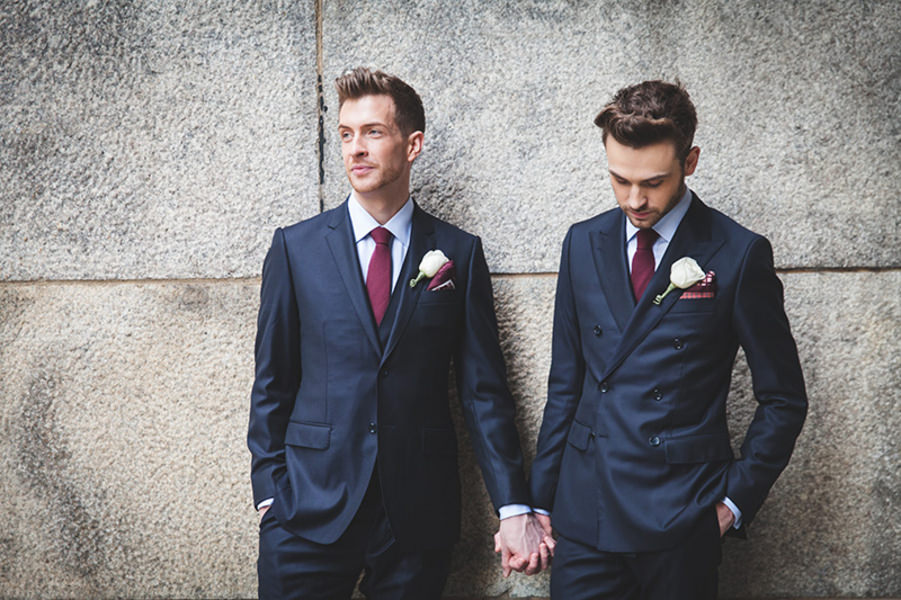 James and David's tailored suits looked cohesive but not matchy-matchy for their Central Park elopement, thanks to their single and double-breasted jackets. The maroon ties and pocket square pair well with the dark navy for an incredibly handsome look. | Photo byLe Image Inc.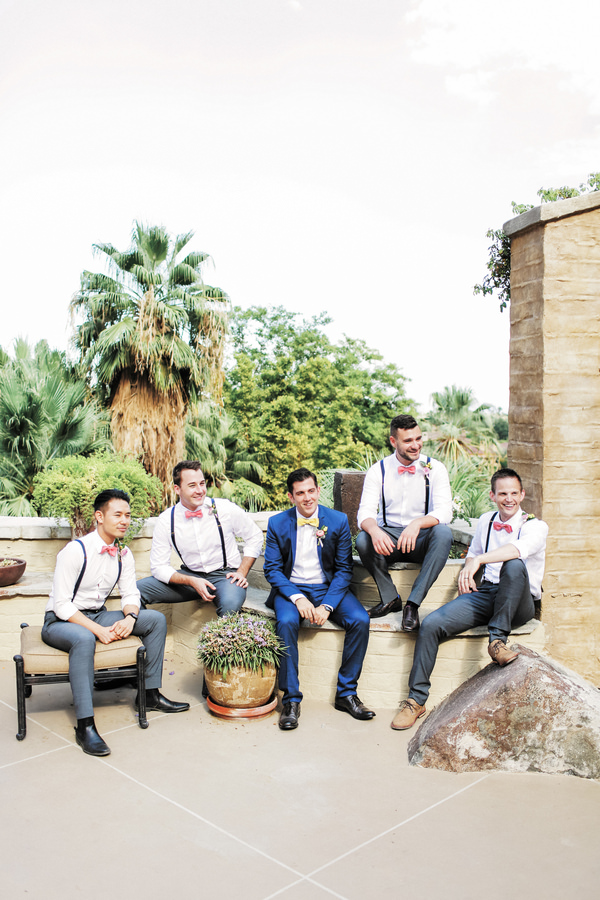 We love a groom who's not afraid of going bold! The yellow bow tie gives a pop of color to Brian's blue suit, that was the perfect ensemble for his colorful Palm Springs wedding. | Photo by Gideon Photo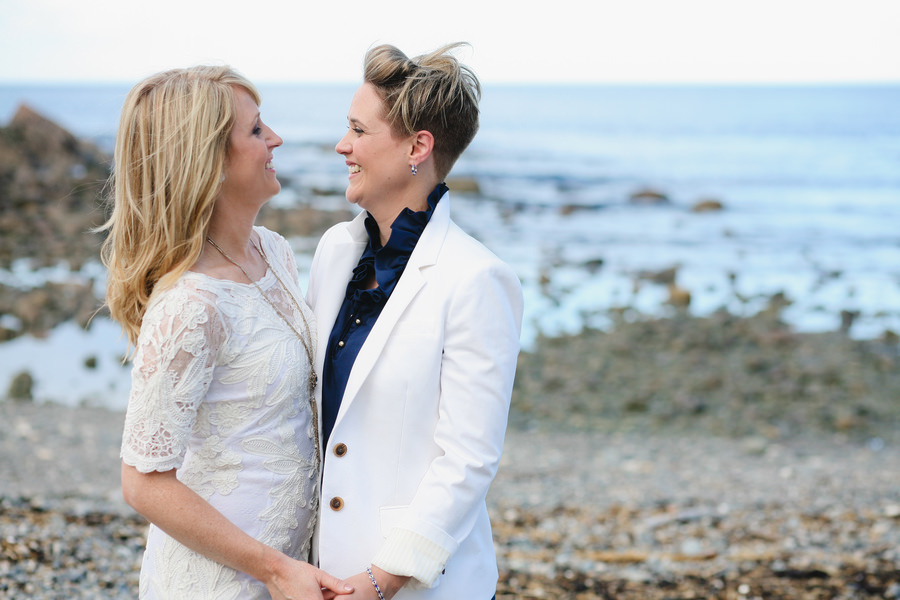 Amy paired white J.Crew pants and jacket with a navy blouse from Elizabeth McKay that proved to be a winning combination for her coffeehouse wedding. | Photo by Brett Alison Photography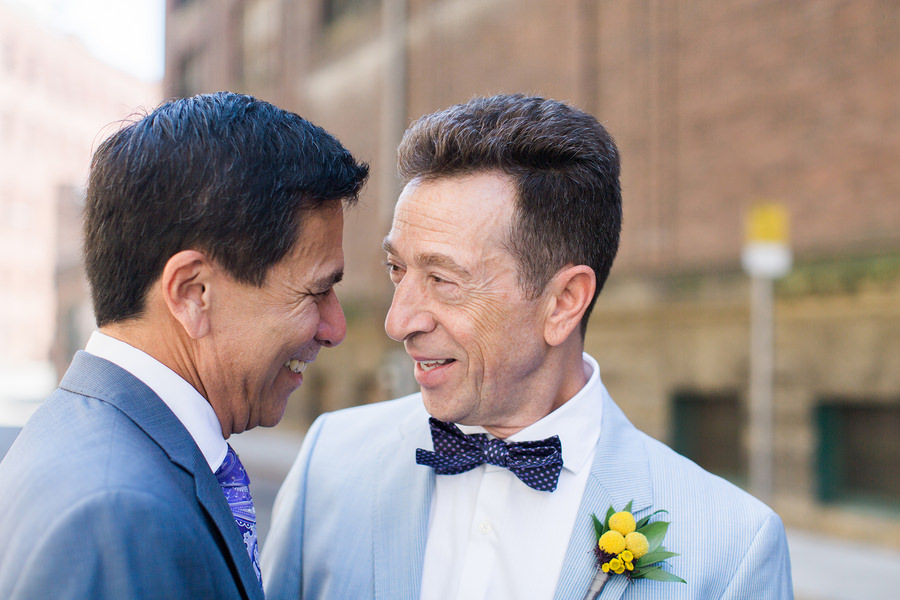 Ken and Steve played with patterns for their Seattle nuptials and let their personalities shine. Ken, a free, fun-loving groom, chose a light blue BOSS HUGO BLOSS seersucker suit with a polka dot bow tie. Steve, the more serious and formal of the pair, wore a dark blue Ted Baker suit (but added a little fun with a paisley print tie). | Photo by Lionlady Photography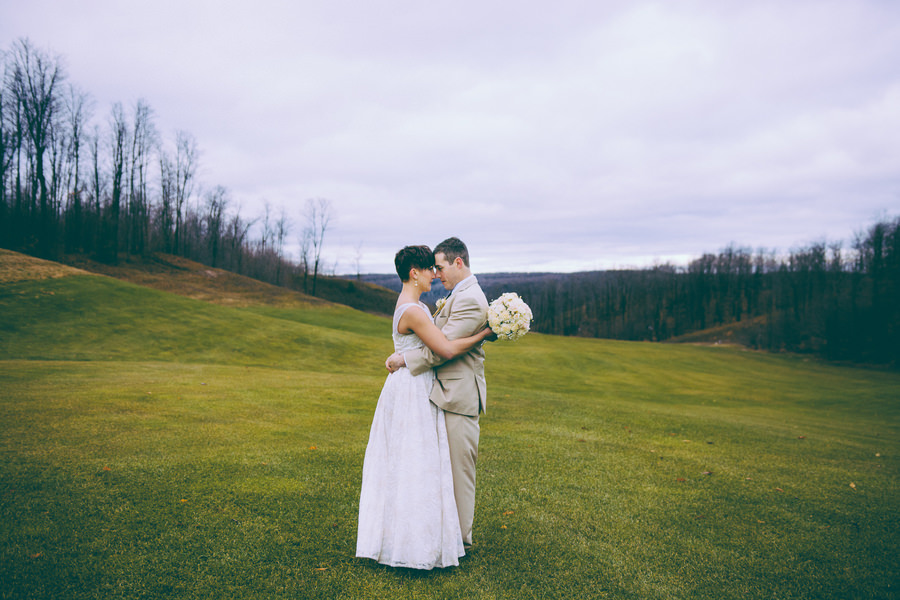 Casual can be chic if done well and Chris nailed his khaki suit look for him and Kendra's shabby chic wedding. "We aren't ones for black fancy tuxes – this gave us the dressy-casual feel we were hoping for," he said. | Photo by Apaige Photography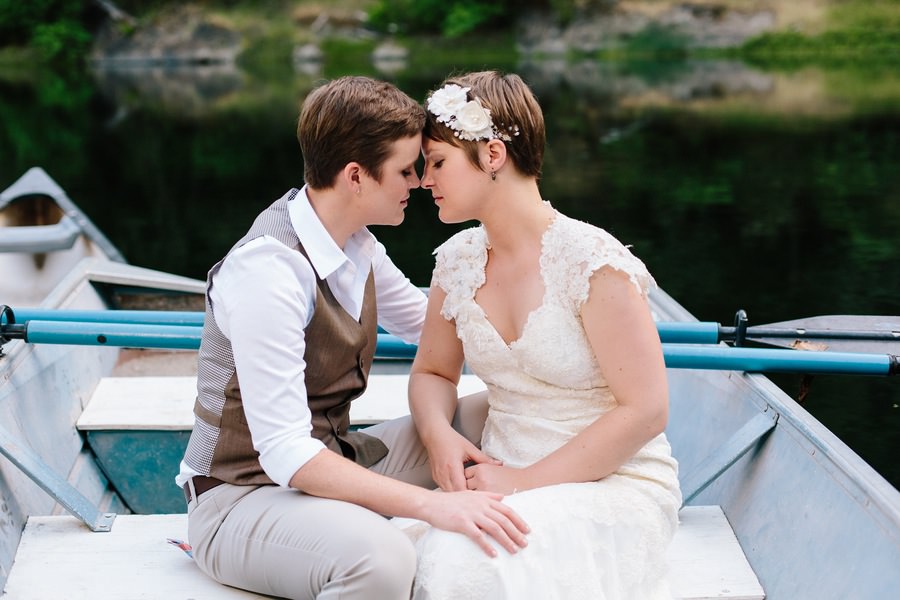 For their 1920s-themed wedding, Katie looked the part with khaki slacks by Alfani, a vest made by TomBoy Tailors and boots made by Frye's, finished off with a family heirloom — her grandmother's necklace. | Photo by Miki Vargas Photography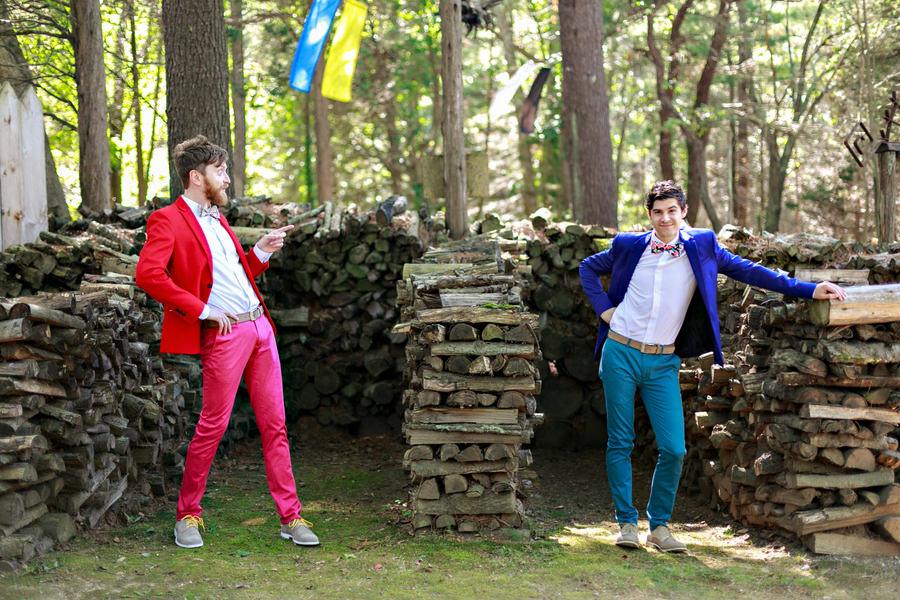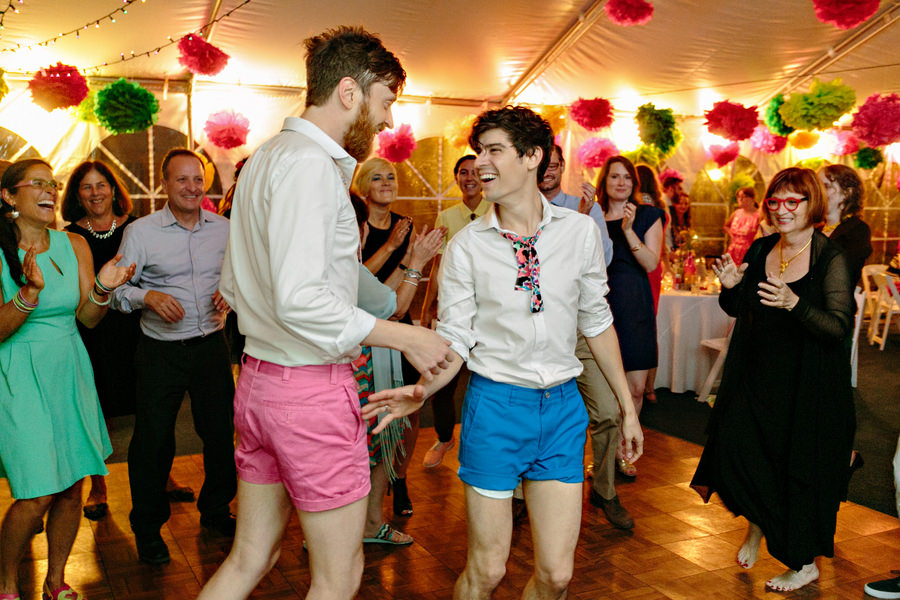 Perhaps the most daring, colorful and fun grooms we've had the pleasure of featuring, Ryan wore teal slacks with a blue jacket and a multicolored bow tie, and Kirk broke out a pair of hot pink pants, a bright red jacket and a floral bow tie for their brightly hued nuptials. Bonus: the newlyweds changed into shorts at the end of the night! | Photo by Krista Photography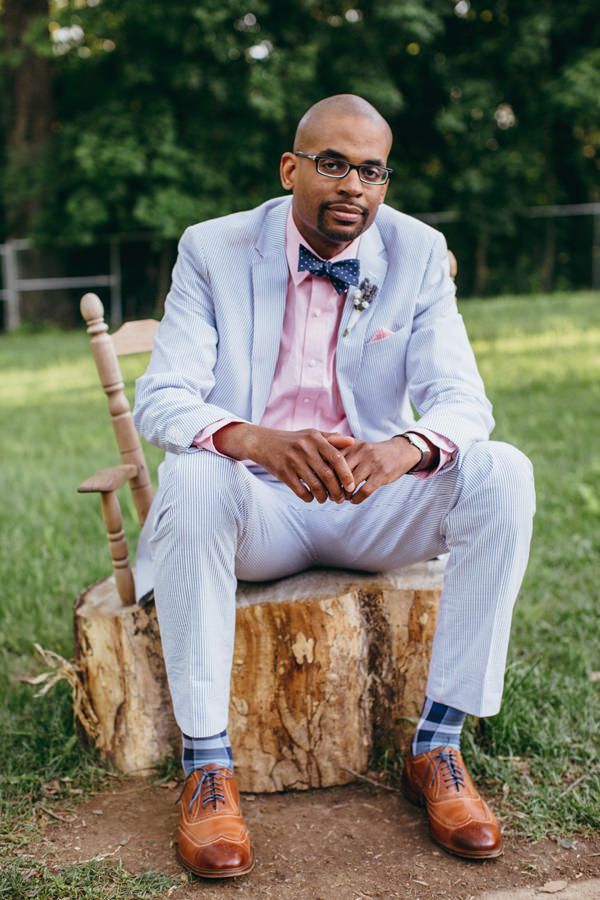 It's all in the details for Michael's sharp seersucker look: checkered socks, patterned bow tie and pink pocket square with the Rebel Alliance logo from Star Wars (a gift from his bride). | Photo by Adachi Photography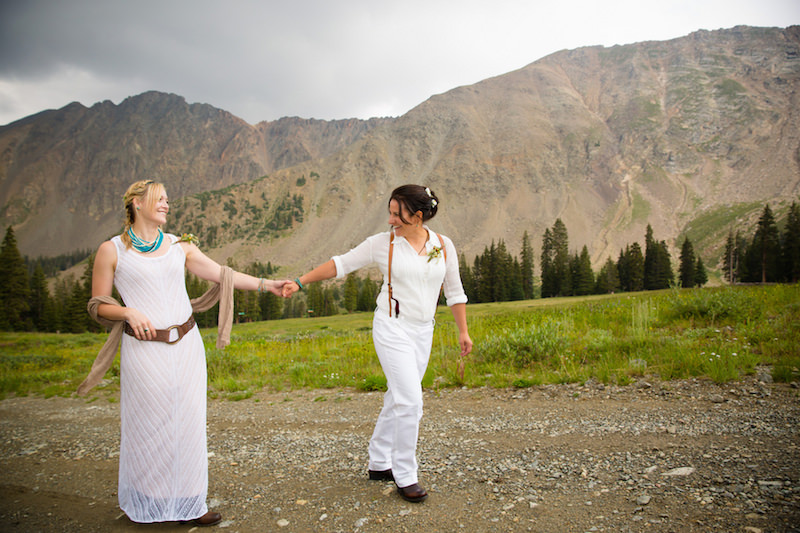 For her ski resort wedding, Angie donned a white oxford Free People shirt with Ann Taylor pants and Frye boots — the perfect mix of casual and bohemian. | Photo by Timothy Faust Photography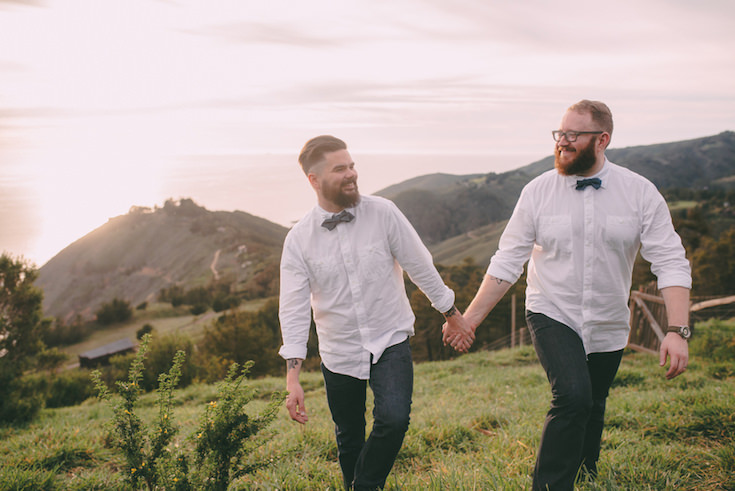 Ryen, who is a head designer for Gap Outlet, designed him and his love's custom white button downs to go with their dark denim, black Chuck Taylors and chambray ties for their Big Sur nuptials. | Photo by Molly Gilholm Photography