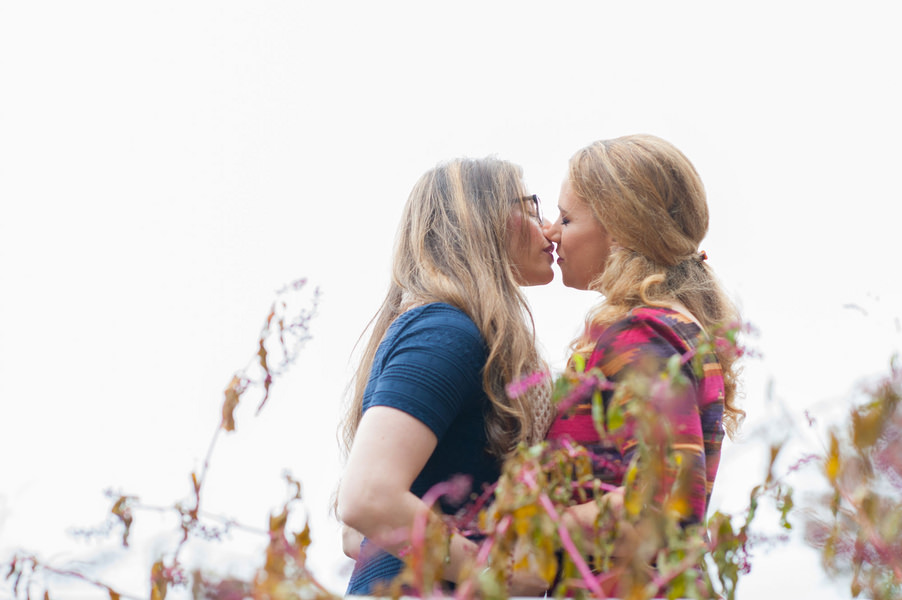 Childhood summers spent at Camp Wayne in Pennsylvania created a bond that proved to be unbreakable, even through years of separation. In their adult lives with only their cherished memories of softball, canoeing and many days at the camp's waterfront to connect them, Dayna and Allie reunited as their camp reunion approached. "It was as if the seven years in which we lost touch were seven days … we simply and effortlessly reconnected. We were exactly like we once were, and it felt familiar, yet exciting and new. Because this time, something was different," explains Allie. "This time, we fell in love."
For their engagement shoot, the fun-loving couple danced in the rain throughout Long Island City with photographer Mikkel Paige, their love shining. They snuggled in their favorite, cozy neighborhood coffee shop, took advantage of the area's vibrant graffiti art and showcased their love on one of New York's most picturesque waterfronts as a nod to the place where it all began so many years ago.
[raw]
[/raw]
The Proposal
After reuniting, a blissful romance blossomed and three years later, they found themselves at that same Waterfront Hill at Camp Wayne volunteering where they had bonded as kids. In a careful ploy, Dayna coerced Allie via loudspeaker announcement to the waterfront, where she was waiting amidst rose petals to ask the love of her life a very important question as Michael Franti's "Life Is Better With You" played across the campgrounds.
[raw]
[/raw]
"Seeing Allie's face and reaction when the music started playing over the loudspeaker and she realized what was happening … she dropped her bag and kicked off her shoes to run toward me and in that moment everything felt so perfect," exclaims Dayna.
[raw]
[/raw]
"My immediate thought was 'F*ck yeah!'" laughs Allie. "The most memorable moment was when I saw Dayna in a dress with rose petals looking radiant and just glowing as she looked at me when I first got down to Waterfront Hill." As Dayna prepared to pop the Champagne, Allie showed her a video that she had on her phone which, to Dayna's surprise, starred their friends and family sharing their thoughts on why they'd make a perfect pair. Allie returned Dayna's proposal with a "Will you marry me, too?" as onlookers cheered, many of whom were camp alumni as well and saw this beautiful love come full circle. "There wasn't a more perfect setting than Waterfront Hill at camp where our lives first intertwined," says Dayna.
The Rings
"We each wanted unique rings and through some research we found Lisa Nik, an amazing jewelry designer who specializes in colored gemstones and diamonds. We picked out our stones together—both happen to be tourmalines, but different colors—and designed each others' rings," explains Allie, whose ring is a cushion-cut rubellite surrounded by four baguette diamonds while Dayna's is an oval green-blue tourmaline accented by a diamond halo.
[raw]
[/raw]
Wedding Date: October 25, 2014
[raw]
[/raw]
Photography by Mikkel Paige Photography