Whenever Kim Wyms neared the end of her foundation bottle, she'd dread the inevitable task of combing through a selection of foundations and struggling to find a shade that perfectly complemented her skin tone. But the day she walked into Sephora at a mid-Missouri mall on September 8, everything changed.
It was the same day Rihanna had launched her highly anticipated makeup line, Fenty Beauty, a complexion-focused collection that required two years of precise development before it was ready to hit the shelves. As a freelance makeup artist and a beauty blogger on YouTube under the aptly titled name, The Mark of Beauty, Kim is not only familiar with the difficulties of matching makeup to her own skin, but also to all different skin tones that don't fall under the generic shades available in the drugstore. "People of color struggle with shades," Kim says, "but so do Middle Eastern, Asian and even those with very pale skin tones."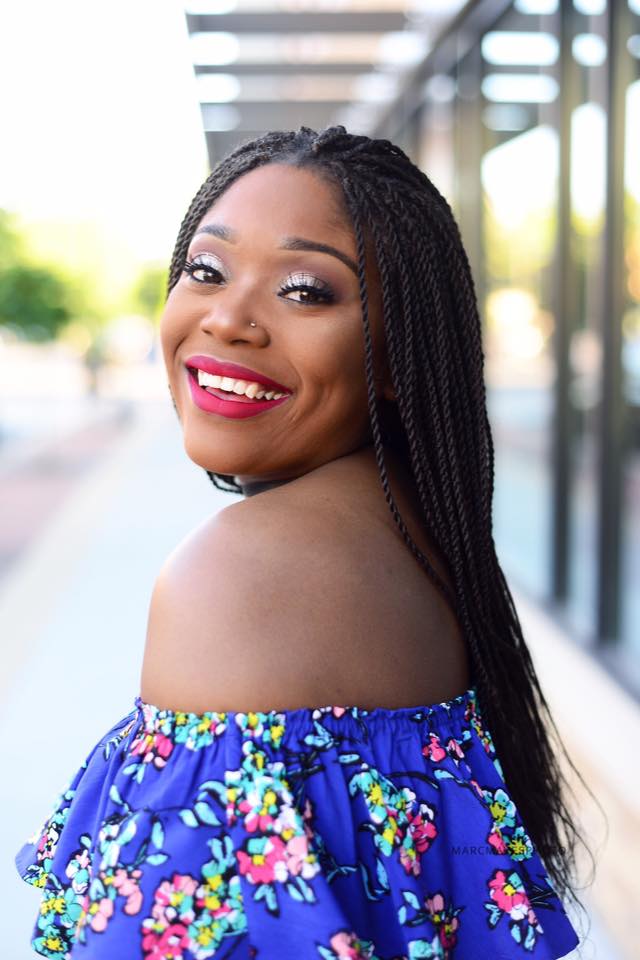 As a beauty blogger and makeup aficionado, Kim loves exploring the world of beauty and finding new products to review and share with her viewers. So every time a new product launched, Kim was among the throes of people anxious to try what could turn out to be the next product splashed all across Instagram. But all too often, Kim would discover products that were unwearable as originally intended. Instead of buying a single bottle of foundation, she'd have to concoct the perfect mixture between two shades to find a relatively close match. Or in many cases, she'd have to forego purchasing from the brand altogether. Enter, Fenty Beauty. "The launch of Fenty Beauty by Rihanna made me feel like my voice was finally heard," Kim says. "I felt confident knowing I'd find something for myself and for clients I work with."
The unprecedented 40-shade collection was created with an inclusive vision to fill the void that left a considerable proportion of individuals underrepresented in the world of cosmetics. Now, a gradient of shades from lightly colored creams to dark rich hues can be found in RiRi's collection, which is in stores and online at Sephora as well as on Fenty Beauty's website. This isn't just joyous news for makeup consumers. Kim says, on the business side of things, having a diverse makeup line like Fenty Beauty on the market, will have a positive impact on her work as a makeup artist. "Fenty will help makeup artists like myself feel more confident in catering to all clients," she says. "It's a boost in my creativity as a makeup artist with so many different types of products with multiple purposes. I can see my clients really enjoying them."
Since its debut a week and a half ago, Fenty Beauty has disrupted the makeup industry as its products fly off the shelves, proving that makeup catering to all skin tones has been long, long overdue. As Kim wrote in an emotional Facebook post after her first Fenty purchase, "This launch made us (melanin girls) visible. We can proudly walk into Sephora and claim a shade that is ours. A line this diverse should be a standard now for every single brand."
This historic launch not only opens the door for everyday-makeup looks, but it also provides more opportunity for soonlyweds searching for the perfect shade for their wedding day at an affordable price. Many of the cosmetic companies catering to darker skin tones are marked at luxury price points or not found in standard drugstores or cosmetic stores. So for soonlyweds who are scheduling their makeup trials or are nearing their walk down the aisle, they can rest assured that flawless makeup for one of the most important days of their lives will no longer be out of reach.
To see more of Kim and her review on Fenty Beauty, check out her Instagram and YouTube channel.
*Editor's Note: This post contains affiliate links. Each time you purchase an item via our affiliate links, Love Inc. is receiving a small percentage of the sale, thus you are helping our small, equality-minded business grow and allowing us to provide more content for YOU! Isn't that just fantastic?