Personalization has become every couple's favorite word. Whether it's decor, attire, jewelry, bite-sized food or stationery, it's incomplete without tailored efforts to make the day even more precious.
Henna storytelling is an exciting way to take personalization up a notch. Yes, the henna ceremony, aka the mehndi party, is already one of the favorite wedding functions for Indian soonlyweds as everyone experiences a euphoric high, and one of the oldest traditions of a handful of cultures comes with a lot of significance. It represents the holy bond of matrimony and henna's medicinal cooling effect is supposed to pacify the wedding jitters. Integrating personal details makes the entire ritual more exhilarating.
That's why we've rounded up some of the best personalized henna designs to give you some massive inspiration and make you even more elated for your wedding day.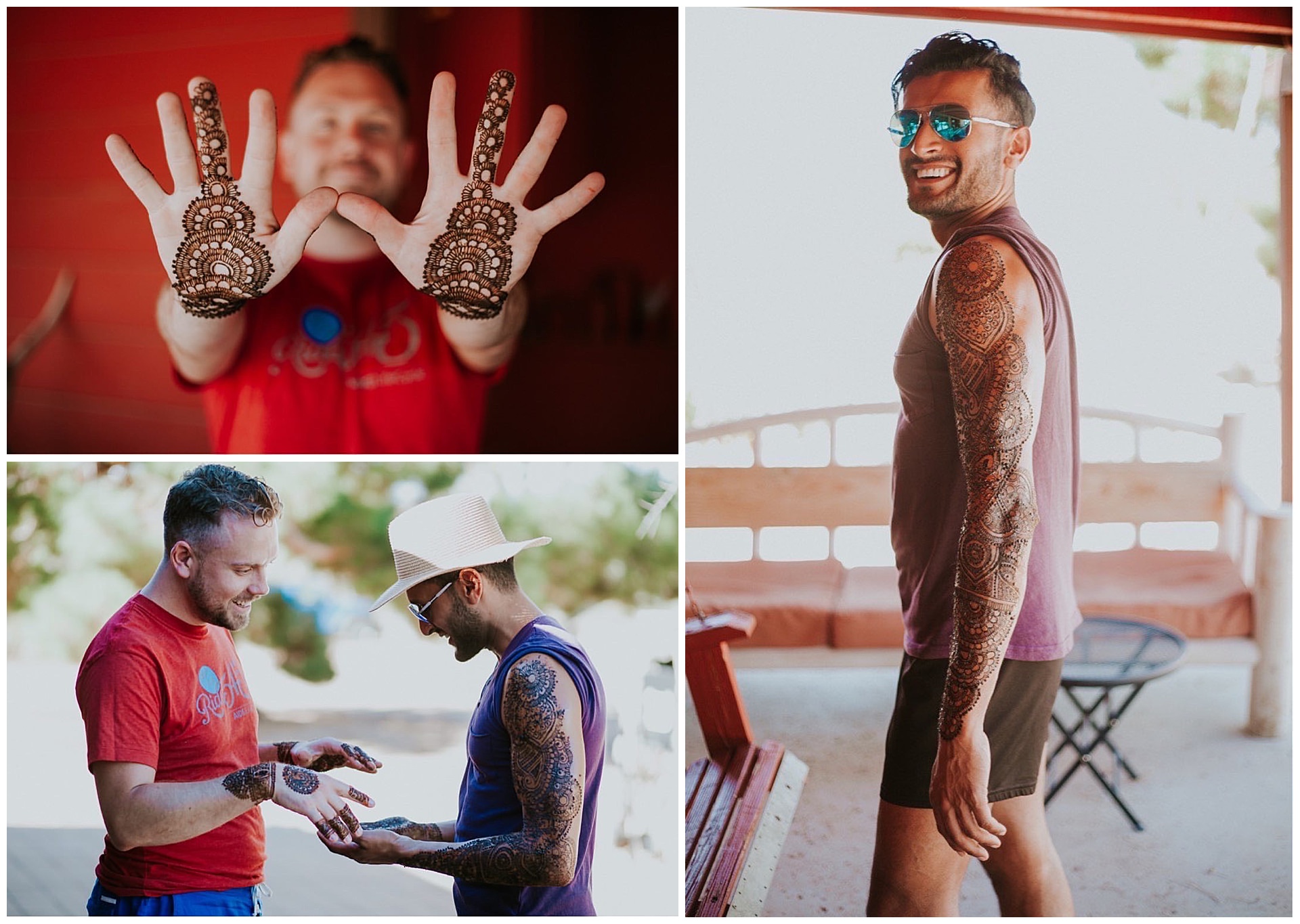 Saagar wanted to represent all the warmth and growth he experienced with his partner, Ryan. Therefore, henna artist Nadia went for artistic circular patterns and distinguished floral designs that ran down Saagar's arm, as both elements represent growth and unity. Ryan's palms were mixed and matched with the facets similar to Saagar's designs as they wanted cohesive progression. The goal was to show the wholesomeness of their relationship. That's why the designs for both of them were planned as one set and the result is marvelous.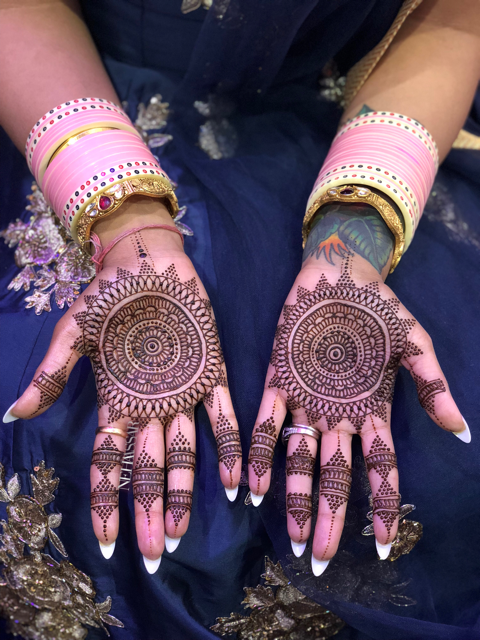 Channeling your modern and edgy side can also be done through henna designs, as seen in Priya's look. She took the route less traveled and went for minimal yet chic patterns. Artist Neha Assar created symmetrical and geometrical shapes to make a bold visual statement. The design ascended up to the wrist and was connected to the existing tattoo. The two matching Mandalas scream "maverick me" like anything.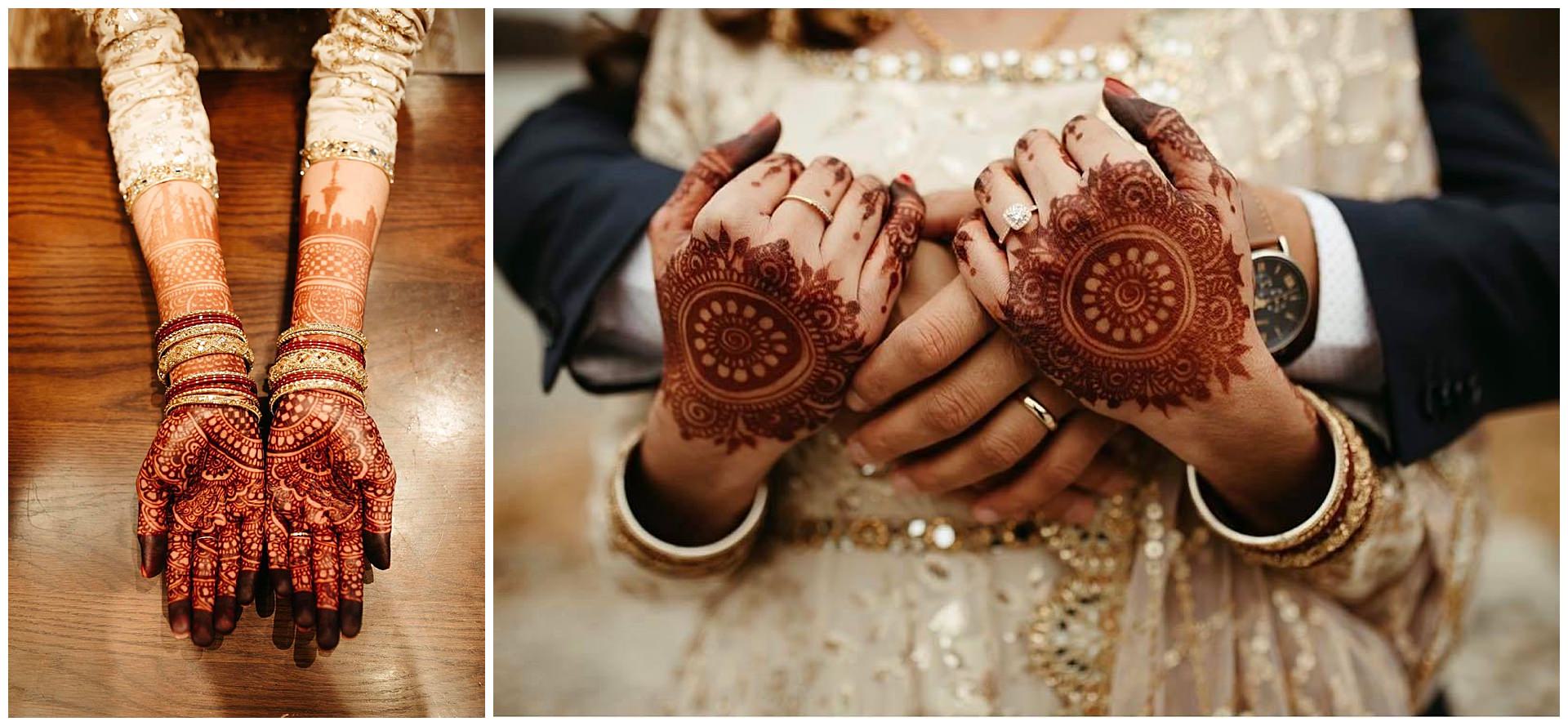 Being in a long-distance relationship has its own pros and cons. The cons are not being together and missing each other every day, but the pros are that you get these visionary ideas for your wedding henna design. Kiran lived in Kansas City and her fiancé in Auckland, New Zealand. So, she wanted to etch the skylines of both the cities that divinely connected their minds and hearts together. The right hand was embellished with Kansas City skyline, while the left one had Auckland's skyline on it. As they both are Punjabis, she also incorporated her fiancé's name in both English and Punjabi.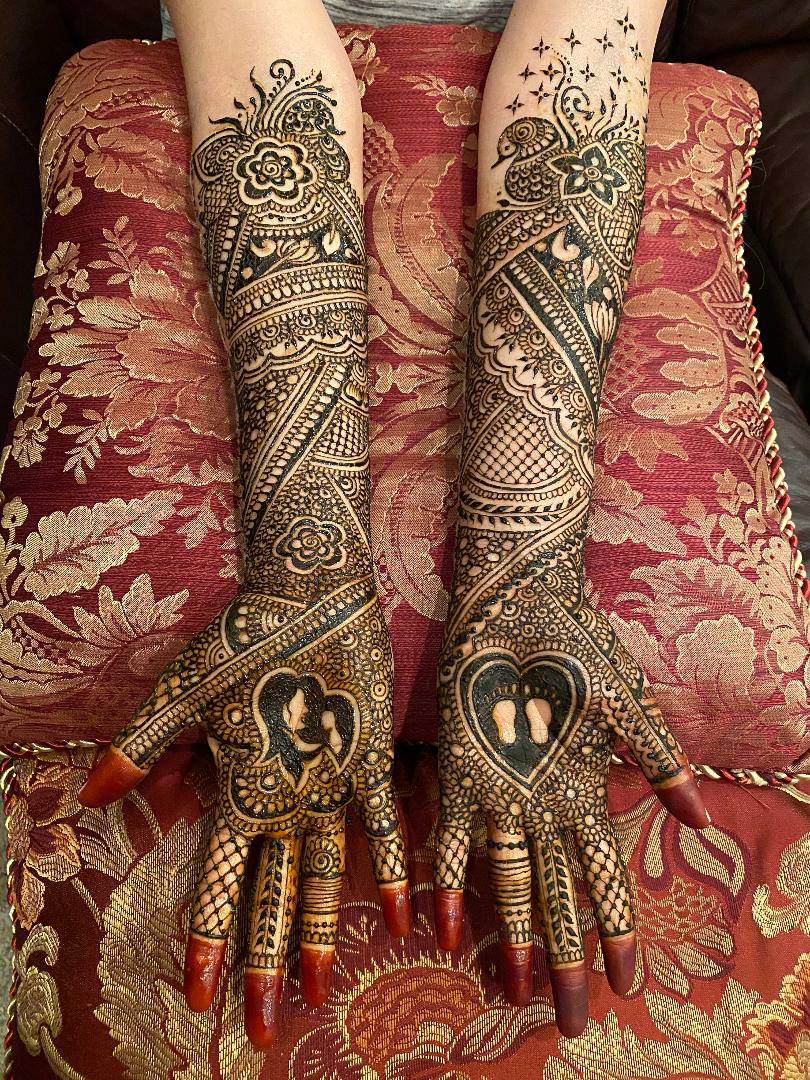 This one will melt you heart and make you go aww. This ingenious henna design was done for a mother-to-be who planned to get her hands imprinted with her baby's footprints. So, the left palm had baby's footprints, while the right one was creatively decorated with Sunitha's and her future baby's silhouettes. The soon-to-be mother wanted florals incorporated, especially Lotus, so Nida went for soft intricate designs. The cherry on top was diamonds and checkered grids representing her precious baby and traditional henna pattern respectively.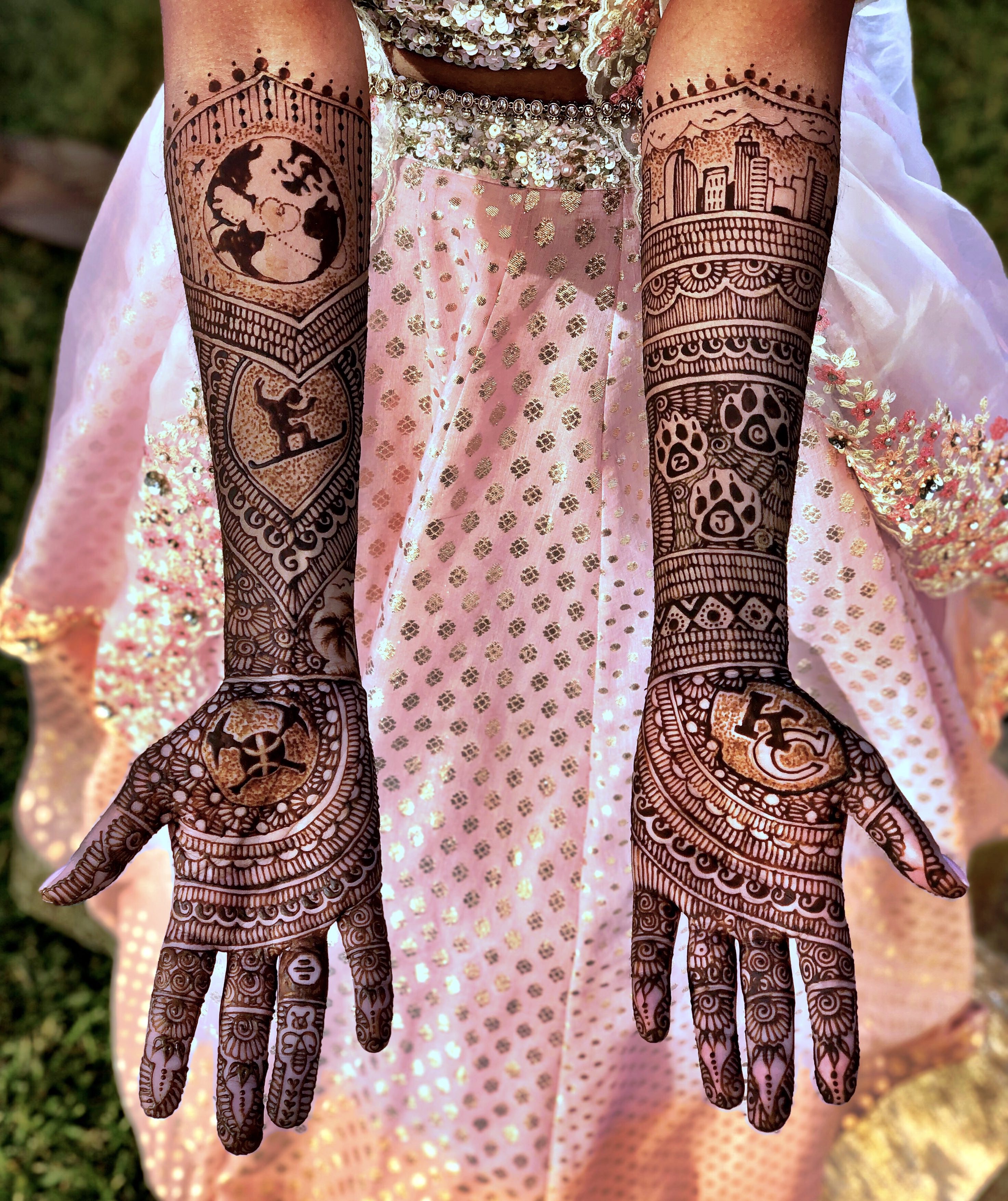 Meeting on a dating app, having three pets, owning a home and sharing interest for the same hobby come with many wonderful advantages. One of the advantages is getting your henna design all power-packed with not just intricate patterns but also intimate moments. Shivani wanted to exhibit their shared love for traveling, so it was represented by a globe with an airplane circumnavigating it. The palm trees pattern was a beautiful reminiscence of their first international trip together to Costa Rica. The home was represented by a mountain range with the skyline and they showed their love to their furry friends by including paw prints.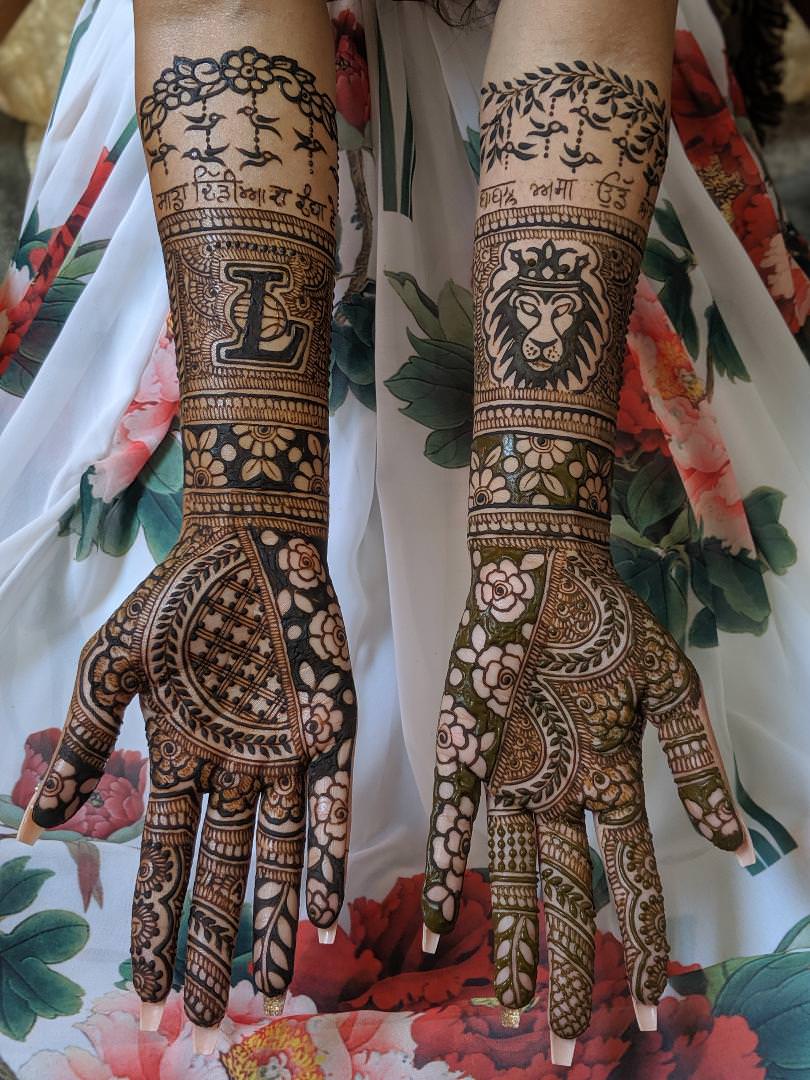 Self-love should be manifested in every part of one's life, and if you believe in this, you're going to love this one. Aman, who also goes by the name Raw Kaur, wanted to represent her ferocious empress self, so she requested her artist to design the mighty lion on her left hand. The traditional Punjabi folk song was written on her forearms that is usually sung when the bride is finally leaving to her new home. Her fiancé's love for the Los Angeles Lakers was depicted with an L on the right forearm.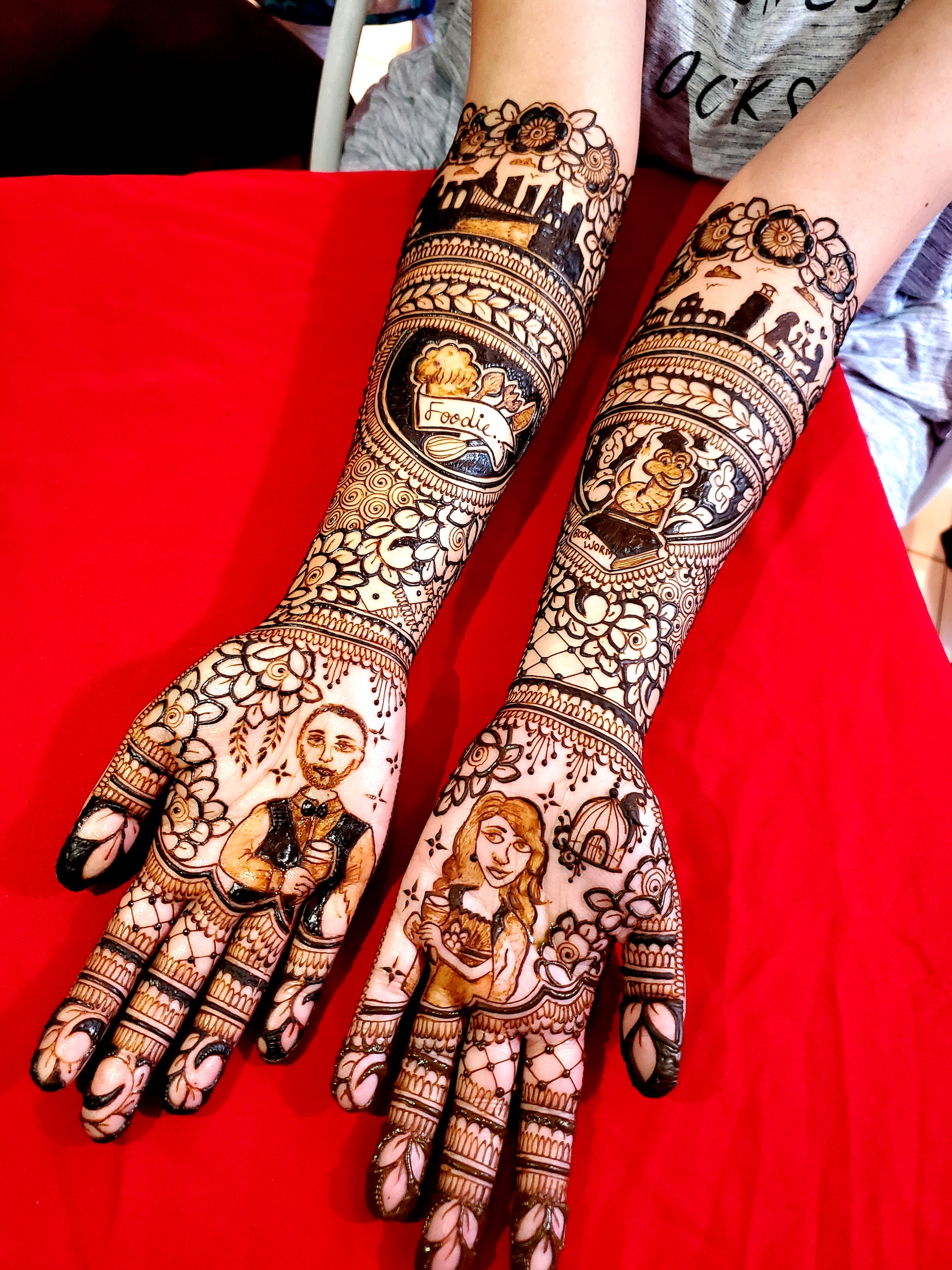 While personalization does require ruminative detailing, it doesn't mean one cannot have fun. This also involves opting for fun and interesting henna design that reflects your jovial sides. The bride Shama opted for quirky animated figures of herself and her fiancé with wine glasses in their hands. The Brooklyn Bridge, their favorite spot, etched on the top right, while the coffee shop in Italy where she was proposed was on top left. The design was completed with the foodie and bookworm tags and artworks.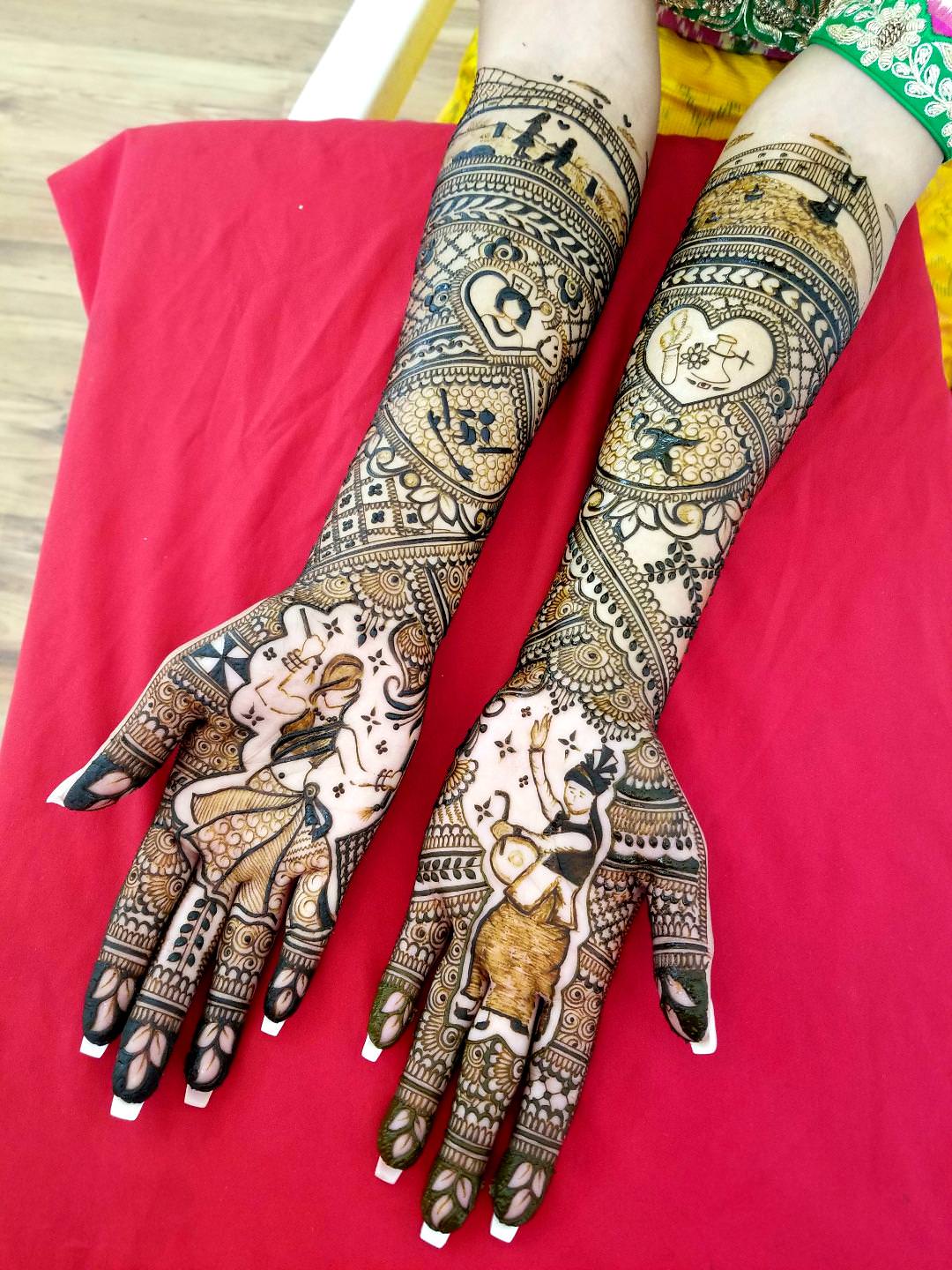 Nancy chose to completely replace the heavy patterns in the center of the palm with dancing figures that represented their respective cultural dances. The creative graphics made the design more impactful and contemporary but with a hint of tradition. A nurse marrying a chemist was beautifully represented by other visuals on the forearm. Her proposal moment at the Brooklyn Bridge was recreated on the upper forearm of both hands.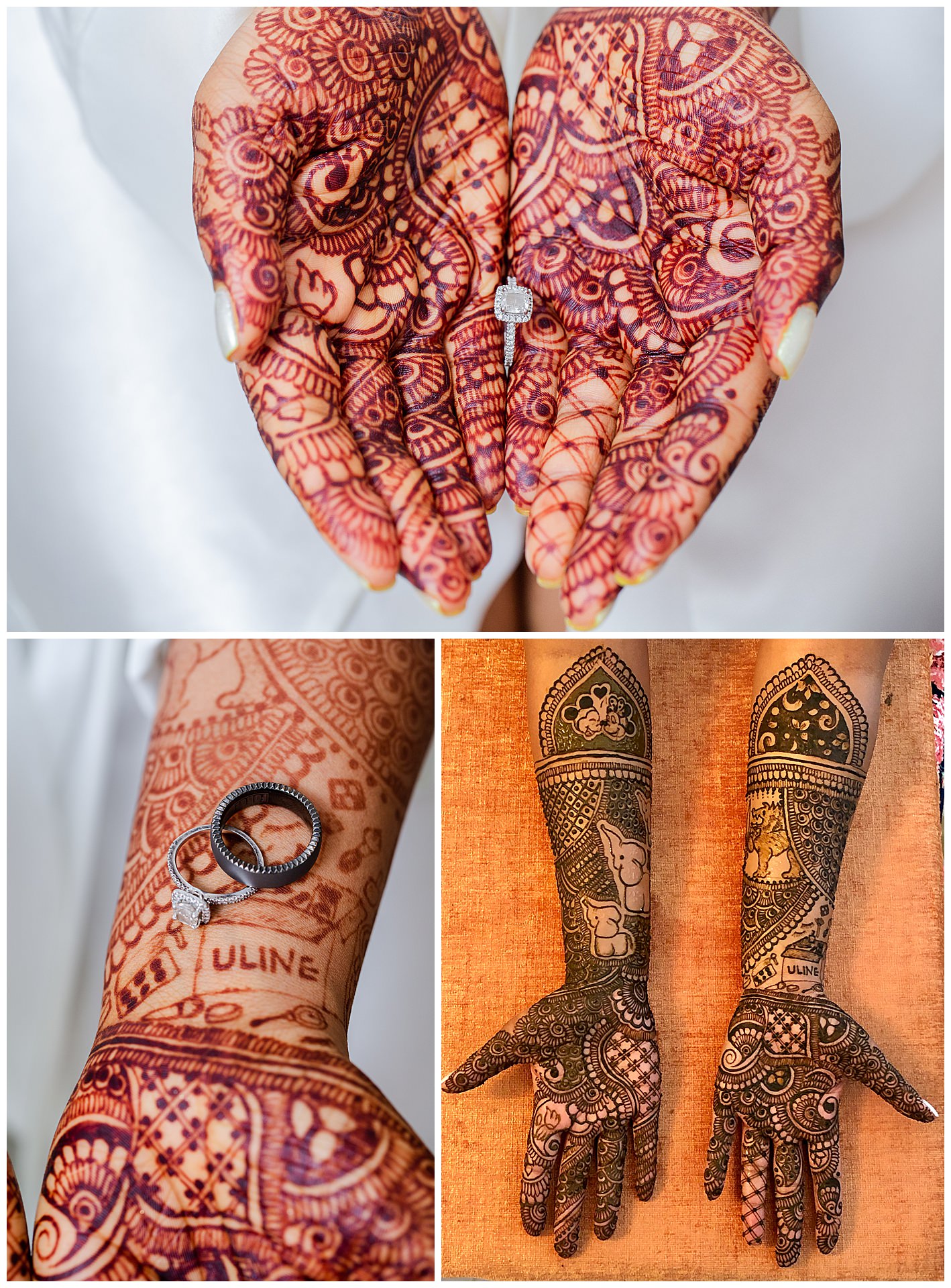 Sonika and her fiancé lived on the other side of the world and she wanted to tie both cultures together with different cultural elements in the design. Aspects of her Guyanese culture and her Sri Lankan fiancé's country flag was masterfully depicted by Nadia on Sonika's hands. Nadia also brilliantly included their professions by drawing cosmetics falling out of a U-line box, as her fiancé works for the company.
Written by Vartika Puranik