Typically, you think of dolls being fun for the littles. You wouldn't expect to find wedding day inspiration down the toy aisle of your favorite retail store, but aligned on the shelves, you'll find the trendsetter for multiple generations: Barbie.
Barbie is more than just a toy; she's an icon. Movies, like the upcoming Margo Robbie and Ryan Gosling's film, and songs such as Barbie Girl, have been dedicated to her timeless image. And her influence doesn't stop with style: Barbie fought for equal rights in the 1960s when her Black friend Christie was introduced. She broke the glass ceiling as a CEO in the 1980s, all while wearing a hot pink power suit.
Now her undeniable style and trailblazing can inspire your wedding day. Have your wedding party make a statement in these hot pink dresses because when you're channeling Barbie, you have to think pink.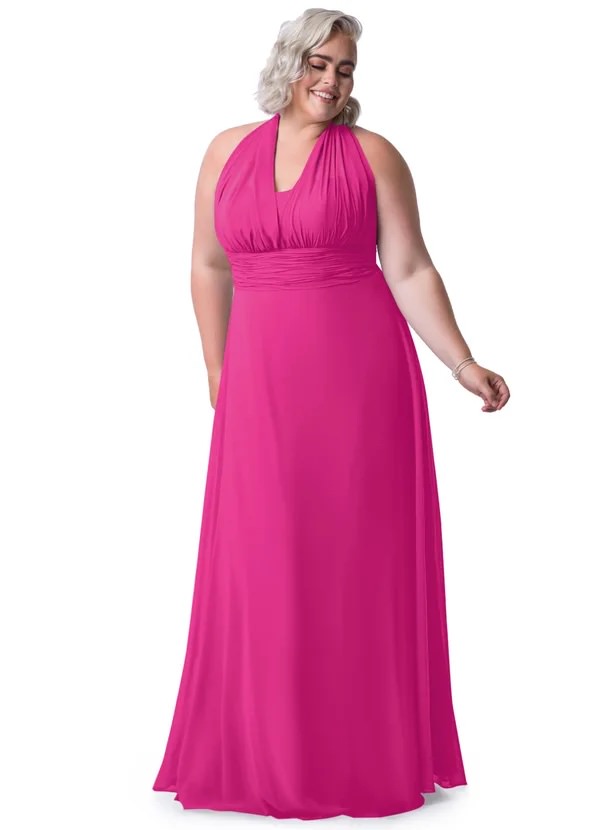 Allow your VIPs spirit to shine
Let your wedding party show off their unique style in this Azazie Fifi dress, which can be worn in multiple ways, including one-shouldered, short-sleeved, and as a halter top. Not only will the vivid pink color pay homage to Barbie, but the tied bow detail also gets the Barbie stamp of approval. Priced under one hundred dollars, this dress is a more affordable option. Fuscha Fifi dress by Azazie, $99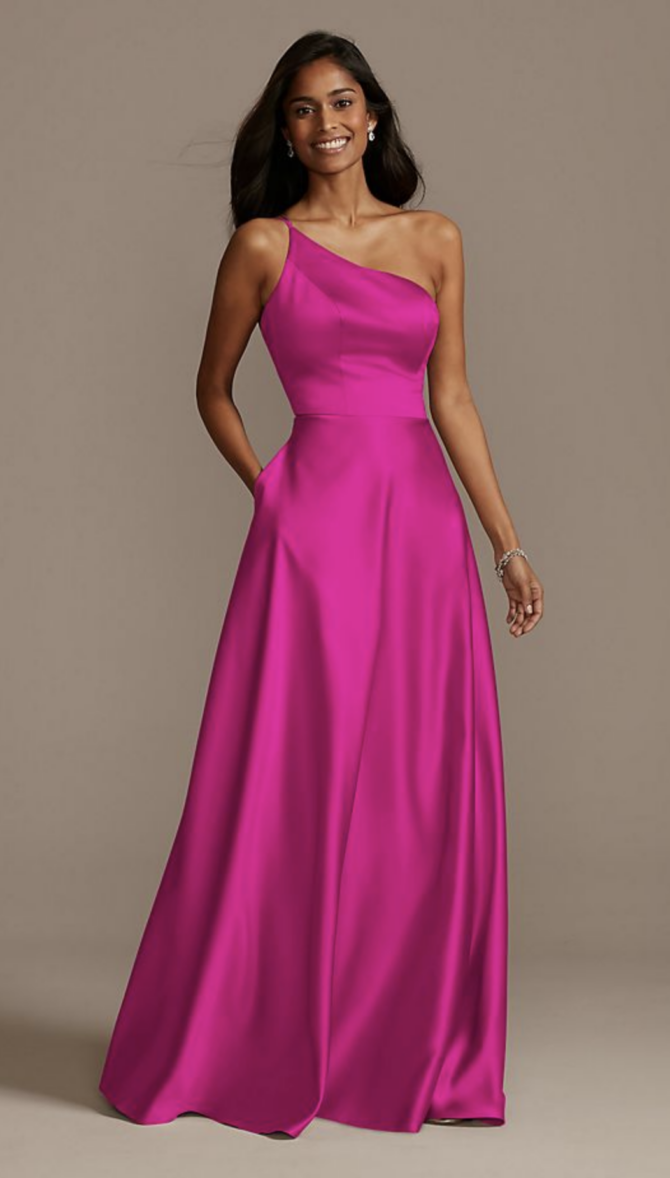 Step up your style with satin
This sleek one-shouldered satin dress would make even Barbie jealous. One, because it's stunning. But the best feature of this gown is the pockets. These convenient pockets are perfect for hiding tissues (necessary during the exchange of vows) or for keeping the wedding ring tucked away safely nearby. One Shoulder Satin A-Line Long Bridesmaid Dress by David's Bridal, $169.95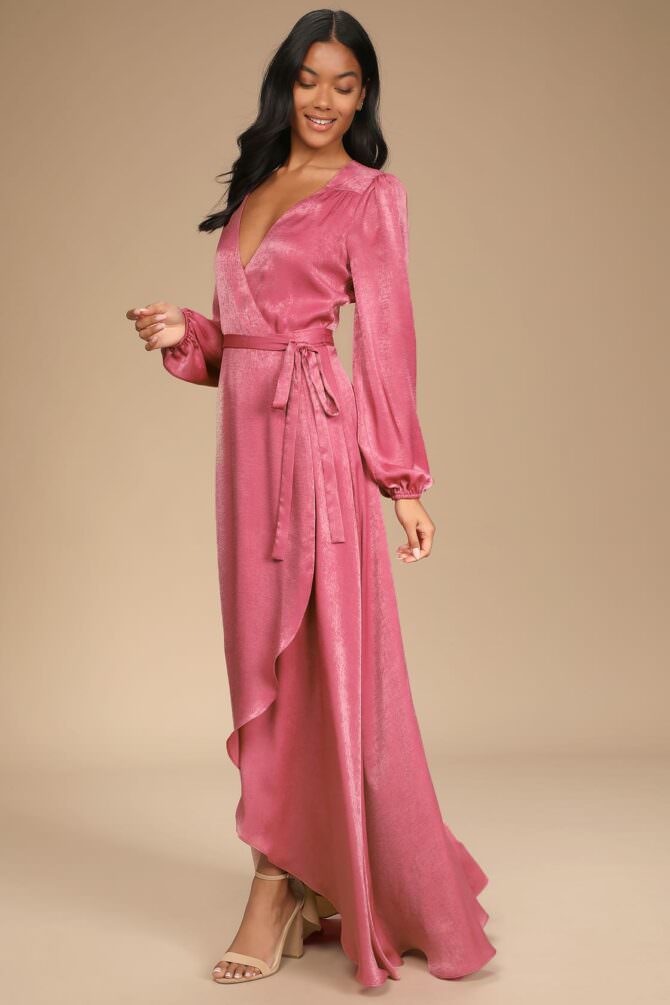 Stay warm with long sleeves
Expecting a bit of a chill on your big day? This wrap dress, one of the most flattering styles for every body type, is unique with its long cuffed sleeves. The soft brushed woven satin will have your VIPs feeling stylish and comfortable all day long. Endless Moments Marsala Satin Long Sleeve Wrap Maxi Dress by Lulus, $98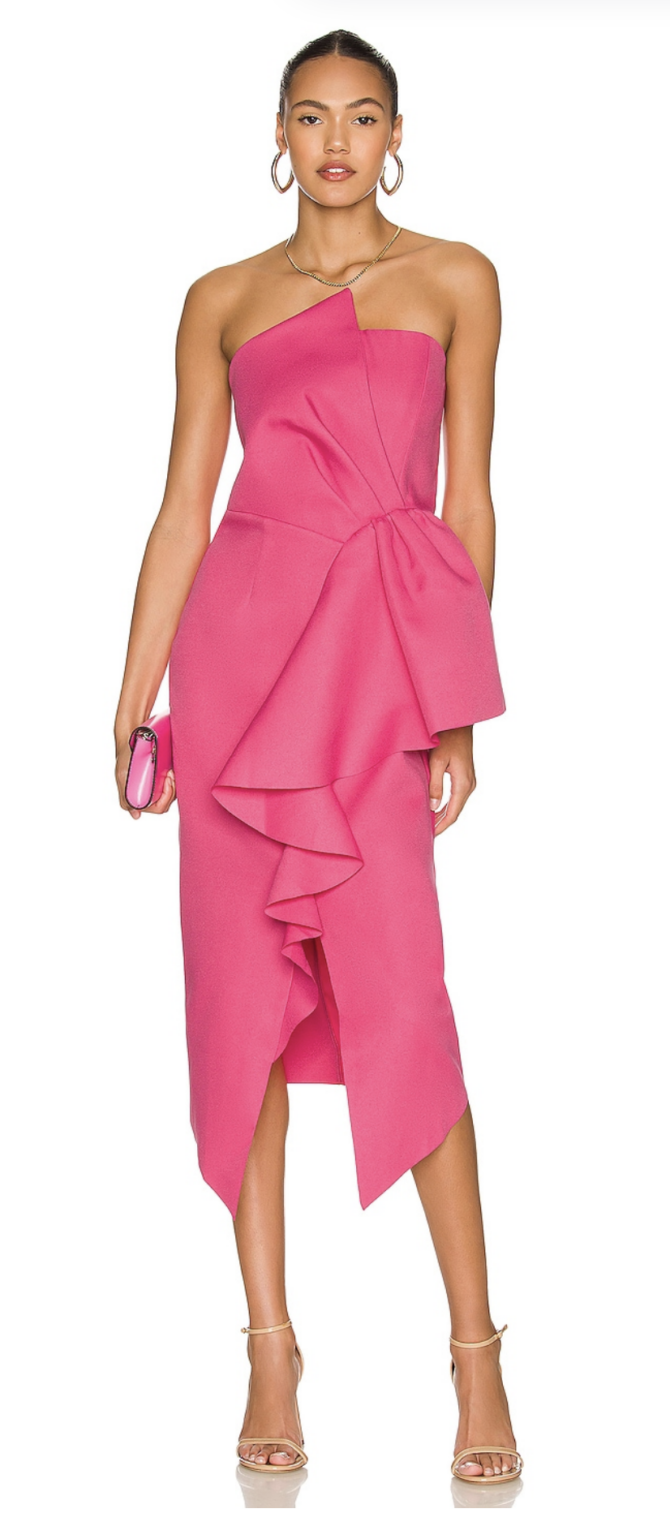 Consider something a bit more contemporary
Go for something less traditional, but still elegant, with this strapless, mid-length fuchsia dress. The modern ruffle detail isn't the only feature that makes this garment stand out. A row of delicate accent buttons on the back seamlessly camouflages the zipper. Your wedding party will make a stir wearing this avant-garde dress. Reception dress by Elliatt, available at Revolve for $170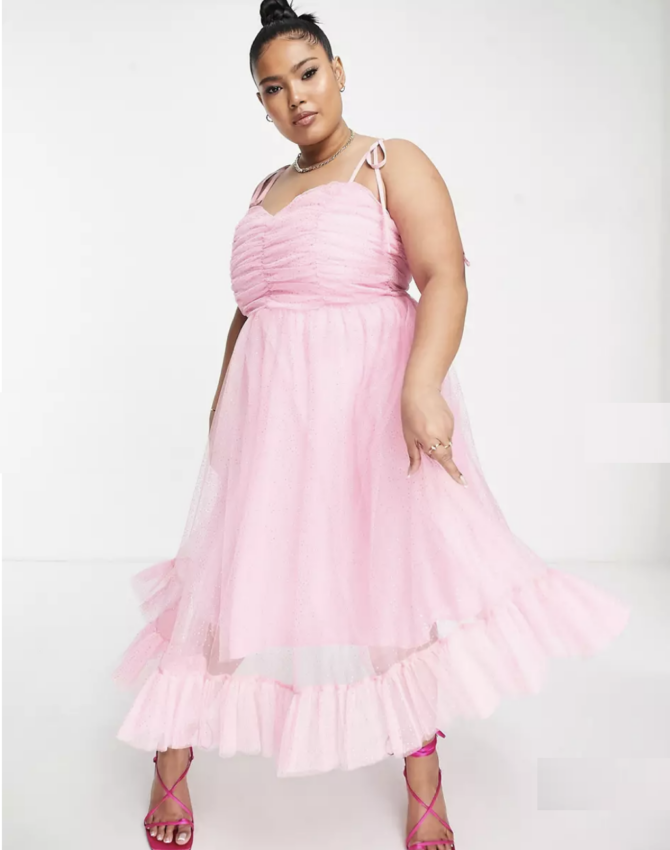 Go for a Barbie princess look
Alright, it's not hot pink, but this pink glittery midi dress looks like it came straight out of Barbie's closet. Everything about this dress is adorable: the thin-tied straps, the ruched bodice, the sheer layering of the skirt, and the bottom ruffle. This gown is a great option for a diverse range of body sizes, as it comes in standard sizes as well as plus sizes. Tie shoulder ruched bodice midi dress in glitter pink by Collective the Label, $113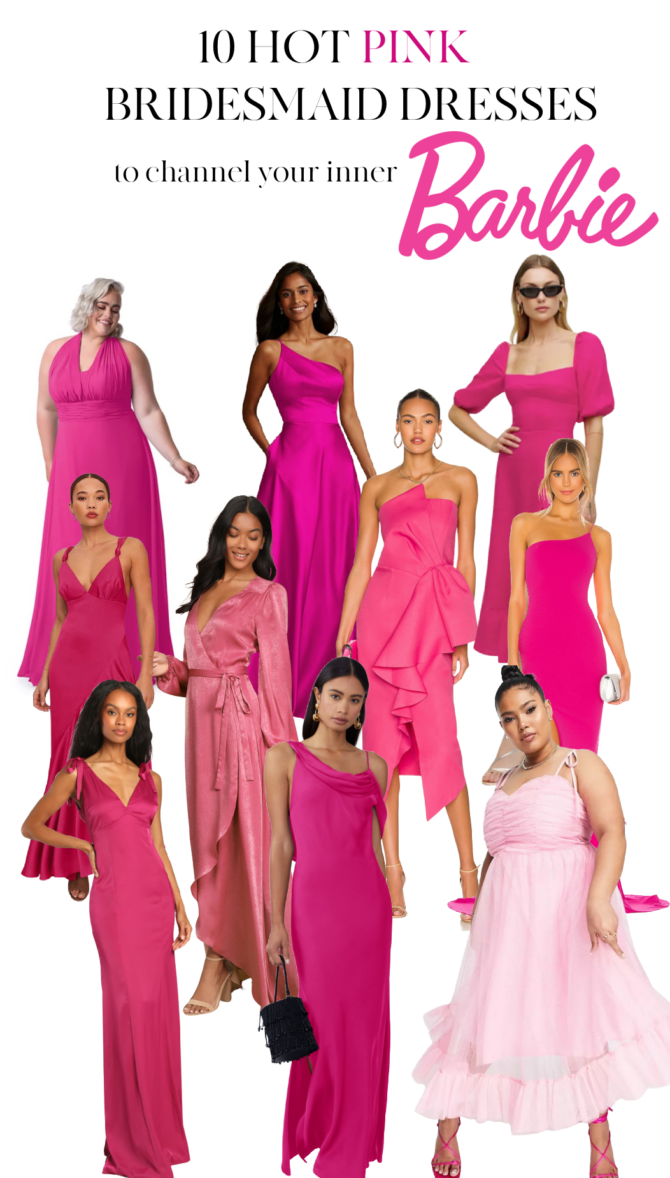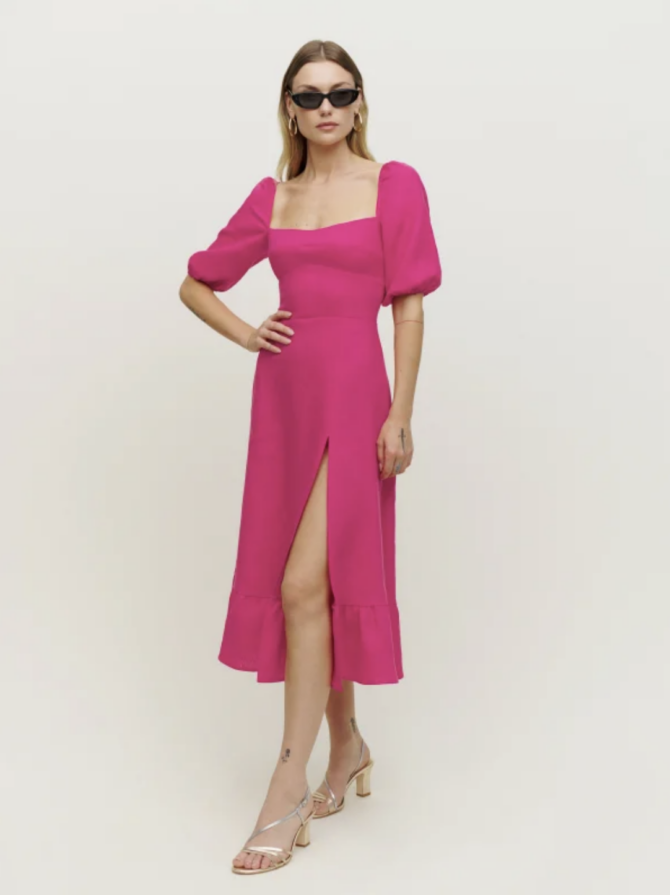 Pick a style that's effortlessly cool
There's something about this hot pink, capped sleeve dress that's super chic and stylish. Not only is it fashionable, but the breathable linen and high slit will also keep those that wear it cool and collected. Perhaps the coolest thing about the dress is that it's sustainably made in the heart of Los Angelos. Belgium Linen Dress by Reformation, $248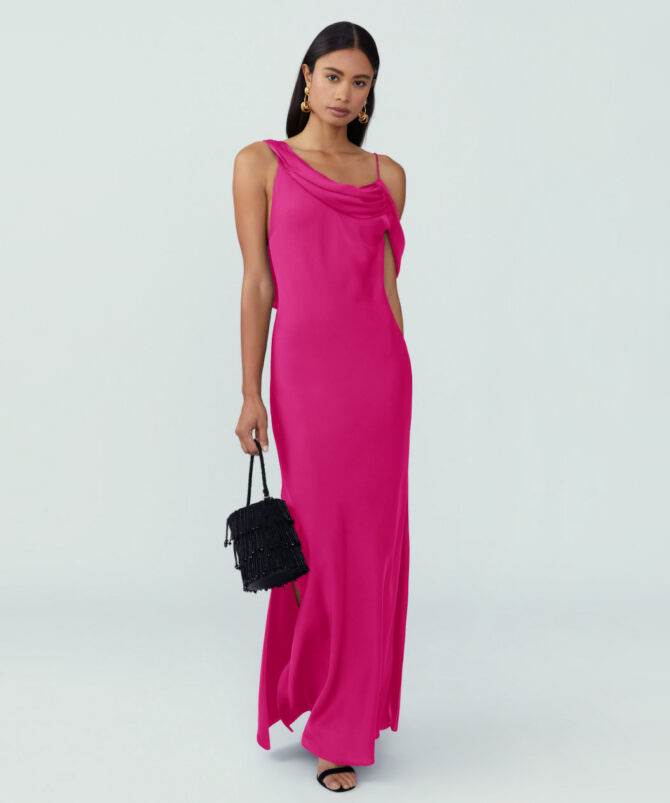 Try something a bit more elegant
Hot pink and elegance may not be two concepts that typically go together, but this draped neckline dress makes it happen. With its unique style and open back, this dress would be the go-to outfit for an ancient Greecian Barbie (if she existed). Francois by Fame and Partners, $279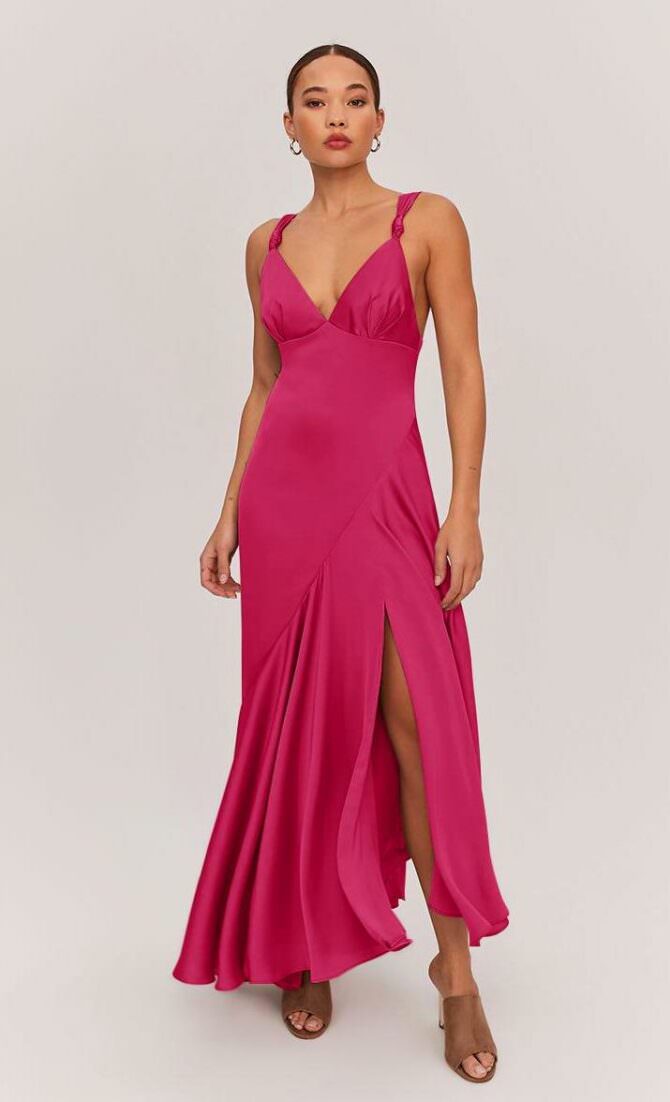 Add some flair to your hemline
Have your VIPs strut down the aisle with confidence in this asymmetrical gown with a ruffled hemline. Not only will your friends look great as you say "I do," but the dress's skirt is also perfect for a night on the dance floor. You can also have peace of mind when purchasing this garment, as Fame and Partners is committed to sustainability and reducing waste. Zephyra Dress by Fame and Partners, $345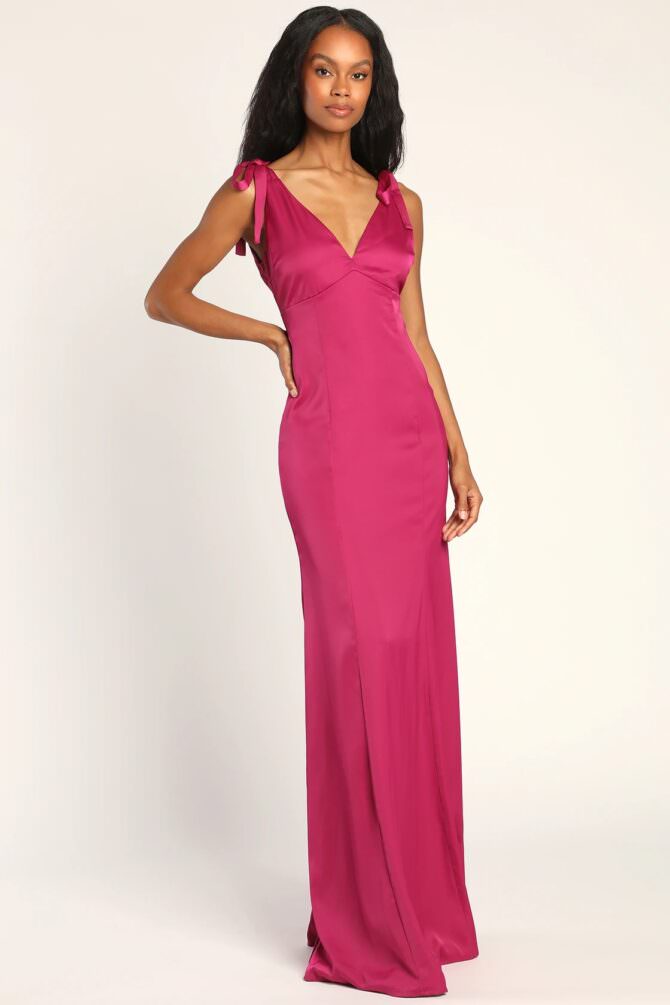 Stick with the classics
With a plunging v-neck and empire waistline, this long satin dress has classical charm. Its sleek design has a bit of whimsy with wide sleeves that tie together in a bow on each shoulder. The only drawback to this gown is that the sizes are limited to small, medium, and large, which may not work for everyone. Romantic Timing Magenta Satin Tie-Strap Mermaid Maxi Dress by Lulu's, $79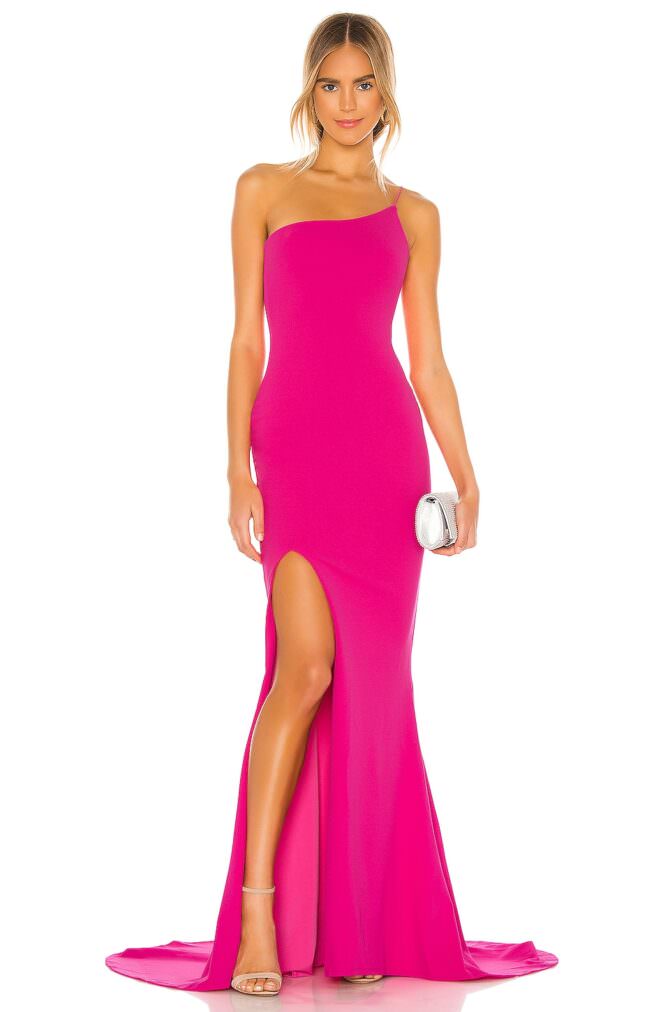 Go a bit more formal with a train
Barbie would definitely wear this hot pink one-shouldered gown. This dazzling dress stands out with its high slit and long train. Not only is it perfect for more formal weddings, but it's glamorous and suitable for the most fashion-forward friends and family. Nookie x REVOLVE Jasmine One Shoulder Gown available at Revolve , $289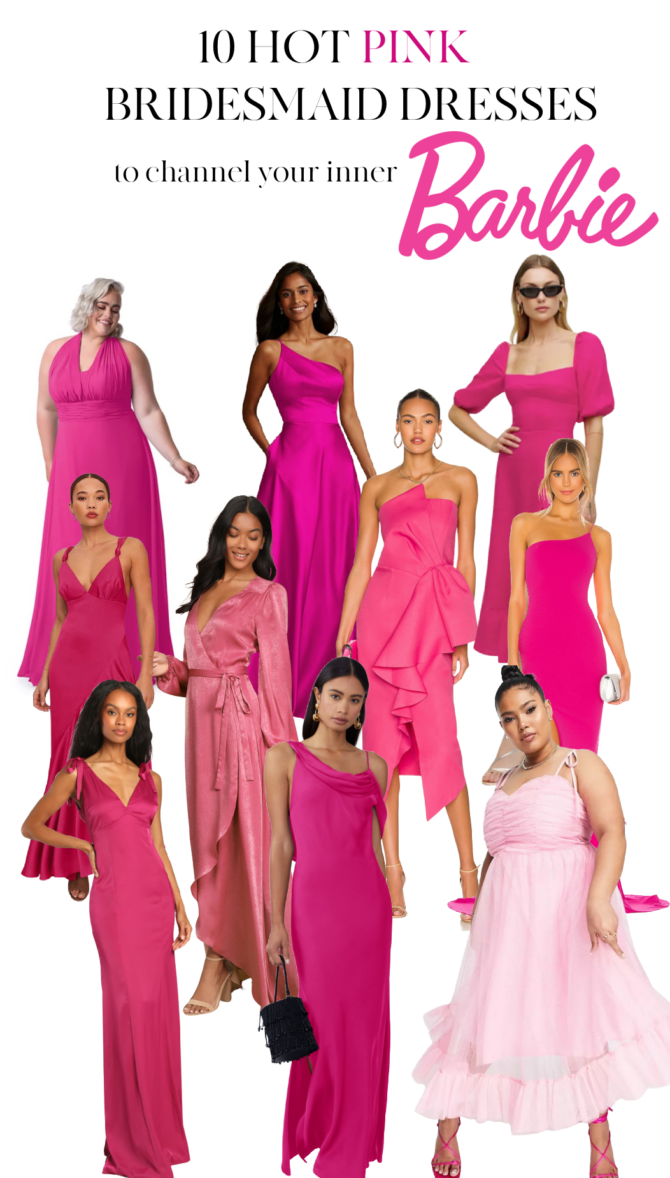 Editor's note: Some of these links are affiliate-based, which means we earn a small commission when you purchase from these links (and helps our small business keep providing free equality-minded® wedding content to you!)
Written by Rebecca Rovenstine | Cover Photo by Wayne Fotografias