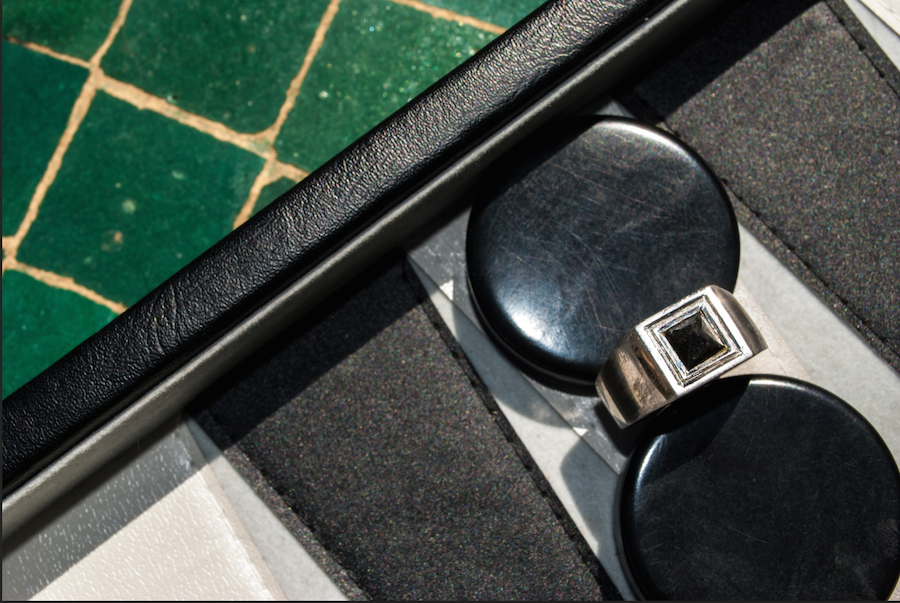 When it comes to masculine engagement rings and wedding bands, there isn't a ton of variety. A quick glance at even the most popular collections often gives a selection between metals, width and … that's about it. The lack of options emphasizes the gender binary that is seen so often within the wedding world.
Triggered by a conversation she had with a couple while working in a jewelry store, Michelle Berlinger witnessed the desire for luxury, detail-driven masculine rings, and it inspired her to create her own collection, naturally dubbed Berlinger. "As a woman was showing off her ring during a cleaning, her husband immediately ran over and flagged out his hand, proudly showing off his engagement ring: a gold-and-diamond Art Deco-era ring. She explained that she had given him this ring after he had proposed, believing that if they both wore rings, it would create a spirit of equality in their marriage," explains Berlinger. "Struck and inspired by that statement, we set out to explore the traditions, looks and meaning behind bridal rings. Why shouldn't we challenge the classic notion of only women sporting engagement rings? And how can we create a ring that is both masculine, beautiful and timeless? This notion felt incredibly powerful; transcending stereotypes, sharing traditions for the modern world, and creating engagement and wedding rings that had style and retained a masculine essence."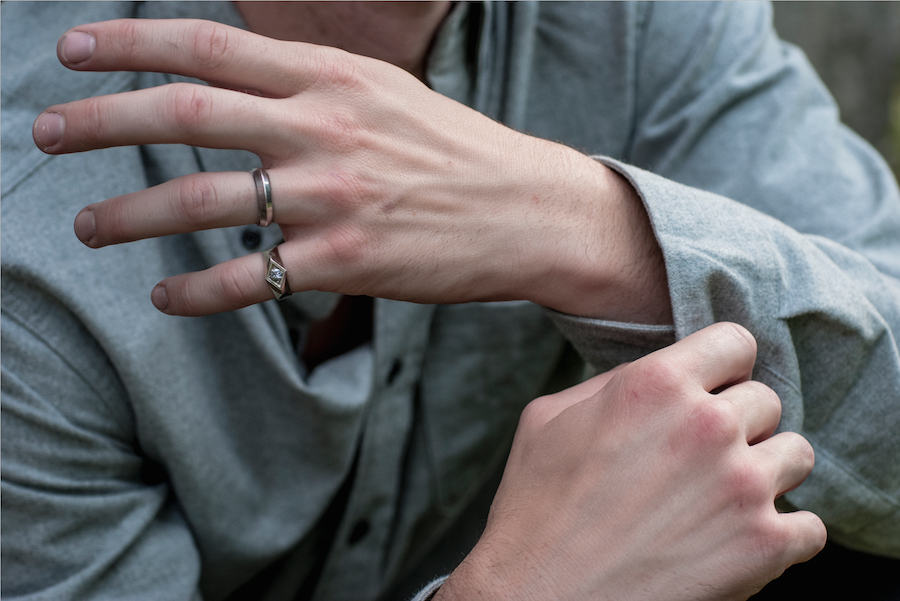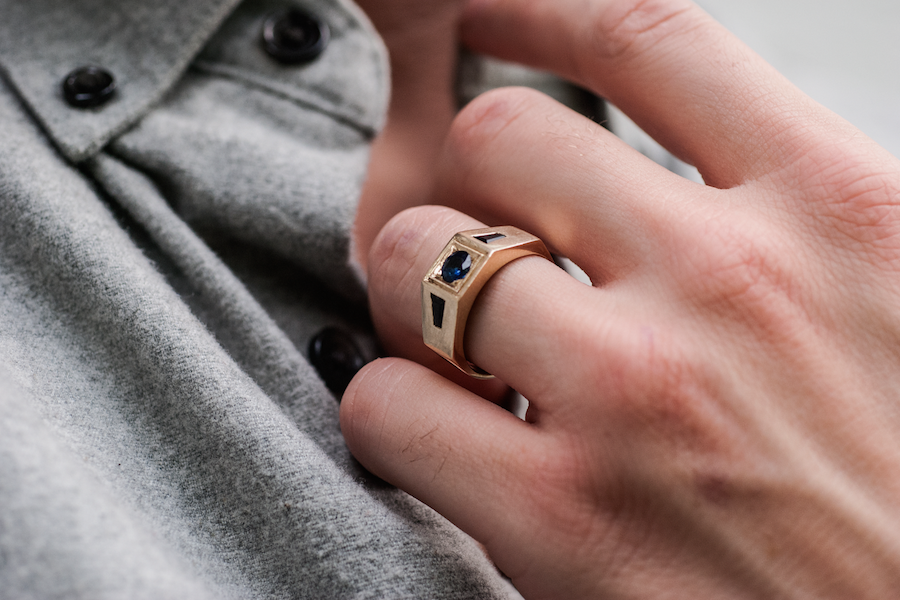 "Most rings we see are actually very polarized in their 'look,'" she continues. "We also see that a lot of men's bands tend to be more plain and mass produced, or they are flat bands that utilize alternative metals such as titanium and seemingly represent archaic notions of masculinity. We wondered, where did the elegant and decorative styles of men's rings past go, à la the Art Deco period? And how can we bring them back?"
That reflection set the wheels in motion to create a collection of seven gorgeous styles, designed with details that bring beauty back to masculine rings such as tailored angles, hand-engraved milgrain and alternative gemstones. They even create custom pieces, allowing you to hand-pick the gems, metals and design details. "Sometimes we even incorporate family stones, or diamonds plucked out of your grandmother's heirloom jewelry," adds Berlinger.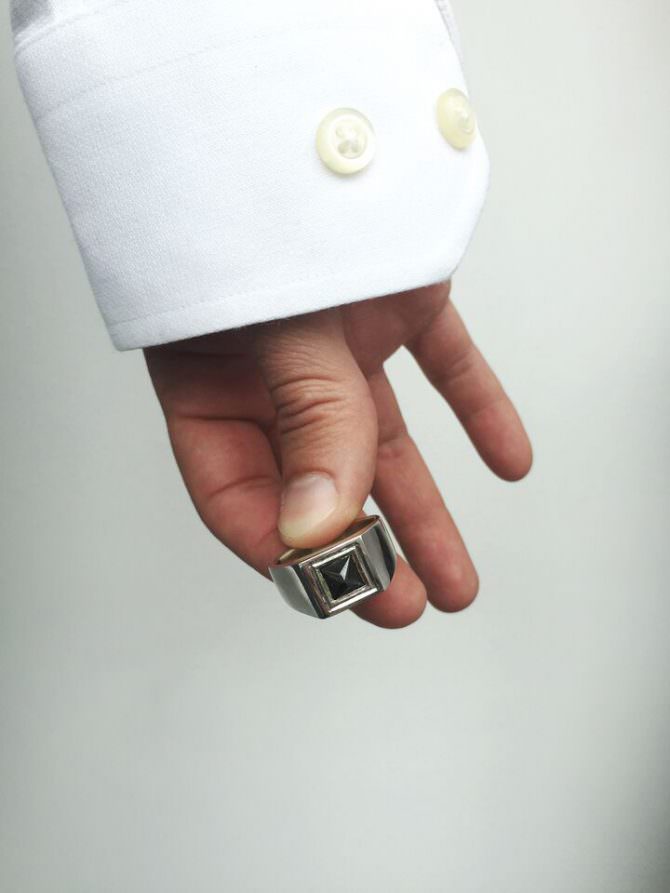 "We started the company to create engagement rings specifically for men, masculine-of-center women, trans couples, or anyone interested in something different. We wanted to create a ring, a brand and a company that represented equality, sharing long-held and important milestones with all types of couples and people," says Berlinger. "We are excited that our rings share traditions with couples of all genders and orientations, and want to continue contributing toward creating greater social equalities in fashion and in the world."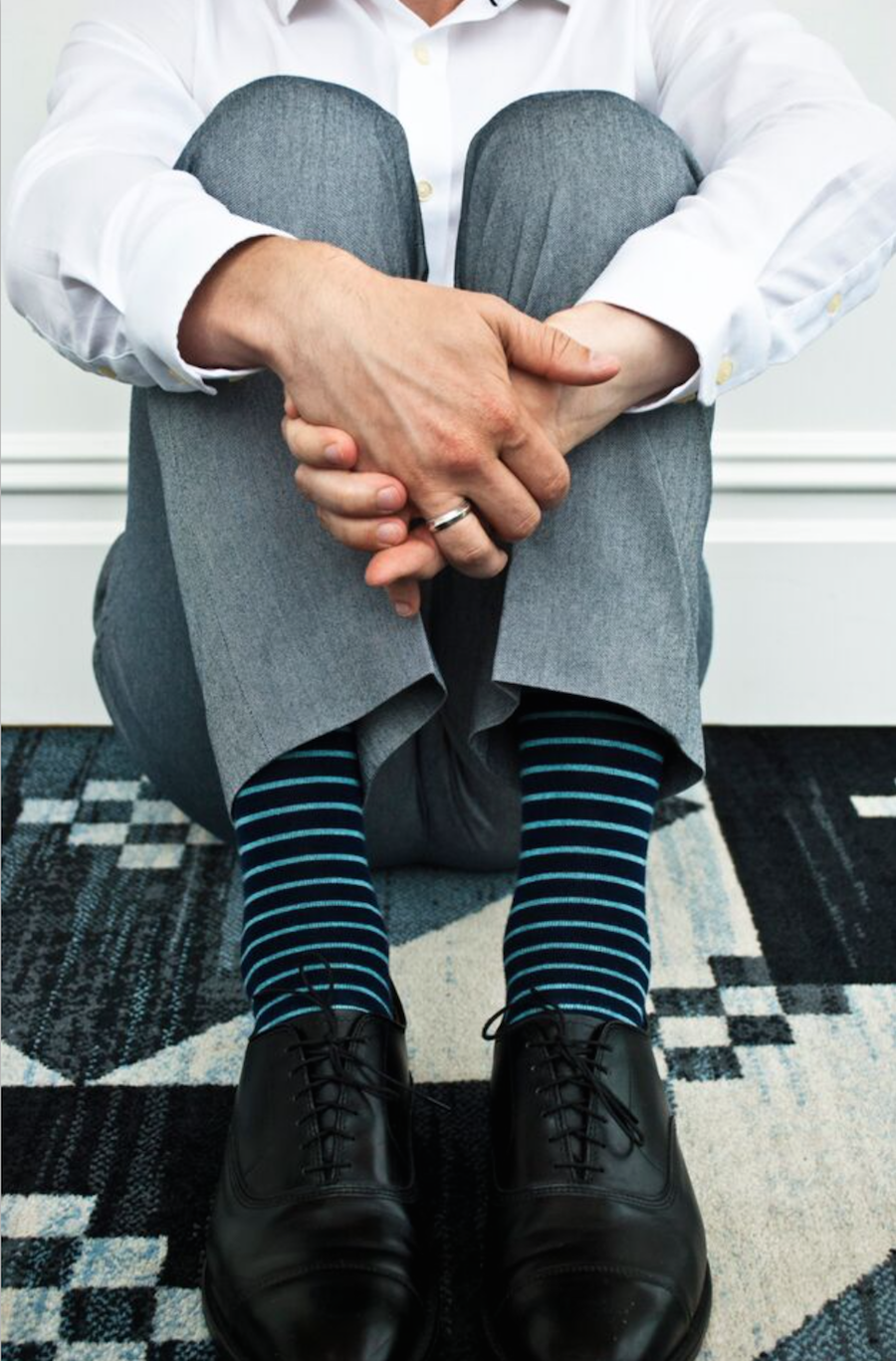 As you can imagine, we're pretty obsessed with this company and their MO, and we're positively over the moon that they're letting us give away a Berlinger engagement ring — and their most popular style, to boot! The Joe ring features strong, tailored angles and hand-engraved milgrain (a signature of Art Deco pieces). To enter to win this beauty, head over to BerlingerRings.com to check out their collection and tell us which styles you're crushing on the most in the comments below by 11:59 p.m. on Sunday, April 24th. A winner will be announced the following week. Good luck!