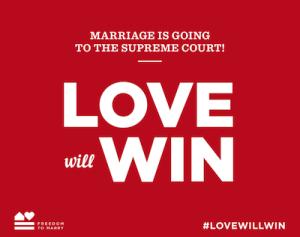 The U.S. Supreme Court has decided to take on the case for same-sex marriage.
According to Bloomberg News, the court's decision will likely come in late June, and could potentially bring the freedom to marry to the remaining 14 states.
Though the High Court put the power in the states' hands with their Prop 8 decision in June 2013, the recent chain of court decisions across the nation has led them to tackle the issue again — this time on a national level.
The justices will be reviewing the November 6th Circuit ruling that upheld a gay marriage ban in Michigan, Kentucky, Tennessee and Ohio.
Most recently, the right to marry has come via state court decisions instead of being voted upon as it was at the beginning of the movement. Should the justices rule against same-sex marriage, that could have severe consequences, potentially nullifying the court decisions and creating confusion and heartbreak for those who have already wed.
Of course, a ruling for equality will mean that the United States will become the 19th country to legalize same-sex marriage.
Photo courtesy of Freedom to Marry