By Meghan Kennedy | Photography by HMK Photography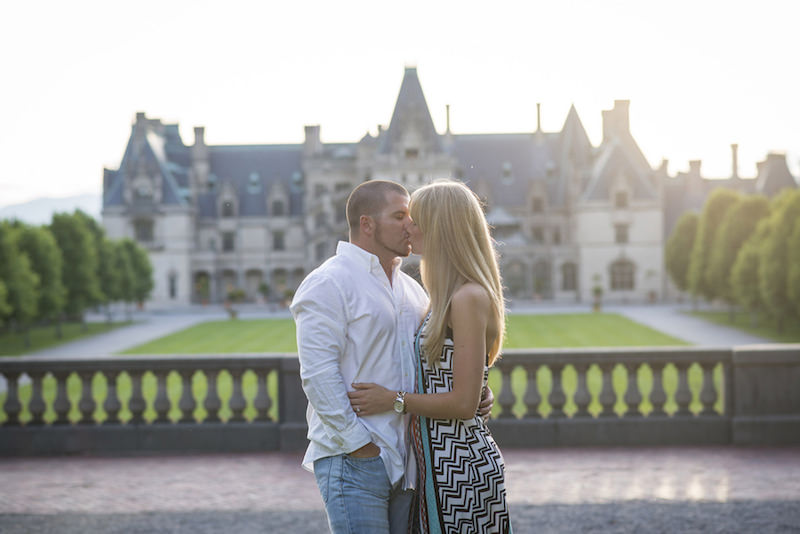 High school sweethearts Jason and Kasey have been tied together for almost 10 years — he was her brother's best friend, and they have been together since she was a freshman in high school. A Christmas time proposal in their new home of Asheville, N.C., brought them back to their engagement spot at the Biltmore Estate, where photographer Heather Rickleman of HMK Photography captured the couple celebrating against gorgeous 19th-century architecture … the sunset in the background doesn't hurt, either!
The Love Story
Dating as a teenager can easily be misconstrued as puppy love, but that wasn't the case for Jason and Kasey. Even though they've been together since Kasey was just 14-years-old, they knew they were meant to be together — while there were bumps along the way, as the bride always knew that Jason was the one. "My brother was one of the friends we had in common and he told my parents out of all of his friends Jason was the only one he felt comfortable with me going on a date with," says the bride. Nine years after they began dating, they were engaged at Christmastime in 2013.
The Proposal
Newly transplanted to Asheville, N.C., the summer before, Kasey and Jason decided to take one of the Biltmore's famous Christmas tours in early December. Jason, planning the engagement, invited both his and Kacey's parents to visit with them. The Biltmore tour took place on a cold, rainy day, miraculously clearing up after dinner once they got to the estate. Jason, under the guise of wanting to take pictures by the elegantly lit tree on the estate's sprawling front lawn, brought Kacey over to take a picture — and after the picture, he got down on one knee and proposed. "My very first thought was, 'Is this really happening?' and then, 'Oh my gosh, is that my ring?'" exclaims Kasey of her princess cut halo style set in a white gold band encrusted with diamonds, a gorgeous bauble reminiscent of the twinkling Christmas lights of the proposal.
In a twist of fate, one of the passersby who caught the proposal happened to be a photographer, and worked with Jason and Kasey for their engagement session a few months later at the place where it all began.
The Location
The soonlyweds returned to the Biltmore for their engagement pictures — such a gorgeous estate is a perfect choice for an engagement session! Jason picked the Biltmore for their proposal because of its history and pure aesthetic beauty; it represents the beginning of a new chapter in their lives.
Memorable Moment
From Kasey: I think the most memorable part of the proposal was how perfect it was. I loved how he planned everything himself. He made sure that both of our parents were there and could be a part of such a big moment in our lives. He chose the location at the Biltmore which is special to us because we just started a new chapter living in Asheville together. I love that he joked around before actually asking. He said, 'Let's pretend to take a picture getting engaged.' It was such a wonderful and perfect moment in our lives.
Wedding Date: April 25, 2015