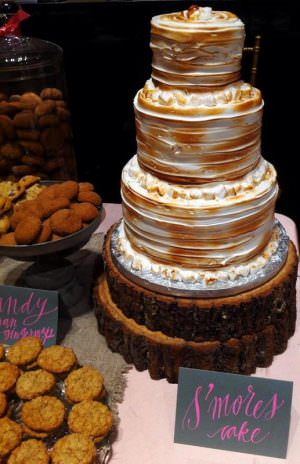 The first time I saw a s'mores wedding cake was at an industry show and I was immediately blown away. Tiers of chocolate cake with marshmallow and graham cracker crumbs  — had I reached heaven? Minutes later, I came across another cake designer at the same show who had a s'mores cake proudly displayed. "This can't be happening," I thought to myself. "It's too good to be true." A week later, I spotted the confection yet again and am convinced that it's officially a trend.
I've long been a fan of the s'mores stations at weddings (we even had one thanks to the awesome ladies at S'amore at our launch event!) but having it as an actual cake takes it to a whole new level — a delicious, ooey gooey, chocolatey, graham crackery level.
"Doing something like a s'mores cake as your wedding cake is a fun way to inject a little whimsy and nostalgia into the proceedings and really let your personality shine through," says Rebecca Lovett, director of special events at One Girl Cookies, which debuted the s'mores cake shown above at a September 2013 wedding, followed by the wedding show this January where I spotted it.
So how exactly are these s'mores cakes made? While every cake designer is different, Rebecca gave me the scoop to how they make theirs.
"It's a three-layer chocolate cake filled with marshmallow cream and graham crumbs. To achieve the 'toasted marshmallow' finish, we cover the cake in meringue, leaving lots of great texture in the finish and garnish the base of each tier and the top of the cake with housemade marshmallows. Using a kitchen torch, we then brown the meringue and mashmallows."
Are you drooling yet? Would you have a s'mores cake for your wedding cake?

By Brittny Drye | Photo by First Mate Photography Co.