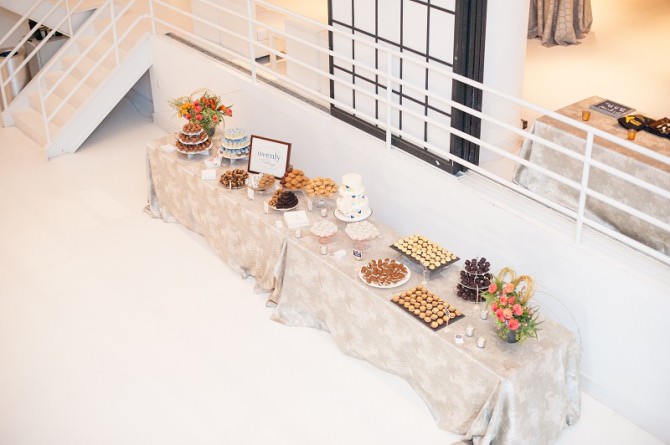 The secret to any good dessert table is variety in both options and flavors. Some guests reach for classic vanilla and chocolate while others fancy more inventive flavors, and sometimes there's nothing sweeter than a chocolate chip cookie but it's also fun to taste outside-the-box options.
The dessert table at our launch event ensured that the evening ended on a (sugar) high note and our guests couldn't stop swooning over the sweets. Here's a quick recap of the amazing vendors that had guests drooling all night. (Warning: you might fall into a sugar coma just from reading.)
I'm convinced that whoopie pies are the next cake pop and it's because of vendors like Batter & Cream, who are taking the nostalgic treat and giving it a modern day makeover. Right now, she is offering 13 inventive flavors that range from pumpkin spice to olive oil rosemary to chocolate peanut butter pretzel. Bonus: their miniature size enables you to try more flavors.
Ovenly takes culinary classics and gives them a twist. From breakfast pastries to desserts, they offer go-to options, such as coffee cake, and infuse them with unexpected flavors like peanut butter and jelly, Nutella-hazelnut-banana and pistachio-date-coconut. For our party, they had a medley of brownies, bars and, my personal favorite, the salted chocolate chip cookie.
You can't have a wedding industry party without a wedding cake. I was so excited when Amy of Sugar Flower Cake Shop offered her services because I've long been a fan of her amazing talent. I mean, look at this cake. I love everything about it: the hand-painted hearts, the calligraphed "Love Is Love" and her signature sugar flower. Perfection.
Butter & Scotch spiked the dessert up a bit … literally. The self-proclaimed drunk bakers have developed a cult following at Brooklyn's Smorgasburg with their boozy baked goods and have now set their sights on opening the area's first craft cocktail and dessert bar in 2014. They gave our guests a sweet sneak peek—er, taste—with tiers of their mini cupcakes. Help them take this perfect pairing to brick-and-mortar status by donating to their Kickstarter campaign.
Beyond the dessert bar, we also had two stations set up, which gave guests a more interactive experience (always a plus!).
Pop Karma offers organic, sustainably produced popcorn in ongoing gourmet favorites such as cheddar, caramel and Mediterranean and a revolving door of seasonal flavors such as Margarita, Kyoto Mix and Porcini Cheddar. You can order their artisanal snacks online to give as fun favors or, if you're in the New York City area, they can create a customized popcorn bar for your special day.
I have fond memories of roasting marshmallows over a campfire, getting that perfect outer layering of black crisp with an ooey, gooey center sandwiched between graham crackers and melting chocolate, but never in my wildest dreams did I think there would be a way to offer my summer camp confection at an event. Enter S'amore. They've taken the childhood treat and adapted it to our adult taste buds with homemade ingredients and innovative flavorings (maple, pumpkin, bourbon, amaretto, chocolate, eggnog and butterscotch to name a few). They scorch the marshmallows right on site using a torch blower which is guaranteed to evoke glee from the young at heart. They also ship out orders—DIY and ready-made—which can be customized with specific flavors and themes.
A special thanks to all of these dessert innovators for sponsoring our event and giving us a reason to indulge while being inspired!
Photos by Mikkel Paige Photography