Admittedly, brides and grooms who wear suits don't have as many opportunities to showcase their personality … there are only so many versions of the jacket-shirt-pants combo out there that is formal enough for the big day, which is why I'm all about the details, from dapper bow ties to quirky socks. Cufflinks in particular have a massive range of styles and materials that are far from cookie-cutter and these three in particular I'm kinda crushing on. And yes, I'm aware two of the three showcase woodland creatures …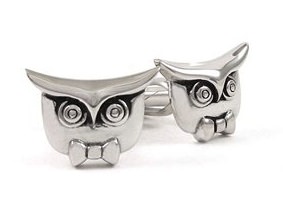 Tie the Knot added cufflinks to their collection this fall and the only thing better than great fashion is great fashion that donates to marriage equality. Win-win! A little background info, Jesse Tyler Ferguson and his fiancé Justin Mikita designed a collection of bow ties last year, exclusively available at TheTieBar.com, with portions of the proceeds going to their marriage equality advocacy organization, Tie the Knot, and I love seeing that the collection is expanding beyond neckwear. Signature Owl (JTF Cufflinks) available at thetiebar.com, $35.
The kind-of-creepy factor makes these cufflinks fantastically awesome. Also, let's bypass the fact that it's of Hannya, which represents a jealous female demon in Japanese culture, and focus on the fact that they are made of wooly mammoth tusks. Who cares what the rest of your suit looks like if you're rocking accessories made from a prehistoric elephant's tooth? Japanese Masks Cufflinks by Paul Stuart, $647.
Because they remind me of this video. Francois cufflinks available at monsieurfox.com, $350.
By Brittny Drye