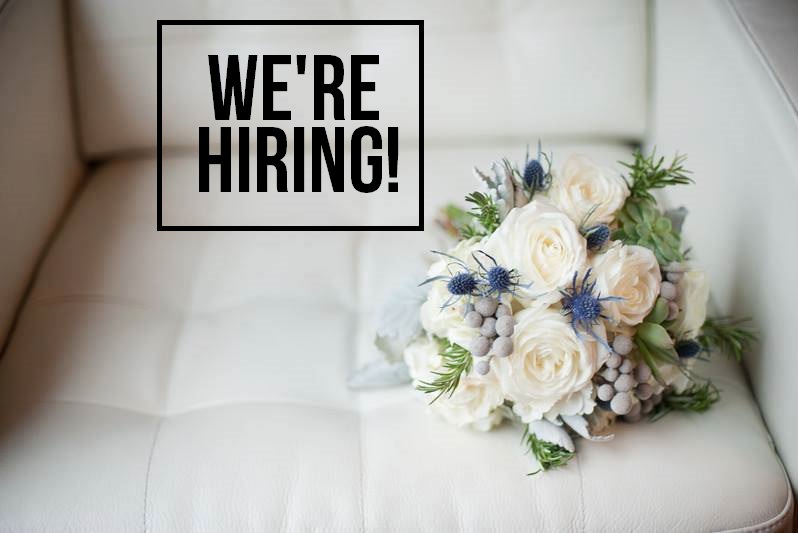 Photo: Bouquet by Hayley Smith Designs, photo by Rae Marshall Weddings
After only six months, our little company is already bursting at the seams with growth and that means we need more people! If you would love to be an integral part of our exciting start-up and feel that any of these positions are up your alley then we want to hear from you.
Online Ad Sales
We're looking for a kick-ass ad sales person with 1-3+ years of experience in the online lifestyle realm to join our small but mighty team. You would be responsible for outreach and solidifying advertising partnerships with equality-minded businesses related to the wedding industry for our website and our digital issues, as well as working with our editorial team to brainstorm creative sponsored editorials and projects. Because we're a start-up, this is a unique opportunity to have a strong hand in helping us mold the business.
Passionate, ambitious and upbeat personality
Comfortable making cold calls and doing outreach
Ability to think outside the box for fresh, targeted sponsorship offerings
Knowledge of wedding brands
To apply: Send your resume and a quick but personable note about why you're awesome to [email protected]. This is a commission-based position. While it's a bonus if you're based in New York City, it's not required (but it will allow you to join in on our fun Champagne-filled socials!).
Summer Editorial Intern
Our summer is already gearing up to be jam-packed with projects, photo shoots and editorials. We're looking for an eager intern to join our family while giving you a truly hands-on experience at what it means to work at a start-up magazine. While we'll tailor the intern experience to your specific strengths and interests, these are some items you might expect:
Assist with photo shoots (obtaining products and contributing on set)
Sit in and contribute to a weekly editorial brainstorming sesh
Learn the basics of WordPress
Assist with social media accounts (Pinterest, Twitter, Instagram, Facebook, Google+)
Write blog posts for the site with the potential of writing full length features for the magazine
Attend and network at industry events
While this position is unpaid, we're happy to go through whatever process is needed for you to obtain college credit. Based in New York City, we'll require a 10hr/week commitment. To apply, send us a quick note at [email protected] telling us about yourself along with your resume and any clips you may have or link to your personal blog to give us an idea of your writing style.
Web Developer/Designer
This gig is perfect for freelancers who want a minor monthly commitment. We're looking for someone to handle basic front-end updates and new installations for our custom WordPress system. You must be:
Fluent in HTML and CSS, Javascript is a bonus
Dedicated to researching for the best plugin/development/design options for our budget
Experience in WordPress production and working with a customized WordPress theme
Site management skills: server, domain, ad tags, large photo archives
Image production
Graphic Designer
Another small project gig that is sure to be easy money for freelancers! We're on the hunt for a skilled designer who "gets" our brand to create graphics for blog posts, advertisements and marketing materials. If playing with color, typography and proportions are second nature to you than shoot us an email. You must have:
Experience with and access to InDesign, Illustrator and Photoshop
Knowledge of web standards, CSS and HTML
A metaphorical refrigerator full of creative juices
To apply: Email resume and a quick note telling us about your skill set to [email protected]. We prefer online portfolio links over attachments.
Bloggers
[Updated April 28, 2:05 p.m. Thank you for your interest — the blogger positions have been filled]
We're looking for bloggers in the following beats: menswear fashion, beauty/grooming, wedding inspiration. We're wanting to bring strong voices and personalities to the table for our readers to relate to (bonus if you already have a strong social media following!) and there is potential to write full-length features for our digital issues. This is a paid freelance position.
To apply: Email resume, a quick note and relevant clips to [email protected].