By Brittny Drye | Photography by Seth Kaye Photography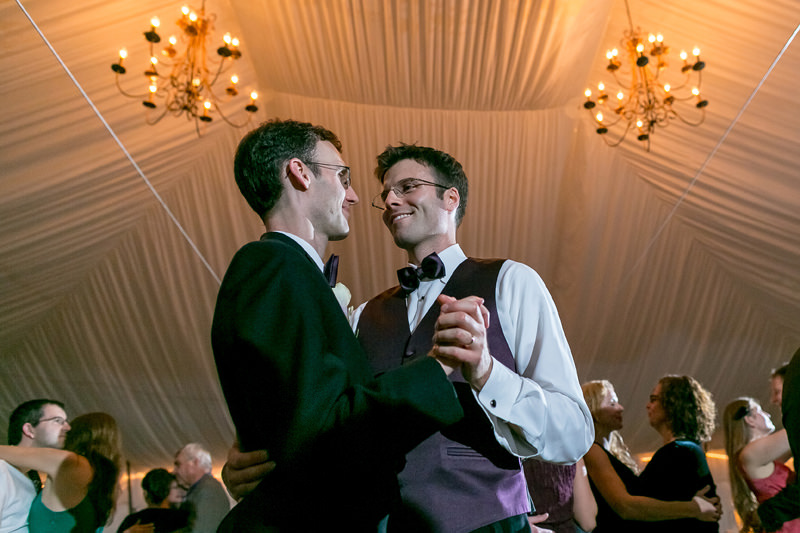 Between bookcases filled with dusty textbooks, Matt and Brian met in the Cornell Law School library one Saturday morning in 2006 while studying. "Brian came over to my table and asked me if I'd go see a movie with him later that night. We dated for one year and then lived together for three years before getting engaged," reminisces Matt.
The Engagement
Brian popped the question in a truly personal way. "Brian knows that I love ferns, so he went to a paint-your-own-pottery place and made me a beautiful plate with a fern on it and, in tiny letters, 'Will you marry me?'" explains Matt. The beautiful token of love was later proudly displayed alongside family photos at their wedding.
Not wanting to rush through the details, they took the next two years to plan. "We were able to book some of the major things early on, like venue, photographer, florist and DJ, so then we had a lot of time to think about ways to make the day fun for us and our guests," says Matt.
The Venue
The wait proved to be worth it. The handsome lovebirds selected Publick House, a charming historic inn in Sturbridge, Mass., for their fall celebration. "Brian grew up in central Massachusetts and the venue is about 20 minutes from his hometown," explains Matt of their venue choice. "Also, we had been living together in Massachusetts since 2009, and we really wanted to tie the knot in the nation's first state with marriage equality. We really liked the historic, rustic feel of The Publick House, and we knew it would be beautiful for an autumn wedding. It was also conveniently located for our out-of-town guests."
The Ceremony
Five minutes before the ceremony, it began to rain and guests quickly retreated for shelter beneath an adjacent tent, which had already been set up for the reception. Holding the ceremony in the covered space, Matt and Brian walked down the aisle, donning sharp tuxedos with plum accents and calla lily boutonnieres, escorted by their respective sisters. As the rain splashed against the colorful Northeast foliage, Matt and Brian exchanged vows in a secular ceremony. "I enjoyed just having everyone that I love under the same tent, supporting me in my commitment to Matt," says Brian. "I felt overwhelmed by the support, and very grateful for my friends and family." Guests passed the 14-karat gold wedding rings as loved ones performed Mary Chapin Carpenter's "Twilight." "We really wanted classic bands that would be unmistakably 'wedding' rings," notes Matt.
The Inspiration
Brian's talented sister designed a beautiful wheat stalk image that appeared in several elements throughout the wedding, from the save-the-dates to the centerpieces. "It ended up serving as the unofficial emblem for our wedding," says Brian. Fall flavors danced in an eggplant-and-burnt orange color palette, with the rustic chic floral design by Deb Phelps of Danielson Florist. "We tried to keep the flowers fairly simple. We like traditional autumn colors, but we also asked our florist to use lots of rust and deep plum colors, and for the arrangements to have a variety of textures," he says. The result was beautiful vibrant designs paired with textural berries and branches.
The Party
Whimsical wire bud vases doubled as name cards and favors for the 130 guests. The handcrafted pieces were embellished with a bright bloom, "We were really pleased with how it looked, and several of our guests have told us that they display the bud vases in their home."
The newlyweds sat at a sweetheart table as their officiant gave blessing and their sisters made toasts. Guests had the choice between a seated dinner of turkey, baked scrod or risotto. Eager to get guests out on the dance floor, the grooms skipped the first dance tradition and opened with "Gangnam Style." "When we met with our DJ before the ceremony, we told him that we'd love to have tons of people out on the dance floor the whole night. He did a great job of keeping everyone moving. It was great to see all our friends and family dancing," says Matt.
They also included an anniversary dance to "Love Is Here to Stay." Married couples swayed on the dance floor as the DJ called out numbers to represent the number of years they had been together. Finally, the only two couples left with Matt and Brian were Brian's grandparents, "They had celebrated their 63rd anniversary in July!" adds Brian.
For dessert, a jubilee of delicious pies awaited guests. Instead of a typical wedding cake, the grooms tapped into a heartfelt childhood tradition of Brian's. "My dad has a tradition of making me a chocolate cake for my birthday—he even sent one to me when I was living overseas!—so we asked him to make a small cake that we could use for the cutting. It looked adorable, and it was especially meaningful because of the love that went into it." To complete the handmade chocolate confection, Brian's sister made the grooms cute Popsicle stick figures to place on top of the cake. "She even added little details to make them look like us!" exclaims Matt.
Now, the happy couple says married life is suiting them well. "I've learned that being 'married' really does have a tangible effect on our relationship. I think Matt and I would stay together even if we couldn't get married, but our relationship has already deepened as a result of being 'married,'" says Brian.  
Vendors
Photography: Seth Kaye Photography
Venue: Publick House
Catering: Publick House
Floral: Danielson Florist
Attire: Classic Tuxedo
DJ: Sound Choice Events
Videography: Sound Choice Events
**This wedding originally appeared in Love Inc.'s V1 issue.